Kathryn O'Halloran is a romance writer under a pen name and a random things under her real name. She loves polka dots, bears, coffee and traveling the world. Here's how she funds her full-time travel lifestyle with her romance writing!
This post was originally published in 2016, and has since been updated for accuracy of links and content.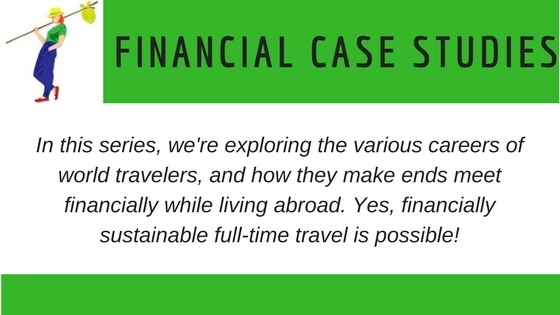 How long have you been living/working on the road, and where have you traveled to?
I've been traveling for almost a year. I left Australia and headed to Europe – Berlin, Prague, Budapest, Vienna then ended up in Geneva, cat-sitting for a friend for six weeks. After Europe, I headed to Asia, spending four months in Tokyo, then Chiang Mai, Phnom Penh and Seoul. I'm currently back home in Australia for a short while.
Before heading off permanently, I traveled a lot including spending a year in Tokyo learning Japanese.


Please describe what you do for income.
I'm a full-time romance writer. I write under a pen name and have 14 books released under that name (three series). As an indie publisher, I don't just write (I wish) but do everything. Well, almost everything; I outsource the things that I can't do myself like cover design and editing but still have to manage those relationships. I also have a rigorous promotion schedule and need to stay on top of all that.


How many hours per week do you work on average?
To be honest, I feel like I'm constantly working. I always have stories running through my head and will get inspiration at the oddest moments.
Actual computer time would be about 40-50 hours a week. I'd say about 70% writing and 30% marketing, promotion and administration.


How much money do you make?
I make all my money from writing fiction. I've thought I should have some kind of income diversity but have never found anything that fits. I publish on various platforms – Amazon, Apple, Google Play etc so at least I'm not totally dependant on one vendor.
My income varies a heap – in the last 12 months, my lowest earning month was around $2500 (USD) while my highest was over $14K. One average though I made around $5K a month.
The higher income months come from big promotions. There are a few promotion sites that give an insane ROI for advertising but they will only accept the same book every six months or so. Obviously, I can't promote with them every month but, as I release more books, I have more books to promote and can rotate promotions from series to series. More books released also means that I have a bigger back catalogue for readers — when I promote one book, I sell more books across the board.
I have thought about diversifying my income, for example, trying to monetize my blog but I never seem to have the time.


Do you make enough money to support your lifestyle?
I was making enough money to support my lifestyle before I left Australia, which was reassuring because Australia has one of the highest costs of living in the world. Most months I make more than I spend. I try to keep my living expenses below $3K a month but sometimes I'll have a bunch of business expenses on top of that. I try to keep within the same budget every month to smooth things out when my income is lower.
My excess income just sits in the bank. I really should do more with it. I do have some money in an Australian bank account earning a bit of interest but the rest is in non-interest earning accounts.
(See also: Managing Your Money as a Traveler)


What is your vision for the future of your lifestyle on the road?
I'm back in Australia for about 10 weeks but have already bought my ticket to leave again. I'm not sure if I'll ever be done traveling.
I love traveling but in the future, I'd like to take things slower. I think one month is the absolute minimum I'd like to spend in one location, but three months is better. I'm pretty much a homebody at heart, I just like changing where that home is.
(See also: The Number One Reason Why I Love Slow Travel)


Any advice for the aspiring traveler about living and working on the road and managing finances?
Beware of false economies! My biggest financial blunders have come from trying to be too cheap. I used to look for the cheapest places on Airbnb but have had issues with a few hosts. Although Airbnb have given me refunds in those cases, I've left me stuck trying to find last minute accommodation, often in the peak season.
The other downside with going for the cheapest option is that often it ends up not being the best option for productivity. I've done terrible things to my body sitting on a bed working, with my laptop balanced on my knees. So, that adds the cost of going to cafes or co-working spaces to work, even having to curtail my activities due to pain.