Candice Walsh of FreeCandie.com is a travel writer, blogger, and marketing specialist with Newfoundland & Labrador Tourism. After traveling extensively and living in Berlin for a while, Candice moved back home to Newfoundland for a bit more stability in her life—but she's still very much a world traveler.
This financial case study was originally published in 2016 when Candice was in Berlin. Her life and career has changed in SO many ways since then! And below you can read all about her evolution. Enjoy!
See also: This is the Best Way to Visit Newfoundland; one of my absolute favourite travel experiences, in part because Candice and I hung out in St. John's for a few days!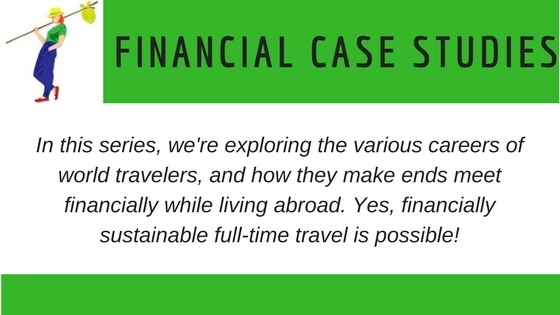 How long have you been living/working on the road, and where have you traveled to?
2016: I've been traveling for at least half the year since 2010, when I was laid off from my job. Up until August 2015 I used to live in St. John's, Newfoundland as my base. Now I'm in Germany for the year. I've visited 30 countries total, and when I love a place I tend to stick around for awhile! I spend a good deal of time in Europe. I just can't seem to get enough.
2021: I moved back to St. John's, Newfoundland from Berlin in 2016. Freelance work was running dry, and the Canadian exchange rate was miserable. I really had intended to stay in Germany for longer, but my situation was dire.
After house sitting for some friends and barely scraping by during my first few months in Canada, I was hired as a communications specialist for the St. John's International Women's Film Festival—a role I loved! Working in the arts community was such a joy, and I completely fell back in love with the city. I often say that I had to go away to learn to love coming back. Alas, I didn't get much travel time (and my salary was $32k), so after two years I left the film festival and started working full-time for Nomadic Matt as a writer and editor while also freelancing on the side.
I travelled a lot during those two years working for Matt and saved up enough money to buy my own house (a darling little townhouse in downtown St. John's). Life was good! But I was getting burnt out, and by the end of 2019 I needed to make some serious changes. So now I'm working full-time in a position as a public servant. It's been a wild ride. I don't make as much money as I did while freelancing (and most of my projects were paid in USD), but I have my weekends and evenings back…mostly.


Please describe what you do for income.
2016: I'm a writer, blogger, and social media manager. Most of my income comes from freelance writing for other outlets, as well as copywriting. Sometimes I sell guest posts on my blog, but not a whole lot. Copywriting is definitely my most successful income stream, and I charge $60/hour for my work.
2021: Right now, I'm a marketing specialist for the provincial tourism board. I work primarily in digital content, so writing and editing web copy, travel articles, and more. I also help manage our social media assets, with close to half a million followers across our channels. I spent most of my travel writing career covering Newfoundland & Labrador, so this job literally feels like it was made for me.
I also still freelance on the side a little. I work for my friend Jeremy at TravelFreak.com, writing, editing, and managing some of his content.
How many hours per week do you work on average?
2016: It really varies, but probably 40-50 hours.
2021: About 40 hours a week—35/government, and about 5-10 extra as Head of Content for TravelFreak.com.


How much money do you make?
2016: This also varies, but for the past couple of years I've been making between $30-$35k a year (Canadian). I suspect I could be making more, but I'm not a good businesswoman. This amount lets me travel quite freely, but I imagine I'll need to beef things up a bit if I ever want to start a family, etc.
2021: My marketing income is about $46,000—it's not much for my level of experience, honestly, but it works. I earn an additional $16,000-$20,000 per year with side gigs and rental income, which I certainly couldn't do without at this point. So far, being settled has been much more expensive than travelling non-stop!
[Nora's Note: Ain't that the truth! I was shocked when I tracked my expenses and learned that over the years, I spent way less to travel full-time than I did to live in one place! Don't believe me? The proof is here.]

My money is all budgeted incredibly tightly. I have very little wiggle room to do much else these days but given the pandemic, I'm ok with it. I'm well set up for the future and I have full benefits, I'm aggressively paying down tax debt, plus I love the work I'm doing. I'm very privileged in many, many ways, but I don't spend much on myself anymore. I like talking frankly about my finances.
I'm also dealing with the grief and loss of my mother, who passed away in 2019. Picking up full-time work and getting out of the house was crucial for my mental health, honestly. I'm so grateful for it, and for the experience I'm gaining. I love my coworkers and the variety of work I do.
Do you make enough money to support your lifestyle?
2016: I do have some credit card debt, but mostly I'm fine. I'm all about living within my means, which is why I chose Berlin for my first living abroad stint. I pay something like $700 CAD for a lovely room in an apartment, and then my other bills total to about $300/month. I travel budget, for the most part. I put excess money into savings, but I also have set up automatic deductions for retirement savings and a TFSA (presumably for a mortgage someday).
2021: Yes, I do, although I wish I had more wiggle room to do things. I could never afford a car, which is standard when you live here in Newfoundland. Literally every single one of my friends has a car, and public transit here leaves something to be desired. My bills aren't outrageous but when I've budgeted for everything I need, there's not much left over.
I'm not complaining by any means. This is something I'll work towards, just as how I've nearly doubled my income in a short number of years. One thing I've learned though is that earning more morning tends to lead towards spending more money. I don't feel like I'm particularly better off than when I was making $35k per year, but I know I'll see those rewards in the future. Investing has been a game changer for me.
[Nora's Note: AMEN. This is called Lifestyle Inflation – how earning more doesn't necessarily translate to having more money in your pocket. I experienced this extraordinarily, and it was one of the reasons I decided to sell everything to travel. Here's my story about lifestyle inflation.]


What is your vision for the future of your lifestyle on the road?
2016: I think it's temporary, honestly. I love writing and I love my freedom, but I'm tired of chasing people down for payments. Or I'm tired of being offered very little money for the work I do. I'd really love to be comfortable in my finances. I can't imagine a time in my life when I haven't been stressed out about money. But I'm not sure what my next action is. I'm thinking about opening a tourism business back in Newfoundland so I can still spend half the year traveling, but those may be lofty goals.
2021: I doubt I'll ever go back to freelancing. Financial stress was a big emotional burden to me, and I didn't fully realize it until I started earning a steady, reliable income. My mother left behind a personalized diary that asked her what she wished for her children. You know what her wish for me was? To stop stressing out about finances all the time. I didn't even know it was that obvious. It killed me to read it.
If I can work my way into more vacation time, I'll be happy. Three weeks doesn't cut it now!


Any advice for the aspiring traveler about living and working on the road and managing finances?
2016: Avoid credit cards at all costs. I've wracked up so much debt over the years, it's almost impossible to pay off. My monthly payments are huge. If I didn't have those, I'd be quite well off.
Living in Germany has really opened my eyes to North America's debt culture. I remember in my first year of university there was a booth for Mastercard sign-ups in my university's freaking front entrance. So I signed up. And I signed up for two AMEX cards later down the line, because they promised lots of travel points. But Germany just doesn't do this. I hardly know anyone here with a credit card — it's just not a thing.
2021: Keep going! I'll never regret my nomad experiences, and you have plenty of time to "settle" down—IF you chose to do so. As much as I've become comfortable and am more future-oriented, I think it's dumb to save all your money for a retirement that may never come. That's another lesson my mother unintentionally taught me.
Be careful with your debt loads, and if you tend to spend recklessly, avoid credit cards until you get it under control. Hire a financial advisor who can guide you. Mine was a miracle worker who helped pull me out of nearly $17,000 in debt. Your financial goals are going to change over time; that's just reality. Save a little for the future, but don't let it control your life.