Newfoundland and Labrador together are Canada's most eastern province. Newfoundland itself is an island about the size of Iceland that is isolated, rugged, and in many ways its own country. Being an island with a population that for thousands of years survived because of the sea, the best way to visit Newfoundland is by boat.
Over 10 days, I circumnavigated Newfoundland on an expedition cruise; here is the story of this wild and raw place as told through my Newfoundland cruise experience and some of the many colourful ports of call we visited.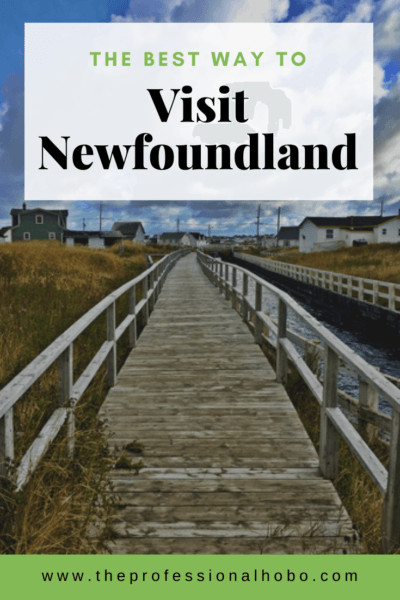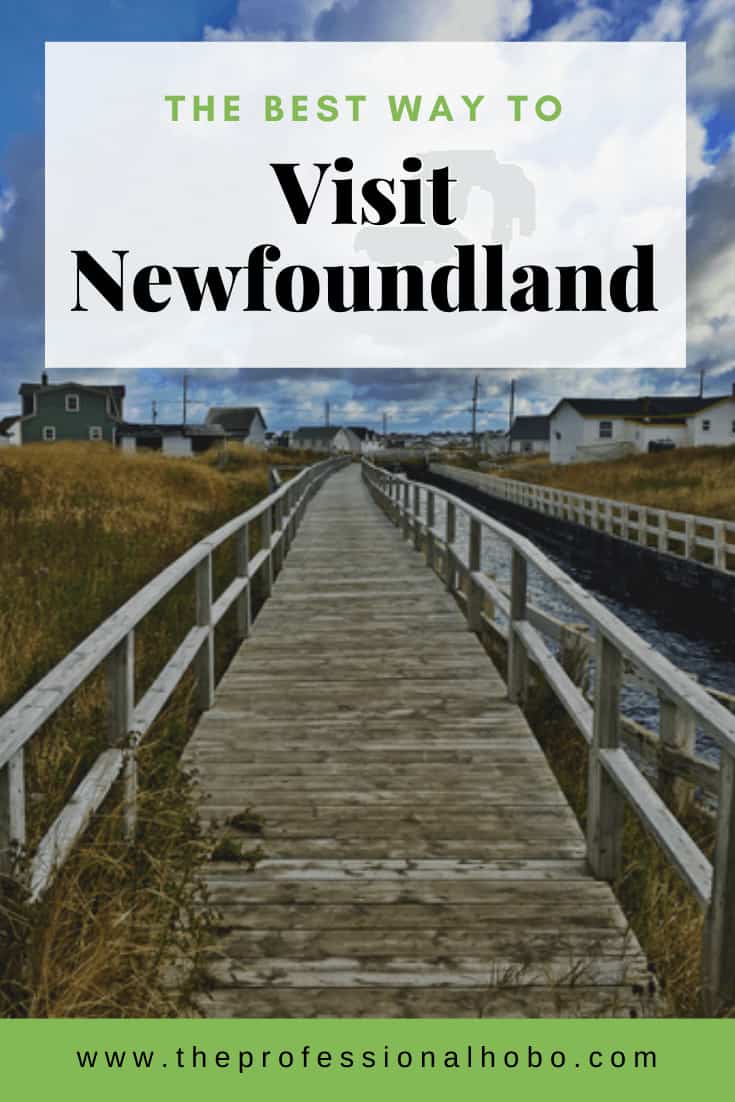 This post was originally published in 2019. It has since been updated for accuracy of links and content.


Why Visit Newfoundland?
Why do most people visit Newfoundland? For starters, it's known for its rugged beauty, epic hiking, kind people, colourful architecture, and vibrant music scene.
Me? I choose my destinations somewhat randomly, and Newfoundland was no exception. My initial inspiration for this trip was based on a musical, followed by a random conversation.
The musical in question was "Come From Away", which is my favourite musical – and that's saying something (as a former professional actor/singer/dancer, I performed in my share of musical theatre).
It's based on the true story of how, when 9-11 happened and U.S. airspace was closed, all the planes in the air needed to land somewhere. That somewhere was Gander Newfoundland; a largely abandoned airport that used to be the refuelling point for all transatlantic flights. 38 airplanes and almost 7,000 people descended (literally) on this town of less than 10,000 people. The genuine hospitality of the locals who opened their homes and hearts to 7,000 displaced, confused, and grief-stricken passengers put Gander (and Newfoundland) on the international scene in a whole new way.
I didn't know how a topic like this would go over in a musical. (I mean seriously? A musical about 9-11?!) But it was brilliant, and after seeing it in Toronto, I saw it again in LA. It made me proud to be Canadian, and curious about Newfoundland.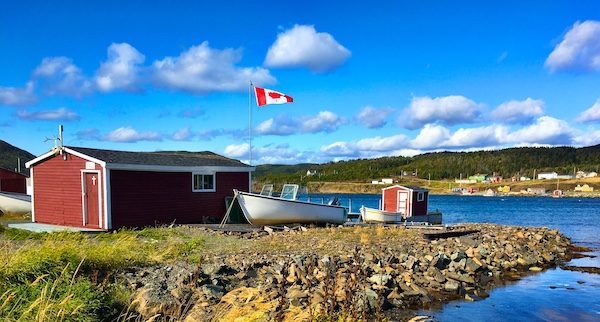 My second impetus for the trip was a chance conversation with a woman who lived in Newfoundland for 20 years, and the more she spoke of this quirky culture with a dialect all their own, the more I had to experience it.
The universe conspired shortly thereafter when I was invited on an Adventure Canada Newfoundland Cruise as a journalist (that means my expenses were paid). I had already decided that the best way to experience Newfoundland would be by boat, but as my first expedition cruise, I hadn't the slightest idea how comprehensive and insightful the trip would end up being.
More on expedition cruising and Adventure Canada a bit later. First, Newfoundland.


PS: Bring a Hair Tie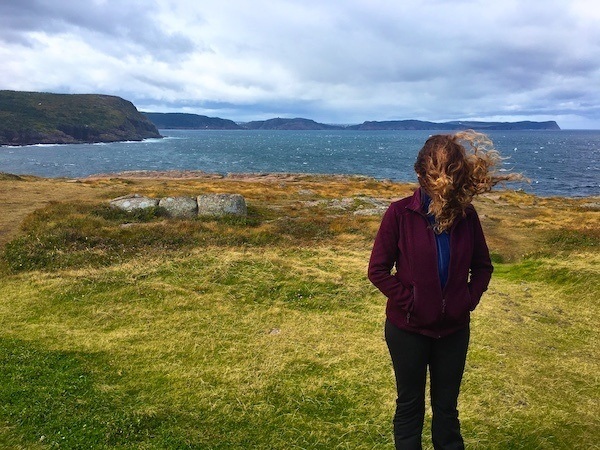 The first thing I learned about Newfoundland is that it's windy. Like, really windy. While staying in St. John's Newfoundland prior to the cruise and visiting Cape Spear (the easternmost point of North America), I just couldn't get a picture without my hair completely masking my face. This became the impetus for a photo essay, the theme of which will shortly become apparent.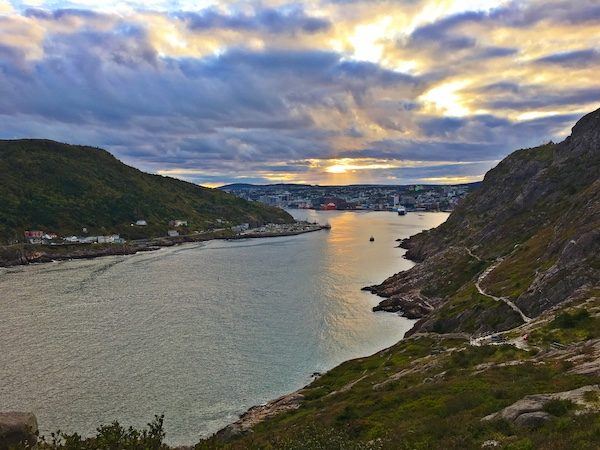 The Nature of Expedition Cruising
"There are a few things you can count on with this cruise," said Dan, our expedition leader, in the initial briefing after boarding the Ocean Endeavor – our home for the next 10 days. "One of which is the morning wake up call!"
We collectively groaned; a woman leaned towards me and whispered "and you can't turn the bloody speakers down or off either." She was a repeat customer with Adventure Canada, as were many of the passengers; the record holder on this trip had 11 Adventure Canada cruises under her belt.
While Adventure Canada creates an itinerary for every trip, it's ultimately determined by the mood of the planet – aka the weather. But quite often, where one door closes another one opens. We experienced this many times over the next 10 days.
Some locations had to be dropped entirely from the itinerary, and others rescheduled for later. In one case we ended up stopping somewhere Adventure Canada had never before visited, which (although it came at the cost of a scheduled itinerary day) ended up being one of our most intrepid and adventurous excursions, and made us all feel like true explorers.
Each evening we received a briefing of the following day's itinerary, and every briefing started with the weather, which ultimately dictated everything.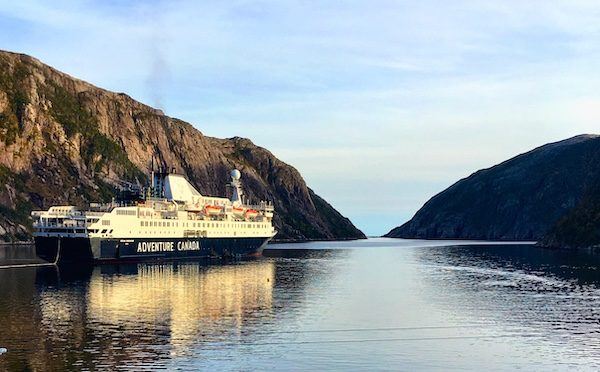 Newfoundland Culture and Vernacular
"Whaddya at?" Pronounced like it's one word, this is a Newfoundlander's way of saying "what are you up to".
"Dis is it," is the stock-standard reply, seemingly regardless of what the respondent is actually doing.
While I initially figured the above exchange is akin to "how are you/I'm fine thanks", there's another Newfoundland phrase for that.
"How you goin'?" comes the question, which is responded to with a simple "the best kind", which generally equates to "great" or "excellent"; a phrase that can also be used outside of this particular context to simply say "awesome".
Swarve. Scravel. Mauzy. Nich. Dunch. Dwoi.
Townie vs. Bayman.
Phrases like "Stay where you're to, I'll come where you're at".
Although we fundamentally spoke the same language, while in Newfoundland I often felt like I was in another country. Over the course of the trip I came to understand how insightful that feeling actually was.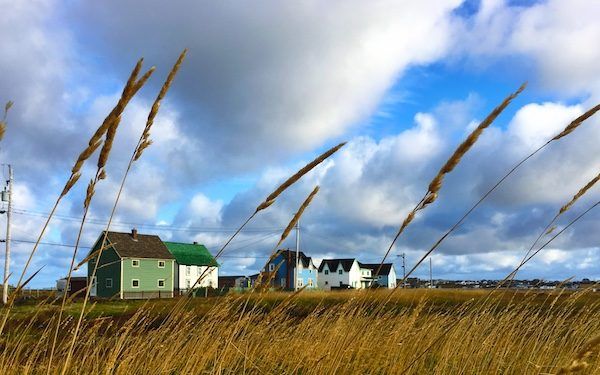 Newfoundland's history (and resulting unique dialect) is incredibly storied. It only became a part of Canada in 1949 (more on this later), and up to that point there were many incantations of government and rulings. While there's history of habitation in Newfoundland dating back over 9,000 years, since the 1500's, Newfoundland was the site of numerous European fishing and whaling outposts. The oil rendered from the Basque whaling station in Red Bay Labrador for example, provided enough oil to light most of Europe in the 16th century.
Newfoundland's linguistic influence is thus also varied. Many phrases, music, and even the cadence of conversation closely reflects their Irish heritage. Music is a big part of Newfoundland culture, and whether you're on a pub crawl on George Street in St. John's (which I did), or having a party in the local town hall (I attended a few of those too), live music is the name of the game and the genre is very much folk music with a strong Irish influence.
This musical foundation trumps modern pop culture. While listening to music at a popular pub in St. John's, I leaned over to my local (young, hip, well-traveled) friend and asked her how many of these songs she actually knew, expecting her to only admit to knowing a couple of songs. "Oh, all of them!" she emphatically replied.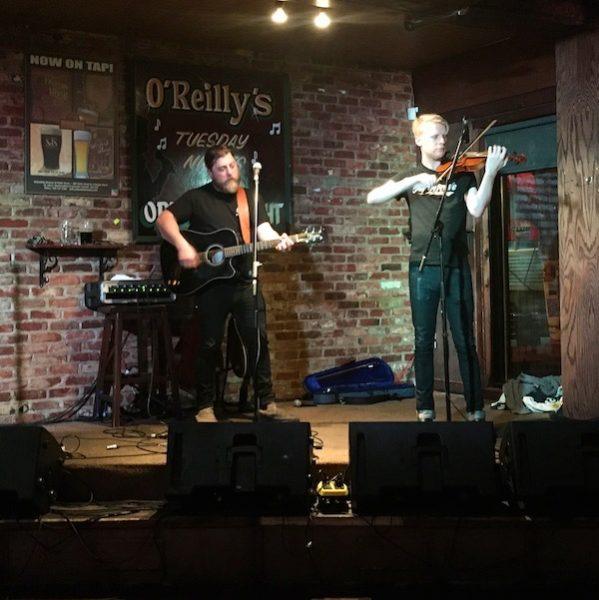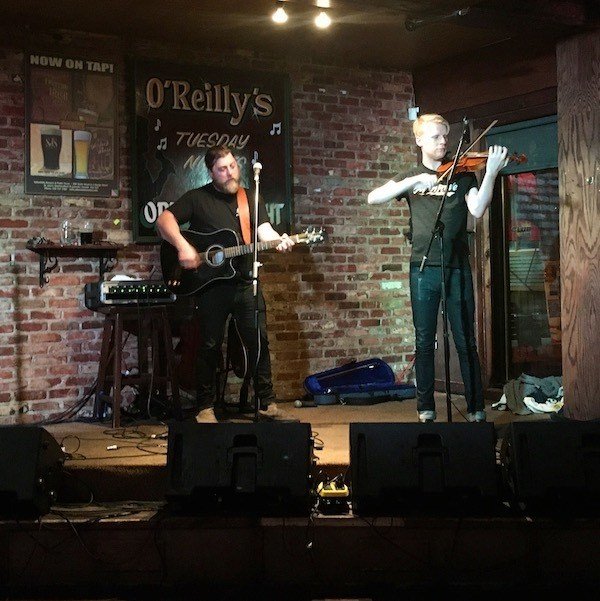 In addition to the Irish imprint, you also see Newfoundland's Basque influence resulted in places with French-spelled names, but pronounced by Newfoundlanders in utterly illogical ways. The town of Francois, which most people would recognize as a French name and pronounce as fran-swah, is pronounced by the locals as fran-sway.
Gros Morne national park? Don't go all French and make the s silent. No. It's said as "gr-oh-s morn", almost phonetically.
My favourite was Facheux Bay, our unscheduled stop on the trip; a glacial fjord that is one of the deepest points on the continental shelf. I don't even know how the locals came up with their pronunciation of it, as foo-shee Bay.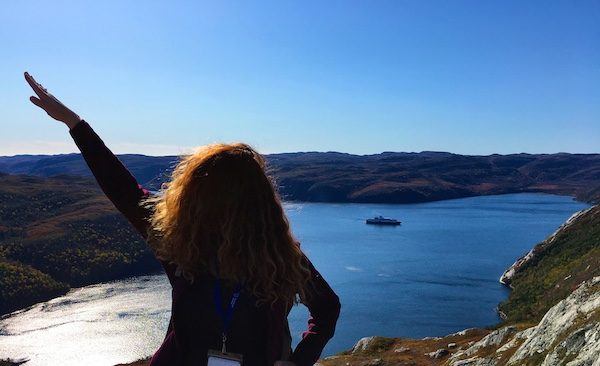 Oh, and it's official. While you won't offend many locals by using the term "Newfie", some don't take kindly to it, so it's always best to say "Newfoundlander".


A Culturally Immersive Cruise Experience
Given that a huge contingent of the expedition team for this cruise were Newfoundlanders, we were able to learn a lot about Newfoundland throughout the trip, both on and off the ship.
Adventure Canada makes a point of staffing each cruise with local talent, and I'm not talking about the kind of talent that performs Vegas-style revues and other typical forms of "cruise entertainment". The local talent comes in the form of naturalists, historians, geologists, scientists in residence, musicians, novelists, cultural experts, and more.
Instead of cabaret shows, we had "kitchen parties" – informal social gatherings typical of Newfoundland with music, stories, dancing, limericks, and anything that anybody who wished to participate could contribute. During the day, the on-board entertainment came in the form of back-to-back workshops that could be enjoyed in the modest lounge, or even on television from the comfort of your cabin.
Off the boat, excursions were accompanied by these same experts, who provided a ton of information to help us put our experiences in context. While on a bus passing by a lake, our local naturalist educated us: "On yer left you'll see a pond – we don't often refer to bodies of water as lakes; we call 'em ponds. Lakes are what you have when you get water in yer boot."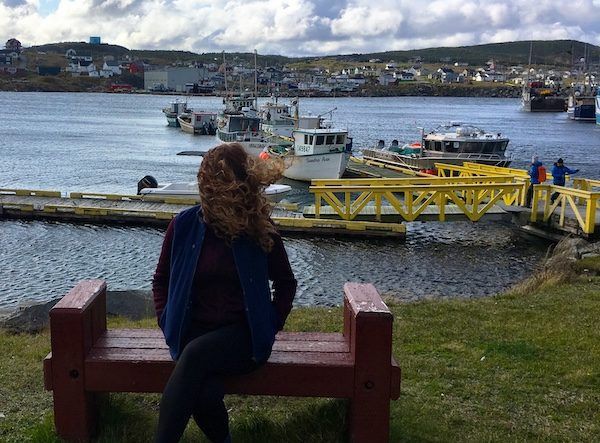 Bonavista (With a Side of Trinity) Newfoundland
Dan had prepared us well. Our very first briefing involved an itinerary change. "With the winds, we can't get into Bonavista bay safely," he started.
Expedition cruising is done on small ships. Adventure Canada's Ocean Endeavour is purpose-built for sailing in icy and remote environments, and has a passenger capacity of 198 plus crew. This smaller size allows the ship to visit places that larger ships wouldn't stand a chance of getting into. In most cases, we anchored in the bay and used zodiacs to ferry ashore.
But smaller ship size and zodiac landings mean wind and waves are problematic. Passengers are all given waterproof/windproof expedition jackets (to keep!), and are categorically required to bring waterproof pants and highly encouraged to bring dry-bags/waterproof backpacks. After a few windy wavy – and wet – zodiac rides, I was grateful for the waterproof layers.
The upside of not being able to anchor in Bonavista Bay was that we anchored on the other side of the peninsula in Trinity Bay. This gave us a two-for-one experience for the day, exploring both towns that were a short bus ride apart.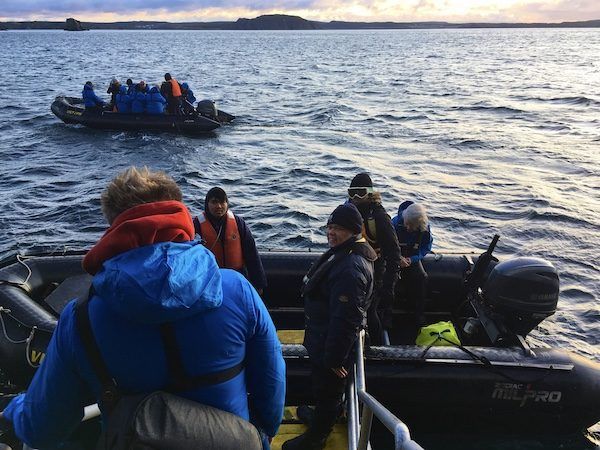 This two-for-one thing happened a few times during our Newfoundland cruise, and I was consistently amazed at how efficiently the expedition staff could change the slate and make necessary last minute arrangements for us.
But visiting both towns with a one hour bus ride in between meant a long day. "I wonder if we'll have a day at sea," I mused. "I'd like that."
But, would I really?


Taste of Place
Dinner after visiting Bonavista and Trinity Newfoundland was a feast. Adventure Canada newly launched their "Taste of Place" program, and this Newfoundland cruise was the inaugural run.
"Learning through culture, music, arts, and science has long been at the core of our expeditions. Now, we are thrilled to add food to this immersive collection of experiences," says the Adventure Canada website, and this played out in many ways throughout the cruise, from nightly 3-course dinners, to random "Taste of Place pop-ups" on land with cups of homemade local fish chowder or craft beer tastings.
The Taste of Place menu on board was planned and executed by Newfoundland chefs, using grandma's recipes. A lot of the dishes we were served weren't things you could find in a restaurant, but were absolutely an intrinsic part of local culture. And just in case the Taste of Place menu didn't float your boat on any given night, the kitchen had 3-4 other options to choose from.
Our first Taste of Place meal of the trip? Iconic local hand-line caught cod, fresh veggies, and a rhubarb pie using rhubarb picked just that morning.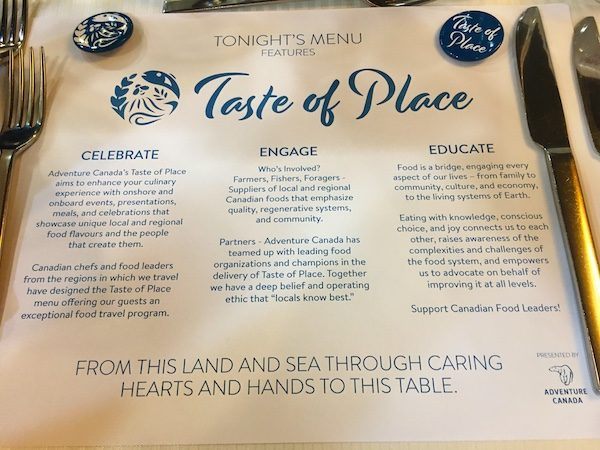 Too bad for me I couldn't eat dinner that first night.
Although the two-metre swells we were rolling about in didn't initially phase me, shortly after sitting down to dinner I broke into a sweat and started calculating how long it would take me to get to the nearest bathroom in case I had to upchuck. Crew members were subtly placing sick bags around the ship for people like me.
I had brought over-the-counter natural homeopathic motion sickness tablets with me, and the previous night I thought they were doing a good job. But these swells were too much for my natural pills; I needed the big guns (like Gravol or Dramamine) and I didn't have any, so I retreated to my room before dinner arrived and didn't emerge until lunch the next day, after my cabin attendant found me still unwell in the morning and insisted I drink some tea and eat something (which made me feel better, to my surprise).
So if I can impart some contextual advice if you're considering an expedition cruise, I'd suggest that you bring all the natural pills and pressure point bracelets you wish. But also, bring along a few hard-core anti-nausea pills; sea-sickness is no fun, and you'll want to get the most out of your expedition cruise experience.
It's ironic that I had earlier wished for a day at sea, because after 14 or so hours of being seasick, all I wanted – prayed for, even – was to get off the boat.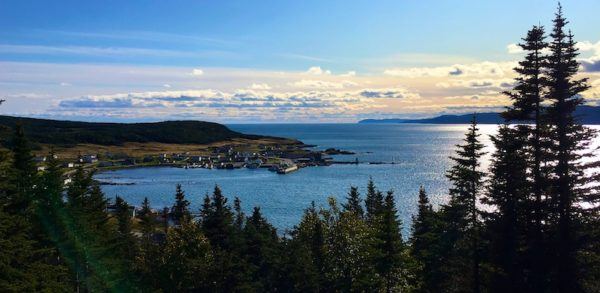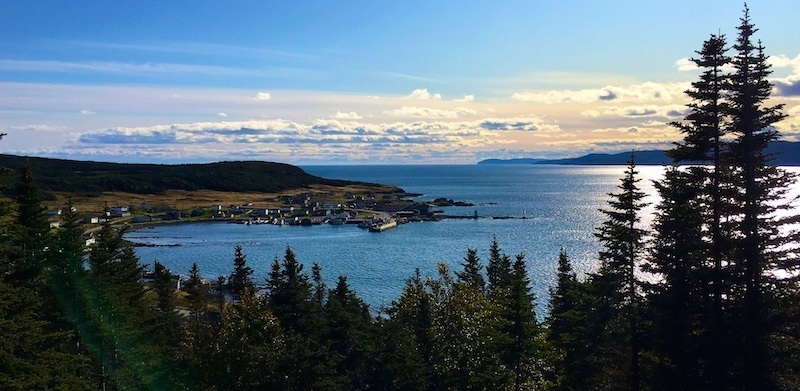 Doubling the Size of Conche, and the Small Town Newfoundland Situation
That opportunity eventually came the following afternoon, when we arrived in the town of Conche. "Conche: The Beauty Spot of the North," remarked a bumper sticker on a passing truck. While it's a great slogan, the run on such bumper stickers had to be small.
"You've just doubled our population," remarked Mary, our emcee of the afternoon and evening's events, and later on, our mascot for Conche. She was a fiery high-energy redhead in her 60s who was unstoppable; if there was five minutes to kill, she'd take it upon herself to entertain us with an Irish jig, and she was still dancing long after the music finished at the end of the evening.
When asked where she gets her energy from, she replied "officially they say I have ADHD, but 'round here people just say I got a fly up me arse".
Conche was our first experience visiting a tiny town ("we have a population of 180 people, on a good day that is"), but it wasn't our last. Newfoundland is made up of many such small towns, each with their own flavour, and all founded upon the rich waters beyond.
But towns like Conche weren't always so small, and in many such places I sensed the mourning of a life (and town) that once was.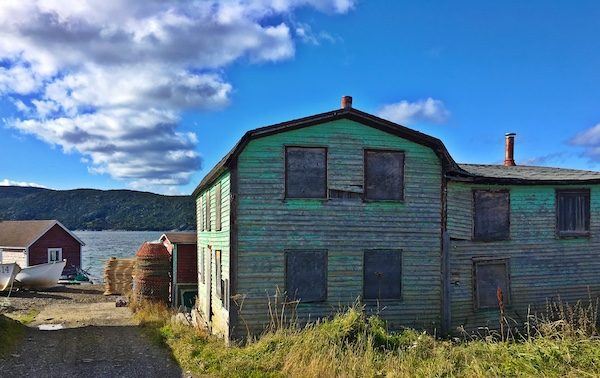 Survival in Newfoundland has always (until quite recently) depended on access to the sea, with fishing – specifically cod fishing – being the main industry. The sea is woven into the culture in so many ways, large and small. For example, in St. John's, on garbage days people put their trash bags on the sidewalk with fishing nets over them to prevent seagulls from getting into it. It's actually legally mandated. Fishing net! Who would think of that outside of a fishing-based culture?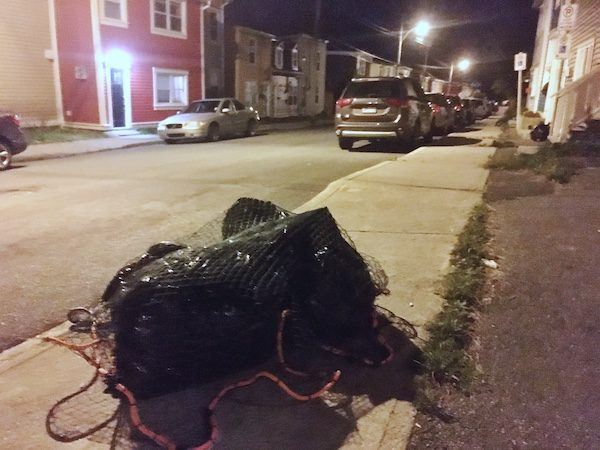 So when the cod fishing industry collapsed with the cod moratorium invoked in 1992, it had a devastating effect on all of Newfoundland, and small towns were hit the hardest. With 30,000 fishers and plant workers suddenly out of work, it was Canada's largest mass layoff. Towns like Conche that existed almost solely on the cod fishing industry suffered mass attrition, which continues today.
In Francois (another small town), I asked a fellow from Halifax who lives there part time why he doesn't just stay full-time. "No jobs, and no women," came his inarguable reply.
One of the Newfoundland expedition staff who lives in a small town was a bit more eloquent. "If you study to become a lab tech at the hospital, but the only hospital in town employs two lab techs and they've both got 20 working years ahead of them, you've got to leave if you want work, plain and simple." And once people leave, they rarely come back (to live).
While Conche and other fishing towns are resilient and have found other ways to survive (for example by fishing and processing other critters like crab and shrimp), there's just not enough to go around.
Newfoundlanders are a bit bitter about all this (understandably). It wasn't "ma and pa" fishers, but the grand-scale international commercial fishing off the coast of Newfoundland was responsible for the mass depletion of fish stocks and ultimately the cod moratorium. But it was "ma and pa" who were hit the hardest.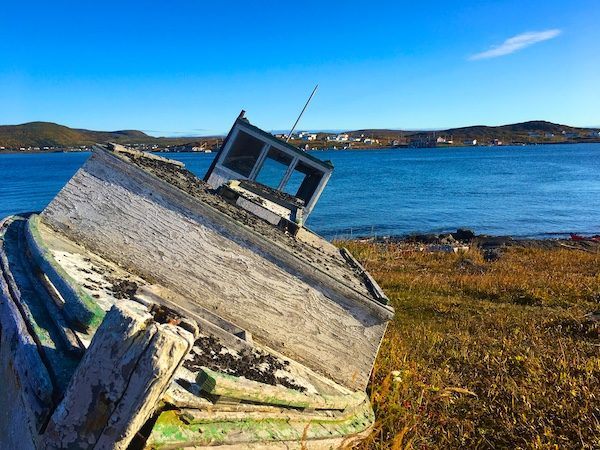 Another hot topic in some small towns is Confederation (Newfoundland joining Canada in 1949). It's debatable whether things would actually have played out differently if Newfoundland had not confederated, but it all simmers in the same bitter-soup. Only 52% of Newfoundlanders voted in favour of Confederation, which leaves a very large number of people pretty unhappy about it all.
Who can blame them. With seafaring roots and outpost life, Newfoundland's small towns have been dealt a pretty crappy hand. Shortly after Confederation, through the 1950's and 60's, the government realized the cost of providing services for remote outlying communities (such as those only accessible by ferry) was prohibitive. Under one of the most controversial government programs, a resettlement was initiated that resulted in over 30,000 people being moved from over 300 communities which today remain abandoned.
It makes sense on paper to have moved these communities, and the government provided (arguably) generous financial assistance, but it left a few scars nonetheless. Scars that were exacerbated by the cod moratorium which struck Newfoundland to the core, fishing being their very identity and industry for hundreds (even thousands) of years.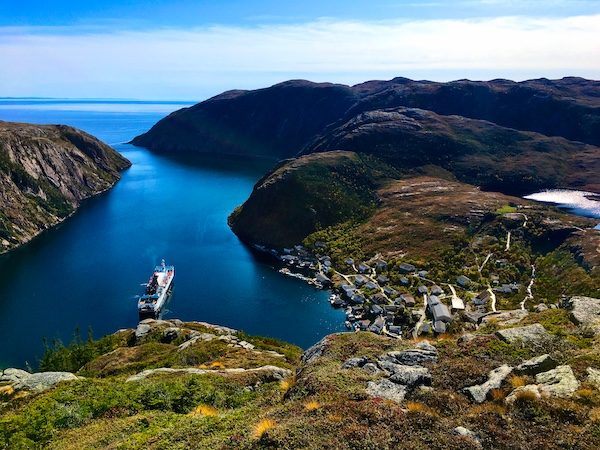 Walking along the road in Conche with an expedition staff member-cum-friend from Newfoundland, we locked eyes with a couple of local guys. "Let's see what's going on here," he said while steering me towards them. Before I knew it I was standing in a wooden shed in Conche drinking beer with a few local lads.
"This is Nora," started my friend. "She's from Canada."
I frowned. "Aren't we all?"
"'Round here, if you're not from Newfoundland, you're from Canada," he replied. This speaks to the sentiment of many Newfoundlanders who don't support Confederation, and perhaps even blame Confederation for Newfoundland's declined economy and population.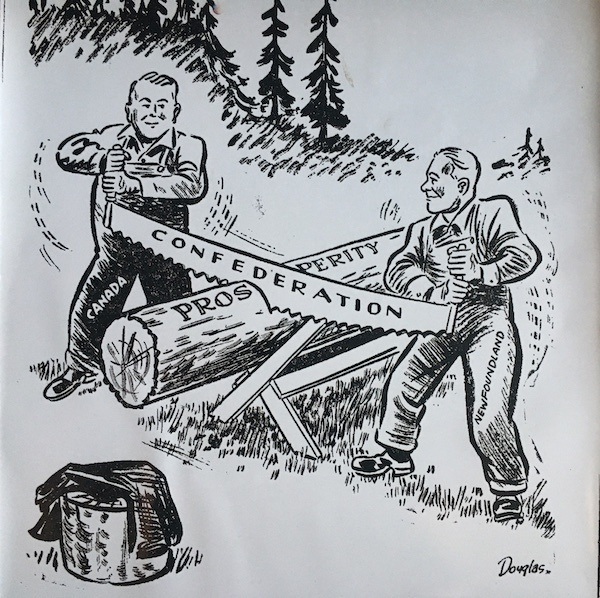 Contrarians to this attitude have a different approach. "What's the capital of Newfoundland?" I was asked a few times. It was of course a setup.
"Fort McMurray" was the answer they were getting at. Newfoundlanders have migrated en masse, some temporarily, others permanently, to Fort McMurray (and other parts of Alberta) for the abundance of jobs in the oil and mining industries. In all it's said that almost 20,000 Newfoundlanders have migrated to Alberta, and almost 20% of the population of Fort McMurray is from Newfoundland.
The ultimate point being made by the contrarians cracking jokes about the capital of Newfoundland, is that Newfoundland would have found itself hitting hard times regardless of politics, but that being a part of Canada was to their advantage in having the ability to get work in other provinces.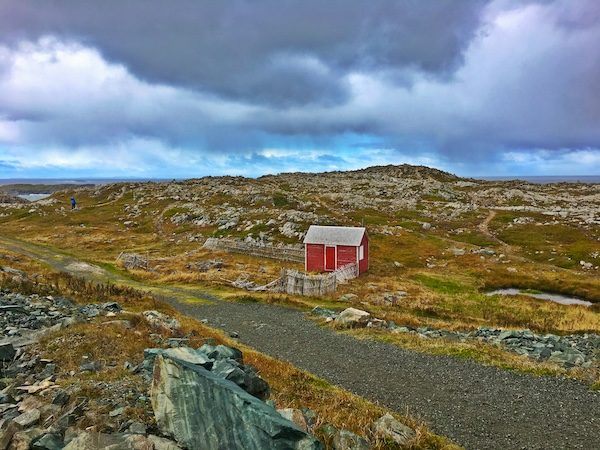 I'll politely refrain from casting an opinion, as the waters run deep and two weeks in Newfoundland is about 20 years too short of long enough to make any kind of educated statement.


Newfoundland UNESCO Sites
Of the 18 UNESCO World Heritage sites in Canada, Newfoundland and Labrador have four, which is the highest concentration of sites in any Canadian province. We visited three of them on three consecutive days.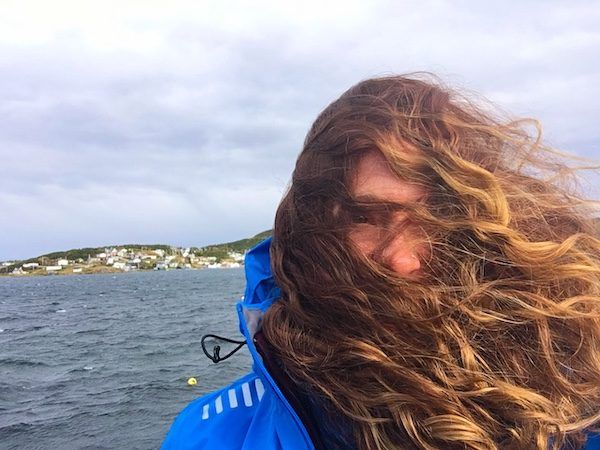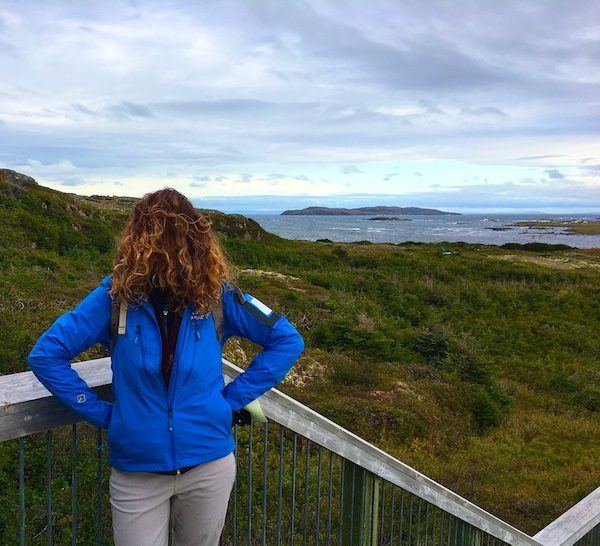 St Anthony Newfoundland (L'Anse Aux Meadows)
"Tomorrow, we're visiting St. Anthony," said an expedition staff member who was born and raised there. "But you people are saying it all wrong. To say it right, you gotta get it down to two syllables: Snantny." We all repeated "Snantny" methodically in an effort to embrace our inner Newfoundlanders.
"We have 2,400 people in Snantny, so you can get everything you need," he continued. "Except Amazon Prime. For that you gotta drive 45 minutes to a town with 100 people. Go figure."
In addition to the local hospital which is the main industry for "Snanty", 30-40,000 people per year come through enroute to L'Anse Aux Meadows (pronounced lants ah med-ohs kind of like it's one word), which is the only authenticated Viking site and the earliest evidence of Europeans in North America, dating back 1,000 years.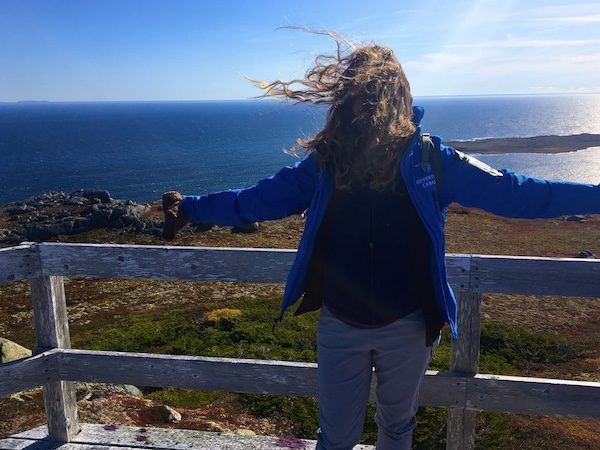 Red Bay Basque Whaling Station Labrador
As our only stop in Labrador, this was an eventful one. In our briefing the night before we were shown a video of the moment when Red Bay Basque Whaling Station was designated as a UNESCO site, at a meeting in Cambodia of delegates from around the world. In the video, Mayor Wanita of Red Bay, a small woman with a large heart, bursts into tears and starts hugging everybody around her before delivering a heart-felt speech that imparts the passion of this tiny town for preserving this historic site that holds huge significance to Europe's development in the 1500's.
Many of us shed a tear watching this moving video, and all of us viewed Mayor Wanita as a minor celebrity when she boarded our ship in the morning to say hello before we went ashore. I inexplicably wanted to hug her.
Celebrity or not, "humble" is the best word I can conjure for the people of Newfoundland in general, and Wanita embodied it.
In the afternoon, when hiking with a small group of passengers to a lookout, the winds increased to such a fervour that the zodiacs were having trouble getting back to the ship. With a dire forecast, and another 90 minutes of hiking to reach the dock, we were running out of time. It was Mayor Wanita who came to our rescue and shuttled us in her car to the dock so we could return safely to the Ocean Endeavor.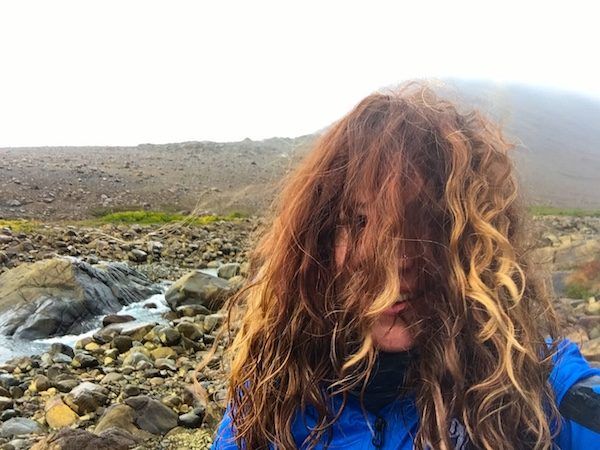 Gros Morne National Park
Capping off our UNESCO trilogy was Gros Morne National Park, famed as one of the few places on earth where deep ocean crust and the earth's mantle are exposed, showing evidence of continental drift, tectonic plates, and other geological wonders. (Our ship's geologist was like a kid in a candy shop here, and one of the other staff members worked in this park as a Parks Canada manager for 33 years).
The park's 180,000 annual visitors are served by eight nearby communities, one of which is Woody Point, with just 300 people. During the course of the trip we descended upon so many similar tiny towns with populations that our ship and crew rivalled, and yet they all took it in stride – and in many cases they prepared lunch or dinner for us no less. Despite the amount of UNESCO-visiting traffic some of these small towns get, I saw no tourist-trap style exploitation or commercial cash-grabs happening. Truly, we were welcomed as if we were the first people ever to pass through, with curiosity, warm smiles, and open hearts.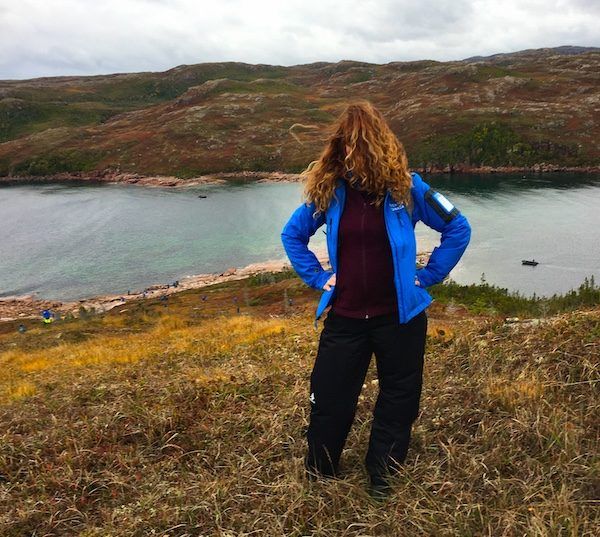 Taking an Adventure Canada Newfoundland Cruise
There was so much more to the adventure cruise.
There was our expedition landing in Little Garia Bay, our unscheduled stop in Facheux (foo-shee), and the crowning jewel of the whole trip: Francois (fran-sway) – a place only accessible by boat that is quite possibly the most beautiful place on earth and which epitomizes the spirit of community; a requirement for sheer survival in such a place.
Not to mention our trip to France! St. Pierre and Miquelon is the only French colony remaining in North America, and provided a huge cultural contrast to Newfoundland, a mere half a day away by boat.
Due to inclement weather, we also missed our stop in Conne River and our chance to spend time with and learn about the Miawpukek First Nations people.
This is the nature of expedition cruising, and if you end up taking an Adventure Canada Newfoundland Cruise, you'll have a different experience from me. Every expedition cruise is distinct, and that's one of the many things that make it special. (Click here for more info on their Newfoundland itinerary).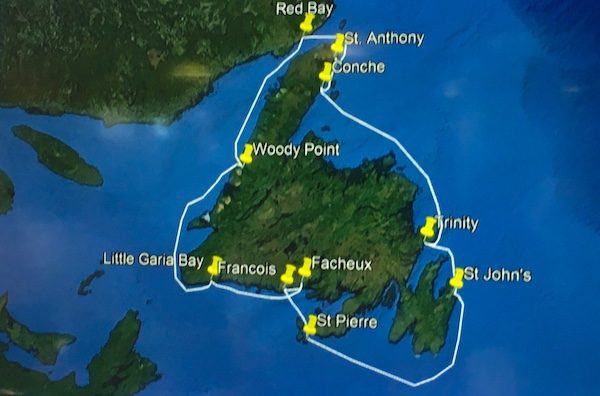 Expedition Cruising as a Solo Traveler
If you're like me, very idea of a cruise conjures visions of couples and families doing couple-and-family-things. This is not a great environment for a solo traveler to meet people and feel welcome.
I had a conversation with a colleague who was raving about a Disney Cruise she did. "How is it for solo travelers?" I asked.
"Oh it would be great!" she replied, and went on to describe all the ways Disney caters specifically to adults.
"But, how easy is it to meet people if you're going solo? And do they offer a single supplement?" I pressed.
She blinked. "I don't know. I was with my husband, and I didn't pay much attention to the solo travelers, if there were any."
Unlike most traditional cruises, Adventure Canada caters to solo travelers with valuable incentives like free single supplements. As one of many solo travelers on this trip, I had no trouble meeting people and there wasn't the air of exclusivity that you might find on other cruises.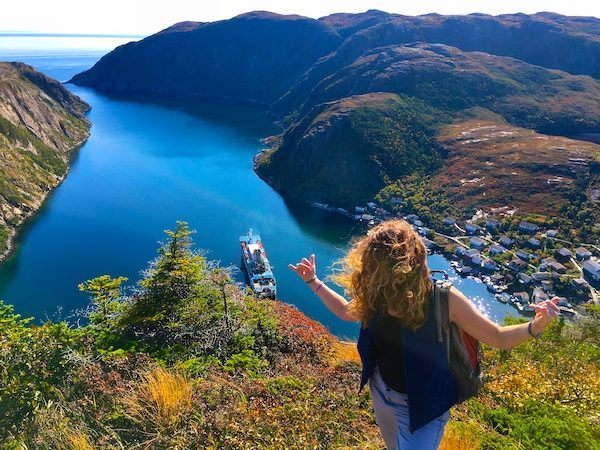 Okay. How Much?
If you look at some of the Adventure Canada expedition cruises (click here to see them all), you'll see that these are bucket-list trips, with accompanying price tags (this trip starts at $4,000 USD for 10 days, all-inclusive). But most of the trips they offer can't be experienced in any other way; the Northwest Passage is a perfect example, and is one of their signature trips exploring Arctic territory that can only be traveled by ship.
They also have some noteworthy incentives, including:
30% off for passengers under 30 years of age
Free single supplement for solo travelers (basically a 50% savings to get a cabin to yourself)
Children under four years of age only pay for charter airfare (if applicable)
Children under two years of age travel free
Multi-trip promotions and price guarantees


What Makes Adventure Canada Different
One thing that sets Adventure Canada apart for me, is the family vibe. The company had its humble beginnings over 30 years ago by a trio of two brothers and a friend who wanted to take travelers to off-the-map destinations. They're still doing the same thing (albeit on a larger scale) and it is still entirely a family business, now run by the founders' children who grew up on these ships.
Our expedition leader Dan? He's the son of Dave, one of the co-founders. On this cruise, Dave was actually Dan's assistant. Bill Swan, one of the other co-founders, was on board overseeing the inauguration of the Taste of Place program, and his nephew Matthew James, was working in a variety of capacities. A friend of mine did an Adventure Canada cruise earlier this year that had other Adventure Canada family members on board; what is consistent is the family vibe and humble roots.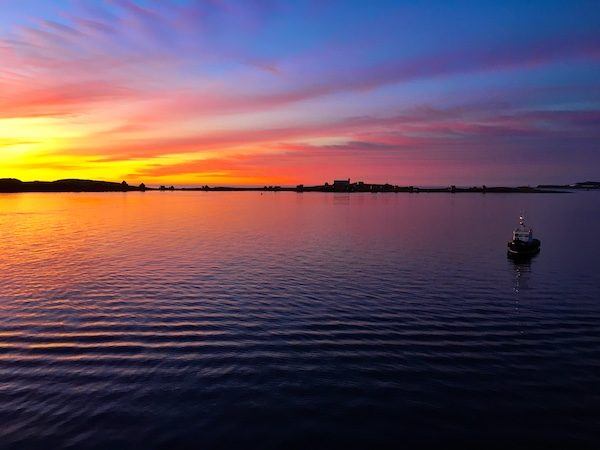 The other noteworthy aspect of Adventure Canada that makes my heart flutter is their utter dedication to developing partnerships that improve our world. Be they social, cultural, or environmental, the causes actively supported by Adventure Canada are many.
When I challenged co-founder Bill Swan to tell me how adventure cruising (and Adventure Canada in particular) is different from some of the traditional cruise boats that are known to be egregious environmental offenders, he in turn challenged me to finish the cruise and tell him. (Though he did humour me with a 20-minute rapid-fire monologue detailing just a few of the ways they're reducing and offsetting and even striving to create a positive environmental impact).
See also: How I Travel With Zero Waste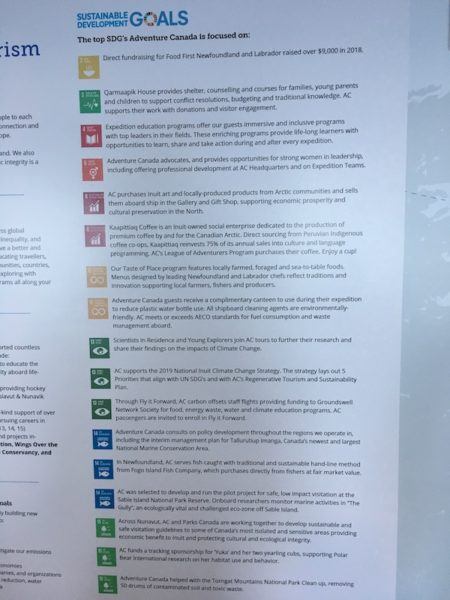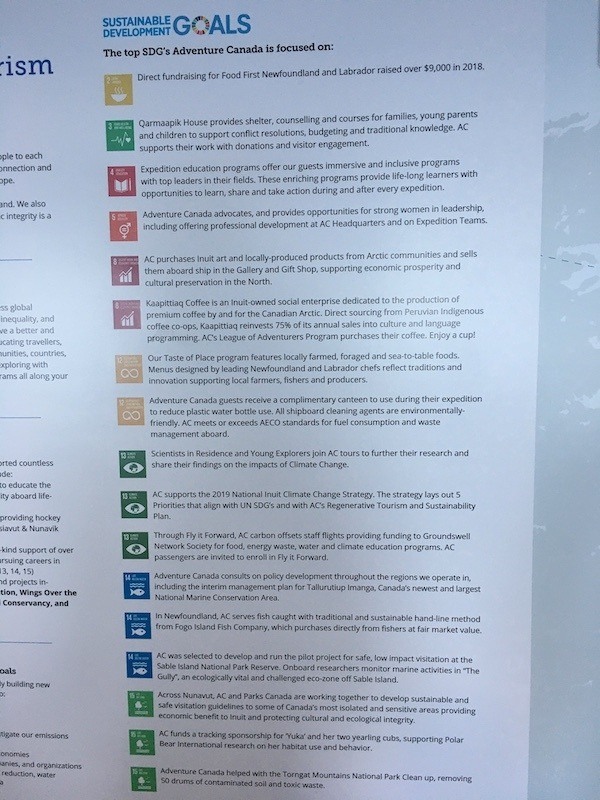 Well, Bill was right. By the end, I was a convert. I had watched 160 passengers positively affected by the daily educational workshops on topics like soil regeneration and wildlife management, who foraged on land with a Taste of Place expert who then used the food they gathered for our meals, and who embraced water conservation practices and eschewed single-use plastics.
There were no soapboxes. No evangelical rants. No guilt trips or pledge drives. But for those who wanted to learn and to make a difference there was no end of opportunity.
By visiting places people don't normally get to see, leaving no trace, providing economic assistance to local communities, and interacting harmoniously with nature, it's hard not to return from an Adventure Canada expedition cruise a changed person…..and it's even harder not to dream of where the next trip will be.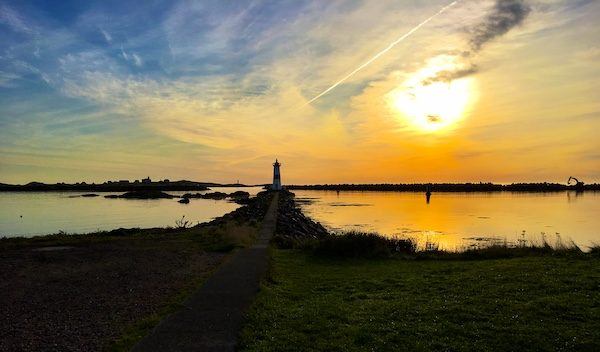 Watch the Video!

Before you Go…
In order to cruise with Adventure Canada, you must provide evidence of proper travel insurance including evacuation insurance.
Click Here for everything you need to know in general about the insurance you need (and don't need).
The Ultimate Packing List for Long-Term Travel

Did you Enjoy This? You'll Also Like These!
What you Need to Know Before Going on an Expedition Cruise
Sailing the Caribbean: Two Months on Boats
Traveling on the Deccan Odyssey: The Most Luxurious Train in the World
I sailed with Adventure Canada free of charge, and if you click on the links in this post to book your trip, I'll receive a small commission. As always, all opinions are my own an I was given complete editorial freedom in writing this article.
Learn more about Adventure Canada and book your trip here.