Lifestyle Inflation at work: A curious thing happened when I was "living the life" in Toronto. Having crossed over into the six-figure income bracket, I didn't seem to actually be taking home any more money or enjoying a substantially higher quality of life than when I earned half as much.
Here are some musings as to why this could be, and why focusing on earning more money sucks the life outta you.
This post was originally published in 2016. It has since been updated for accuracy of links and content.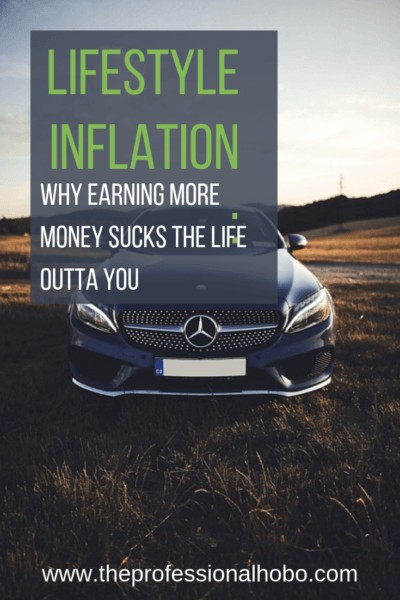 You Spend More to Earn More…
One of the first things I noticed about earning more money as is pertains to lifestyle inflation, was that it actually costs more money to earn more money. With a booming financial planning practice, I had to hire an assistant, and pay her salary, insurance, benefits, office space, etc. I also had inflated regulatory business expenses in the form of higher liability insurance premiums etc. And of course, being in the highest income tax bracket meant more money going to the taxman.
At an income of $120,000, I didn't seem to be taking any more money home than when I was earning about half as much.
…to Spend More
There's more to this picture. As my income increased, so too did my "necessary" expenses to play the part of a successful financial planner. A Honda Civic was no longer the sort of car that said "I'm really good at what I do, and I help millionaires make money". So I bought a nicer car.
And in wooing bigger clients, I spent more money on them; treating them to nice meals, sending gifts, and generally maintaining my ever-growing client base. I upgraded my business wardrobe, once again to "walk the talk" of a successful business woman.
These expenses were at least things I could reap some benefits from (more so than higher taxes and insurance premiums), but they only marginally increased the real quality of my life.
…And you Spend Time Doing it
Let's not forget that earning more money cost me something intangible but oh so important: time and energy. The more money I made, the more married to my business I became. The more clients I had to manage. The more things I had in my head to juggle. The more mental energy I expended on my clients' behalf.
And the less life I had in me for other things like pleasurable pursuits.
It's Not Just Me
Studies have shown that people with higher incomes generally have less fun; they spend more time working, commuting, shopping, doing chores, and are generally under more stress and tension than those in lower income brackets.
According to government statistics, people earning more than $100,000/year generally spend 19-20% of their time on passive leisure pursuits. Conversely, people earning less than $20,000/year spend 33-35% of their time on passive leisure pursuits. The study goes on to say that once you earn $75,000, no matter how much more than that you earn, you won't be any happier.
Earning Less = Living Less?
Fast forward a few years to when I sold everything to travel full-time. I was earning something closer to $20,000 rather than $120,000. (That's $100,000 less in income! Wow).
And yet, I was traveling the world full-time in a financially sustainable way, living in idyllic places, and enjoying much more free time. I didn't have half the stressors of my former life.
And let's get it right: I'm not a fruit-picking hippie (not that there's anything wrong with that); although I occasionally had to clean a toilet or milk a goat in trade for my free accommodation, more often than not I was earning my free digs with tasks I really enjoyed (like painting murals, cooking, and designing business plans) and developing my passion-based freelance writing career, all the while no longer under the thumb of an expensive economy and lifestyle that "required" me to work all the time.
Earning less doesn't mean living less; in many cases it's quite the opposite.
Income vs Expenses
Don't believe me? Check out my cost of full-time travel for 2010 and 2011, which, without any effort on my part, was almost exactly the same at around $17,000.
When a colleague of mine suggested in early 2012 that a good business plan for the year would be to make more money, I balked. I didn't feel I was making any lifestyle sacrifices with my lower income; when I wanted lobster, I ate lobster.
Rather, I made conscious choices as to how I spent my money, so that I could live within my means and still have whatever I needed and wanted in life. And remember – in earning less, I was also working less, which suited me just fine thankyouverymuch. I wrote about post at the time about income and expense choices, in which I mused that my income was a means to my lifestyle, not vice versa.
In Later Years…
Despite my best efforts, my income almost doubled in 2012, and increased again in 2013. This was partially a function of me reaping the benefits and growth of the freelance writing business and reputation I had built over the years, but also partially a function of me falling into old "rat race" habits. The freelance world is one of feast or famine; one day you might be up to your eyeballs in work, and the next you're wondering where all the work went. So times were booming for me, but along with those booming times was a feeling that I was dancing to stay atop a snowball that was careening down a mountainside. I had lost control of the fine balance between income and expenses, and my quality of life suffered for it.
I hit critical mass in 2014. I recognized the signs; I was tired before I even got out of bed in the morning, my head swimming constantly with "things to do". My neighbours would ask me if I'd been traveling since they hadn't seen me in ages, when in reality I hadn't gone anywhere; I was simply trying to keep up with work and the daily tasks of life. When I did travel, I spent most of my time locked in my room on my computer, wondering why I was even traveling to begin with.
What I'm Doing About it Now
By the last half of 2014, I knew it was time for another change. I'd lost much of my inspiration to write, and was frustrated with the cage I'd built myself that tied me to an internet connection practically every day. I wanted to engage the world on a different level. As I alluded to in my post outlining my 2014 income, I've already taken measures to fix this by cutting back on many of my freelance obligations to make space and time for new opportunities.
What this means, however, is that my income is also decreasing proportionately (at least for now). But the funny thing is, I haven't noticed a substantially lower quality of life for these decisions; in fact if anything, my quality of life is higher now that I'm spending more of my time each day doing things I want to do rather than things that simply pay the bills. And in many cases there's a marriage between the two (I'm doing what I want to do and making money at it).
Has Earning Money Sucked the Life Outta You?
What about you? Did you ever find that an increase in income wasn't everything you'd hoped it would be? Have you gotten a raise and then been disappointed with the quality of life that ensued? Have you been sucked into the lifestyle inflation funnel?