In my last couple of decades (!) on the road, I've come and go with using packing cubes for travel. Early iterations of packing cubes were bulky and heavy, and while they may have been great for organization, they sucked in the space-saving department.
They've come along way though, and I've tried a bunch of packing cubes in different luggage and packing scenarios. I've learned that some are definitely better than others. From design to materials to specific features, packing cubes could actually make – or break – your luggage experience.
In this article you'll get the dirt on the different kinds of packing cubes, what to look for (and what to stay away from), and a full breakdown of the best packing cubes for travel so you can choose the best ones for your next tip.
See also:
The Ultimate Packing List for Long-Term Travel
Top Packing Hacks: Best Travel Accessories for 2023
How to Decide Between Checked vs Carry on Luggage

Why are Packing Cubes So Great? The Benefits of Using Packing Cubes for Travel
While I was once staunchly against packing cubes, I've softened. Most of the time I travel with packing cubes now, and here's why.

Keep Your Luggage Organized and Tidy
Rather than opening your luggage to an explosion of random bits of clothes and accessories, you can keep your stuff organized using packing cubes.
This is ideal for couples or families using the same luggage; each person could have their own packing cubes, so it's easy to see what belongs to whom. You can also use packing cubes to separate clean and dirty laundry, or to group similar items together (like shirts vs. pants).
This is especially handy if you're changing destinations/locations a lot – it's much easier to reach for the packing cube you need rather than to unearth a pile of clothes while digging around for the one thing you need, only to have to re-fold/re-roll and repack everything before moving on.
Also, no matter how clean you are, the inside of your luggage is likely to get a bit dirty, and packing clean clothes into dirty luggage isn't ideal.

Maximize Your Luggage Space
This one is a bit debatable, since not all packing cubes actually maximize luggage space. Compression packing cubes are the trick to optimizing space (we'll get more into this in a bit).
The other trick is to use packing cubes of different sizes, so the smaller ones can fit into the corners and other nooks around larger packing cubes.

Easily Access and Find Your Belongings
Not having to rummage through your entire suitcase in search of the one thing (that will inevitably be at the bottom according to Murphy's Law) is a definite pro for using packing cubes!
The trick is to be able to identify which packing cube has what you need; you can do this by using different sizes and/or colours of packing cubes so you can pack thematically and know where everything is.
Some packing cubes also have mesh panels to help you to see what's inside; others have number systems, and others yet have pockets with labels you can write on if you like to get granular about the contents.

Protect Your Clothes and Other Items
Packing cubes can protect your clothes in three ways.
First, toiletry leaks or dirty items won't contaminate everything else, which will be protected in their packing cubes.
Also, by using packing cubes, you are neatly rolling or folding your clothes and putting them in the cube. Assuming you fill the packing cube to capacity, then even if your luggage gets jostled around, the clothes within the packing cubes won't move – which keeps everything together and reduces the chances that your stuff will come out wrinkled.
Last, at your destination, the clothing drawers at your accommodation may not be as clean as you'd like. By keeping your clothes in the packing cubes, you just made unpacking a breeze, and you're protecting your clothes against any drawer-ickies.

Airport Security
This is a bit of an "out-there" benefit to packing cubes, but it's an important one. Picture this: you're traveling with carry-on luggage only, and when your bag goes through the x-ray, it gets flagged for secondary inspection. The airport security officer then opens your bag and then has to rifle through all of your neatly rolled/folded clothes and even underwear! Not only could this be awkward, but then you have to refold/repack everything on the spot! Packing cubes help to avert this challenge.

Not sure whether to use packing cubes or just roll your clothes and put them directly in your suitcase? I created a video where I did a side-by-side comparison. The results were surprising! Check it out here.


Do Packing Cubes REALLY Help? Why You Shouldn't Use Packing Cubes
Everything has pros and cons, so let's get into it.

They're Space Hogs
If you don't use compression packing cubes, chances are you are not saving luggage space – rather, you're wasting it.
That said, my friend Alex who created Compass Rose packing cubes (which I profile below) begs to differ – she has a method of using regular packing cubes like they're compression packing cubes that is pretty killer; check out her video here.

Lose Track of What is Where
If you use a bunch of identical packing cubes, you'll have no way of identifying what's inside; finding what you need will be more difficult than necessary.

Wrinkles
Depending on how you pack your packing cubes, your clothes could end up more wrinkled than if you just rolled or folded them directly into your luggage. This is especially true of compression packing cubes, which really squish everything down.


Comparing Compression Packing Cubes vs. Regular Packing Cubes
The secret to maximizing luggage space with packing cubes lies in the ability to compress your stuff down. Certain clothing items (I'm lookin' at you, sweaters/hoodies/jumpers) take up more room than necessary if they're not compressed.
That said, they're not categorically the best choice – it depends.

What Are Regular Packing Cubes?
Regular packing cubes are simply rectangular or square-shaped organizers made of sturdy fabric that unzips on two to three sides. They're like mini suitcases. They come in different sizes and are often sold as a set, designed to help you organize and compartmentalize your stuff within your luggage.

Pros and Cons of Regular Packing Cubes
PROS
You can group like items together
They can lightly compress your clothes, depending on how you pack them
Can be used as makeshift pillows
Can also be used for organization at home as well as on the road
CONS
You'll rarely save luggage space
Adds weight to your luggage (though arguably it's negligible)
With so many packing cubes on the market it's confusing to know what's best (which is why you're reading this, so good for you)

What Are Compression Packing Cubes?
Compression packing cubes feature an additional zipper or straps that compress the air out of your clothes, creating additional space in your luggage.
If you want to get the most compression, it's best to fold your clothes, however many people prefer to roll their clothes that go in the packing cube because it fends off wrinkles more effectively and it's easier to open the cube and retrieve what you need without having to unpack the whole cube.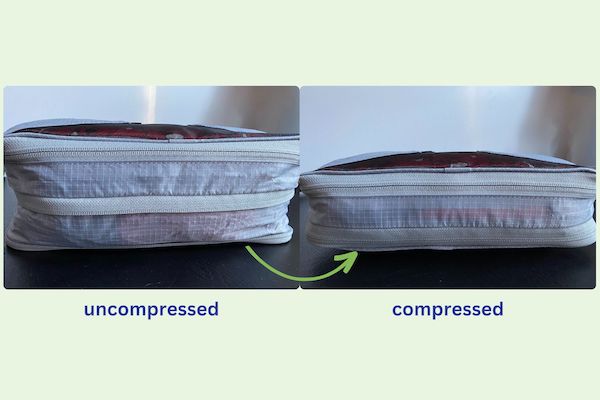 Are Compression Packing Cubes Good? Pros and Cons of Compression Packing Cubes
In addition to the pros and cons for regular packing cubes listed above, here are some pros and cons specific to compression cubes.
PROS
Allows you to pack more into your luggage
Reduces bulky items like sweaters to a reasonable size
Keeps clothes firmly in place, reducing chances of shifting during travel
CONS
Compression features may add extra weight to the packing cube (and thus, your luggage)
Compression packing cubes tend to be more expensive
When you create more space in your luggage, you may be tempted to overpack which can lead to overweight luggage

Top 10 Packing Cubes for Travel: Packing Cube Reviews and Recommendations
Behold: a list of some of the most popular – as well as a few obscure – packing cubes! I obviously want to cover the top packing cubes, but I also want to highlight some lesser-known ones for their unique features that may be appealing to you for your next trip.
I've further categorized them into two groups: compressible packing cubes, and non-compression cubes, so you can choose the best packing cubes for your travel needs.
Keep reading after this list – because I'll get into the specifics of what some of the features mean (like breathable mesh panels – which are a double-edged sword!) so you can figure out which features will be most important to you, and under which circumstances packing cubes are best (hint: the type of luggage you have is pivotal).
Note: I bought some of these packing cubes myself, and others were sent to me for free. In all cases, the links to purchase these packing cubes are affiliate links, which means I'll get a wee commission if you click through and buy something. This is how I make my living and continue to provide in-depth travel resources like this for free, so thank you in advance for your support.

COMPRESSION PACKING CUBES
Eagle Creek Pack-It Specter Compression Cubes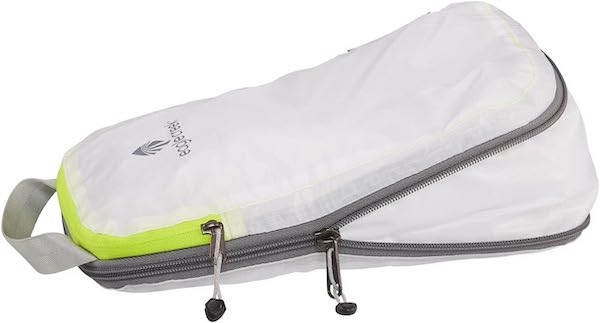 Eagle Creek is probably known best for these packing cubes. They're made from ultralight material and compress down really well. Although I've never owned them myself, I traveled with somebody who had them and loved them.
PROS
Very popular among travelers
Lightweight
Fantastic compression
Ultralight rip-stop material feels nice
Water-resistant
CONS
A bit more expensive
Not transparent (difficult to see/know what's inside)
Zipper doesn't allow cube to open fully
Get your Eagle Creek packing cubes here.

Peak Design compression packing cube sets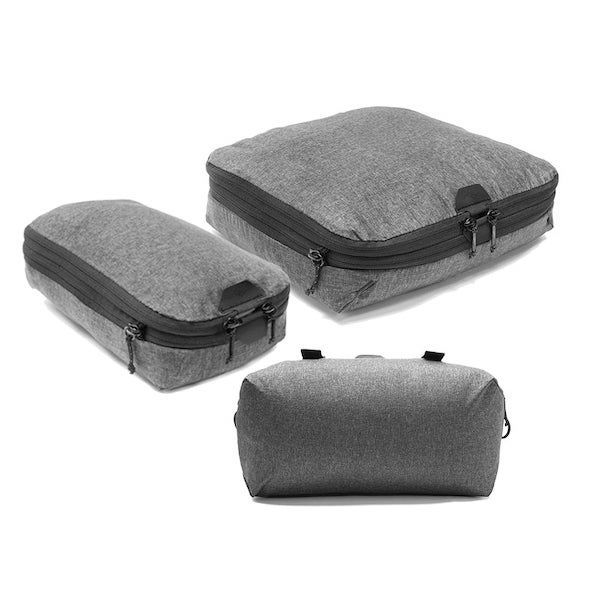 As the most expensive packing cubes on this list, I probably wouldn't have considered investing in them….if I hadn't hung out with a travel companion who had them and absolutely raved about them. So I performed a critical inspection!
They are far and away the nicest packing cubes to feel and touch, and are made of this unique self-healing material that magically heals from small punctures and scratches. The tear-away zipper also makes it smooth and easy to open when unpacking. Everything about it just feels lovely. Like everything made by Peak Design, they're thoughtfully designed, and environmentally friendly.
PROS
Lots of size/bundle options
Material feels super soft and really nice to the touch
Unique tear-away zipper for easy opening
Internal divider to separate clean/dirty laundry
Fantastic compression
Made of a self-healing nylon/poly blend!
Shell made of 100% recycled material
Fair-trade certified, carbon neutral
Lifetime guarantee
CONS
Most expensive on this list
Because of tear-away zipper, it doesn't fully close
Shop for Peak Design packing cubes here.

Well Traveled Deluxe Compression Packing Cube Set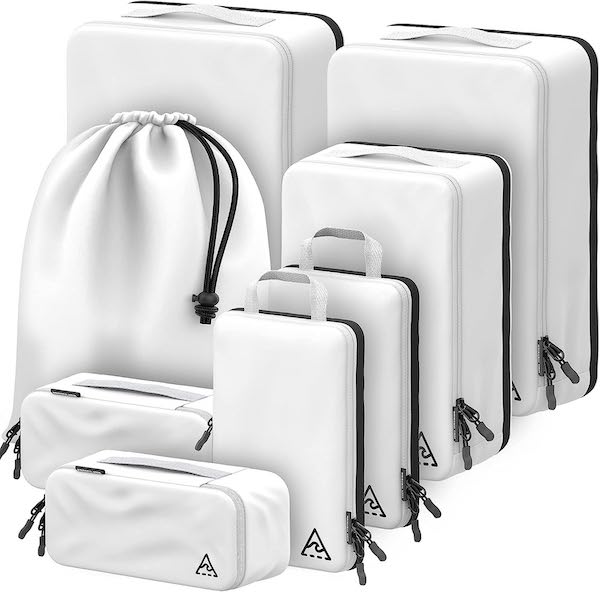 I was ambivalent about these when I ordered them, but I must admit they're super handy. I love the variety of sizes in the 8-piece set; I can pick and choose which ones to take on each trip so everything fits perfectly together in my luggage.
They also feel nice to the touch and the compression factor is amazing. I'm not in love with the card system for identifying what's in each cube (I'm too lazy for that), but some people would probably love it. And they include a huge stack of cards that fit perfectly into the little pockets designed for them. So it's the best of both worlds: sturdy material for compression, but still with the ability to know what's inside each cube.
PROS
Fantastic compression
Big selection of sizes (especially in the 8-piece set) so you can choose the perfect cubes for each trip
Reasonably priced
Unique card system for identifying contents
Water-resistant
Super durable material, washer/dryer safe
Highly-rated on Amazon
CONS
Can't see what's inside (beyond reading what's on the card – which honestly I'm usually too lazy to use)
Not super breathable
Zippers feel cheap
Get your Well Traveled packing cubes here.

Knack Bags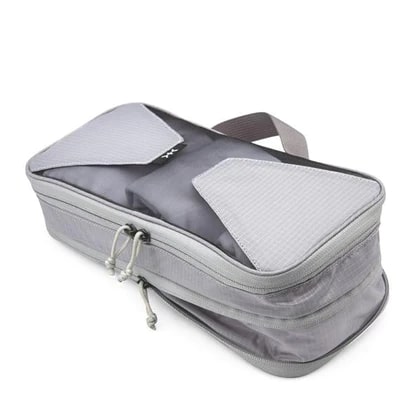 I rarely go on a trip without at least one of these packing cubes by Knack Bags. I like everything about them, from the oblong shape, to the breathable mesh windows, to the sturdy material that helps them compress effectively. Knack Bags also makes compressible shoe bags and other handy travel accessories, in addition to their signature expandable backpacks (which I created a video review about here).
PROS
Breathable mesh top
Great compression, material never gets caught in the zipper
Designed to fit specifically into Knack Packs
YKK reverse coil zippers
Solidly made, very durable
Strong 70 denier ripstop nylon fabric
CONS
On the more expensive side
Large size cube is a bit too large for carry-on luggage
Not particularly lightweight
Buy your Knack Bags compressible packing cubes here.

BAGAIL 4 Set/5 Set/6 Set Compression Packing Cubes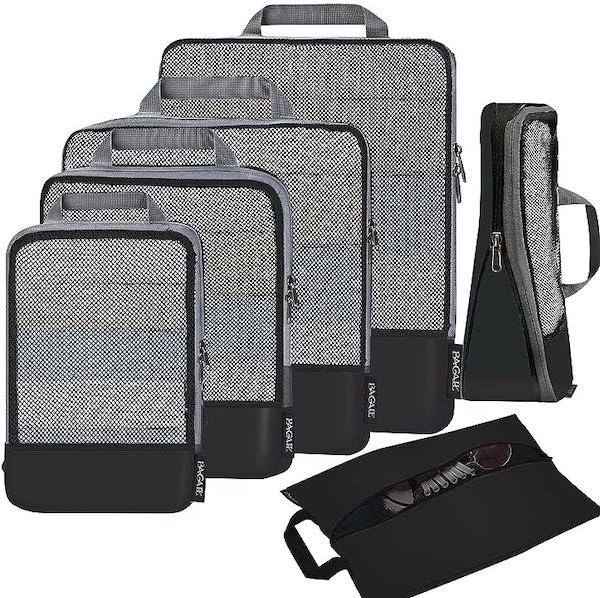 I don't have these (yet), but no packing cube review list would be complete without them, given their massive popularity on Amazon! This many people can't be wrong; these must be good.
PROS
Huge variety of colours and combination options
2nd highest number of ratings on Amazon (behind Amazon Basics)
Big-time compression
Water-repellant
Machine washable
CONS
No way to tell what's inside
Questionable durability
Not breathable
Surprising number of reviews indicating users didn't end up saving luggage space
Get your BAGAIL packing cubes here.

NON-COMPRESSION PACKING CUBES
Compass Rose Slim Packing Cubes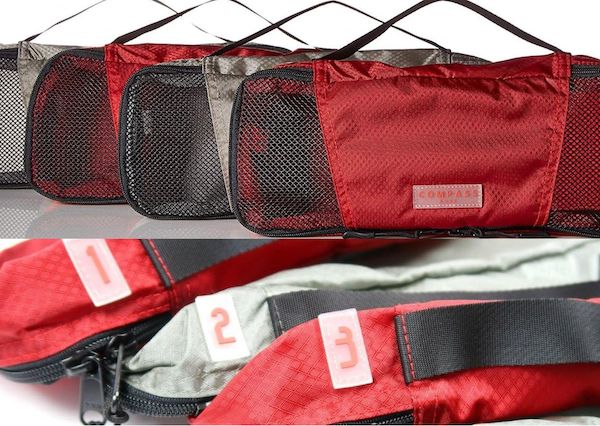 These are designed by my friend and travel colleague Alex of Travel Fashion Girl. She personally told me about her journey of tirelessly going through all the best packing cubes and identifying standout features, then the best materials, and then designing (and redesigning, and tweaking etc) the perfect packing cube.
PROS
Designed by a professional traveler
Super-breathable mesh on top allows you to see what's inside
They're numbered and coloured so you can identify the contents
Super high-quality double zippers makes it easier to compress stuff inside, even though they aren't strictly compression packing cubes
All 4 cubes fit perfectly into a standard carry-on hard-shell case
CONS
Not lightweight (tradeoff for durability)
Shop for Compass Rose packing cubes here.

Osprey Ultralight Packing Cube Set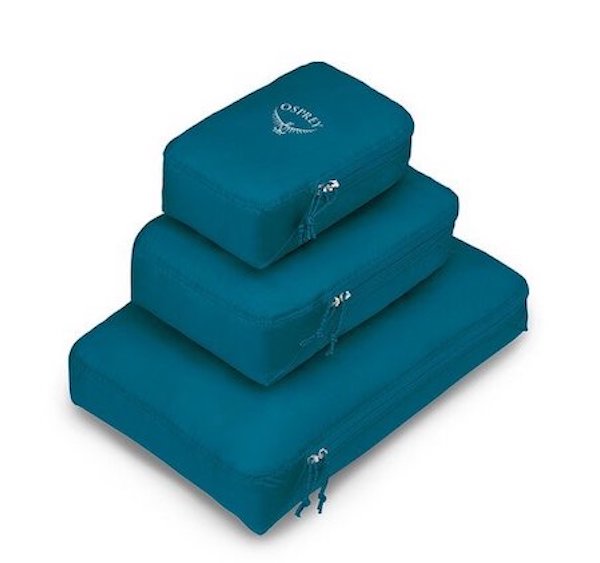 I haven't tried these, but everything I've ever owned by Osprey has been well-made and strikes a great balance between being durable while still lightweight. I can only imagine their packing cubes follow suit.
PROS
Bluesign® approved main body fabrics
GRS-certified 100% recycled material
Osprey is a great luggage brand, makes high-quality stuff
Well-rated on Amazon
Very ultralight
CONS
Doesn't have zipper on 3 sides (double-edged sword)
Priced on the higher side
Get your Osprey Ultralight Packing Cube Set here.

Amazon Basics Packing Cubes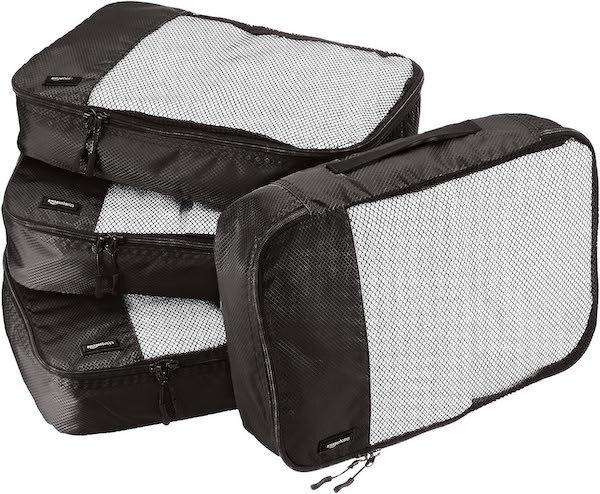 AmazonBasics' packing cubes are a budget-friendly option that still offer good quality and functionality. They are far and away the most-reviewed of the packing cubes on Amazon, and still have a 4.7 rating, which is pretty outstanding.
PROS
Most budget friendly
Lots of colours to choose from
Most-rated on amazon
Biggest breathable mesh panel on top so you can see what's inside
CONS
Feels cheaply made
Zippers not super durable
Get your Amazon Basics packing cubes here.

eBags Classic Packing Cubes

eBags is a well-known brand in the packing cube market, and on Amazon they're well-rated and reviewed. I don't own them (nor do I know anybody who does, curiously enough).
PROS
Breathable mesh top
2 YKK zippers for ease of opening and closing
Guaranteed under eBags Lifetime Warranty
Relatively inexpensive
CONS
Reports of zippers breaking and mesh ripping
Shop for eBags Packing Cubes here.

Standard Luggage Packing Cubes (3pc set) – A Hanging Travel Dresser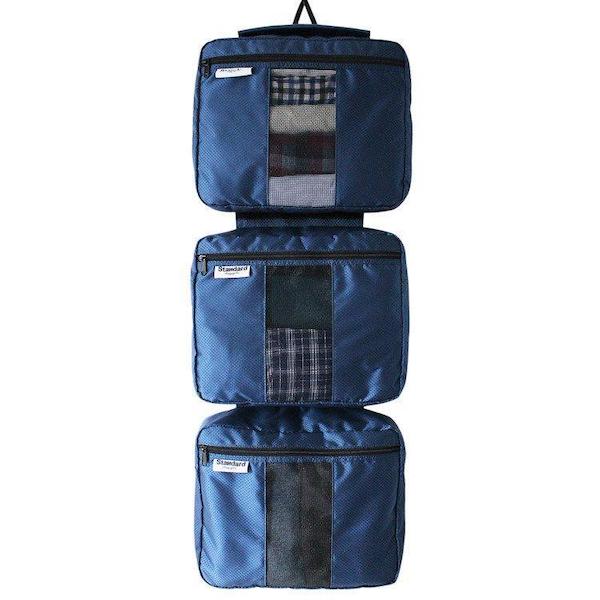 You won't see these on many (if any!) packing cube reviews, because they're an accessory designed to fit perfectly inside Standard Luggage's expandable carry-on backpack (which I review along with the packing cubes in a video here, and also in an article about one bag travel here).
But you don't have to own the backpack to own and appreciate the packing cubes – which convert ingeniously into a hanging travel dresser!
PROS
Breathable mesh top so you can see what's inside
Packing cubes attach together so you can hang them anywhere
Durable rip-stop shell with YKK zips
Lifetime Warrantee and Satisfaction Guarantee
Saves space at destination if there aren't drawers
Easy access to your stuff
Designed to fit perfectly inside Standard Luggage carry-on backpack
CONS
Because of the hanging dresser features, these are heavier and bulkier than many packing cubes
Not super cheap
Contents can get a bit jumbled after a while of using them while hanging
Get your Standard Luggage Packing Cube / Hanging Dresser here.


How to Choose Packing Cubes: Things to Look For in the Best Quality Packing Cubes
Now that you're familiar with the various types of packing cubes (eg: compression vs non-compression), and why to use (or not use) them, let's take a closer look at exactly what features to look for in choosing the best packing cube for you. After reading this, you can scroll back up to the list of top packing cubes and perhaps reevaluate your needs!

Ways to Know What's Inside
One of the top complaints of certain packing cubes is that if there's no way to know what's inside, then if you're looking for something specific and don't remember which packing cube you put it in, you have to unpack them all to figure it out. And if you're using compression packing cubes, it's an additional hassle.
So it's nice to have either a mesh panel on top, or colour-coded cubes, or different-sized cubes, or the ability to put labels on them with what's inside written on the label (Well Traveled does this well).

Examine Your Zipper!
There are three things to look for when it comes to packing cubes zippers:
High quality and durable, so it can hold the contents better (especially if it's a compression packing cube, which will put stress on the zippers) and withstand wear & tear.
Ensure the design of the zipper isn't such that the packing cube's contents can easily get caught while opening/closing the packing cube.
Some of the packing cubes above don't open up fully (clam-shell style), and instead only allow the packing cube to open halfway. Some people like the half-opening style because you can leverage it to cram more into the cube, but most people (myself included) prefer clam-shell.

Material
Look for packing cubes made of lightweight and strong materials, such as rip-stop nylon. Water-resistant or waterproof material offers added protection for clothes (though it's a compromise in the breathability department).
Bonus points if the material is recycled, contributing to sustainability efforts.
See also: Eco-Friendly Products That Will Help the Environment

The Cost of Packing Cubes
Obviously cost is an issue, but don't let it be the only determining factor. There is usually a balance between cost and quality. Higher prices can mean the packing cube will last longer and may have better functionality.
If you travel a lot and want some packing cubes that will go the distance, you may want to spend more money. Then again, if you're new to travel or on a budget, there's nothing wrong with starting off with something cheaper to see if packing cubes are complementary to your travel style and needs.


How to Pack Efficiently with Packing Cubes
Okay, you've chosen the best packing cubes; now to figure out the best way to use them! On every trip, I experiment with different ways to fill and organize packing cubes, and I encourage you to be equally experimental in your approach. There is no right or wrong answer! Here's some guidance:
Choose the Right Packing Cubes for Your Needs
Do you need a whole set, or just one or two? What sizes do you need? Think about what you'll pack into the cube; it will help you choose the best one for your trip.
Remember: although most people think about putting clothes into packing cubes, you can pack whatever you want into them! Get creative.

Roll or Fold Your Clothes Before Packing Into Cubes
Ah, rolling vs folding: always a debate! You can do either in a packing cube: they each have pros and cons.
ROLLING
Pros: Space-saving, wrinkle reduction, easy access, prevents shifting within the cube.
Cons: Difficult for bulky items, not suitable for all fabrics, contents don't compress as well.
In general, I think rolling clothes in packing cubes is best used with non-compression cubes. You can roll tightly and stuff the clothes into the packing cube more effectively.

FOLDING
Pros: Better for structured garments, easily stackable, minimizes creases for certain fabrics, better for compression packing cubes.
Cons: When you need something from the bottom of the packing cube, you need to unearth everything.
In general, it only makes sense to fold stuff into packing cubes if you are unpacking everything immediately at your destination. If you live out of your luggage, it'll be a wrinkled mess in no time.

Use Packing Cubes to Separate Items by Category
One of the best things about packing cubes is that they help you organize your luggage. Here are a few ways you can organize your packing cubes:
By clothing type (eg: tops in one cube, bottoms in another, workout gear in another)
By outfit (eg: one packing cube per day of your trip)
By family member (when multiple people are packing into one piece of luggage, packing cubes are ideal!)
By weather or location (if you're visiting different places, you can pack cubes according to where you'll be and what you'll need in that place)


How to Decide If Packing Cubes are Worth It For YOU: The Best Packing Cubes for Different Types of Travel
Let's put everything in this article together so you can decide in which cases packing cubes will make sense for you, and when they might not.
Best Packing Cubes for Carry On vs. Checked Luggage
If you are traveling super-duper ultralight with carry-on luggage, packing cubes might tip you over the edge in terms of space or weight. In this video where I do a side-by-side comparison of packing cubes vs. rolling, rolling comes out ahead….if even just by a wee bit.
I say if you are using packing cubes in carry-on luggage, then it's best to use compression packing cubes. (This is what I do).
If instead you're traveling with checked luggage, packing cubes (regardless of whether they're compressible or not) will be invaluable from an organization perspective, since you're bringing more stuff and your luggage will be more cavernous than carry-on.
Not sure whether checked or carry on luggage is best for you? Click here.

How Important is Organization?
I'm a sucker for a well-organized pack. Not everybody is though. If you're sharing luggage space with others, packing cubes are doubly important.
Ultimately if we go on the premise that organizational packing cubes come at the expense of space and weight, the question to ask is how much time do you spend searching for the things you need, and how much does that frustrate you? If it's not an issue, then maybe packing cubes aren't worth it for you.

Are Your Clothes Wrinkle-Resistant?
Compressible packing cubes in particular may result in wrinkles if your clothes aren't wrinkle-free or wrinkle resistant. Then again, packing cubes keep your stuff from shifting within your luggage, which means it will be exactly as you folded/rolled it within the packing cube vs. getting jostled about in your luggage.
I think the lesson here, is don't pack clothes that wrinkle!
See also: The best wrinkle-free travel clothes for women

How Often Are You Changing Locations on Your Trip?
With packing cubes, you can "unpack" by putting the packing cube directly into a drawer, which might be easier than manually unpacking and repacking your whole suitcase each time you move.


Conclusion: Are Travel Packing Cubes a Smart Investment?
As with so many things in the travel world, there is no one-size-fits-all answer, and the value of packing cubes varies for everybody. It's good to know your personal travel habits before deciding to invest in packing cubes (especially the really expensive ones).
Personally, I love having a bunch of different packing cubes to choose from for each trip, and I've found that you definitely get what you pay for in terms of quality, functionality, durability, and sheer enjoyment of use (eg: Peak Design's cubes feel soooooooo nice).
But I have a lot to choose from because I'm in this biz, and I've been accumulating packing cubes and testing them in various circumstances for well over a decade. Start with the packing cubes on this list that intrigue you the most, and go from there.
Happy travels!