It's with mixed feelings that I watch Madeira island fade away into a tiny speck in the middle of the Atlantic ocean, as I leave it for the second time this year. Dubbed "the Hawaii of Europe", this remote island is also known for being quite "sticky" – people tend to come and never leave, or, like me, they leave but keep coming back.
Here's why Madeira is such an attractive place to visit (despite the fact that many people can't even find it on a map), how it became one of the top digital nomad hubs in the world, and how you can visit Madeira as a digital nomad and get the most from the experience.

Madeira Island Travel Guide: Where is Madeira?
Madeira is an island that belongs to Portugal, but is geographically closer to Morocco than Portugal. And depending on who you talk to, some will tell you that Madeira is culturally more like Africa than Europe.
Despite being part of Portugal, Madeira has its own elected government with some degree of autonomy.
Because of its location, it is the warmest place in Europe during winter, and has generally delightful weather year-round; rarely too hot nor too cold.
Goldilocks would be pleased.

This, of course, depends on where in Madeira we are talking about, since it may be a small island but it's also a relatively tall one, with many microclimates. Its beauty is in part due to the near vertical terrain, with houses and towns built (sometimes precariously) into the hillsides.
Although you can drive around the whole island in a few hours (thanks to the incredible system of over 150 tunnels that were built shortly after Portugal joined the EU), the highest peaks are almost 2,000 metres above sea level. And of course the higher you go, the cooler it gets.


Madeira Hiking Trails
2,000 metres elicits pictures of rugged untouched wilderness, and while that's not inaccurate, you can also quite literally drive to it. One of the most popular hikes on the island is called Pico do Pico, and starts with a drive to the top of Pico do Arieiro to watch the sun rise, before hiking down into the valley and up to the neighbouring Pico Ruivo, which is the tallest mountain on the island.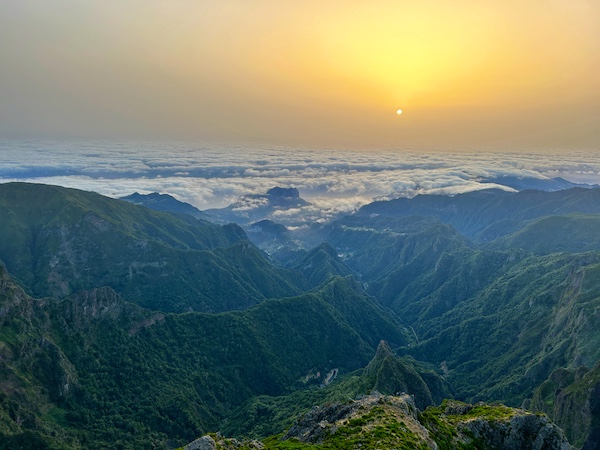 The hike is challenging; anything with an elevation loss and subsequent gain of about 500 metres is not to be sniffed at. On the day I did it, two people had to be air lifted off the mountain due to heat exhaustion. That said, the hike is also practically paved. There are literally stairs with handrails at the steep bits.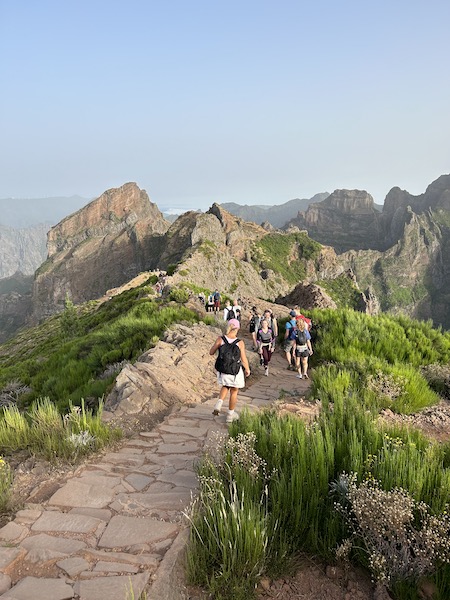 Up and down aren't your only options for hiking in Madeira; hiking is one of the top pastimes for visitors and locals alike, and with over 3,000 kilometres of hiking trails, it's a hiker's paradise.
The network of tunnels I referred to earlier are one of a few engineering marvels in Madeira; the island is also rife with "levadas"; a form of irrigation initially developed hundreds of years ago to transport water to all parts of the island. And beside many levadas are hiking trails.

In my two cumulative months on Madeira, I did about eight proper hikes, the longest one about 20kms. Each offered vastly different terrain and views, and I know I still have only scratched the surface.
I discovered these hikes and found carpools to and from the start and end points, thanks to another marvel of Madeira: the amazing system that has been built to help islanders and long-term visitors alike connect and enjoy all that Madeira has to offer.

The Rise of Digital Nomads in Madeira
Madeira depends heavily on tourism, and like many tourism-dependent locations, it suffered profoundly when the pandemic hit. But some would argue Madeira's problems pre-dated the pandemic; as a small island with limited options and industries, young people with career ambitions bigger than Madeira could support had to move away to earn their livings, and few ever return.
Gonçalo Hall, a Portuguese man hailing from Lisbon, saw an opportunity to contribute to Madeira's economy, revive the dwindling population, and to create a paradise for digital nomads – a triple win. He created a project that has since taken on a life of its own: Digital Nomads Madeira Islands.
Gonçalo initially zeroed in on Ponta do Sol, a small village on the south coast of Madiera that, despite the epic sunsets, was suffering. Generations of young people were all moving away due to lack of opportunities, leaving empty houses and closed businesses in their wake.
What Gonçalo saw in Ponta do Sol was an ocean of opportunity. He wanted to create a digital nomad village that would have an impact not just for nomads, but also for Madeira (present, and future).
First he created an infrastructure for nomads to arrive. With the help of the regional government, he reached out to local businesses to discuss the pending influx of nomads: hotels, restaurants, local accommodation, consultants, lawyers, car rental agencies, creatives, and entrepreneurs from different areas. The idea was to help them understand what digital nomads need so they could be prepared (top of the list: ergonomic workspace, fast WiFi, and good coffee. We are simple creatures).
Then a coworking space was built, but not just for nomads coming from afar; it was built to be a place where locals and visitors alike could connect and share skills, ideas, cultures, and more. These kinds of collaborations and connections are not only valuable from a social standpoint, but they also create lasting effects like new businesses, tech initiatives, volunteer projects, knowledge transfer in schools, and more.
The social infrastructure was next. Slack channels and WhatsApp groups were created to keep everybody apprised of the local schedules and activities (which are many!) available throughout the week.
Since its inception in 2021, the Madeira digital nomad community has grown well beyond Ponta do Sol. There is now a presence in most major towns around the island. For example, Madeira Friends is a non-profit that hosts regular events, workshops and more, mostly in Funchal.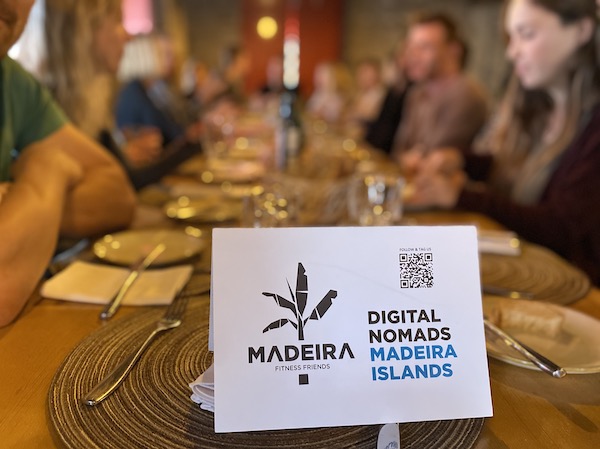 There are now Slack channels, WhatsApp super communities, and themed groups for whatever you want to do, from hiking to salsa dancing and beyond.
There are weekly lunches, cocktail parties, and cross-fit sessions. There are dance lessons, coding workshops, and mastermind sessions.
All of these events are designed for all to attend; locals, visitors, expats, and of course, digital nomads.
Gonçalo's ultimate vision for this project has been not only to create a space for nomads to connect and collaborate, but also to provide sustainable income for local businesses, and also, a sharing of skills and perspectives with local Madeirans – to expose them to remote work opportunities and give them a chance to choose to stay in Madeira and build their lives and careers locally, rather than to feel their only chances to earn a decent living exist offshore.
He is also developing similar communities in other parts of Portugal, as well as Brazil, Cabo Verde, and other places. You can see what he's up to at NomadX.


Digital Nomad Communities in Madeira: How to Find Events
Start off by signing up on the Digital Nomads Madeira Islands website (it's free), which will give you access to the Slack Community and more. This will tap you into the pulse of what's happening around the island, how to find accommodation, social activities and workshops, and much more.
You can get by with just the Slack group, but once you dig in a bit you'll also discover dedicated WhatsApp groups for a variety of interests, like hiking, dancing, tech, vegans, social events, and much more. Be warned: it's a time suck and a black hole! Join groups at your own peril.


Madeira Accommodation Options for Digital Nomads
For my first visit, I stayed in a coliving space that I found on the Digital Nomads Madeira site – which offers a variety of options for finding accommodation; options that I would later come to learn were comprehensive but far from complete.
When I returned to the island later in the year, as much as I liked the coliving experience, I wanted a place of my own so I could host a visiting friend, and I found it by scouring the #accommodation channel in the Slack group for Digital Nomads Madeira.

Coliving in Madeira
Here are the coliving spaces I'm aware of in Madeira.
See also: Local Coliving Spaces Around the World
FUNCHAL
PONTA DO SOL
SANTA CRUZ
JARDIM DO MAR
Nomad-Friendly Monthly Rentals
The first time I went to Madeira, I had visions of getting a monthly rental, but I struggled to find digital nomad accommodation websites. So I created this page as a worldwide monthly rental resource for digital nomads. Quite a few of the sites in that article now have places in Madeira too.
Please bookmark and enjoy!
For medium to long-term rentals in Madeira, the best place to look is on the #accommodation slack channel for the island (which you can sign up for using this form from the Digital Nomads Madeira website). It is full of listings by local owners, some of whom have properties that they rent out all the time to a mix of long-term or short-term tenants, others who are subletting their apartments while they're off the island. Marelin of Madeira Friends is also tirelessly dedicated to helping people find the perfect rental, and she maintains a notion page with listings (which you'll also find in the Slack channel).
Here are some additional websites that have a good number of listings on Madiera island.
You'll also find some hotels and vacation rentals offering specials for digital nomads on this page.


Choosing Your Base: Funchal vs. Ponta do Sol
When I was planning my first visit to Madeira, I couldn't figure out from afar where I should stay: Ponta do Sol or Funchal?
Luckily a friend who had been to both places advised me from her experience.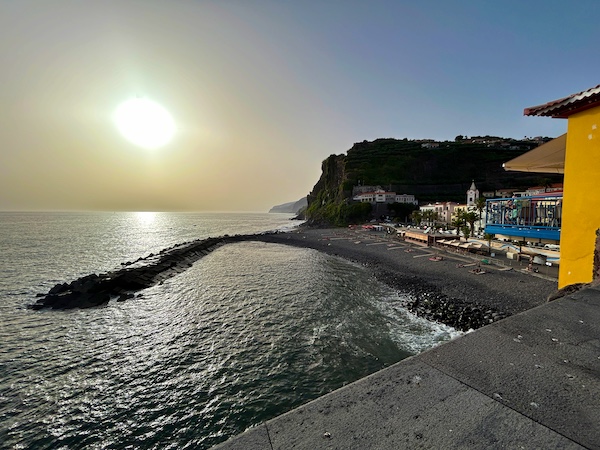 Ponta do Sol is a small town with limited options (for example only a handful of restaurants), but a very strong digital nomad community and is surrounded by beautiful nature. It is not far from Funchal (a 30 minute drive), however there is no public transportation between towns and Bolt is unreliable.
So if you plan to visit Ponta do Sol, to get the most out of the experience you may want to arrange for a car. Alternately if you want a quieter life but with the ability to connect with other nomads, Ponta do Sol might be your speed.

Funchal is the island's capital, with a population of 105,000 and lots of infrastructure to support it. It's also where the cruise ship port is, and depending on the time of year, multiple ships can be in port daily.
Funchal has a well-developed public transportation bus system, a fair bit to see and do as a visitor, and even more stuff to do as a digital nomad.

I chose Funchal primarily because I wanted access to latin dance socials and classes, and I also wanted things to do and an opportunity to experience more local culture than I anticipated I could find in Ponta do Sol.
I made the right choice for me (both times). But I wouldn't discount staying in Ponta do Sol on a future visit. The Outsite space in particular (linked to earlier) looks like a beautiful place for a retreat and/or to get some concentrated work done.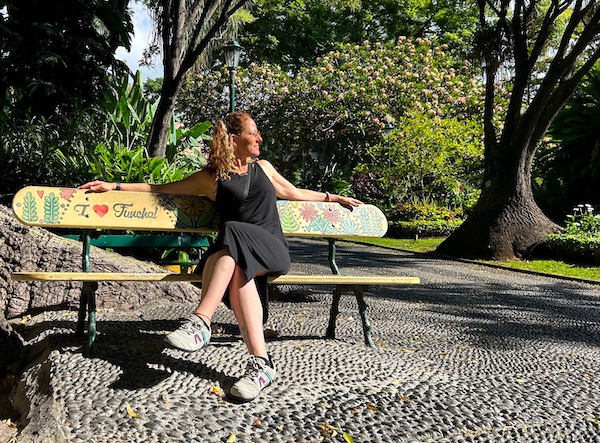 Choosing the Best Time to Visit Madeira
My first month in Madeira was January. It wasn't cold per se, but it sure wasn't hot (daily highs were around 15-20 degrees Celsius). There was some rain but never so much that I felt inundated or socked in.
I was a bit surprised by the temperatures during my visit; I had expected 20 degrees, not so much 15 degrees (with lows in the single digits). I was glad I had my down jacket for the chilly evenings, and given that most homes are not particularly insulated nor heated, I was downright cold in bed most nights.
Arriving on January 2nd was regarded by the locals as a planning oversight; Funchal is known for its fireworks display on New Year's Eve, and I missed it by a hair. I wasn't too late however, for the incredible display of lights in Funchal; the city centre is adorned with lights everywhere, and lights are even strung up along the roadsides way up into the hills above town. It's a monumental undertaking each year, and a sight to behold.
This makes Madeira a prime place to visit over the Christmas Holiday season.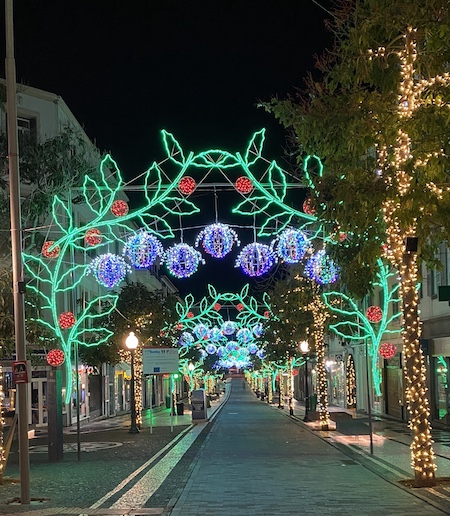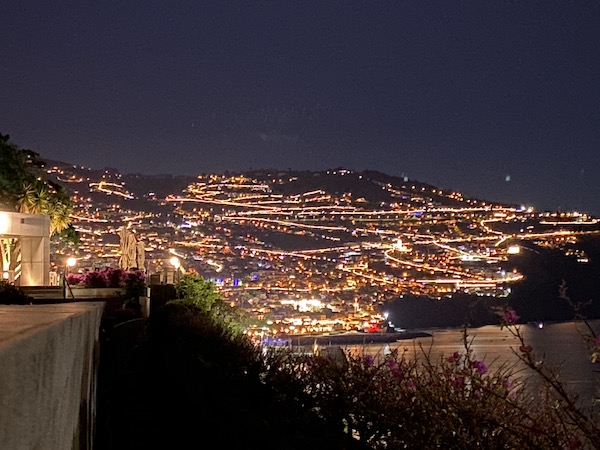 But I was cold and wanted to see summer in Madeira by contrast. So I returned for the month of August.
I got more than I bargained for. If January of this year was unseasonably cold, summer was…you got it – unseasonably hot. And like the absence of heating, as a (usually!) temperate island, most homes also don't have air conditioning. My apartment happened to be the kind that offers no circulation either; it was a sauna inside and out, from which I had no escape.
Actually that's not quite true; there was an escape from the heat, and that was to go to higher climes and/or breezier places. Ponta do Sol, for example, was reportedly not as stuffy.
So, having experienced both extremes of Madeira, I would like to suggest that the best time of year to visit Madeira from a weather perspective is in the spring or autumn seasons.


Coliving vs Solo Living: Personal Reflections
My respective experiences in Madeira not only differed in terms of weather; they also differed dramatically from a social perspective.
My first trip to Madeira was also my first experience with coliving, which was an amazing experience overall. While people came and went from the large two-story six-bedroom apartment in Funchal, there was a core group of us who were there for most of the month.
There were workspaces, fast internet, and comfortable spacious common areas for us to work, cook, and live together.
At one point, during an impromptu household dinner and games night I counted eight nationalities represented at our table; all of us sharing our respective cultures and ideas, and collectively experiencing and reflecting on Madeira through our unique cultural lenses – which made for some fascinating conversations and interactions.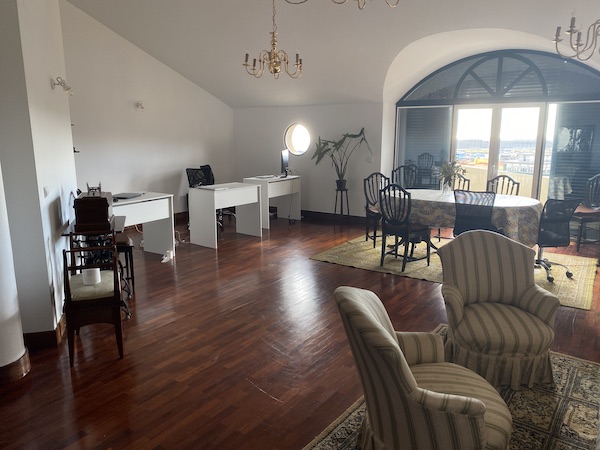 It was also nice to work alongside other people. It wasn't until my second trip to Madeira when I had a place of my own that I started to realize that as much as I consider myself a lone wolf, I am more productive when my schedule is a bit more accountable due to the presence of others.
In fact, it was my coliving experience in January that inspired me to level up the experiment and spend a month in Estonia with Hacker Paradise in September.
That is not to say that having my own studio apartment in Funchal wasn't delightful for its own reasons. It offered considerably more privacy than the coliving space, and allowed me to have overnight guests (a friend from Toronto came to visit me). It was also cheaper than the coliving space.
Each of these options had pros and cons. For myself, with Madeira as the the "control" factor in my initial experiment with coliving, I feel like coliving is a fantastic option for digital nomads who are traveling solo. And if you're an introvert (as I am), you may find that the presence of others at a coliving space gives you that wee bit of extra motivation to get out the door and experience your destination during those times when it just feels easier to stay home and eat potato chips. I will quietly admit that during my second tour of duty in Madeira while staying on my own, I wasn't as productive with work and I ate more potato chips than I should have.
Regardless, I still got out on a bunch of hikes, attended some lunches, a handful of dance classes and social nights, and further reinforced my love of Madeira.
I'll be back.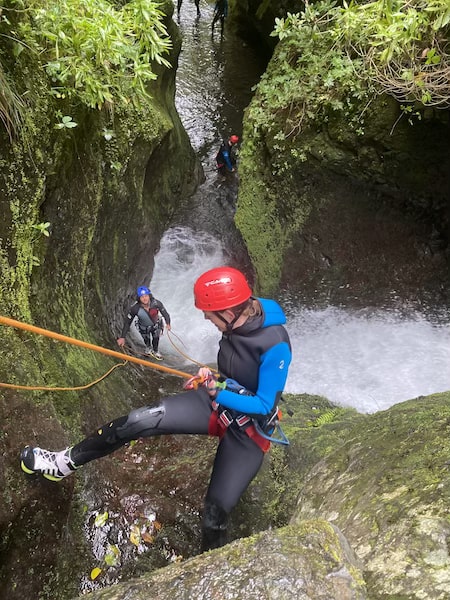 Interested in the Island Life? Here are a few other islands you might find "sticky":
All Life is Suffering: A Month in Koh Phangan, Thailand