Are you looking for unique and useful travel gifts for the traveler in your life – or perhaps shopping around for some travel gear ideas for yourself? Then look no further. Here is a travel gear roundup of stuff that has passed my road-tests. You'll also find some indispensable travel services, and a few books to keep you busy while waiting for that flight.
This post was originally published in 2016, and has since been updated for accuracy of links and product information.
Disclosure

Throughout the year, I'm regularly contacted by various travel gear and service providers who want to offer me their product in exchange for a review.

I say no more often than yes.

But occasionally, I see something that could be valuable for travelers like myself – and by extension, you – and I do say yes. Below you'll find a selection of these items; travel gear and services that I've had a chance to use throughout the year, and am happy to introduce to you here. In most cases, I've been given a discount or free sample (and I've used a few affiliate links). In a few cases, I've shelled out my own shekels to own them. In all cases, you can expect my brutally honest review of how I use these items, and whether or not it would be for you.


UNISEX CLOTHING
I was immediately impressed with the quality and look of this jacket. I got the soft-shell with the optional zip-in fleece liner. The soft-shell has a high-quality lining that makes it silky comfortable and adds some warmth. Stuck in the rain? No problem. I didn't feel wet at all, and once the rain stopped, the jacket dried quickly.
The jacket is also warmer than I thought it would be; and even more so with the zip-in fleece liner. It was sufficient to handle the last barrage of winter in Canada, followed by the wet and cold of Irish spring (the place and season, not the soap). The liner is easy to put in and take out, which comes in handy when hiking in the Peruvian Andes in temperatures that swing 20 degrees (Celsius) over the course of a day.
Beyond the excellent overall quality of the jacket, one of the main draws of Global Travel Clothing items (which include a windbreaker and a sweatshirt) is that of pockets. Lots of them. In fact, there's a few too many for my own liking, since I'm not a fan of overstuffed pockets (which aren't very flattering in my opinion). But…with the sheer variety and accessibility of pockets, what you have is choice. The rain jacket I owned prior to this was minimal in the pocket department, which I found frustrating, especially on hikes – when I like to have my camera and a few items easily accessible without having to dig through my backpack each time I need them. With this jacket, I'm able to distribute the things I need throughout the jacket pockets and access them with ease.
One note about the sizing (which they're very clear about this on the website, but it bears repeating): the sizing is according to jacket size, and not person size. Thus, you need to order your jacket one to two sizes larger than the size of clothing you normally wear. I'm normally a small-medium, so I ordered a large – and I wouldn't want it any smaller, especially when I have layers on underneath the jacket and/or have the zip-in liner on.
Order your Global Travel Clothing Jacket here.


PACKING TOOLS
Rolo Travel Bag
I'm a big fan of packing tools, and Rolo is a new fav of mine. Basically you put your clothing into the various zippered mesh pockets of this durable ditty, then roll it up and compress it with the straps. When you arrive at your destination, it's as easy as unrolling your Rolo and hanging it up in the closet!

I've been using my ROLO for the better part of a year, and it works a charm. I can fit almost all my clothes into it (which is a lot), and on arrival at each new place, I am so grateful to simply unroll and hang it in the closet and be "unpacked". Being able to compress the rolo makes it an easy fit into my luggage, and everything is always organized.
There's also a (detachable) carry strap for the Rolo, which I initially thought would be useless. But in fact, I've taken my Rolo out with a few odds and ends in it on day excursions and overnight trips, and it works great! So it's a cool tool both for the road, and at home.
The bad news: all this Rolo sturdiness weighs in at 1.25 pounds. So if luggage weight is an issue for you, the Rolo might present some challenges. Also, I'm not convinced of its space-saving powers. Traditional packing principles suggest the best way to get the most out of tight luggage space is to simply roll each piece of clothing and stuff it into whatever cracks you can find.
But all in all, the Rolo has earned a place in my bag, and is a valuable tool to organize and compress my stuff. I love it.
Order your ROLO here.


Toiletry Bag
Here's another packing tool for organizing your stuff and hanging it with ease at your destination. The TUO by Origami Unicorn is a small(ish) light organizer for smaller items like socks, underwear, bathing suits, belts, etc. With mesh fronts and lots of cute pockets, everything has it's place, and when you unpack, you just unclip and unfold your TUO and hang it up anywhere with the multi-functional top-straps. It's solid, well-made, water-resistant, and very useful for organizing your stuff – and using it as you travel.
My only reservation with it is that it doesn't actually compress anything….and when it comes to socks and underwear, they are so very compressible that I don't feel the TUO helps me save as much space as I'd like.
My solution? I use it as a toiletry bag instead! It's perfect as such, and with the ease of hanging it anywhere, it keeps me organized and ready to pack/unpack at a moment's notice.
During my week in Ireland (staying at five different places in seven nights), I had my Rolo and my Tuo, and the two were very complementary. Basically I fit everything I needed for a week into the two bags, and I had lots of room left in my carry-on. And packing/unpacking at each location was a total breeze. My mum who was traveling with me expressed her jealousy more than once.
Note: The TUO appears to have been discontinued. Since my TUO days, I've embraced Sea-to-Summit's ultralight hanging toiletry bag, which is infinitely more space-saving and equally easy to use.
Check out this newer updated roundup of the best packing tools and hacks to level up your travel game!


FOR THE LADIES
Tieks

It took me a long time to pull the trigger on buying these babies, given the cost ($165+ per pair). But after reading how many travel bloggers swear by them, I finally got a pair (no discounts or blogger incentives), and I'm happy that I did. Tieks are hand-made Italian leather ballet flats that tick all the boxes for me: they're durable, comfortable (no really, you can walk in them all day), super-stylish, and versatile so you can dress them up or down. And once you have Tieks, you'll start to see them everywhere with their distinctive features; everybody I've run into who were wearing them all talked about how much they love their Tieks (and often own more than one pair).
The break-in period was murder, however, which was a surprise. Most of the reviews I read waxed poetic about how easy they were to break in. My feet are wider at the ball of the foot (bunions in the making), so I actually had to exchange them for a larger pair (and thus I can attest to Tieks' fabulous level of customer service). New pair in hand (er…foot), it still took me a couple of weeks of incremental wear-in sessions, replete with bandaids and such. But eventually, as promised, they did conform to my foot and now they fit like (foot) gloves. Speaking of foot-gloves, the first pair I ordered were the basic "classic" style, which is a matte leather. With this style, I notice that on many a foot, you can often see the outlines of the tops of your toes through the leather. I don't appreciate this look, so when I ordered my replacement pair, I went with the Slate Grey Croc Patent style, which not only has a delightful durable shine and texture, but also has a sleeker look over the toes.
How much Tieks are appropriate for your trip depends on the type of travel you enjoy. They're great for urban and stylish environments (Europe: here I come!), and are great dressy shoes. I didn't use them much at all in Ecuador, since I was concerned about them getting dirty, or wet (with unpredictable rain showers being the norm). This is a drawback to having expensive things on the road: sometimes I am a bit over-protective of them.
But given that these puppies fold up into their little bag and can fit in a purse, I think they're great shoes to have on hand, and I'm thrilled to have a pair of my own as part of my packing list for full-time travel.
Buy your Tieks here.
2022 Update: I still have my Tieks, but there's a new kid on the block that is cheaper, snappier, more comfortable, and not made from leather (which I try to avoid these days). Vivaia makes sustainable washable footwear that looks incredible and (literally) goes the distance. Every single time I wear them I get compliments, and they're the best walking shoes I've ever had. And unlike my Tieks, they don't get stinky after a full day of wearing and walking.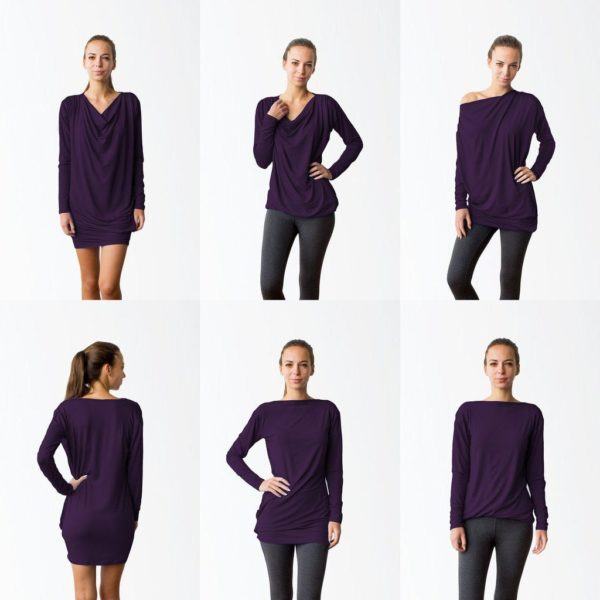 Between Anatomie (below) and Encircled, I don't own much other clothing. Encircled's soft wrinkle-free material, environmental practices, and multi-functional clothing makes them an easy-pick for me. I've been wearing their stuff for years now; I've owned their Chrysalis Cardi (reviewed here), Evolve Top (reviewed here), and reversible Flipside Leggings (reviewed here).
I just received a new favourite: the Revolve Dress. It can be worn at least six different ways, and each way has its own panache. It's ridiculously comfortable, and unlike many multi-style pieces of clothing, it requires no adjusting. Each style is easy to put on and looks as if it's made to be worn that way (which it is)!
I'm still getting used to my Revolve Dress, but I suspect it's going to go the long haul for me, keeping me comfortable and in style.
Check out the Revolve Dress (and other Encircled styles) here.


Anatomie Designer Travel Clothing
Pretty much every year, I pick up at least one new piece of designer travel clothing from Anatomie. I love their stuff, and after more than four years since being introduced to them, a big chunk of my travel wardrobe (which is, like, my entire wardrobe) is made by them.
Earlier this year I visited the Anatomie headquarters and picked up a few new pieces, including the Merika Windbreaker, which is one of their best-sellers. I was leery at first as to how practical this jacket would be, but it has proven itself as a great lightweight versatile jacket. It's wind-and-water resistant, feels silky soft, is stylish, and can take a travel-beating, coming out of a crumpled-in-the-bottom-of-my-bag state looking perfect.
This stuff ain't cheap though. You're paying for quality workmanship, unique lightweight wrinkle-free materials, and designer style. Every year, I buy at least one piece of clothing from them, in addition to receiving occasional discounts or comps.
Need more convincing? Check out this post about why the Kate Pants are the best travel pants ever, plus how I can justify Anatomie's prices.
Use the discount code NORA20 to get $20 off your order!
(Minimum order amount is $120 to qualify. Enjoy free shipping on all domestic orders.
Shop at Anatomie here.


TRAVEL ACCESSORIES
Wireless Earbuds by Sudio Sweden

Last year, I reviewed some wireless headphones and fell in love with not only the vastly superior sound quality you get when you're willing to pay for it, but also the wireless convenience and flexibility of not being attached to a cord. But as much as headphones are said to produce a better sound, they're still a wee bit of a pain to carry around.
So when Sudio Sweden contacted me about their Vasa Blå line of earbuds, I was curious. They feature studio quality sound with noise isolation, elegant design, and 8 hours of wireless play-time (and up to 10 days of standby time). You can pair them up with any bluetooth-enabled device, and with the built-in microphone and controls, you can not only listen to music but also make calls. And with the headphone-jack-bereft iPhone 7, these guys are ready, with the lightest wireless earphones on the market to date.
I recently received my beautiful blue pair of Sudio Sweden earbuds, and I'm really impressed. They feel great, they're really lightweight and almost invisible, easy to use, and the sound is absolutely incredible. I make Skype calls with them, and even find myself listening to music more because I have them.
As a final note, Sudio Sweden offers tax-free purchases and free worldwide delivery. So don't take the initial price you see on the site as gospel; I noticed when I plugged in various international addresses, the prices changed accordingly, often to be less than originally stated.
Order your Sudio Sweden earbuds here.
Note: I've since replaced my Audio Sweden with Powerbeats Pro, which I think are terrific for travel. Here's why.


RFID Blocking Stuff, by Lewis N. Clark
I'm not over-the-top about travel security, but I do like to be safe. When I was in Ireland earlier this year, I went to pay for a dinner with my credit card. The lad processing my payment noticed my credit card has the "tap and pay" feature, which uses RFID technology. His eyes grew big. "You know people have scanners that can swipe all your info just walking by you on the street, with your card safely in your purse?" Yeah, I do. And I've been complacent about it, until reading a few articles and actually seeing one of these scanners in action. And as much as I've enjoyed the ultimate convenience of tapping and paying, every time I do it, I realize that anybody could do this with my card (or an info-swiped replica thereof).
So when Lewis N. Clark approached me to work together and send me some stuff, I glommed onto their line of RFID-blocking products. I got the passport shield: a very simple – and cheap – paper envelope that you keep your passport in (which you can in turn, put in your favourite passport wallet). I also got their RFID Blocking Clip Stash for those times I go out without a purse and want an incognito way to carry a few cards and cash, and the FeatherLight RFID Blocking Tri-Fold Wallet so all my cards are protected all the time in this simple durable lightweight wallet.
A quick note about Lewis N. Clark: they carry much more than RFID-blocking accessories. They make stuff for travel and outdoor enthusiasts, such as packing tools, dry bags, comfort accessories (like neck pillows and eye masks), luggage accessories, and more.
I had trouble choosing just a couple of things to order from them. In addition to my new stash, I also got the Electrolight Tote Bag (discontinued), since I always have a reusable/packable bag like this in my purse, and I like both the style and zipper/outside pocket options which is rare with these types of bags. And just recently they've added a bunch of new RFID-blocking accessories that look pretty spiffy.
Shop at Lewis N. Clark here.


When I started traveling full-time, I had an inflatable U-shaped travel pillow for long flights, bus rides, etc. The inflatable option kept my load light and small, but I eventually ditched it since it didn't really keep my neck upright when I slept and I ended up with a sore neck. (My solution? Fly in business class instead – here's how I managed that).
But I had a few long-haul economy flights this year, which gave me a chance to road-test the J-pillow: a travel pillow that won the "British invention of the year" in 2013. The idea? It allows you to actually sleep sitting up, with a unique "J" that can tuck under your chin and prevent your head from falling forward or to the side too much.
How did the road-test go? First off, I love the soft feel and squishiness of the thing. Being an ultralight traveler, I was concerned about the size of it, but it squishes down okay, and there's an inflatable version for those who have minimal extra space.
The acid test was in using it for upright naps. To be honest, I still didn't catch a proper night of upright sleep. (Who does, really?) The J-pillow is comfortable, unique, and better than the U-shaped pillow option, but it isn't a miracle worker, and it took a fair bit of fussing to get it right.
To be fair to the J-pillow, the unique "J" part to the pillow tucks sweetly under the chin to prevent your head from falling forward (too much), and with the variety of ways you can manipulate the pillow according to the ergonomics of your seat, I can vouch for the vast improvement of the J-pillow over your standard U-shaped travel pillows. If you like U-shaped pillows, then you'll love the J-pillow.
Order your J-Pillow here.


TRAVEL SERVICES
I've written about using a VPN service while traveling to protect your data and online activities. As such, if I'm ever on an open or remotely insecure connection (like, anything in a public place, even if it's password-protected), I use a VPN. Not only that, but sometimes I've found it useful for logging into sites and making (online) phone calls that require me to be in certain countries, and I even recently discovered how using a VPN can help save big money on flight searches.
2019 Update: Over the years, I've used a lot of VPN services, but none of have measured up to NordVPN for me. Here's why:
Access to 5,716 servers worldwide
Strict no logs policy
Connect 6 devices at the same time
30-day money-back guarantee
DNS leak protection
Kill Switch (super important for security)
Auto Connect (also super important, and not super common in the VPN world)
Get started with Nord VPN here, for as little as a few dollars a month.


BOOKS

"I've often thought that the hardest part of any journey is taking that first step out of the door, leaving the comfort of home, of certainties, habits, friends and family. If you can make that step and understand other viewpoints, which almost certainly won't be nearly as different as you thought, then maybe you can find happiness". – Simon Fenton
Last year, I read Simon Fenton's Squirting Milk at Chameleons: An Accidental African; an incredibly well-written, charming, and humorous peek into what it has been like for this British traveler-at-heart to find himself living in West Africa, with a Senegalese wife, two children, and a mission to build a house and eco-lodge for guests. Reading the book totally made me want to visit Simon in his little African paradise (I just haven't gotten there…yet).
So when Simon told me he had just finished the sequel: Chasing Hornbills: Up to My Neck in Africa, I was all over it. Although it's a great book on its own, I highly recommend reading Squirting Milk at Chameleons first, because it provides a lot of background information and context for the sequel's adventures. This collection of stories is (again) very well written, descriptive, and fun; a real page-turner. It's also a very honest depiction of Simon's challenges in living and culturally integrating in Senegal, where everything is different and requires a monumental dose of patience and open-mindedness. His wit and open attitude shine through in his writing, despite facing some hurtles that would probably have me running for the hills. And as much as Simon is no-holds-barred about the difficulties he has faced, he still insists that his life is paradise – which intrigues me all the more. So after reading Chasing Hornbills do I still want to visit Simon in Senegal? Yes! (As soon as I can come to terms with the horrid internet situation).
Order Chasing Hornbills here.


If you're baffled by how to travel with carry-on luggage only, this book will give you all the tools and confidence to take to the road lightly. It is written by Erin and Simon McNeaney of Never Ending Voyage who have been nomadic for years now (traveling of course, with carry-on luggage only). (They also happen to be the creators of my favourite expense tracking app called Trail Wallet).
The eBook is a beefy read that covers everything from basic techniques (and benefits) of traveling light, to luggage choice, wardrobe tips and recommendations, electronic strategies, toiletry tips, and even what not to pack. Once you've got your list together, packing strategies are reviewed, and there's even information on keeping your gear safe, organizing your finances to be travel friendly, and travel insurance options. The book is capped off with interviews with a variety of carry-on travelers – singles, couples, families, campers, photographers, artists, makeup lovers, and more. This eclectic group of people all prove that you can travel long-term with carry-on luggage only and not scrimp on style or personal preference.
Get The Carry-On Traveller here.


Beyond the Travel Gear Roundup
Check out these other travel gear reviews and suggestions:
The Ultimate Packing List for Full-Time Travel
My Search for the Perfect Travel Sandal
Checked vs Carry On Luggage: Which is Best For You
Best Wrinkle-Free Travel Clothes for Women