Is there a traveler in your life? Here is a collection of travel gifts they'll appreciate so they can travel in style, and save space. (You may even want to pick up an item or two for yourself – or send this post to your loved ones with not-so-subtle hints about the impending holiday season.)
Editor's Note: There are affiliate links in this post, and I received some of the above items for free (Hoboroll, Chrysalis Cardi, and last year some Anatomie Wear – this year I purchased the additional pieces for a discount).
This post was originally published in 2013, and has since been updated for accuracy of links and product info.
Wee Travel Gifts
Here are a few travel gifts that fit most budgets, and are practical pieces of travel gear:
Hoboroll by Gobi Gear
With a name like "Hoboroll" by Gobi Gear, the "Professional Hobo" in me liked it before I even knew what it was! I recently used one on my epic 3-week 8-country European tour (that morphed into a six week trip, which I did with carry-on luggage only), and it's now an invaluable part of my travel entourage. I crammed – and organized – a ridiculous amount of things into this compartmentalized roll that you can open from either side for use and compress for packing.
Learn a ton more about the Hoboroll in this post about the best travel accessories for 2023!
Hoboroll (now known as the Seg Sac Traveler)
Use the-prof-hobo for 25% off! (minimum $10 purchase).


Passport Wallet
A passport wallet is the traveler's trusty companion; it keeps the most valuable thing a traveler has safe, and it makes going through airports much easier. I unabashedly string my passport wallet around my neck (and slip it underneath my shirt if I can) from the moment I check in until I'm strolling out of the airport on the other side. Thus, it needs to be light, small, practical, and easy/nice to use. Look for a wallet with RFID blocking – very important!
2023 Update: Instead of using a passport wallet, I have the Pacsafe Daysafe Tech Crossbody Bag which keeps my valuables close on travel days, and is also a fabulous hands-free way to carry the essentials around at my destination (and at home) too!
Shop for it here, and if you want to see it in action, check out my video review of it here!

Travel Towel

Depending on how rustic the accommodations are (from treetop lodges to trains to hostels to camping), having a towel comes in handy. This light small towel has more drying power than you might think, then wrings out and dries itself in a jiffy. Very considerate thing, the adventure towel is.
Travel Adapter and Surge Protector
Every international traveler needs (at least) one of these. This particular model allows you to plug just about any cord into just about any socket, it's compact, and it has the added benefit of surge protection (which has saved my butt a few times). Most models have USB slots to charge USB devices as well.
Travel Adaptor/Surge Protector


Headlamp
Everybody seems to have a smartphone these days, which have handy flashlight apps. But sometimes, you need to go hands-free – which is where the headlamp shines (pun intended). Any outdoorsy traveler will appreciate a headlamp. Bonus points for one that is USB rechargeable.
(Rechargeable) Headlamp


Bigger Budgets
These pieces of travel gear cost a little more, but they'll be invaluable companions to the budding traveler in your life.
Packable Daypack
This has been one of my most valuable pieces of travel gear. (For years I had the OR Drycomp Summit Sack, which has since been discontinued.) It has seen me on many mountain summits and equivalent adventures, and has even been my sole carry-on bag for a few trips lasting up to three months (although admittedly it's not ideal for that purpose).
You can roll it empty or fill it and compress the contents into your luggage, and pull it out when you want to leave your main bag behind and go on an excursion. It's up for the challenge too; it's incredibly lightweight, sturdy, and waterproof.
2023 Update: For the last couple of years I've been using the Sea-to-Summit Ultra-Sil packable daypack. It stuffs into its own pouch that's smaller than a tennis ball, and expands to 20L. Shop for yours here, or watch my video review of it here!


Wheeled Backpack
A traveler's pack is their house and home on the road; and ease of using and carrying it can make or break a trip. There are lots of personal choices to make when choosing luggage, but for practicality, ease of use, and multi-functionality, I'm a big fan of the wheeled backpack. There's a lot to consider; check out this article for more information before you dive in.
More information on Wheeled Backpacks


For the Ladies
The following items not only cost more, but they're also quite style/preference dependent. Make sure you know the person you're buying for; here are my own latest discoveries:
My, how I've inadvertently become the poster child for this company that makes designer travel wear for women. I was ambivalent when they sent me a few pieces of this (not cheap) clothing in 2012, until I put them through their paces and they became my favourite travel clothing.
So in preparation for my chilly autumn European tour of late, I ordered this jacket (pictured here). Again I was so impressed, that I took the plunge and updated my entire travel wardrobe with various Anatomie pieces.
I got this sexy (and sturdy) little Cassandra Mesh Blouse (no longer available, but you can find many similar tops here) which I can wear the super-comfy Bri Tank top underneath. I'm also really enjoying the Bianca pants with roll-down waistband which can be both casual and dressy (also no longer available, but my new favourite pants are the Kate skinny pants).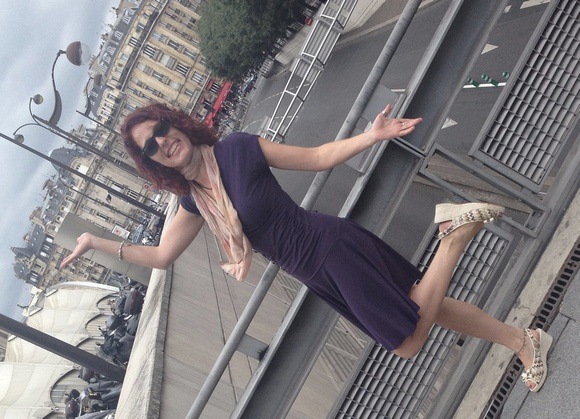 And let's not forget an all-time favourite of mine – the classic, comfortable, stylish travel dress: the Monika Ballerina Dress, which has probably been my favourite piece of clothing since I got it a year and a half ago (sadly, no longer available).
Use the discount code NORA20 to get $20 off your order!
(Minimum order amount is $120 to qualify. Enjoy free shipping on all domestic orders.
Chrysalis Cardi
This is the newest addition to my wardrobe, and although initially we didn't know what to make of each other, we are becoming fast friends. Following the essential ingredient of being multi-functional, this basic tube of high-quality fabric with well-placed snaps can be worn eight different ways – possibly more, if you're the creative type. It's very comfortable, can be dressed up or down, and is wrinkle free.
Some styles can be fussy to get to look just right, and it's not the lightest or most compact article of clothing (nor does it dry super-quick). But it still had a home in my recent 6-week carry-on trip to Europe, and whether or not you're on the road, the Chrysalis Cardi is a joy to snuggle up in.


Want Some More Travel Goodie Ideas?
Here is an up-to-date list of Travel Gear, tools, services, packing strategies, and more!
The Ultimate Packing List for Long-Term Travel
Pro Packing Hacks: Best Travel Accessories
Backpacks, Rolling Luggage, Wheeled Backpacks, and More: Best Luggage For You