This is final post for the Club Carlson Global Traveler program; a 3-week, 8-country adventure through Europe, paid for and compensated by Club CarlsonSM (now Radisson Rewards). I've explored the world of hotel points and how to take advantage of accommodations and upgrades with various strategies.
In all cases, opinions expressed herein are my own; don't worry – I haven't sold my soul.
This post was originally published in 2013. It has since been updated for accuracy of links and content.


This past month has been among the busiest of my full-time traveling life. I took more planes in three weeks than I have in the last three years of my full-time travels. For that matter, I've taken a heck of a lot of modes of transportation.
In total:
12 flights
13 trains
10 buses
3 boats
7 taxis
I've been constantly on the move; the longest I spent anywhere was three nights (with an evening arrival and early morning departure, leaving me two full days to explore). In other places, I arrived late one evening, and departed before sunrise two mornings later (leaving me just one teensy little day to conquer the country).
What can you see and do in just one or two days in a city/country?
Well, as I believe I may have demonstrated, quite a bit – much to my own surprise.


Embracing my Inner Tourist
This is due, in part, to my having gotten over my snobbish "the-only-way-to-soak-in-culture-is-to-blend-in" attitude and simply embraced my inner tourist. I slung my camera around my neck, booked myself in on "tacky tours", and wandered the streets with the unabashed tell-tale look of awe that you always see in visitors.
I took self-portraits in public places, and recorded video of just about everything I saw and did.
I hope you'll agree that it made for some pretty interesting adventures to read about and see in my 1 Minute Video series (1 minute recaps of each city I've visited, often with a quirky angle to them).

Global Traveler Recap
Here's a quick recap of my Club Carlson Global Traveler adventure:
London
London has never been my favourite destination, but I must admit with each subsequent visit, it's growing on me.
Glasgow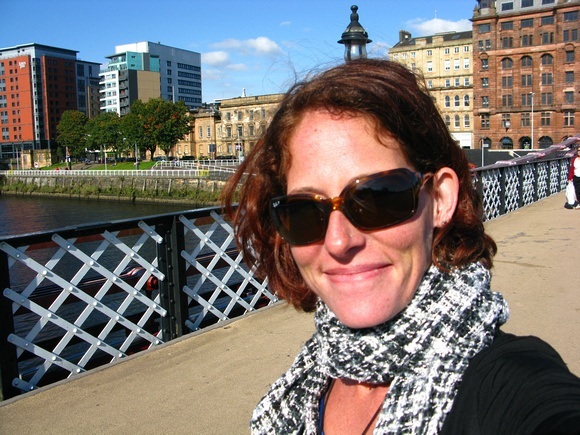 I've been to Scotland before (and I love it), but Glasgow was a new town. I had a wicked case of the flu, but I still managed to take a bus tour and go busker-watching on Buchanan Street.
Amsterdam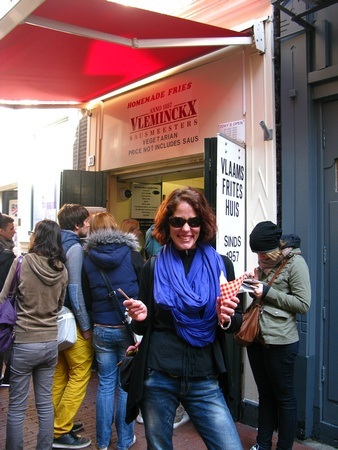 With the flu behind me, I hit Amsterdam (not having been to Holland before) like a whirlwind. I did a walking food tour, and walked and walked (and walked) some more in this place that quickly became a favourite destination of mine – to which I returned immediately after the trip finished.
Dear Amsterdam: I Should Have Known


Oslo
I donned my woolies to brave the chill in my most northerly destination of Norway – another new country on my list. It was an emotional roller coaster for me, but one that had a happy outcome after a boat tour through the fjords and a chance meeting with an 86 year-old stranger who made my day.
Travel's Lessons and Surprises: Oslo


Copenhagen
Denmark is also a first for me, and this – the happiest country in the world – was a great place to recoup from Oslo's chill. It's also a place I really hope to return to.
Copenhagen: A Modern-Day Fairy Tale


Berlin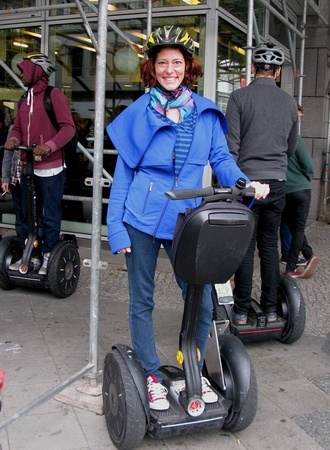 I've been wanting to check out Berlin for a while, given that it's a hot-spot for both artists and location independent people like me. I brushed up on my (nearly non-existent) German, took a "dorky" but ridiculously fun Segway tour, a walking food tour of the Kreuzberg district, and quickly realized that a mere two days is not enough.
Kiev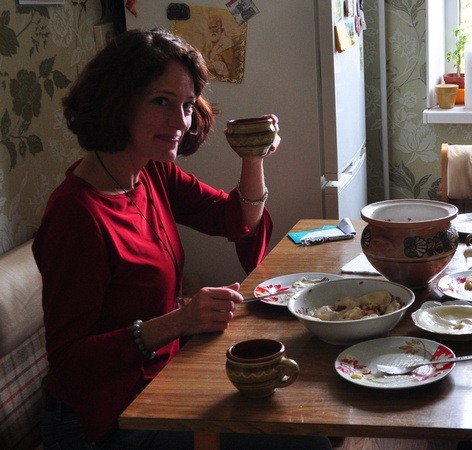 Kiev was a repeat performance for me; and considering I didn't think much of it the first time around, I was pleasantly surprised to greatly enjoy it the second time. I took a master-class in Ukrainian cooking in a host family's home, walked the streets and admired the gorgeous autumn colours, and counted my blessings that my one day in Kiev didn't involve snow.
Corsica
I almost didn't make it to Corsica at all, given some horrific connections (at the best of times) that were exaggerated when the first flight was 40 minutes late (much running, consequent hyper-ventilating, and some begging was involved to be allowed to check-in for the connecting flights).
But I quickly recovered as soon as I saw the sunset, and was energized by the enthusiastic friendly locals who made my sole day in Corsica one to truly remember.
I've promised a lot of people that I will return; ideally for a few months to try my hand at living there.
8 Countries, 3 Weeks, and 2 Hours of Sleep
As for the two hours' sleep to which I refer in the title: I've obviously taken some artistic license. (My fondness for exaggeration is not new to anybody who knows me). But with jam-packed days of sightseeing, plus squeezing in whatever time I could to figure out logistics at my next destination, process photos, write and upload posts, create and upload videos, tend to social media, and put out whatever fires were burning in my in-box, sleep was more of a luxury than a possibility.
I got more than two hours of sleep each night.
It was more like three.
But for this – the adventure of a lifetime – I am most certainly not complaining. My itchy travel feet are well and truly satiated (after a hellish year, not the least of which has included a near-fatal accident).
I'm freshly inspired, and have a few places to return to and explore further.
It's yet another of the many reasons I love travel.
For those who have missed my Financial Travel Tips and other regular site instalments, hang tight: regular programming shall resume shortly.
In the meantime, I'm sure you'll understand if I need to catch up on some sleep.

Club Carlson Gold Points
®

Global Traveler Tip

During my trip, I discovered a few things about Club Carlson Gold Points® that I plan to use going forward, in keeping with my frequent flyer mile prowess and propensity.

By doing things like eating at hotel restaurants (even if my Club Carlson card didn't afford me a discount), using hotel services, and charging everything I could to my room, I earned more than enough points for a night at a 4-star+ hotel, or up to five nights at a less expensive hotel. This is in part due to the promotional 50% bonus I received on everything – something I was clued into with Club Carlson's membership newsletters.

Although this was a sponsored trip and I've been compensated to write about it, my tips and promotion of the points program has not in any way been obligatory; I've truly enjoyed learning how to hack hotel points during this trip, and have every intention of continuing to use the program from here onwards.