I'm nearing the end of the Club Carlson Global Traveler program; a 3-week, 8-country adventure through Europe, paid for and compensated by Club CarlsonSM (now Radisson Rewards). During the trip, I'm exploring the world of hotel points and how to take advantage of accommodations and upgrades with various strategies.
While in Kiev, Active Ukraine also sponsored a tour I did.
In all cases, opinions expressed herein are my own; don't worry – I haven't sold my soul.
This post was originally published in 2013. It has since been updated for accuracy of links and content.


If Berlin was too quick with only two days, then Kiev was almost a joke with just over 24 hours to "discover" the place. Regardless, I think I did a pretty good job.
The Radisson Blu Hotel in the Podil area of Kiev was beautifully situated in the best area for walking and exploring; which is exactly what I did. Although I was ambivalent about Kiev the first time I blew through (in 2011 during the Ultimate Train Challenge), and even more ambivalent about my return (with brutal connecting flights awaiting me from Kiev to Corsica that kept me awake at night), two hours of wandering had me sold; Kiev is a vibrant place full of contrast and contradiction.
Expecting Kiev to be the coldest destination yet, I was pleasantly surprised that it was one of the warmest places, and even more surprised to discover they had snow the week prior. The gorgeous autumn colours leant no indication of the previous snowfall, and I'm grateful for the good-weather-bubble that seems to have followed me through this entire European tour.

Borscht me Up, Baby!
The first thing I did when I knew I was coming to Ukraine was to contact my friends at Active Ukraine, a tour company I became acquainted with during my last visit to the country in 2011 during the Ultimate Train Challenge, when they took me hiking in the Carpathian mountains for a few days.
With only 24 hours in Kiev, and no listed tours on the site that fit the bill on my one free day, I simply emailed them and asked what they could do for me, while expressing my love of Ukrainian food and hope for some sort of culinary tour.
They delivered – and not just because I'm a travel writer. In fact many of their tours are customized, so if you're going to the Ukraine, I can't recommend them highly enough.
*(end shameless plug that I was totally not put up to)
Ukrainian sisters Lesya and Julia invited me into their home for an afternoon of Ukrainian cooking and eating and fellowship.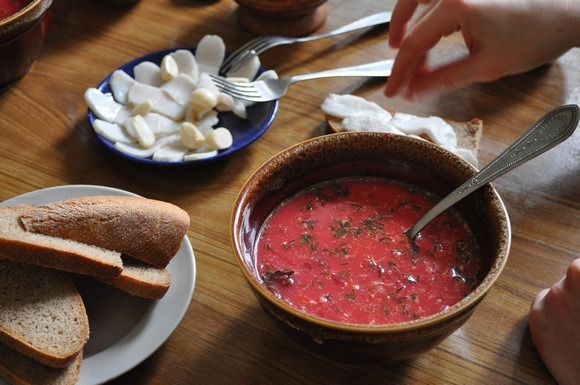 We started off drinking uzvar (a drink of boiled fruits and berries that reminded me of Christmas), and enjoying a bowl of borscht (a beet soup). Ukrainians are very protective of their borscht recipes, which are as unique to the cook as eye or hair colour.
Alongside the borscht was salo – a dish they were nervous about serving me since they didn't know how I'd react. It's uncooked pig fat, which you put on bread, sprinkle with salt, and garnish with a raw garlic clove. All eyes were on me as I tasted it; of course I'd have pretended to like it even if I didn't(!), but I was somewhat surprised to genuinely enjoy it. They were even impressed with my brazen consumption of a whole garlic clove – which I made everybody else do as well so we could reek together.
With full bellies, it was time to make varenyky – something I still can't pronounce – but which is the same as perogies (which is the Russian name). The soft dough (made of flour, egg, milk, and salt) was cut into small rounds, which we pressed out with our thumbs and filled with either a mashed potato and fried onion mixture, or a cottage cheese and egg and dill mixture. We pressed the edges together, tossed them (figuratively speaking) into boiling water, and 10 minutes later we mixed them up with fried onions and oil, doused them in sour cream, and ate to our hearts' content.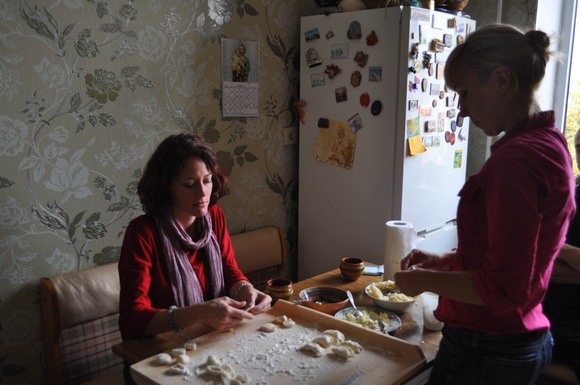 All the while, conversation flowed. It was a fabulous cultural exchange, with me answering as many questions as I asked. If I trod on any cultural boundaries of conversation (which I probably did), Lesya and Julia were gracious and giggly – so it worked well for all of us. I left their home feeling like I had new friends in Ukraine (which happened during my last visit), and I'm excited to try my hand at making varenyky on my own.


Russian Influence in Kiev
As is the case with a lot of Ukrainian food, it depends on who you talk to as to whether it was borne of Ukraine or Russia. (Each country, of course, claims to have created it themselves).
And Kiev in particular seems to have more Russian influence than other parts of Ukraine (like Lviv and the Carpathian mountains, where I spent most of my time a few years ago). In Kiev, most people speak Russian in addition to Ukrainian, Kiev's values and standards are a little less rigid and "traditional", and I noticed the way people dress (especially the women, in their tight shorts, beige stockings, and knee-high boots) reminded me more of Moscow than Lviv.
Of course, along with this Russian influence, is a desire among Ukrainians to preserve their culture and have their own identity; something I relate to as a Canadian living in the cultural shadow of the United States.


1 Minute Kiev
I'm sure you've come to expect my quirky (at least I think they're quirky and funny) videos during this hectic trip, so here's the latest, on my 24 hour adventure in Kiev, Ukraine: