This post is part of the Club Carlson Global Traveler program; a 3-week, 8-country adventure through Europe, paid for and compensated by Club CarlsonSM (now Radisson Rewards). During the trip, I'm exploring the world of hotel points and how to take advantage of accommodations and upgrades with various strategies.
While in Berlin, Viator also sponsored the two tours I did.
In all cases, opinions expressed herein are my own; don't worry – I haven't sold my soul.
This post was originally published in 2013. It has since been updated for accuracy of links and content.


"Remember, Berlin is very big," was the advice of the employee at Berlin airport information who couldn't quite direct me to the Radisson Blu Hotel in Berlin, since he didn't know where it was. I'd ascertained from my research that it was somewhere in the city centre near a main station, and in most of my previous destinations so far, that was enough to find the place.
But Berlin is big. Very big, as was astutely observed.
Knowing I had only two days in Berlin, I was spoiled for choice for what to see and do. So like the good little tourist that I am, I booked myself in on two tours that were invaluable – and of course, fun.


Berlin Segway Tour
In advance of my trip, I looked at the tours available on Viator, and on seeing the Berlin Segway Tour, I cringed – and booked it.
I've seen Segway tours in other countries, and I always made fun of them – and the people on them. Segways look ridiculous, and it simply screams I am a tourist! (Or at least, as a friend pointed out to me – a dork).
So really, in the name of embracing my inner tourist and getting the most out of my two days, I had no choice.
Once I got over myself and my misplaced sense of traveler pride, the Segway tour was ridiculously fun – in every way. Riding the Segway was a riot, and our merry band of eight people from around the world bonded immediately. We also covered waaaaay more territory than you ever could on a walking tour. (And like I said, Berlin is big).


Central Berlin Sights
You name it – we covered it. From the laundry list of historical Berlin sights, I was struck by a few experiences in particular:


Bebelplatz
This is the site of the infamous book burning in 1933. What touched me the most was the line of tables with people selling books….which they do 365 days of the year.
It's one of many signs of how Berlin acknowledges, remembers, and then tries to move beyond their less than honourable past.
Scars remain from both World Wars in many of Berlin's buildings, which have intentionally not been fully restored. In some cases patches have been put over bullet holes (in an almost obvious manner); in other cases the bullet holes smattering columns and facades are left untouched. Smoke damage hasn't been sandblasted away, and in a sense, it all adds to the character.

Gendarmenmarkt
Gendarmenmarkt is reputedly one of Europe's most beautiful squares, and even on this grey day, it was majestic. With my musical background, I'm inspired to check out the Konzerthaus and see a performance…next time.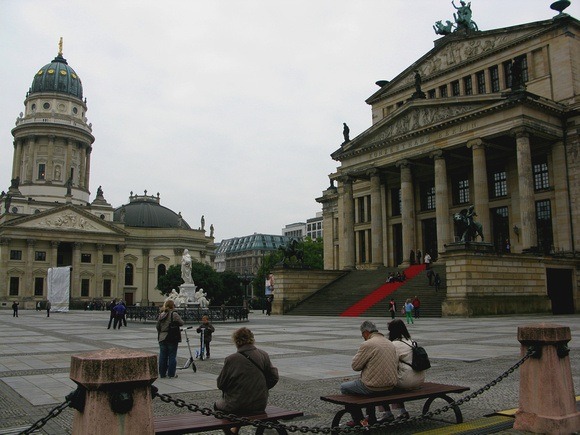 Memorial to the Murdered Jews of Europe
Notwithstanding that the Jews represent just over half of the people persecuted and killed during the holocaust, this memorial was a creative (and intentionally unenjoyable) way to honour and remember holocaust victims. The sprawling collection of 2,711 blocks of varying sizes and heights resembled tombstones to my eyes, and the undulating ground on which they sat created an environment intended to make you feel ill and disoriented as you walk through it, lose track of family and friends, and generally get lost in the experience.

Kreuzberg District: Culture, Food,
Street Art
The other tour I was excited about doing was the Kreuzberg District Tour, exploring Food, Culture, and Street Art.
My early research pointed to Kreuzberg as the artsy hip district of Berlin, which is right up my alley. This intimate walking tour was a great way to deepen the historical overview I got on the Segway tour, and to glimpse the happening underbelly of Berlin.
Ingesting and imbibing various foods and drinks along the way, I glimpsed some famous works of street art and graffiti, often filling sides of large buildings, and of course the East Side Gallery is a sight unto itself – with colourful works of art covering the entire length of the longest remaining section of the Berlin Wall – at 1.3kms.


Gentrification, and the Latte Macchiato
Gentrification is a buzz word in Berlin; something I heard repeatedly from different sources. Part of the reason I was excited to visit Berlin on this trip is because it's a happening place among digital nomads and location independent people like me; with an artsy culture and relatively low cost of living, it begs for you to spend a few months and join the thriving alternative scene.
Berlin is the cheapest capital city in Europe; the mayor calls Berlin "poor but sexy".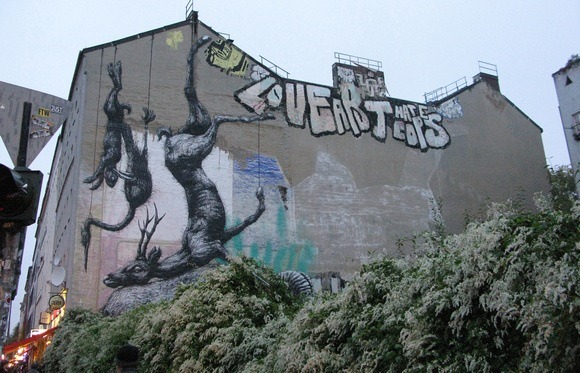 But this is changing. (Enter: gentrification). It happens all over the world, starting in pockets of cities, eventually spreading to the entire city itself. It goes something like this:
An unpopular rundown area becomes home to students, artists, and people who can afford to live there – and start to make it theirs.
Thus, it graduates from rundown and unpopular, to artsy and funky.
Then more people want to come to this funky area and soak in the funky-ness and low cost of living.
Thus, it graduates from funky to trendy.
Once a place is trendy, it needs a facelift. Buildings start getting restored and upgraded, and rents start going up. The students and artists who brought life to the area can no longer afford to stay there, and are forced to move away.
Thus, it graduates from trendy to upscale.
Then, all of a sudden, Starbucks is everywhere, and the latte macchiato rules the day.
The latte macchiato is hence a sign of gentrification in – and all over – Berlin. Although Berlin is still in the funky-to-trendy stage to my eyes, it's a process that everybody can see happening – for better or worse.


1 Minute Berlin
The weather wasn't grand during my two days in Berlin, but I managed to snap off some pictures and video. Here's the result: