One of the reasons I travel the world is because I love to eat. (Only due to no small amount of effort on my part am I not enormous in size). So imagine my delight when I discovered that Balinese cooking (and Indonesian cuisine to a larger extent) is a party for the mouth.
While perusing the various local activities I could enjoy on the Withlocals website, I immediately gravitated towards taking a Balinese cooking class. (Lucky for me, Withlocals agreed to let me have it on the house – though I'd have spent the $35 for the half day course in a heartbeat).
Remember when I took a Balinese painting class with a super cool granddaddy artist named Putu? Well, I enjoyed hanging out with he and his family in their home so much, that I took the cooking class with his daughter and wife.
This post was originally published in 2017. It has since been updated for accuracy of links and content.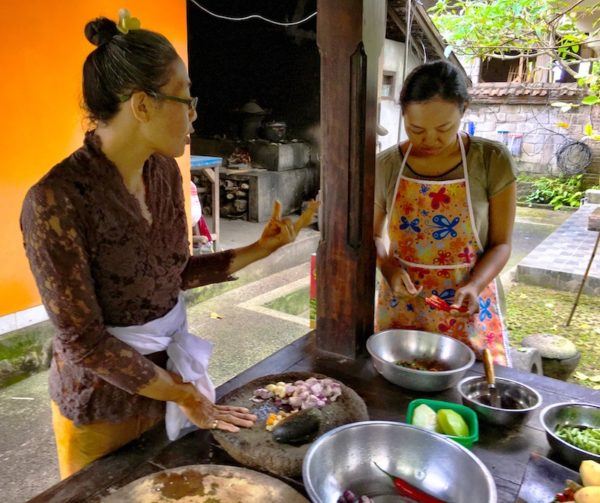 I was also joined by a fellow student; a guy from Lebanon who was passing through the area and making the most of his two days in Ubud by taking multiple Withlocals tours. (I must say, if I were pressed for time, I'd likely do the same. I really like these "local tour" platforms; I used a similar one in Japan at Tsukiji Fish Market.


Balinese Cooking Basics
Although there are many overlaps between Balinese and Indonesian cuisine, Bali has a few tricks up its sleeve with some intrinsically Balinese concoctions, built around a magical combination of spices found in most of their dishes.
The majority of the work is in the preparation; peeling, chopping, grinding, and such. After that, it all comes together pretty quickly. To make daily food preparation easier, a large amount of the spice mix (discussed below) is prepared and frozen in little baggies.


The Aromatics (Spices)
So what of these magical spices? I use combinations of many of these ingredients in much of my own cooking (which is usually of an Asian persuasion), but all together and done in the Balinese way, it produces a unique flavour. The mixture, which is usually ground into a pulp using a stone slab (a flat version of mortar and pestle) is made up of the following ingredients, the specific combination and amounts of which vary by family (everybody has their own "secret recipe"):
turmeric
shallots
ginger
spicy chili pepper
red pepper (not spicy)
coriander seeds
ginger
candlenut
ginger flower
lemongrass
and finally, an ingredient that I've never seen before and that Yogi didn't have an english name for, which was what I imagined would be born if a piece of galangal and lemongrass made love.

Mealtime in Bali: A Solo Affair
I grew up in a culture that values sharing meals together. However that's not the way it's done in Bali. The food for the day is prepared in the morning, and family members simply go into the kitchen and help themselves when hunger strikes. I found this a bit odd, given the emphasis that Asian culture in general puts on family. But indeed it seems to extend beyond Bali to other parts of Indonesia; I experienced a similar phenomenon while spending three weeks with some families in Jakarta.


Balinese Cooking: Not Just for Women
I was (pleasantly) surprised to discover that the men of Bali also cook. When there is a ceremony (which happens A LOT in Bali), the women are busy preparing the offerings, which means the men are responsible for preparing the food. It's nice to know that Balinese men can whip up a nice meal as well, although I would guess that outside of ceremony days you won't see them near the kitchen.


Balinese Cooking 101
Want to see all these magical ingredients come together to make soup, curry, salad, and satay? Then join me in taking this Balinese Cooking Class!
Click here to watch this video on YouTube.


Related Posts
Balinese Painting for the (Not So) Artistically Inclined (Vlog Ep. 22)
Touring Tsukiji Fish Market with a Local