I spent five weeks in total on the Indonesian island of Bali. It was supposed to be eight weeks, but I evacuated early (and voluntarily) due to a smoking and shaking volcano that threatened to erupt at any minute. (For more on that, read: Why I Evacuated From Bali). Over those five weeks, I had many adventures and made all kinds of notes about the culture, land, people, and spirituality. I am SO not done with this place, and I look forward to returning. In the meantime, here are some random observations about Bali – similar to popular random observations posts I've done on Grenada, Switzerland, Hong Kong, and Japan.
I cap it all off with a bit of a rant for anybody who wants to try and tell me that Bali has lost its magic or isn't what it once was.
Bali: Asia Lite
At the end of my first week in Bali, I went to dinner with a reader and his wife, who had recently closed up shop in California and adopted an early retirement lifestyle of travel for an undetermined period of time. Rosalia, having grown up in Brazil, was well-traveled within the Americas, but had never been to Asia, and had trepidations.
"I figured Bali was the best place for us to start, to get her acquainted with Asian culture," said Craig. "You know, it's kind of like 'Asia lite'."
It was a decision that served them well, because over the five months they spent in Bali, she grew to love the place and the people, and was ready for their upcoming destinations including Nepal (which Craig thematically refers to as 'India lite').
I've also heard Hong Kong referred to as 'Asia lite' for similar reasons as Bali; English is widely spoken, it's relatively easy to get around, chances of being overwhelmed by local touts or scammers are minimal, poverty isn't in your face, and most tastes (and budgets) are catered to.
My Asian acclimatization happened in Bangkok in 2008, and it wasn't pretty; in retrospect I wish somebody had encouraged me to start in Bali.


Bali vs. Indonesia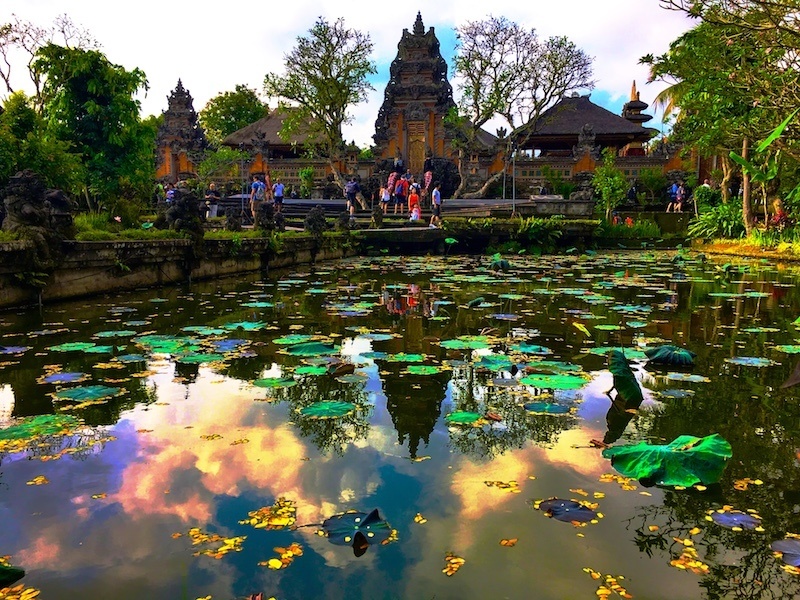 It's an interesting relationship that Bali has with Indonesia; Bali, although an intrinsic part of Indonesia, is far from what you can expect from other parts of the country. Indonesia is made up of 17,000 islands sprawling over two million square kilometres. So…it's big. Most islands have their own language and a certain individual cultural flair, and Bali is no exception.
Indonesia is also home to the world's largest Muslim population, Islam being the predominant of six officially recognized religions. Bali, by contrast, practices Balinese Hinduism, with 85% of the Balinese population of said persuasion. And their religion dominates daily life. (See also: Canang Sari – The Ceremony of Life in Bali).
This is one of a few reasons why I think Bali might be the island that stands out the most from the rest of Indonesia (and unfortunately, is not very well liked by the rest of the country).


Everybody Has the Same Name
It's pretty easy to remember names, once you learn all half a dozen or so names that exist in Bali. This was one of the things that confused me the most about Bali on arrival – how do people differentiate themselves? But they seem to manage okay.
In general, Balinese people name their children according to the order they're born, and names are the same for guys and girls. The firstborn child is named Wayan, Putu, or Gede. The second is Made or Kadek. The third is Nyoman or Komang. The fourth is Ketut. The cycle of names then repeats for subsequent children.
I was talking to a Balinese friend who had three kids, and he said he was hoping for a fourth, just so he could complete the cycle! According to him, a family isn't complete without a Ketut.
Additional names are added to this primary moniker; some are nicknames, and others are according to their social/financial status. Throw in a preface that denotes whether the person is a male or female, and somebody's official name could be a long string of words (curiously devoid of a family name), the most important of which remains their birth-order-name.


Kite Flying is Serious Business
Raise your eyes skyward at any time in Bali, and you'll likely see a kite (or 20).
Flying a kite isn't just for kids; there are some adults who devote themselves to the art of kite flying in Bali. (And why not – it's a great way to recapture the delights of childhood). In fact, entire villages get together to build enormous kites (some over 600 feet long) for festivals, which happen a few times a year.
The crafting and flying of kites is done with great intention and ritual, and has religious significance. In fact, kite flying is actually considered a form of worship, and involves tales of folklore about a shepherd boy who was the darling of Shiva. Colours usually include the "holy trinity" (red for Brahma, white for Vishnu, and black for Shiva), in addition to yellow (for the eight gods of eight directions). The shapes and designs of the kites are equally symbolic.
For normal everyday kite flying, it is usually launched and then tied to something, so the kite remains airborne for hours if not days. There are even ones with solar lights that sparkle at night. Other kites have special contraptions attached to create a buzzing sound.
Beautiful as the practice of kite flying in Bali is, it's also a tad dangerous. Kites have been known to take out power lines, and land on roads causing traffic problems and accidents. Apparently there's a law against flying a kite within a six-mile radius of the airport, but whenever I flew in or out of Bali I saw them in the air on both sides of the runway!
Note: this propensity towards kite flying brought memories of Grenada right back.


Big Budget? Small Budget? Bali Has You Covered
Bali is a strange place when it comes to traveling budgets. Want to rent a villa for $200/month? No problem. Want to rent a villa for $1,000/night? No problem. You can chose either, or anything in between.
Kuta is one of the strangest places of them all when it comes to budget; it's known as a cheap winter-getaway destination for Aussies, complete with dive bars and tacky tourist shops. But it's also known for some of the priciest resorts and shopping centres. (You might recall that there's no love lost on Kuta for me: Visiting Kuta – aka What Was I Thinking?!)
Similar price discrepancies apply to restaurants. I tended to use the price of nasi goreng (the national dish – fried rice) as a barometer for how expensive a restaurant was. If it cost 40,000 ($3) or less, it was a local place. Any more, and I knew I was either in a tourist trap, or a place that features higher quality (possibly organic) ingredients.
Although I'd like to say it's as simple as 'you get what you pay for' in Bali, that wasn't quite the case in my experience. Sometimes amenities weren't in keeping with inflated prices or prestige. In other cases I was amazed at the value for a meal or accommodation. So, it's important to define what you want, and what you're willing to pay for it. If your expectations are remotely reasonable, you'll likely find the perfect fit.
I'd like to give a special shout-out to the Grand Sehati & Spa in Ubud, where I spent my last week (which was supposed to be a month). You have no idea what a gem this centrally located place is until you walk in, and the noise of the street dissolves into a serene beautifully maintained square with a gorgeous pool, attentive staff, and brand new well-appointed rooms. I became friends with the owner, who, when I return, will take me to his home village, where I will recount his fascinating life story for you. If you have a medium-sized budget to stay in Ubud, I highly recommend you check this place out. Tell Wayan I sent you! (And take a tour of my room here in this Facebook Live video).
Want to check out other places to stay in Bali? Search away here:
Bali Isn't What it Once Was….or Is It???
Friends of mine who spent a lot of time in Bali (mostly around Ubud) 10 or so years ago bemoan how Bali isn't what it once was, implying that the magic has gone.
I've heard similar things about Costa Rica. At one time it was an idyllic eco-destination. Then, because of that moniker, it attracted a lot of tourists and changed accordingly. So over time, Costa Rica "wasn't what it once was". Nicaragua became the 'new Costa Rica'. Then, Honduras was the new Nicaragua.
The same applies to Thailand. Talk to somebody who was there in the 90s and they'll tell you how it's just not the same, with tones of both sadness and anger (and attitude) at what it has become.
I never saw the 'old Bali'; I just saw what it is today. What I saw, was indeed a place incredibly dependent on tourism (which, given recent volcano dramas, stands to present big economical problems). But tourism to Bali has been happening since the 1930s – literally! After a few decades of world-famous artists taking up residence in Ubud and creating a buzz about the place, another even bigger wave of tourism came with hoards of backpackers in the 1970s. With only a few little blips on that screen, tourism has continued to grow unabated since then.
So, somebody who knew the Bali of 1920 might have looked at the Bali of 1940 and said 'it's just not the same'. The same sentiment could be expressed in 1980 by somebody who knew the 1965 Bali. So of course, somebody who knew Bali 10 years ago will say the same thing. To anybody who bemoans "what a place once was" – I say "pffft. Everything, everywhere, changes. The very fact that you visited that place means it changed. You are part of that change. So, get off your high horse and adapt." (Is that harsh? That's harsh, isn't it. I feel a dedicated post brewing about this topic.)
What stood out for me about Bali, however, is encapsulated beautifully in a quote from this page:
Ubud has managed to embrace the 21st century with dignity and still retain its timeless artistry, culture and religion. It is a significant destination blessed with a strong sense of community and rare spiritual energy.
And this….this is why people keep coming to Bali, and will continue to do so….myself included.


Things to do in Bali
There is sooooooo much to see and do in Bali! Check these tours out (and click on "more things to do") to inspire your creative juices.
Related Posts about Bali
Visiting Kuta (aka What Was I Thinking?!)
Balinese Painting for the (not so) Artistically Inclined
Canang Sari – The Ceremony of Life in Bali
My Monkey Forest Commute in Ubud