In my video below, I describe Campuhan ridge walk as an "iconic must do" for visitors to Ubud Bali. In reality, I don't think it's all that iconic. In fact, although the Campuhan ridge walk was well-trafficked when I went (by locals and tourists alike), I don't think it's particularly well-known to newcomers.
(Until now, that is…..bwwwaaahahahahaha).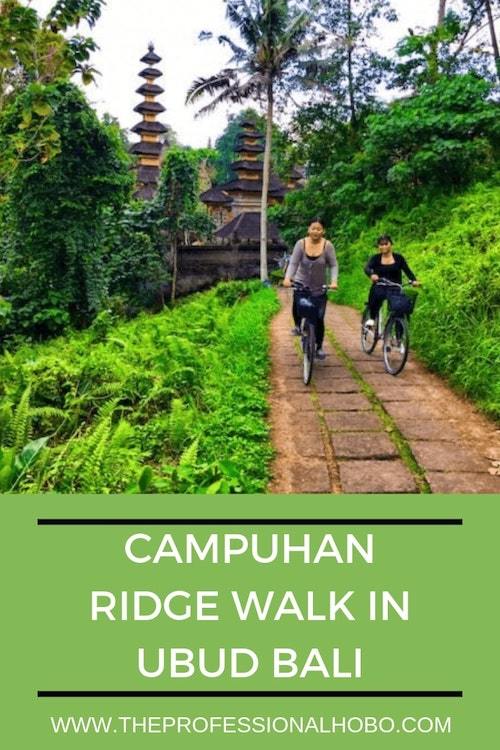 This post was originally published in 2017. It has since been updated for accuracy of links and content.


Campuhan Ridge Walk Facts and Tips
Lesson #1 in Balinese pronunciation (and about the only one I've mastered): words with "c" are pronounced as "ch", and "u" is pronounced as "oo". Thus, Campuhan is pronounced chahmp-oo-hahn.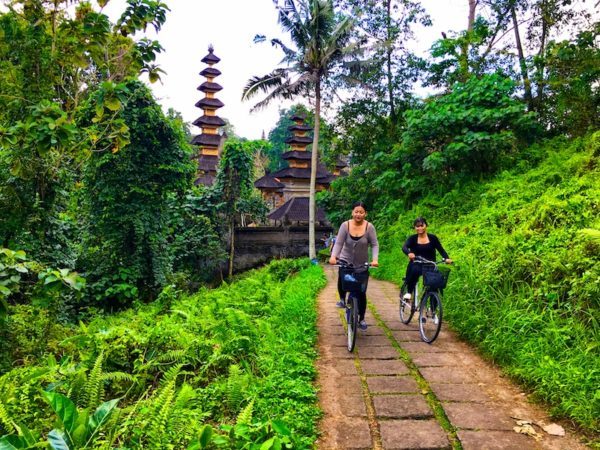 It's free, it's easy, and from the hectic centre of Ubud (oo-bood), you might not believe you can access Campuhan ridge walk by foot in 10 minutes. I didn't believe it. But you can. Given that I decided to forego having a scooter here, this walk was a welcome escape from the constant hum of Ubud's motor traffic.
The walk isn't long; it's about four to six kilometres, which you can easily do in a couple of hours, including lots of rest/photo stops.
Conventional wisdom suggests hiking Campuhan ridge walk in the early morning or late afternoon. Although the walk isn't particularly strenuous (save for the first bit being a pretty steady uphill stroll), the midday heat can be a bear, and there's not much shelter from the sun.
I rarely take my own advice when hiking, so I did it just after noon, and it was indeed pretty hot, but manageable.
Bring a camera! From the knife's edge you walk along with lush jungles and rivers to each side, to the plateau with art galleries and gorgeous rice fields; there's no shortage of pretty things to look at.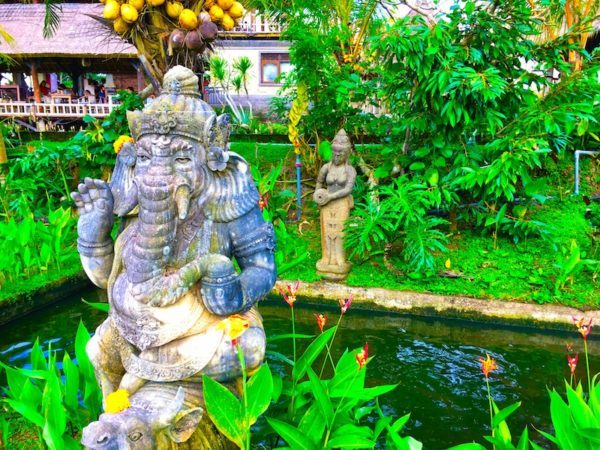 Most people turn around at Karsa Cafe. Take a short stroll through the beautiful grounds there, and rehydrate in their cafe with a fresh coconut. The path does go further, but I believe north of Karsa Cafe it connects with the road, so it's likely not quite as peaceful.
Although the first half of the walk is relatively in nature, you're hardly in the middle of nowhere on the Campuhan ridge walk. There are warungs (local restaurants) and art galleries along the way (starting after a kilometre or so), so if you need a cold drink (or a painted wooden egg), you'll survive.


Campuhan Ridge Walk – VLOG Ep. 21
Join me on my own adventure on the Campuhan ridge walk in Ubud, Bali!
Click here to watch this video on YouTube.


Finding Campuhan Ridge Walk
The signs to Campuhan ridge walk are almost non-existent, and the most concise directions I found were on an obscure blog. Here's how to find it if you're interested (which you can see certain markings of in my video above):
If you're starting in the "centre" of town (around the area of the market and royal palace), you'll be on the "main road" called Jalan Raya Ubud. Take that road west out of town.
Before the bridge, on your right is the IBAH hotel. Go into the driveway of this hotel.
Shortly in, you'll see a fork in the driveway. Go left, down the hill. There's also a wee little sign saying "Going to the Hill" with an arrow pointing left.
Look for a little set of stairs going down on your right, and take them (don't go over the bridge).
This path will take you around a large walled temple to the official beginning of the walk.
Enjoy!
Related Posts
What NOT to Do on Mount Takao in Japan
Ubud Market, and How to Negotiate
Balinese Painting for the (not so) Artistically Inclined