If I had it all to do over again, I'd do it so differently. My day on Mount Takao (near Tokyo, Japan) started off as a lovely hike and ended up as a minor disaster. Please. Don't do what I did. Here's what NOT to do on Mt Takao Japan.


First, A Bit of Info on Mount Takao Japan
Mount Takao (also known as Takao-san) is considered the best day trip from Tokyo (it's less than an hour by train from Shinjuku!), and from the top you'll get great views of both Tokyo, as well as layers of mountains (including Mount Fuji in the distance). Although it's not exactly in the middle of nowhere, Mt. Takao feels like another world, and is a great chance to get out into nature for a beautiful hike.
It's incredibly popular during cherry blossom season in the spring (cherry blossoms on Takao mountain are in full bloom a couple of weeks after those in the city). The last half of November is popular for enjoying the autumn colours.
Takao san is also a place of worship, and you'll find buddhist statues and shrines along many of the trails.
Around the base of the mountain behind the railway station, there's a well-known Mount Takao onsen (public hot spring) called Keio Takaosan Onsen Gokurakuyu, and a free museum. (Click here to find out why I didn't go to the Mt Takao Onsen).
Top it off with restaurants at the top (and enroute), a popular monkey park (great for kids), and you'll see that going out for a Takao hike is kind of like a choose-your-own-adventure experience.


Hiking Mt Takao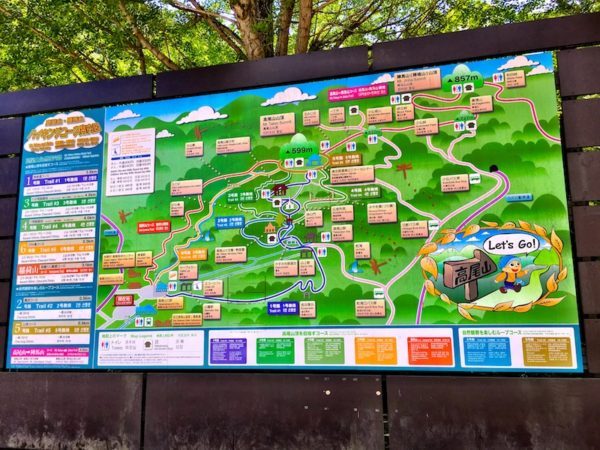 There are about eight different Mt Takao trails to the top from the Takaosanguchi train station, most of which take about 90 minutes to ascend.
Climbing Mt Takao isn't as complicated as it may sound; with many different levels of difficulty, and even the mechanical assistance of a cable car and chair lift, there's something for the whole family.


How to Get to Mount Takao From Tokyo
Located at the end of the Keio train line, you can get there in less than an hour from Shinjuku station. You have two main options to get from downtown Tokyo to Mount Takao:
The Keio line has a direct train from Shinjuku station to Takaosanguchi station for 390 yen (about $4), and it takes around 50 minutes.
A slightly faster and less direct route would be to take the JR Chuo line from Shinjuku to Takao station for 550 yen, then transfer to the Keio line to ride one stop to Takaosanguchi station for 130 yen. Overall this route is about 10 minutes faster, but costs more. However if you have a JR Rail Pass, it's cheaper since you'll only need to pay for the last part on the Keio line.
Okay. You've got the basics. I'll fill you in on the other important details in my "what not to do" instructions below.
Mount Takao Weather: Don't go on the Hottest Day of the Year.
I learned, after the fact, that temperatures hit 37 degrees (Celsius) the day I went (and with Tokyo's characteristic 90%+ humidity in summer, 37 degrees feels like about 37 billion degrees). This explains why I got heat exhaustion, which is the main reason why the day turned out so hellishly.
Mt Takao weather can change on a dime, and I was so determined to go on a day with no rain that I neglected to look at the temperatures. My bad.


Mt. Takao Weather (Pt 2): If You Do Go in Summer, Don't Suffer. Bring a Towel.
It wasn't long into the hike that I became completely drenched, with sweat dripping off every part of me. I disgusted myself, and probably everybody around me, who had ingeniously brought hand towels to delicately mop the sweat from their brow.
In weeks prior, I'd seen people in Tokyo with these hand towels around their necks, and I thought nothing of it. Silly, silly me.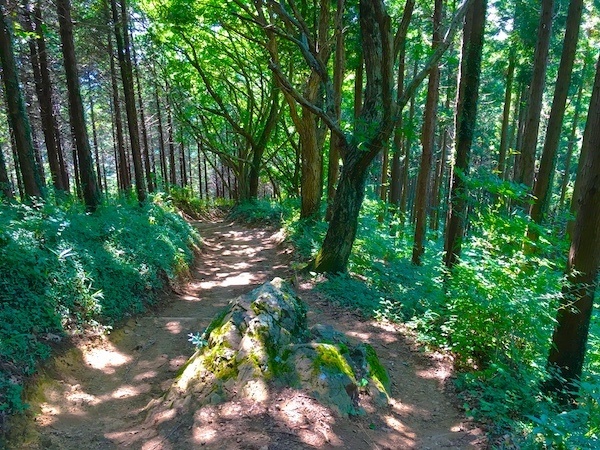 Don't Miss the All-You-Can-Eat Restaurant.
I missed the all-you-can-eat restaurant. I thought it was at the top of Mount Takao, and I hiked up with a spring in my step, excited to experience the famed Takaosan Beer Mount, with a reputedly wide range of excellent food and drink, and even better views.
No. At the top of the mountain, I was slightly disappointed to discover a few smaller eateries that were okay but not fantastic. The all-you-can-eat Takao restaurant is at the top of the cable car station (which is not the top of the mountain).
The main Mt Takao hiking routes up the centre take you by the restaurant. I took a random trail because it's more naturalistic and takes you by a pretty waterfall. Except I couldn't see the waterfall because of a locked gate. I saw this instead:
Had I not taken another route entirely off the mountain (more on that mistake in a minute), I could have enjoyed a sweaty sunset meal at the restaurant on the way down. But no. Sigh.


Don't Go to Mount Takao Tokyo on the Weekend.
I actually got this one right! I went on a Tuesday, so I could avoid the renowned weekend crowds. 2.6 million people visit Mount Takao every year, and in the already ridiculously crowded city of Tokyo, it takes some planning to get away from it all.
Problem was, this stroke of brilliance in going on a Tuesday backfired on me….keep reading.


Don't Choose Obscure Mount Takao Hiking Trails if you Don't Have a Clue.
I decided if I was going to hike in Japan, I wanted to hike. So instead of doing what most people do and descend the way I came up, I opted for one of the many Mt Takao hikes along the ridge of mountains to the next peak. I mention the name of the peak in my video below, but I have since blocked it from my memory, so you'll have to watch the video if you want to know where I went.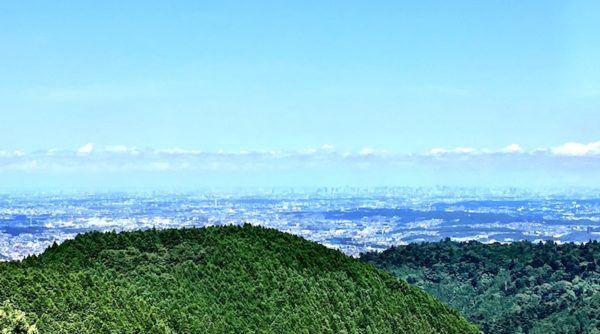 Although this detour to another peak afforded even more majestic views of Tokyo and the neighbouring mountains than I got from Mount Takao (pictures above), it also dehydrated and exhausted me even more. And the fun was just beginning.


Don't Use a 15+ Year Old Guidebook.
My 15+ year old Lonely Planet Hiking Japan guidebook suggested this is a "lovely" alternative to simply hiking Mount Takao up and down. In about three hours, I could hike up Mount Takao, hike over to this peak-that-shall-not-be-named, and then down off the ridge from there to some other train station on the JR Chuo line that could take me back home. Lovely. (Spoiler alert: the hike took me six hours, not three).
I didn't realize the guidebook that was lent to me for this adventure was 15+ years old, so I loved the simplistic instructions and assumed it would be a simple hike. Problem is, a lot can happen in 15 years, including the changing of trails and the ripping down of signs. What signs remained were entirely in Japanese. So I spent the afternoon correlating my overly-simplistic-and-ridiculously-outdated guidebook map with the terrain. It didn't match up well.
And, because I had the brilliance to hike on a Tuesday, what few people I might have encountered on this trail on a busy day were nowhere to be seen.
So there I was, suffering badly from heat exhaustion, lost, frustrated, and completely alone. Despite my general proximity to civilization, I could have died on that trail and it would have been days before I'd have been found.
Perhaps this is a bit dramatic, but this was among the many scenarios that floated through my heat-affected brain as I was desperately trying to find my way to this bloody train station from the side of a mountain, with absolutely no energy in reserve.


My Mount Takao Hike Gone Wrong – Vlog Ep. 18
Sounds like an adventure, huh? Yeah. I did everything wrong. Like I said, don't do what I did.
However, I did do something right – I turned on the camera, and the result is actually pretty funny. Check out the good, the bad, and the ugly side of my day trip to Mt Takao fom Tokyo!
Click here to watch this video on YouTube.


Related Posts
Why I Could Never Live in Japan
16 Random Observations About Tokyo, and Survival Tips
Climbing Mount Rothorn, in Switzerland