On approaching the two-month mark (and the end of my time) of living in Japan (near Tokyo), I've experienced a full range of emotions here. But about a month in, I started having a "crisis of dislike" with the place. It inspired a train of thought about why I could never live in Japan.
Before I published this post, I ran the ideas below by some expat friends. I wanted them to tell me I was off my rocker, and to give me a different perspective. Instead they said "Nora, we would really like to tell you you're wrong. But how on earth did you figure all this out in just a month?!"
That's just what I do.
You Might Also be Interested In:
I Visited the Robot Restaurant (cuz Anthony Bourdain Told me To)
Visiting Tsukiji Fish Market
Harmonica Alley in Kichijoji: A Slice of the Past
12 Truths About Travel…and Life (as Gleaned from 12 Years on the Road)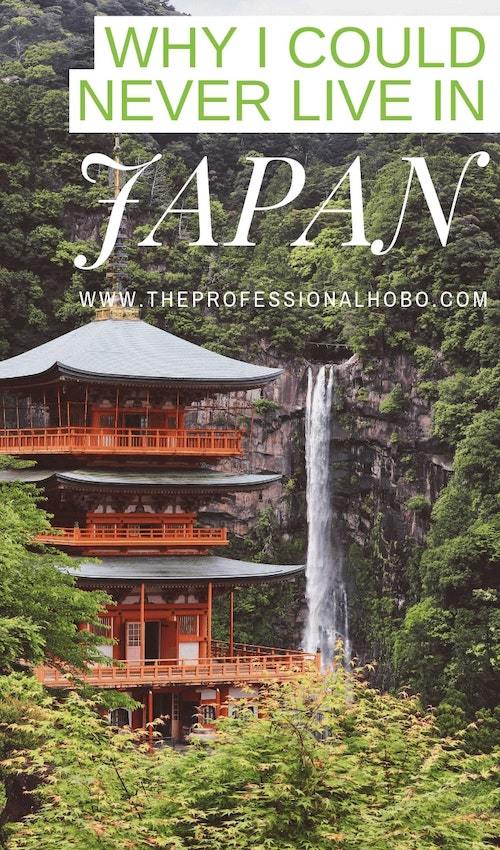 This post was originally published in 2017, and has since been updated for accuracy of links and content.

Disclaimer
Before going further and risking a backlash from people in love with and/or living in Japan outside of Tokyo, it's worth noting that I've spent the majority of my two Japanese months in and around Tokyo. I understand that Tokyo is not an accurate representation of Japan as a whole, and it may or may not be the best place to live in Japan. At the very least, Tokyo is not the only face of Japan.
Why didn't I see other parts of Japan as well, then? Because I can't conquer every country I visit. I'm not on an endless vacation. I have work to do every day (and a kitty cat to take care of – which is the reason I'm here to begin with). If I'd made time to see Kyoto as well, I'd have been berated for not also seeing the north. And if I'd done that as well, I'd have been berated for not seeing Okinawa. The rabbit hole of travel runs deep. So I just do what I can, where I am.
Although some might think two months is a long time to spend somewhere, it's not. I suspect I could spend a lifetime discovering Tokyo alone, let alone Japan as a country. This is simply my impression of the place given my time here, and some of the "dealbreakers" that mean Japan is not a place I believe I'll ever want to call "home". I believe my observations below are not just isolated to Tokyo, either.


Reason #1 Why I Could Never Live in Japan: Girl Power (or Not)
In the West, we define Girl Power as that of a woman's independence, empowerment, control of her life, and expression of femininity in a courageous and still flirtatious way. Although I would never have called myself a raging feminist, seeing the attitude towards women in Japan has made me reconsider my stance.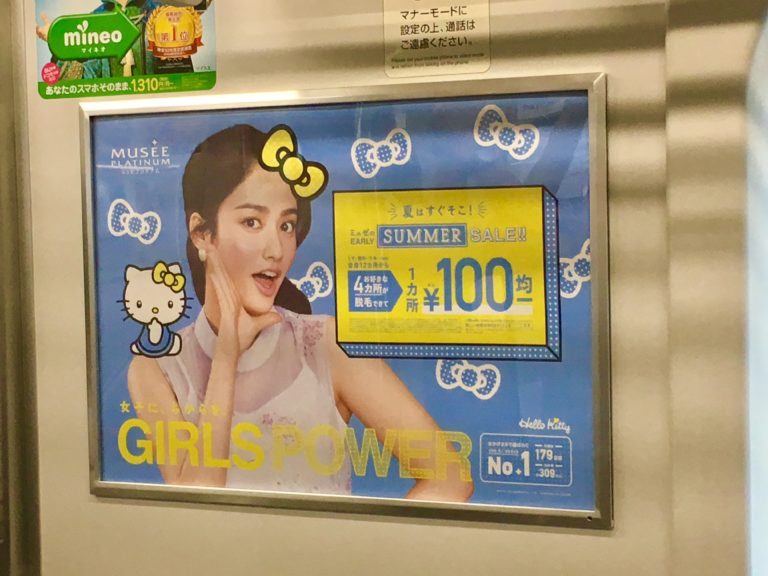 This picture above is a very prevalent ad on the subway. With this sort of slogan, you'd think it's for something empowering to women. Instead, it's for a hair removal product. Because Japanese women apparently like to embrace their "Girls Power" by ensuring their arms are hair-free. It's part of a whole cultural movement encouraging Japanese women to be pretty, and "feminine" in the most delicate (and labourious) of ways.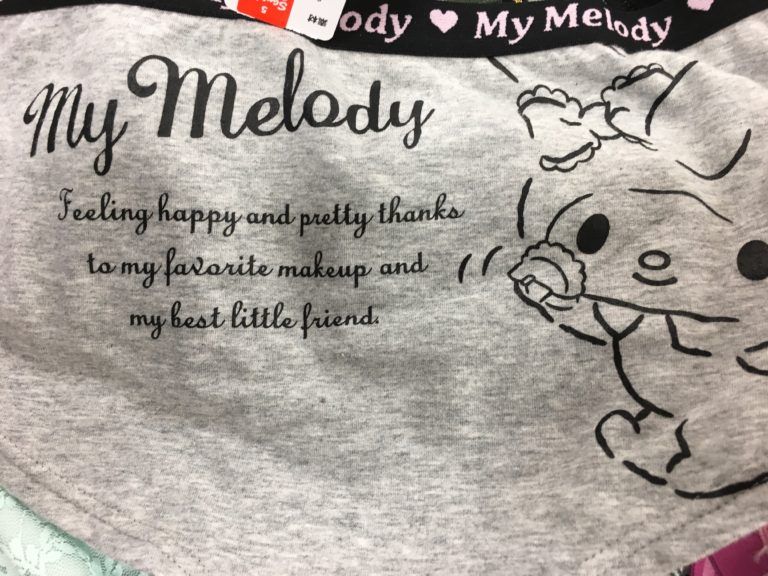 After spotting the Girls Power ad, I started taking pictures of humourous (to me) mis-uses of the English language. This little ditty above ("Feeling happy and pretty thanks to my favourite makeup and my best little friend") is on a pair of underwear. Never mind who – or what – her "best little friend" is supposed to be(!); she's feeling happy because of her favourite makeup???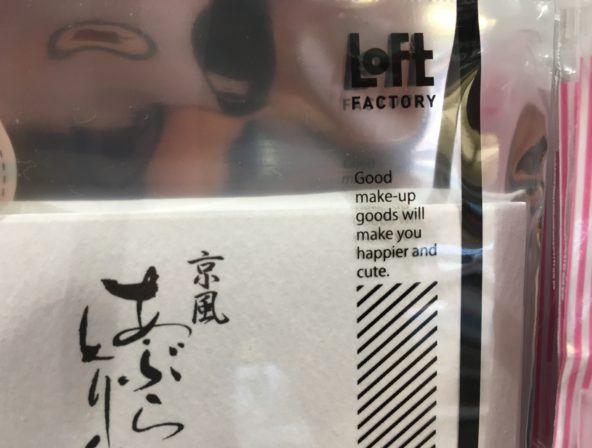 Then, I started to realize these slogans aren't actually the unintentional mistakes I originally thought them to be. This, on the packaging for a whole line of makeup accessories: "Good make-up goods will make you happier and cute."
I connected the dots and realized that "Girl Power" means something completely different in Japan. I learned that the Japanese translation for "girl power" is joshiryoku; which carries a very different connotation and definition of women's empowerment than we in the West are used to. It has much more to do with being a good cook, acting demurely, looking and smelling good, etc.
Although I enjoy cooking, and I'd like to think I look and smell pretty good, I'm definitely not happy because of my favourite make-up.


Reason #2 Why Living in Japan Isn't For Me: Exploitation of Women
In the article above about joshiryoku, it outlines the top five qualities that both Japanese women – and men – attribute to this definition. The men's top five were Good looks, Good skin, Wearing make-up well, Fashionable and knowing the latest beauty trends, and Smells good. All physical characteristics, and pretty judgemental and superficial ones if you ask me.
In my vlog last week about visiting Akihabara, I had a rude awakening that ties in with this whole Japanese Girl Power ideology. Please do click through to read my harsh conclusions and watch my bewildering video (which you'll find amusing if nothing else).
My rude awakening surrounded the graphic and at times vile exploitation of women (and let's get it right – more like little girls) in anime and video games. Now, I'm all for some racy content in the right context, but this stuff was everywhere, for adults and children, women and men to see and use like it's just another day. Exit any one of these stores and walk down the street and you'll be approached by women in a slutty maid outfits trying to lure you into their "maid cafes" – a place where people (mostly men) go to be doted on by scantily clad women in an over-the-top cutesy-pie (dare I say "little girl"??) manner.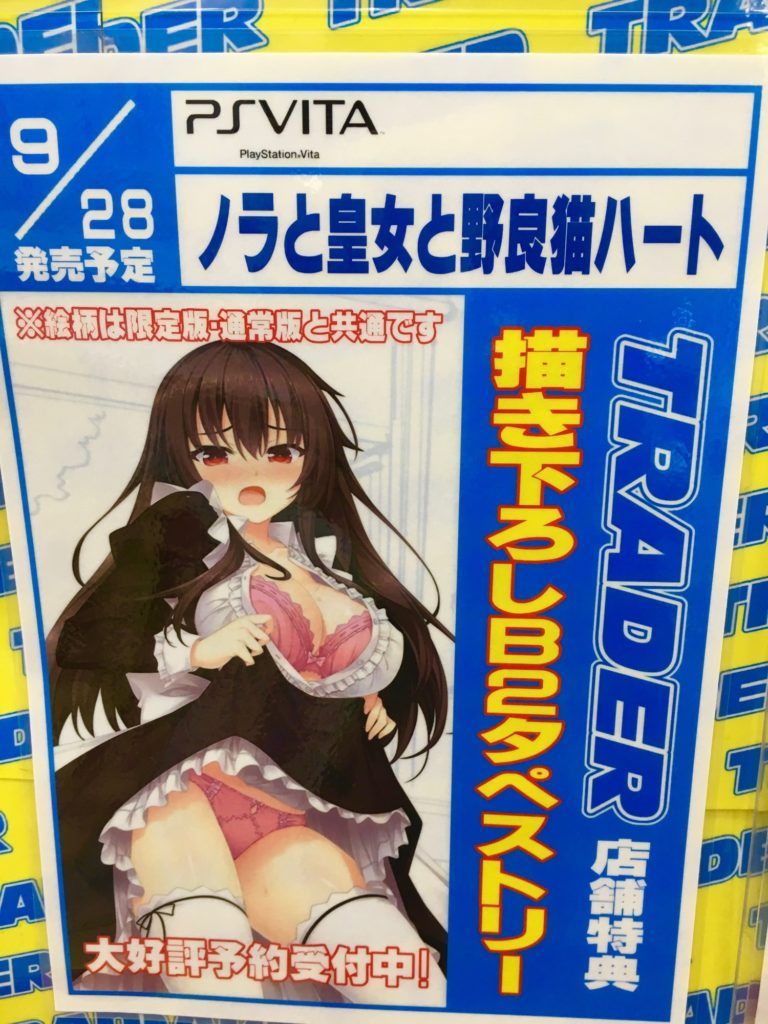 Even if this exploitation isn't an accurate depiction of the overall attitude towards women in Japan, the fact that it exists to even this extent is horrifying to me. And in the article, I directly link this culture of exploitation to the outrageous number of assaults on women on trains, the current favourite tactics of men being to grab (or at least take pictures) underneath women's skirts. (I read that 2/3 of women have been groped on trains in Japan). I could be wrong, but for me, it's no coincidence.
"But Nora," you might say, "there's another neighbourhood in Tokyo that's just for women, with butler cafes." Yes there is, and I haven't been there so I can't speak to the matter directly. But I'll bet there isn't a whole anime culture showing young boys in tight bulging underwear, and women certainly are not being arrested every year by the thousands for grabbing men's crotches on trains. So as far as I'm concerned, it's not the same. At best, it's a response to and rebellion against the rampant exploitation of women.


The #3 Reason Not to Live in Japan: Work Culture
Although even if I lived here it wouldn't be with an intent to work in the traditional workforce, I balk at the working culture in Japan and its ramifications on society. Heck, I balk at the working culture in North America, which is nothing in comparison to Japan.
There is a uniquely Japanese term for working yourself to death. Overtime is expected, despite the fact that studies show working longer hours does not equate to more productivity, and Japan is in fact known for its gross inefficiency. Overtime is simply an expectation, and part of the Japanese business culture. Throw in a requirement to stay at your first job out of school for at least three years (so as not to brand yourself as an "unreliable" employee), and you get suicides. Literally. In 2016 there was a famous suicide attempt by a young woman who was overworked and felt trapped in her job, just two years out of school. In response to this event, Japan invoked "Premium Fridays"; a policy allowing people to leave work early….at 4:30. Apparently most people still continue to stay late. There's another uniquely Japanese term about leaving work on time, and it's likened to a miracle.
That isn't it. It gets worse.
An expat friend of mine shared a story about an English student of hers (a Japanese fellow) who confessed that he was worried about how to hide his recent engagement from his boss. Because apparently, when an employer learns of anything in the employee's life that might distract them from work, they'll commonly transfer them to another part of the country, or another country entirely. Many a family have been broken up this way – or at least separated during the workweek.
Oh wait. There's more.
Employers require annual health checks of their employees. That in itself doesn't sound bad, right? Unfortunately what the employers do with the results of said health checks is a bit of a grey area. For example, if they discover that your health is questionable, you'll likely get passed up for that promotion you're due for in favour of somebody in better health. While I totally understand why an employer would want to ensure their top-level employees are in top-notch health, there's still something about the concept that feels wrong to me. Like an invasion of privacy. Then again, North American employers often do health checks and/or apparently access employee health records without their permission; at least the Japanese are up front about it.
There are theories that this culture of overworking and being "owned" by employers is in part what has inspired the over-the-top and often seedy outlets for people to vent some steam; anime and manga, maid and butler cafes, slot machines and pachinko parlours, and the full range of kink subculture that I didn't dare explore.
Considering I sold everything I owned to escape the "rat race" in the first place and embrace my lifestyle dreams, it would be all too ironic (and even hypocritical) if I chose to create a home base in Japan with a culture such as this.
It's not just me. Add all the above three reasons not to move to Japan together, and you get this brilliant article on the Economist about sexism in Japan and how nobody is served by it.


Reason #4 Why Not to Live in Japan: Taboo Tattoos
I have tattoos, big ones, and I'm proud of them. They each mean something very dear to me, and (I think) they're pretty to look at. But in Japanese culture tattoos are very much taboo, and still today are considered a sign of connection to the yakuza (Japanese gangsters).
I've been told that an essential traditional Japanese cultural experience is visiting the onsen (hot springs) and/or sento (public baths). Problem is, it's hit or miss as to whether they'll kick you out when you get naked to enter the baths and are found to have tattoos. More often than not, you'll get kicked out, or at least you'll offend the other bathers who will leave.
And quite frankly, I'm not interested in taking the risk.
Such a judgemental close-minded attitude is offensive to me. That's all. And although the prevailing sentiment is that this attitude towards tattoos is changing, it depends on who you talk to as to whether it truly is.


Dear Japan: It's Not You, It's Me.
There are other things that irk me about Japan, which contribute to the overall sense of why I could never live in Japan. But to be honest, they're either too subjective or not worth mentioning.
But I will say that this "crisis of dislike" I experienced with Japan is also part of a somewhat normal course of events for me – and I suspect for many – in visiting/living somewhere new.
When I arrive, I love the place. Everything is new! The food is great. The smells are different. The people are friendly. The scenery is majestic. It's magic. I want to live there forever.
And then, as I settle into daily life and dig around a bit culturally, I often start to see the ugly underbelly of the place (and trust me, every place has one). It always happens; in some places it just takes a while longer for a variety of reasons, and in some cases it's easier to take the bad with the good. But depending on how bad "the bad" is, I start to change my stance.
Eventually, it's time to go, and this change in stance helps me to justify moving on. As I'm about to do from Japan very shortly. It's almost like a defence mechanism.
But more than that, it's about context. If I hadn't have visited Akihabara and been so affected by the exploitation of women/girls, maybe I'd have continued to find these quaint little translated expressions about favourite makeup and hair removal cream to simply be funny or whimsical.
It's why I'm always loath to answer the question what is your favourite place in the world. I should love Japan; I certainly thought I would. And I still do, in my own way. It's just that I could never live here and not feel that I'm compromising some part of myself and my culture that, to me, is uncompromisable.


Where to Stay in Japan
Assuming I haven't scared you off of visiting Japan, and assuming you don't have a house-sitting gig lined up, you'll need to find a place to stay! Make sure you've got some cash in the travel budget for this expense! When searching for accommodation deals, I turn to Booking.com. Check it out below! (I will receive a small commission on anything you book through them. It doesn't affect your price, and I stand by my recommendations. Thanks in advance for your support!)
Things to Do in Tokyo
Two months in Tokyo was barely enough to scratch the surface of the place; much less the rest of the country! Browse below for inspiration: