I'm not sure I'd have discovered Harmonica Alley if the homeowners I'm house-sitting for hadn't highly recommended it to me. And for an interesting combination of old world Japan and modern cosmopolitain Tokyo, Harmonica Alley is well worth a visit.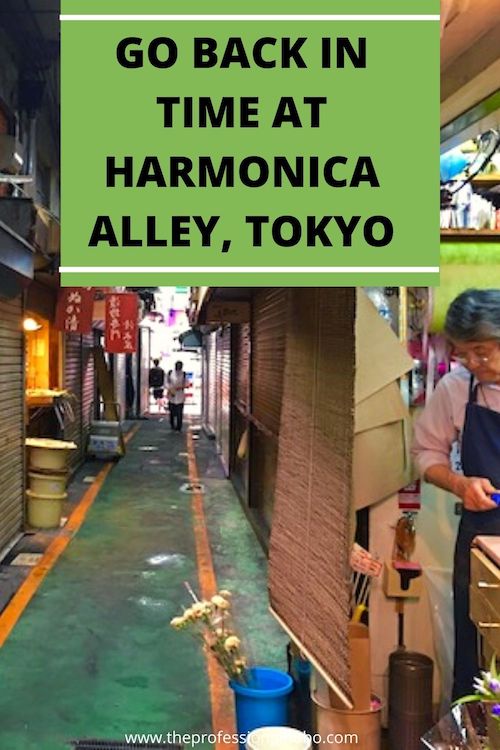 This post was originally published in 2017. It has since been updated for accuracy of links and content.


Kichijoji
Harmonica Alley (also known as Harmonica Yokocho) is across from Kichijoji station on the JR Chuo line in Tokyo; and Kichijoji is a destination unto itself; named the number one neighbourhood where Tokyo residents want to live. If you like parks, Inokashira park is very active especially on weekends, bustling with vendors, musicians, artists, and street performers.
If you like shopping, there's lots of it to be had. If you like restaurants, eat your heart out. If you like drinking, the after-work scene is thriving. You can have all of these in the greater Kichijoji neighbourhood, or within Harmonica Alley itself.

Accommodation in Kichijoji
Kichijoji is a fabulous area to base your stay in Tokyo. It has a little bit of everything, and it's right on the metro with many lines intersecting here so it's easy to get anywhere in Tokyo.
Check out this map to find your accommodation in Kichijoji, or zoom out to see other areas of Tokyo.

Harmonica Alley
Harmonica Alley itself earns its moniker by virtue of the many small dark entrances off the main streets into this maze of alleyways. If you can get a wide enough perspective on it, these alleyway entrances resemble the mouthpiece of a harmonica. It's a bit of a stretch, but if you tilt your head and squint, you can get the idea.
Harmonica Alley started off as a post-war black market, and as such continues to have a flavour of friendly adversity. Today, you'll find shops, restaurants, bakeries, bars, and fortune tellers. The hanging red lanterns in front of many establishments along the dark narrow laneways make for a very old-world feel.
If you really want to get the most of the experience, the best time of day to visit is as it's getting dark. This is when it takes on an other-worldly ambiance, and also when most establishments will be open. I visited (for my first time) in the early afternoon and about a third of the places were closed, so although not disappointed, I didn't really feel I got the full experience.


Explore Tokyo's Harmonica Alley With Me!
Check out this video to see the magic and fun of Harmonica Alley yourself.
Can't see this video? Click here to watch on YouTube.