I am a failure as a Tokyo tourist. Why? Because I just didn't "get" Akihabara. Like, at all.
I mean, I got it with the Robot Restaurant. That was an over-the-top experience that was created to be over-the-top, entirely on purpose. Akihabara, by contrast, is unintentionally over-the-top. And the hundreds (thousands?) of people I saw in Akihabara didn't betray any indication that they were overwhelmed in being there. For them, a trip to Akihabara was just another day.
For me, a trip to Akihabara required three days of not leaving the house to recover.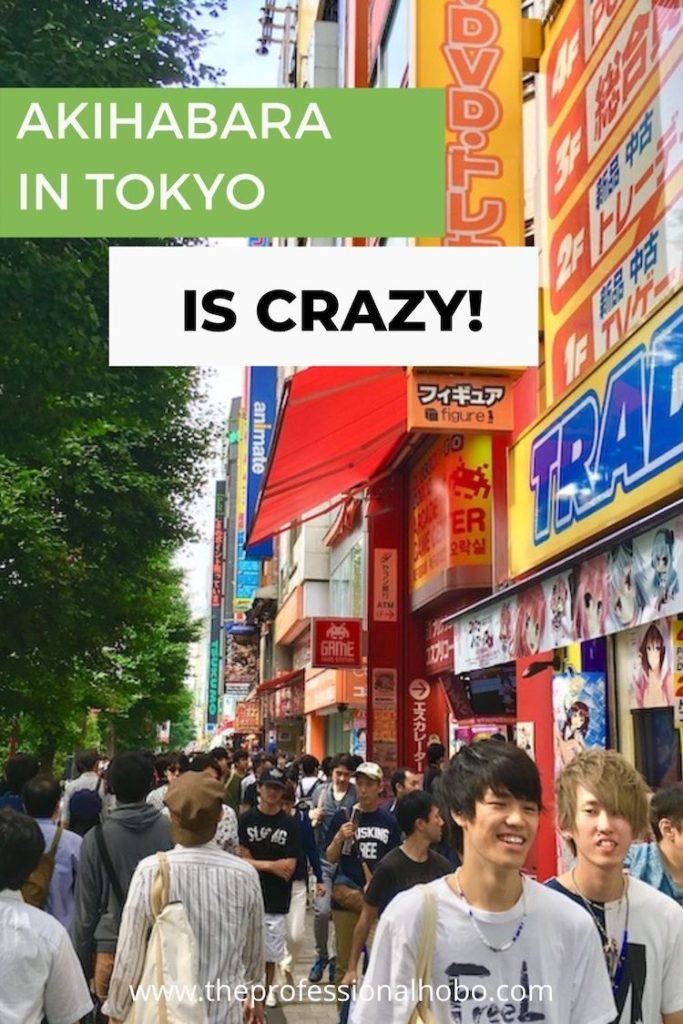 This post was originally published in 2017. It has since been updated for accuracy of links and content.


What is Akihabara?
Also known as "Electric Town", Akihabara is a neighbourhood in Tokyo known as a shopping centre for video games, anime, manga, and computer goods. If you like any of the above, you'll probably love Akihabara. It's known as an otaku cultural centre. What is otaku, you ask? It's a Japanese term for people with obsessive interests, generally associated with anime and manga. You'll get more than your fill of video games, arcades, anime figurines, anime vending machines, and comic books.
Wiki says "The connection between Akihabara and otaku has survived and grown to the point that the region is now known worldwide as a center for otaku culture, and some otaku even consider Akihabara to be a sacred place."
Sacred. Place.


Maid Cafes
As if I didn't "get" Akihabara enough, it's also the epicentre of Tokyo's maid cafes. I didn't have the courage to go into one, mainly because I figured it was some sort of tame kink thing for Japanese men who want to be doted on by scantily clad Japanese women in maid costumes.
These "maids" line the streets of Akihabara drumming up business. I couldn't get a proper picture of any of them however, because they're not allowed to be photographed.
Although tame kink is not far from the truth, apparently, it's not (entirely) a kink thing. But the inner workings of maid cafes are elusive, since you're not allowed to take photos or film inside. However some fellow travel vloggers got special permission to film their experience, and watching it was enough for me; I feel I've been there. Check out their extremely entertaining video here.


Sexy Sexy
As a wee peek into the underbelly of Japanese culture, Akihabara – with its maid cafes and anime – was bewildering for me. Trust me – I'm not a prude – but the overtly sexual nature of the anime video games and figurines and maid cafes was disturbing. Video games are for kids, no? And even if these video games aren't for kids, they're still surely exposed to this sort of exploitation of women, which must have a cultural impact later on in life. I saw a statistic – an old but telling one – that 2,201 men in Japan were arrested for assaulting women on trains (they're famous for grabbing underneath skirts) in 2004. If you want a comparison, London saw 85% fewer total arrests in the underground that year. I see a correlation between maid cafes/anime and this behaviour; do you?
(See also: Why I Could Never Live in Japan)

Akihabara Video
So, Akihabara, I've seen you. I've "done" you. And I was confused by you. Check out this amusing video to learn just how confused I was by the experience.
Can't see this video? Click here to watch it on YouTube.