Fancy a monkey on your head? Visit the Sacred Monkey Forest Sanctuary in Ubud Bali, and your wish just might come true.
Personally, I prefer my monkeys at arm's length. As far as I'm concerned, most people who think monkeys are cute haven't actually seen or interacted with them in person. If they had, they'd know that monkeys get into everything, steal your food, carry disease, and as such can actually be dangerous. I've had them nip at my heels in Nepal, and steal my breakfast in South Africa. And when you steal my breakfast, you declare war.
But this is a cute monkey video, and here at the Monkey Forest it's all happy happy, so we won't talk about that. (Or, maybe we will, just a little).
This post was originally published in 2017. It has since been updated for accuracy of links and content.


The Sacred Monkey Forest in Ubud
Word on the street is that the Sacred Monkey Forest in Ubud was founded by an eccentric ol' chap who loved monkeys (I couldn't find anything online to substantiate that rumour).
What I do know is that it's a big tourist attraction in Ubud, as well as home to three ancient sacred temples, parts of which outsiders can't even visit unless they're dressed accordingly and participating in the ceremony at hand.
The Forest is home to almost 700 Balinese long-tailed macaque (crab-eating macaque) monkeys, that live in troupes throughout the forest.


My Monkey Forest Commute
For my first month in Ubud, I stayed south of the Monkey Forest in a neighbourhood called Nyuh Kunung, which is lovely and quiet and a bit more "local". In order to access the centre of Ubud, I had two options: walk along the roads for about an hour, or walk 20 minutes using a shortcut that runs beside the Monkey Forest. Of course, I took the Monkey Forest shortcut.
Given that I chose not to have a scooter in Bali, I did this journey on foot, along a narrow path that was mostly frequented by scooters. As such, it wasn't the most enjoyable walk, although I must say, the monkeys were quite entertaining.
But people thought I was crazy for walking through the Monkey Forest like this. Rumour has it the monkeys have been acting up lately and have even attacked people, and outside of the forest there's no keeper/attendant to keep them in line. (Even inside the forest, I recently read a social media posting by a girl who was bitten badly by one of the monkeys).
And although apparently all the monkeys are vaccinated against rabies and herpes, I don't believe it's failsafe, since the monkeys can come and go from the Monkey Forest Sanctuary as they like.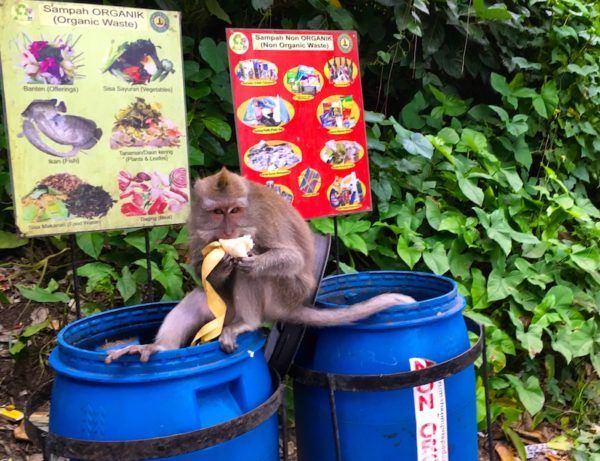 Ubud Monkey Forest Adventures (Vlog Ep. 26)
I'm pleased to report I fared my Monkey Forest commute without a hitch, and got nothing from them except some pretty cool pictures and videos. See for yourself! And if you enjoy this video, please do "like" it, and subscribe to my channel!
Click here to watch this video on YouTube.


Related Posts and Videos
How to Negotiate, in Ubud Market
Balinese Painting for the (Not So) Artistically Inclined
Visiting Kuta in Bali (aka What Was I Thinking?!)