I must.
I must, I must, I must: return to Corsica.
Whew! This is the last stop on my Club Carlson Global Traveler program; a 3-week, 8-country adventure through Europe, paid for and compensated by Club CarlsonSM (now Radisson Rewards). During the trip, I'm exploring the world of hotel points and how to take advantage of accommodations and upgrades with various strategies. 
In all cases, opinions expressed herein are my own; don't worry – I haven't sold my soul.

This article was originally published in 2013, and has since been updated for accuracy of links and formatting.


I must return to Corsica.

It's not because a driver was waiting for me at the airport, like a heavenly beacon of light after the most harrowing series of connecting flights from Kiev that I've ever endured.
And not because I arrived just in time for an awesome sunset after a VIP welcome from Radisson Blu Ajaccio Resort & Spa.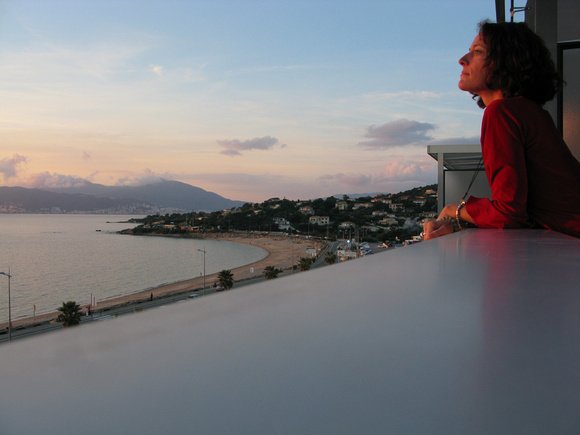 It's certainly not because I had a chance to practice my French – which I actually impressed myself to speak almost in totality without reverting to English.
It has nothing to do with the unexpected tour I received, which allowed me to see the capital city of Ajaccio (pronounced ah-shahxx-ee-oh), the various incredible viewpoints (really no matter where you look the views are awesome), have lunch on the harbour, and even a peek at "the real Corsica" in the old-world mountain village towns, with buildings made entirely of stone (no cement).
Nor my two hours of treatments in the largest spa in Corsica (which just happened to be in my hotel) to unwind and rejuvenate.
And Corsica certainly didn't lure me in with its incredible gastronomy (I ate more things-"tartare" than you could imagine in 24 hours).
Nor the props I got from people when I admitted to thinking of Corsica as its own country, which many of the residents would like. Some refer to the rest of France as "zee mainland" with a hint of distaste, given that they are working hard to preserve their own language (Corsican, similar to Italian) in addition to speaking French, and have a long history that has seen it as part of Italy, France, and a short stint as an independent nation.
And I certainly mustn't return to Corsica because of my unintentional love of "island life" – be it Hawaii, New Zealand, Grenada…and the many others I've spent time on.
It's not because the cost of living is surprisingly reasonable (way better than Oslo, but not quite as good as Berlin).
No.
Well, maybe my fierce desire to return to Corsica (as in to live, for a few months) has a little bit to do with all of the above.
But it's also something more; something I can't quite put my finger on (hence, my desire to return).
I had no intention of falling in love with Corsica. In fact, I had very few preconceived notions of the place; only a wicked sense of fatigue after this incredibly hectic 3-week, 8-country extravaganza.
I fell in love with Corsica, much to my own surprise – which is one of my favourite kinds of travel experiences.
And now, I must.
I must return….to Corsica.
1 Minute Corsica
Please enjoy this beautiful (intentionally over-sappy, before you think I've completely lost it) minute of pure, unadulterated, Corsica.
Click here to view on YouTube.
Want to learn about the other places I visited on this 8-country, 3-week extravaganza of a trip? Click here.