"I don't speak English very well," were the elderly woman's words of greeting, on the tram in Oslo.
"I think you would like to see a Norwegian flat. I am five minutes from the sculpture park. Would you like to come with me?"
This was just about the full interchange we two perfect strangers had, before I got off the tram early with her to visit her home.
This post is part of the Club Carlson Global Traveler program; a 3-week, 8-country adventure I'm taking through Europe, paid for and compensated by Club CarlsonSM (now Radisson Rewards). During the trip, I'm exploring the world of hotel points and how to take advantage of accommodations and upgrades with various strategies. And if you share this post (and others) on Twitter and Facebook, they might even give me 1 million points to give to you (read on for details)…..
In all cases, opinions expressed herein are my own; don't worry – I haven't sold my soul.
This article was originally published in 2013, and has since been updated for accuracy of links and formatting.


Being a Tourist, to Not be a Tourist
My discussion with 86 year-old Karin would not have transpired had I not been taking pictures out the window of the Oslo tram, having embraced my inner tourist and thrown abandon to my normal modus operandi of "blending in".
So ironically, by being a tourist, I attracted the attention of a local who was not only not repelled by my presence, but compelled to invite me into her home and her life.
But enough of this minor revelation for now. My Oslo experience goes deeper than this.


Norway, Scandinavia, and (my) History
I've said before that travel is very contextual. The most beautiful sunset in the world is a tragic sight if you've just had your heart broken.
I have some unfinished business with Norway, and on a larger scale, Scandinavia.
I've never visited Norway before, but I have some Norwegian friends. Well, "friends" is a loose term; in fact that's the problem.
Being in a near-fatal accident (as I was with my partner, earlier this year) is a great way to help you determine what's important in life; including who your friends are. My partner and I had some rude awakenings while recovering during the months following the accident, and one of those awakenings was the degree to which our Norwegian friends weren't really our friends at all.
I hadn't considered any of this prior to landing in Oslo. But on arrival, everything reminded me of them.
To make my trip down memory lane even more excruciating, the visual cues Norway gave me were reminders of Sweden; a place I once visited, with my "Swedish Squeeze" – a man who broke my heart. (And he broke it with a Danish woman; Copenhagen, be warned. You're my next stop on this trip).
So with all this awkward ju-ju surrounding me, the cold temperatures, and the constant reminders of an emotional journey I'm obviously still enduring, I didn't really want to leave the comfort of my lovely corner-suite of the Park Inn by Radisson, in Oslo.


On With the Show
But I knew I had to get over myself and get on with it. Hiding out in my room was not an option, as I surely would have regretted it.
So I did as any good little tourist would do; I bundled up in layers of scarves, grabbed my camera, and went out to "discover Oslo". That's when I met Karin on the tram.


The Oslo Flat
Karin's home was beautiful. The early 20th century fixtures and decor and high ceilings framed her racks of books and collection of artifacts. She gingerly showed me her prized tea pots and plates, and I immediately saw that Karin was a world traveler, with pieces from Mexico, The Gambia, Morocco, Thailand, and Italy adorning every free space.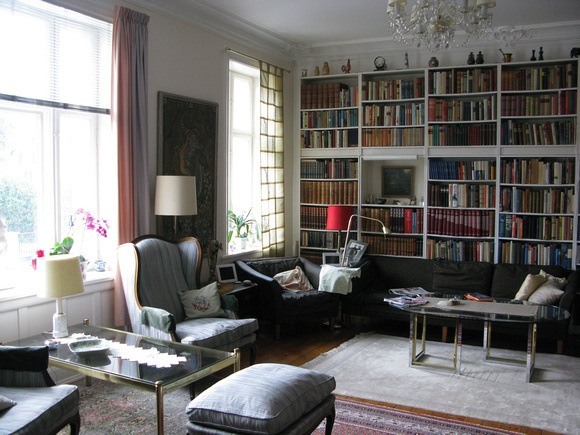 Karin's late husband was a geologist and university professor; a job that took them both around the world, and also saw them living in Denmark for 20 years, Sweden for 10 years, and of course, Norway.
"My husband was very good English speaker," Karin said. "He did all the talking. Many people loved him." Karin said of the man she evidently misses.
The last artifact I found myself admiring in Karin's flat was one that brought a tear to her eye. It was an Oriental urn, and one that had a long arduous journey through three countries and turbulent flights back to Scandinavia from Thailand. This urn is where Karin will spend the rest of eternity with her husband.
"He is waiting for me," she said with a smile and a nod towards the urn.
But Karin was in no hurry to die. She spoke of her children and grandchildren, and showed me pictures of her grand daughter in Denmark, who turned 21 today. It became apparent to me that I'm not the only person Karin has invited back to her flat; she thrives on living vicariously through travelers, and knows what an honour it is to have a chance to see something (like a local's home) that most tourists don't see.


Travel Happens When You're Not Looking
When I left the hotel this morning, I was introspective and perturbed. I'd accumulated some random amusing facts about Oslo that I could pepper with pictures and call it a day, job done. I was really just looking forward to sitting back in my warm room and wallowing enjoying my own company.
Instead, my trip happened to me while I wasn't looking.
After my surprising experience with Karin, I went on to visit Oslo's famous Vigeland sculpture park (the world's largest sculpture park by a single artist), took a fjord cruise, and other typical Oslo activities.
I did my best to observe everything with fresh eyes and an uncluttered mind, but it wasn't possible.
Nor was this a bad thing. I generally enjoyed Oslo.
I liked Oslo because it surprised me. Having started to feel like I've "been there done that" when it comes to the travel lifestyle, I remembered that I'm still very much a student. Travel brings about lessons; lessons you can't anticipate, and ones that you rarely sign up for. Being immersed in a place full of new stimuli creates an environment conducive to challenge; challenging your powers of communication, challenging your ability to get around, your sense of normality, and even your concept of right and wrong.
Thank you, Oslo, for the challenge. I'll never forget you for it.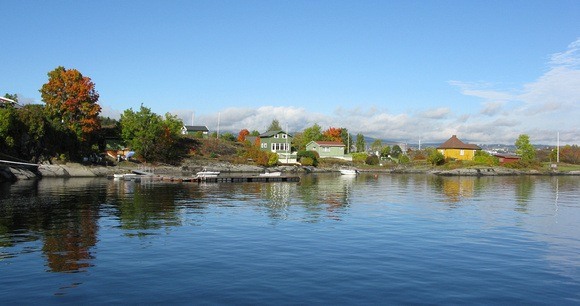 Picture-Perfect Oslo, in 1 Minute
Oslo is a beautiful place, even when the sun doesn't shine. Two thirds of the the area within Oslo's boundaries are forest and lakes, and even the concrete jungle itself is colourful. Typical Scandinavia, it is very clean, well organized, (and expensive).
Please enjoy this 1 minute video taste of Oslo!
Click here to watch on YouTube.
Want to learn about the other places I visited on this 8-country, 3-week extravaganza of a trip? Click here.