This post is part of the Club Carlson Global Traveler program; a 3-week, 8-country adventure I'm taking through Europe, paid for and compensated by Club CarlsonSM (now Radisson Rewards). During the trip, I'm exploring the world of hotel points and how to take advantage of accommodations and upgrades with various strategies.
In all cases, opinions expressed herein are my own; don't worry – I haven't sold my soul.
This post was originally published in 2013. It has since been updated for accuracy of links and content. 
See also: Where to Stay in Amsterdam – written by my friend and travel colleague Nomadic Matt.


Dear Amsterdam: I should have known.
I didn't want to fall in love with you, like everybody does.
But there's no denying the smile that I simply couldn't shake for love or money. The smile which erupted the second I got off the plane, and continues to sit goofily on my face even now as I write this.

Have you Ever had a "Special Feeling" about a place?
I'm fairly indiscriminate in my love of new countries and travel in general; I'm excited to go just about anywhere. But there are three distinct times I can recall in my extensive travels since 2007; three instances when, from the time I boarded the plane, I knew there was something special about where I was going.
The first time was enroute to New Zealand in 2010, a place that nurtured my transitional period from traveling with a partner to going solo. It was – and is – a place I keep returning to, having spent about a year there on and off.
The second time was enroute to Grenada in 2011; I couldn't explain why I was so enthralled with the little Caribbean island from the air; a wee place I couldn't have pointed out on a map mere weeks prior. And despite a good dose of heartbreak and dengue fever awaiting me on arrival, Grenada was destined to weave itself inextricably into my life.
Amsterdam was the third time.
Like I said, I didn't want to like Amsterdam. I mean, I guess I knew I'd like it. But I didn't want to become yet another evangelical flag-toting categorial cheerleader for the place.
Whoops: too late.


What Can I Say About Amsterdam? It's Been Said.
What can I write about Amsterdam that hasn't already been written? What iconic pictures of canals and bicycles can I show you? Shall I talk about how easy it is to get around? How generally friendly everybody is? How ridiculously picture-perfect the place is?
Shall I talk about the relatively small size of the country in relation to its world influence? And how the Dutch people – in keeping with the "tall poppy syndrome" principle, remain humble and low-key about how cool their country is?
Maybe we should discuss how Amsterdam's 700,000 inhabitants make this capital city of The Netherlands such an easy place to live, eat, work, and play. How wandering the streets – any street, any time – is easy, safe, and unto itself, a "local" experience.
(Amsterdam is great for solo female travelers; if you want to cut your teeth in the world of solo travel, Amsterdam will give you confidence).
We could talk about the food. The cheese shops, the stroopwafels (chewy syrup-filled waffles of delight), the raw herring (much more palatable than surstromming) sold at stalls identifiable by the Dutch flag, the salty fries with dollops of sweet mayonnaise, and the bitterballen (similar to croquets) with mustard.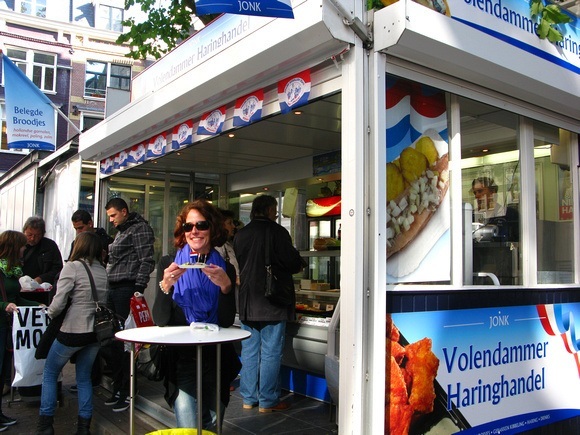 I could certainly go on and on about the hotel; the posh new flagship Art'otel Amsterdam by Park Plaza, where the staff's attention to detail and friendly manner make you feel like both a hot celebrity and an old friend. A place which, despite multi-media art installations throughout, swish decor, and trendy music, lacks the pretence of exclusivity and instead welcomes you to come as you are, and share a reasonably-priced meal in the warm restaurant.
(And a place with one of the most comfortable beds I've ever slept in, lovely spa gifts on the pillow at night, and the unwitting locale of multiple ridiculous "happy dances" of utter luxury).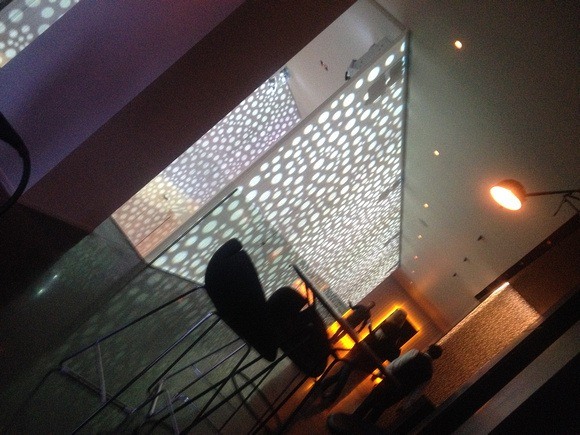 You Know that Movie Everybody Raves About?
And what does it have to do with Amsterdam? Check out this 1-Minute video about Amsterdam to find out:
Click here to watch on YouTube.
Dammit, Amsterdam!
I should have known.