In this modern world, a backpack is one of the common things that can be seen almost everywhere. Gone are the days when a backpack was only used for carrying school books or going on a hike.
Nowadays, people use backpacks for various purposes such as traveling, working, and even diaper bags. However, with so many different types of backpacks available in the market, it can be quite confusing to choose which is the right one for you.
In all of my years of full-time and long-term travel (since 2006), my backpack/suitcase/whatever has assumed the functionality of my "house" (and then some) – keeping all my possessions safe while enduring the hard knocks of travel.
I've lived out of a bag for about 17 years.
Or rather, a few bags.
And I've determined (and demonstrated by example) that wheeled backpacks are the best for travel.
It is essential to have a backpack that is both comfortable to carry and has enough space to store all your belongings while traveling. When you travel, it becomes your "house" while on the road! This is all the more reason for travelers to invest in a good quality backpack. In this article I'll show you what to look for and how to find the perfect wheeled backpack for you.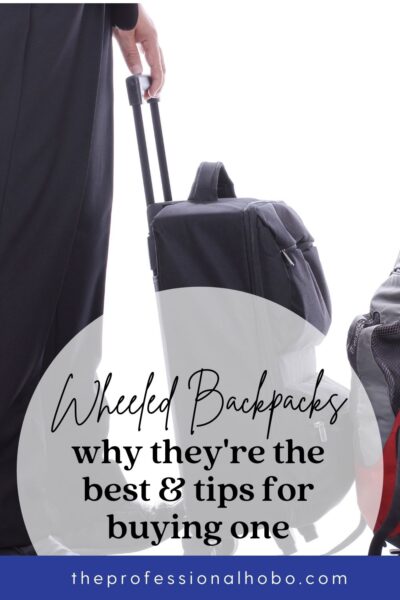 While this post was originally published in 2012, it is constantly updated with relevant information and links. It was overhauled in 2022.


What is a Wheeled Backpack?
It is a no-brainer that a wheeled backpack is a backpack with wheels! It has all the features of a regular backpack but with the added convenience of wheels and a handle.
There are two main types of wheeled backpacks: rolling backpacks and wheeled duffel bags.
Rolling backpacks are designed to be carried on your back like a regular backpack but with added wheels and a handle. They are great for those who want to travel light and do not want to carry their backpack on their back all the time.
Wheeled duffle bags, on the other hand, are designed to be pulled like a suitcase. They are perfect for those who are looking for more storage space as they usually have a larger capacity than rolling backpacks.


At A Glance: My Top 4 Picks for Wheeled Backpacks
Ready to meet the top 4 picks for the best-wheeled backpacks? Here they are!


1. Osprey Fairview Wheeled Travel Packs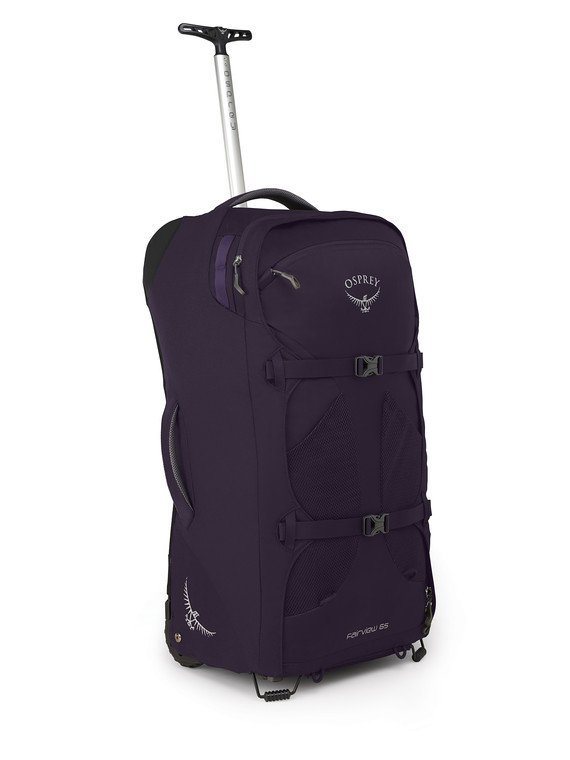 These wheeled backpacks are our top pick for the best-wheeled backpack. Osprey in general makes amazing gear from durable fabric with great travel-friendly features.
The Fairview line of packs is designed specifically for women so they're ergonomically easier to carry on your back. They both come in checked luggage size (65L), and carry-on size (36L).
The comfortable backpack harness and hip belt stow away when you want to use the wheels and retractable handle for easy maneuverability. And there are straps on the front of the pack to which you can attach the Osprey Daylite or Fairview/Farpoint daypacks so you can wheel or carry your whole travel entourage easily and keep your hands free.
Check out the Fairview 65L Wheeled Travel Pack
and the Fairview 36L Carry-On version.


2. The Osprey Farpoint Wheeled Travel Packs
In truth this ties for the #1 spot because the Farpoint has exactly the same features as the Fairview – except it's designed for men.
Check out the Farpoint 65L Wheeled Travel Pack
and the Farpoint 36L Carry-On version.


2. Eagle Creek Cargo Hauler XT 90L Wheeled Duffel With Backpack Straps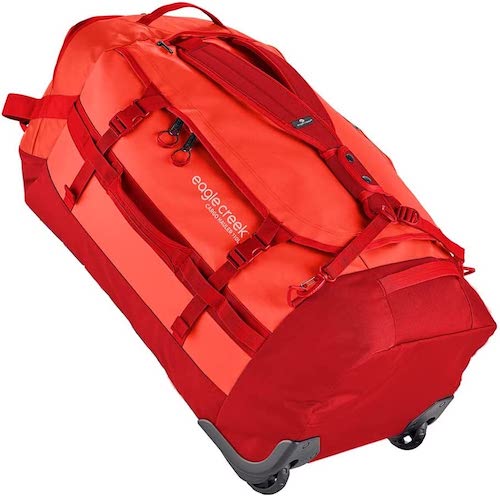 This wheeled duffel bag from Eagle Creek is our top pick for the best rolling duffel bag. There are tons of rolling duffel bags, but very few also have backpack straps; this one does. It is made from durable fabric and features a large main compartment with internal compression straps to keep your belongings in place. It also has a handle and rolling wheels for easy maneuverability.
Now here's the thing. At 90L this thing is larger than I would normally recommend for long-term travel, because it will be heavy. But if you spend a lot of time in colder climates, or you have hobbies that require gear, this will be ideal for hauling everything around.
You won't want to carry it on your back for too long however, because there's no waist belt and anything this big is bound to be too heavy to carry comfortably with just the backpack straps. That said, when the terrain is just too inappropriate to wheel your luggage, you'll be thankful for the straps.
Luckily they are super sturdy oversized treaded wheels. I have some ancient Eagle Creek rolling luggage with similar wheels and I've rolled it countless miles on gravel, cobblestones, and other non-wheel-friendly terrain. They're still like new.
This wheeled bag has some great organizational features too, like mesh divers and easy-access zippered pockets. Overall, this is a great rolling duffel bag for those who need to carry a ton of stuff and are looking for durability, comfort, and versatility.
Get your Eagle Creek cargo hauler here.
For something a bit smaller, check out the Osprey Daylite Wheeled Duffel 85L or the Osprey Sojourn Wheeled Travel Pack 80L.


4. Everki Atlas rolling laptop backpack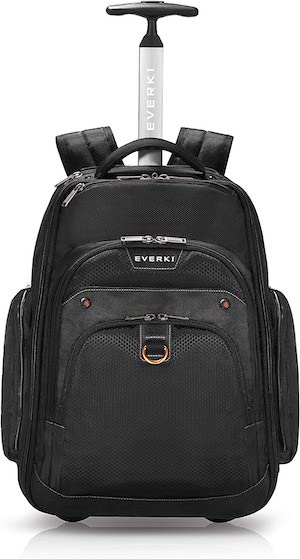 This rolling laptop backpack from Everki is our top pick for the best rolling laptop backpack. It is made from durable fabric and features a spacious main compartment with a padded laptop sleeve that can fit up to a 17-inch laptop. It also has a front organizational pocket and a quick-access top zippered pocket.
At 30L, you could use this as your only luggage for shorter carry-on only trips if you are a super light packer. Or, you could use this as your carry-on/daypack on longer trips with checked luggage. It has a trolley strap so you can attach it to your larger rolling luggage, and after you've checked it, you can use the wheels to breeze around the airport in style. The rolling wheels and retractable handle also makes this a nice thing to have at your destination, for example if you're going to and from a coworking space.
Overall, this is a great rolling laptop backpack for those who are looking for durability, comfort, and convenience.
Check out Everki's rolling laptop backpack here.
2023 Update: Do you like the idea of carry-on sized wheeled backpacks but the Everki is too small? I'm currently testing out the Osprey Daylite Carryon Wheeled Duffel (40L), and it's quickly turning into my preferred rolling carry-on luggage. I'll post more info here as I continue to use it.


My own journey to wheeled backpacks: I started with a backpack…
…as many budget travelers do. Something about the "backpacker" moniker that means you have to travel with a backpack. (Spoiler alert: you don't). Actually, I started my full-time travels with my second backpack, thinking I was smart for ditching the first one. (This turned out to be a smart move, but sadly not smart enough).
My First Backpack – Lowe Alpine
My first (pre-full-time traveling) backpack was a Lowe Alpine 60-80L trekking backpack.
It was a pretty simple, bare bones deal, that I took to South Africa for a month.
There, I realized three impracticalities of this bag:
Walking into fancy hotels with a backpack is no fun (it was a pretty swish trip).
Accessing the contents from only the top or bottom is painful. I usually couldn't see what I needed in the dark abyss of bag contents, and had to remove everything just to find it.
The total lack of extra pockets or reasonable ways to segregate gear further exaggerated the above problem.

So I ditched the backpack…
…and bought another bag. (I still had a few lessons to learn why backpacks suck).
I applied the above lessons by getting a day pack that had a zipper for side-access (as well as top and bottom), some extra pockets, side pockets and a padded hip belt. As for traipsing into swishy hotels with a backpack, I didn't think my full-time travels would allow much luxury, so I conceded to the "practicality" of a backpack.
My new pack of choice was the high quality Gregory Deva.
Although this backpack was great for proper mountaineering and trips into the wilderness, it sucked for short trip travel. Or rather, it sucked for me – and I realized that I hate large backpacks in general. Here's why:
They kill your back. Hoisting them on and off is awkward, not comfortable to wear, and rarely graceful.
Two words: airport lineups. You either have to wear your pack the whole time you're in line (which can be hours), or you have to unceremoniously kick it along, two feet at a time.
They're incompatible with daypacks. I need a daypack to house my laptop and other carry-on essentials. So it means I'm one of those dorks with a big backpack on my back and a daypack on my front. (Sorry if you're one of those "dorks" – but I think it looks ridiculous, and I know from experience that it's hot and uncomfortable, and it irrefutably labels – and targets – you as a tourist).
No matter how many zippers they add, I still couldn't find what I needed, and regularly had to pour out all the contents to find it. (can you feel my aggravation building?)
Rogue backpack straps and airport conveyor belts do not play well together. I was perpetually worried that my bag would be ripped to shreds (with all my precious contents) on every flight.
Lastly, although I hadn't anticipated luxury in my full-time travels, it has happened from time to time. I've received sponsorships and travel opportunities through my freelance writing career, and I just don't like lugging a backpack. It's a stigma. And when first impressions count I like to look professional (as any Professional Hobo should!); doing it with a backpack is an uphill battle.


How I discovered wheeled backpacks
Living and volunteering in a hostel in Kona, Hawaii was a great way to suss out gear and destinations through recommendations from the steady stream of travelers. I saw so many bags come through that place, and then one day, accompanied by a beacon of light and angel-song, I saw this: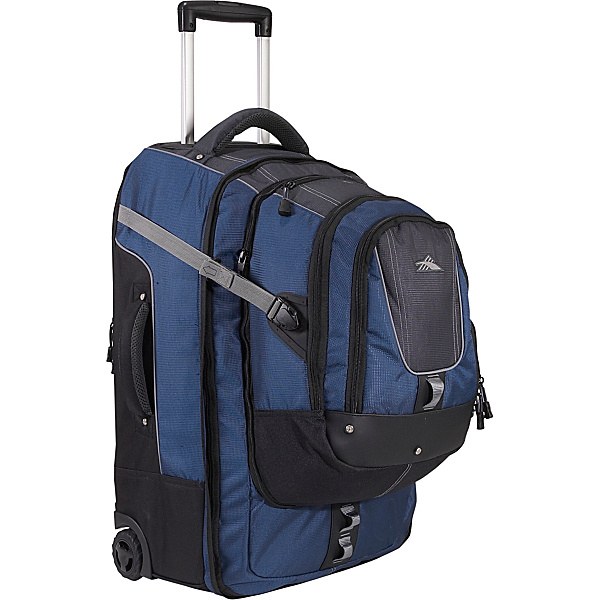 It was love at first sight.
The news got even better when I discovered it was very inexpensive at under $200, and solved so many of my problems!
The High Sierra Overpass (unfortunately, long ago discontinued) rolling backpack with detachable daypack changed my life because:
The main bag opens completely up clamshell style, allowing me to easily see and access the contents.
There are a few mesh dividers and such to help keep stuff separate.
The zip-away straps are available for use whenever wheels are inconvenient (for example on rough terrain or when navigating a lot of stairs).
It has a matching daypack that zips onto the main bag meaning you only have one ultimate bag to cart around (though admittedly when rolling the case I usually preferred to wear my daypack since it had my laptop in it).
Although I was doubtful as to how much I would use the wheels (somehow I felt they'd be impractical), I ended up using them all the time. In fact, in the three years that I lived out of this bag, I used the straps….twice. Yup, twice. (Once in Spain when I had to walk for 45 minutes on a cobblestone street, and once in Malaysia when I had to walk on a non-existent road).
Given how rarely I used the backpack straps, you might wonder why I bothered getting another wheeled backpack when this one bit the dust after three years of abuse. But I have to admit, straps are still a practical feature to have in a bag, to help you get through whatever craziness your travels might throw at you.
Since these olden days of my initial discovery, wheeled backpacks have become increasingly popular among travelers. A wheeled backpack is a great option for those who want to travel light and do not want to carry their backpack on their back all the time. It also makes it easier to maneuver through crowded areas and narrow spaces.


Carry-on Travel – Wheeled Backpacks vs Regular Backpacks: Which one is Best?
If I'm traveling with carry-on luggage ONLY, I prefer to maximize space and either use rolling luggage or a backpack, but not a wheeled backpack. If I have rolling carry-on luggage and need to carry it by hand (up some stairs for example), it's light enough that I don't need straps.
That said, Osprey recently came out with the Daylite Wheeled Carryon 40L, which is excellent because the backpack straps don't take away from valuable packing space the way other wheeled carry-on backpacks do.
Check out this post to determine which type of luggage best suits your style of travel, and then this post to select the best carry-on or checked type of bag for you).


My next wheeled backpack: Osprey Wheeled Travel Packs
When traveling, a warranty policy is only as good as the nearest dealer, which is rarely around the corner. So when the zipper irreparably broke on my High Sierra bag while in northern Sweden, I had a week to buy another bag before immediately putting it through its paces on the Ultimate Train Challenge.
I ended up getting the Osprey Sojourn 60L. Here's the scoop:
It doesn't come with a detachable daypack, but the Osprey Daylite daypacks (at Osprey, Amazon) are compatible so you can attach them to the front.
And although the Osprey wheeled backpack is comparable in size, it feels like it has way more space.
When I don't pack it to the gills, the outer compression straps reduce the overall bag size.
It's very sturdy, and feels solid.
2023 Update: Osprey has a large selection of wheeled travel packs on offer now, including not only the newly redesigned Sojourn, but also the Farpoint and Fairview lineups. Check them all out here.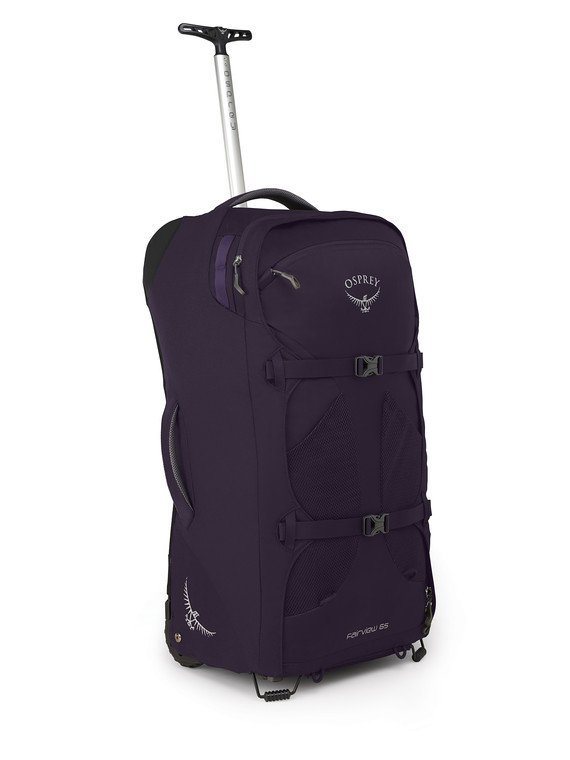 Pros and Cons of Wheeled Backpacks
Pros of Wheeled Backpacks:
Are Wheeled Backpacks good? Let's examine some advantages of wheeled backpacks
1. They are easier to carry
One of the main reasons why wheeled backpacks are becoming more popular is that they provide a much easier option to carry your backpacks. You no longer have to strain your back and shoulders all the time when carrying a wheeled backpack. All it is needed is to pull it along behind you. My compadres on the Ultimate Train Challenge were immediately enamoured with my wheeled backpack, whilst lugging their own backpacks around Europe and Asia. They both vowed to replace their packs with something similar to mine.
2. They are well organized
Wheeled backpacks are designed with compartments and pockets that allow you to organize your belongings in a better way than most regular backpacks.
3. They are more comfortable
Although a wheeled backpack is not usually as comfortable as a straight backpack without wheels, the comfort factor comes in when you can save your back and wheel it along. Look for wheeled backpacks with padded shoulder straps and backs and a hip belt to help distribute the weight.
4. They are great for traveling
Wheeled backpacks are perfect for travelers as they make it easier to move around with all your belongings. They are also great for those who are always on the go and do not have time to stop and rest. On top of that, they are easy to maneuver through crowds and narrow spaces. Also, with designs that give easy access to the contents, they're a dream to travel and live out of.
5. They are easy to store
Because of how wheeled backpacks are designed, they are usually easy to store when not in use. Most rolling backpacks can be stored in a closet or under a bed.
6. They are durable
Durability might be the middle name of wheeled backpacks. Most wheeled backpacks are made from high-quality material that makes them more durable than regular backpacks. This means that they will last longer and will not tear easily. There are also anti-theft features that are incorporated in some wheeled backpacks, making them even more durable.
7. They are stylish
Worried about how you will look rolling around with a backpack? Don't be! Wheeled backpacks come in different colors, designs, and styles. You can definitely find one that will suit your taste and personality.
8. They are perfect for all occasions
Whether you are going on a hike, a camping trip, or a vacation, wheeled backpacks are perfect for all occasions. Definitely the perfect companion for all your adventures.
But let us not only talk about the advantages of wheeled backpacks. Wheeled backpacks also have a few disadvantages that you should be aware of.

Cons of Wheeled Backpacks:
1. They are more expensive
The main disadvantage of wheeled backpacks is that they are usually more expensive than regular backpacks. The additional engineering that goes into a wheeled backpack will inherently make it more expensive.
2. They are heavier
Another disadvantage of wheeled backpacks is that they tend to be heavier than regular backpacks. This is because of the added features like the wheels and handle.
3. They are not good for hiking, climbing, or off-road adventures
If you are planning to go on a multi-day back-country hike, then a wheeled backpack is not the best option for you. But if you are just planning to use it for your daily commute or for travel, then a wheeled backpack would be a great option.
So if you're a traveler who enjoys trips to the wilderness, bring along a lightweight (ideally waterproof) summit pack. It is one of my favourite pieces of travel gear.
Check out this comparison of the Top Packable Daypacks for Travel so you can choose the best one for you.


4. They are not as spacious
Some of the packing space is taken up by the wheels and the frame. This is why I don't recommend a carry-on sized wheeled backpack if you're going with carry-on luggage only; you'll lose too much valuable packing space to the straps.


Interested in buying one? Here are a few tips that you need to keep in mind when purchasing a wheeled backpack.


Tips for Finding The Best Travel Backpack With Wheels for International Travel
When buying a wheeled backpack, there are a few things that you need to take into consideration, such as the type of wheels, the size of the backpack, and the price. Let us take a look at each of these factors in detail.
1. Type of Wheels
The type of wheels on the backpack is one of the most important factors that you need to consider. There are two main types of wheels – plastic and rubber.
Plastic wheels are cheaper but are not as durable as rubber wheels. Rubber wheels, on the other hand, are more expensive but are definitely more durable and can handle different types of terrain.
If you are planning to use your backpack for travel, it is best to go for rubber wheels. But if you are only going to use it for your daily commute, plastic wheels would suffice.
2. Size of the Backpack
The size of the backpack is another important factor that you need to take into consideration. Make sure to choose a backpack that is big enough to fit all your things but not too big that it becomes difficult to carry.
3. Price
The price of the backpack is also an important factor that you need to consider. There are a lot of different types of wheeled backpacks available in the market, so make sure to choose one that fits your budget.
4. Check for Straps
Carrying your backpack would be much easier with additional support such as padded shoulder straps, as well as proper waist belts and chest straps. These would help distribute the weight of your backpack evenly, making it more comfortable for you to carry.
5. Handles
Most wheeled backpacks come with handles on the top and sides. These are extremely helpful when it comes to lifting your backpack into overhead storage compartments on buses or trains. Look for really sturdy handles that can take the weight of your backpack without breaking, and you need both top and side handles.
6. Water Resistant
Choose a wheeled backpack that is made of water-resistant material. This will help keep your things dry and safe in case you get caught in the rain or someone spills their drink on your backpack.
7. Zippers
Zippers are one of the most important parts of a wheeled backpack. They need to be strong and durable enough to withstand a lot of wear and tear. If a zipper goes, your luggage is useless. Look for zippers that are made of metal or reinforced plastic, as they are the most durable.
That said, try to limit the number of zippers accessing the main contents. I use a TSA lock on my bag (for general security on the ground, as well as when flying). Too many zippers means either a ridiculous number of locks, or compromised security.
8. Pockets and Compartments
Just like regular backpacks, wheeled backpacks also come with different compartments and pockets. These are extremely helpful in organizing your things and keeping them easily accessible.
Some wheeled backpacks even have a separate compartment for your laptop, which is great if you are a student or working professional.
9. Accessibility
Another aspect to consider when choosing a good rolling bag is its accessibility. Does it have an easy-to-reach front pocket? Is the main compartment easily accessible? You don't want to be fumbling around with a backpack that's difficult to open. Smart bag design means that you can quickly grab what you need without having to take the whole backpack off and can definitely go a long way.
UPDATE: Although I still stand by everything in this post, you may want to see how – and why – I'm now a roll-aboard girl only, and what criteria you need to decide what is the best wheeled backpack for adults.
The Best Luggage for Long-Term Travel: Backpacks vs Rolling Luggage
…and even more recently:
Checked vs. Carry-On Luggage (and Why Checked is Best) – with a comprehensive overview of and recommendations for different types of checked and carry-on luggage.
And if you'd prefer to do the carry on backpack thing, here are the Best Carry On Backpacks for One Bag Travel.

Want more Travel Gear Ideas? Check out…
The Ultimate Packing List for Full-Time Travel
Pro Packing Hacks – Best Travel Accessories for Maximizing Space and Organizing Your Stuff
My Travel Capsule Wardrobe: Best Wrinkle-Free Travel Clothes for Women
My Search for the Perfect Travel Sandal
All of my annual Travel Gear Review Posts
Anatomie Travel Clothing Made me Throw Out My Jeans