Shortly before my trip to Machu Picchu, the folks at Momondo contacted me with a challenge to push my comfort zone for an ultimate Momondo experience. As you'll read here, this trek was both exhilarating and challenging for me, and they agreed to partially support my trip. Thank you!
This post was originally published in 2014. It has since been updated for accuracy of links and content.


When I met Miguel of Allpamama Journeys, I was nervous of my inability to do any serious mountain treks given my injuries from last year's head-on collision. Thus, he put together a custom five day itinerary for me and two other people that involved hiking the Inca trail to a beautiful campsite on ancient ruins, a canyon descent to Huchuy Qosqo and a home stay with a Quechua woman we called Mama, and an ultimate trip to Machu Picchu.
Waking up at Mama's early on the third day, we were well-rested and invigorated by the mountain air. Little did I realize that one of the more challenging parts of the trip (for me) was imminent. The two hour hike down from Huchuy Qosqo to the riverside town of Lamay was incredibly difficult given my injuries. It was steep and unforgiving, making my calves ache and my legs shake uncontrollably every time I stopped. I wasn't nervous of the heights – I can't get enough of precarious ledges – rather, the jarring motions of going down the mountain confirmed in my mind that going up is actually much easier than going down.
While feeling sorry for myself and my physical limitations, I passed one after another after another Quechua man, woman, and child climbing up the mountain, with large loads in their k'eperinas (large cloths knotted in the front and used to carry things on their backs). I realized these people hike up – and back down – this mountain in their yanques – sandals made of recycled tires – each and every day, possibly more than once, and regardless of the weather.
With that, I picked up my padded ergonomic day pack, dusted off my fancy shoes, and continued hiking downwards.


Taking the Train to Aguas Calientes
From Lamay we drove along the Urubamba river weaving through the Sacred Valley to Ollantaytambo, a town built atop and amidst a massive sprawl of Incan ruins. But exploration of Ollantaytambo would have to wait for another trip, as we had a train to catch to Aguas Calientes, otherwise known as Machu Picchu Pueblo.
Aguas Calientes is a small (kitschy and almost charmingly touristy) town with a main street that is a railway, and has two claims to fame: it lies at the base of Machu Picchu, and it has hot springs. We arrived late in the day, enjoyed a light dinner, and settled into our hospedaje (something between a hostel and hotel, at $10/night).


Machu Picchu – The Climb
Rising with the sun (or lack thereof, given the light rain), I also rose to my own challenge that hiking up is easier than hiking down. With that, instead of taking the bus up the steep switchbacks to Machu Picchu, we hiked up.
Despite being at a lower altitude than Peru's Sacred Valley by well over 1,000 metres, the climb to Machu Picchu tested me on all levels. The steep steps made my heart pound, my injured knees ache, and my head swim. I was already exhausted from the previous few days of trekking, with high altitudes and mind-blowing experiences like birthing llamas and being adopted by a Quechua Mama.
But this is part of the journey (literally and figuratively) when trekking in the mountains. At some point, you're sure to say "what was I thinking?" or "why did I think this would be fun?" and ultimately, "I don't think I can make it". But there's little choice on the side of a mountain, except to draw strength from the mountain's beauty and energy, and to persevere.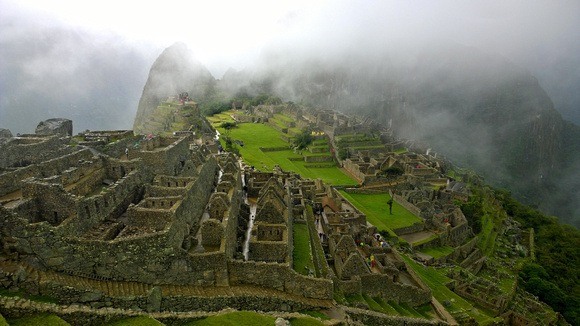 With my heart in my throat and feeling dizzy, I was rewarded with my first glimpse of Machu Picchu two hours after leaving Aguas Calientes on foot. Machu Picchu: a sight that I patiently waited over 12 years (and a few lifetimes) to see.
The rain only served to add magic to the scenery, with banks of clouds rising up to meet us from the humid cloudy forest below.
But we weren't done yet. "See that valley up there?" Miguel said, pointing to a faint break in the distant mountains high above where we were, with a structure of sorts in the middle. "That's where we're going."
Oh god.
The sprawling citadel of Machu Picchu seemed expansive enough that I wasn't sure I could cover much territory before collapsing. More climbing seemed impossible. Miguel must have sensed my trepidation, because a short way into our onward hike we stopped by a massive sacred rock for a rest and another sacred ceremony.


Machu Picchu's Magic
Machu Picchu is a very special place with a tangible energy to it. There are many theories as to how this city in the sky was built – a feat that defies modern physics, much less ancient physics. Everything is intentional, directional, and built using sacred geometry principles drawing energy from the four surrounding mountains, directly to the east, west, north, and south.
Among other things, it is said that if you bring crystals to Machu Picchu, you can charge them with a healing energy that comes from these surrounding mountains, which each hold a different property of crystals – solid, liquid, gas, and plasma.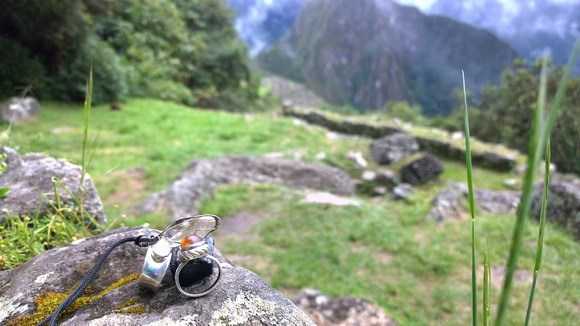 For those of you who might consider all this a bit "woo-woo", I can tell you this much: after a short time on Machu Picchu, I felt infinitely more connected to everybody on the mountain. It was as if this sacred place adjusted everybody's vibrations so we could relate to one another with kindness and understanding, and an aura of calm reverence enveloped us all.


Onwards and Upwards
After this rest and recharge, we had more climbing to do, to reach the Sun Gate. It was a difficult 30-45 minutes beyond the entrance to Machu Picchu, but I'll admit it was also well worth the effort.

A Day on Machu Picchu
"Most official tours of Machu Picchu last three hours," Miguel said as we approached the two-hour mark and hadn't even entered the main citadel yet. "People ask me how long my tours last, and I say 'I don't know – as long as it takes'!"
This is one of the many reasons I was thrilled to be in Miguel's hands for this five-day trip, which culminated at Machu Picchu. There was no rush, there were lots of chances to rest and simply take in the scenery for as long as we wished, and everything was flexible. Other tourists to Machu Picchu that day envied our group; some of them even lurked around us to eavesdrop while Miguel talked about sacred geometry, possible uses for the intricately carved granite rocks, the prowess of the Incas in astronomy, and more.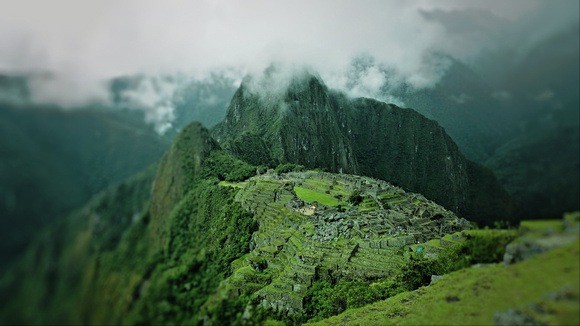 Machu Picchu Citadel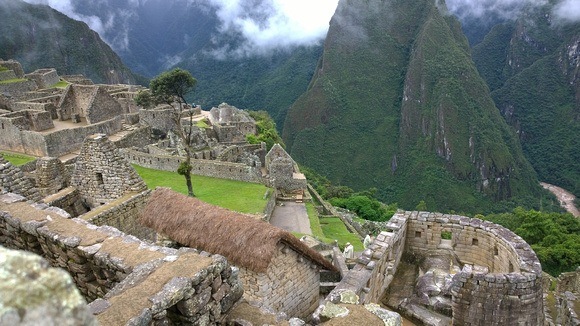 The main citadel of Machu Picchu could take a day alone to explore, much less the Sun Gate, Inca Bridge, and Huyana Picchu (further ruins another 200 metres higher looking down on Machu Picchu, requiring another fee with limited access), and so much more.
After hiking to the Sun Gate (and back down, taking over 1.5 hours in total), and over to the Inca Bridge (a 40-minute return trip), only then – did we start to explore the citadel, where we spent the rest of the day.
The rooms and passages were dizzying, ongoing, and sprawling. We marvelled at the normal things tourists marvel at (which are no less impressive despite the hype): the perfectly carved granite bricks fitting together impeccably and incorporating the shapes of chakanas (the Inca Cross, a stepped cross symbolizing the tree of life) throughout.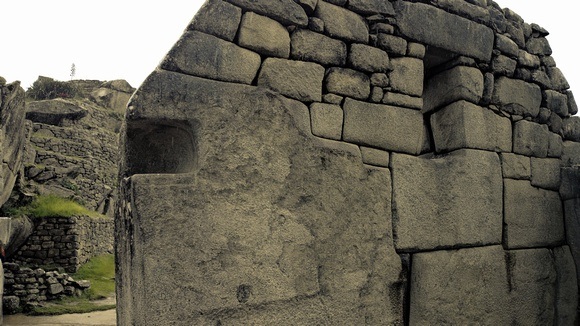 We ruminated on the use of stone tablets mirroring the silhouettes of the mountains behind them, and staircases carved into massive granite rocks, that lead to nowhere. Were the stairs unfinished, or was it a stairway to a portal of some sort? What sort of magic existed here in Machu Picchu in its heyday? And what sort of magic continues to exist here?

Back Down to Reality…or Not
At the beginning of the day, I had committed to hiking up to Machu Picchu, but was unprepared to hike back down, given how difficult I found the hike down from Huchuy Qosqo given my injuries. But after a whole day of wandering around the expansive and unbelievably green Machu Picchu, herding onto a bus and fighting motion sickness as it rocketed down the steep switchbacks seemed almost irreverent.
Thus, I strapped on some extra courage, and joined Miguel and the rest of our group in hiking back down to Aguas Calientes from Machu Picchu, an exhausting 1.5 hours of Incan steps.
Descending into the cloudy forest full of humidity, bird song, and colourful flowers, was the perfect way to finish off the Machu Picchu experience. Yes, my knees and feet ached, and yes, my legs shook every time I stopped for a rest.
But sometimes, a thing worth doing is not an easy thing. The valley descents help us appreciate life's summits all the more.
Floating along with this energy and mentality, we languished over a special birthday dinner (as it was also Miguel's birthday), and went to sleep with dreams of crystals, Incas, chakanas, and the power of all things past, present, and invisible to our eyes.