Following a two week plant medicine retreat in October where I explored my inner world, a few friends and I then explored our outer world in Peru with a pilgrimage along the Inca trail to the Incan ruins of Huchuy Qosqo. There is so much to discover in the Peruvian Andes, and with a place to call home here in Peru, I'm doing so slowly, getting the chance to explore areas and aspects of Peru that not many tourists ever get to see.
This article was originally published in 2014, and has since been updated for accuracy of content and formatting.


The Magic of the Inca Trails
The Inca empire is reputed to start from Coricancha, the Courtyard of Gold, in Cusco. This is the spiritual heart of Cusco, and considered the navel of the Inca empire.
Mystical and spiritual theories suggest that Coricancha is located where it is because it is the energetic centre of the area, with energy lines emanating outwards for hundreds of kilometers. Along these energy lines are trails with landscape features, ruins, and temples, close and far away, including some that I've visited such as Moray, Maras, Machu Picchu, and many (many) more.


The Trek to Huchuy Qosqo
Our trek followed a line with a direct easterly path from Coricancha to Huchuy Qosqo. Although you can probably muscle through it in 5-6 hours, we took closer to 9 hours to enjoy the walk with lots of little rest stops along the way.
We started just outside of Cusco, at some random ruins with intricate cave systems that I could have enjoyed a full day exploring unto themselves. But alas, I had to save it for another day as we had a long road ahead.
These awesome ruins are almost run-of-the-mill here in the Peruvian Andes. There are so many ruins in Peru, that not all are official touristic archaeological sites; history is absolutely everywhere, and I consistently marvel at what these places would have looked like in their heyday.
For the first half of the day we headed gently upwards through the undulating landscape of the Andes. Although it was a long trek, it wasn't an overly arduous one.
Although October is a great time of year to trek in the Andes as it's not too dry and not too rainy (yet), we saw a grand total of two other people on our path the whole day. There is so much space in Peru, and so much to discover, that it's not difficult to have a piece of paradise all to yourself.
In the high Andes there isn't much growing (not in the dry season anyway), but if you look closely, there are so many signs of life. Tiny wildflowers poked out of the ground along the way, and the harder I looked the more I saw; they don't have stalks so they can conserve what little water they get during the dry season (July and August).
The views constantly changed, and near the pass (the highest point of our trek), we had a grand vista of lakes, communities, and glacier-covered mountains around us.
Although we were following the Inca trail the whole way, there was no direct evidence of it for many hours aside from a faintly worn dirt trail. The "paving stones" of the Inca trail are still probably half a meter underground.
With ruins everywhere in Peru, you don't have to dig deep to strike "gold". In fact, just recently in Cusco, while doing some under-road construction near the main square (Plaza de Armas), yet more Inca ruins were discovered. This sheer prevalence of history is almost problematic! The "modern" city of Cusco was actually built atop the old Inca city when the Spanish arrived in their plight of conquest.
Once we reached the pass (at 4,400 metres – 14,400 feet – above sea level), the Inca trail became more evidently visible. From here, it was all downhill to Huchuy Qosqo, another 2-3 hours on. This trail eventually joined up with the one I took last March (which you can read about and see pictures of here).


Rainy Season vs. Dry Season
In the Peruvian Andes, instead of winter/spring/summer/autumn, the seasons are generally referred to simply as "rainy season" and "dry season". The height of rainy season is January and February, and the height of dry season is July and August. Temperature-wise, the dry season (winter) is cooler than the rainy season (summer), although you'll find a bigger temperature difference between morning, afternoon, and evening, than between summer and winter.
The most evidence you can see of the seasons is in the colour of the landscape: the rainy season makes the landscape lush and green, and during dry season everything turns brown. These two pictures below were taken just before arriving at Huchuy Qosqo, at almost exactly the same place: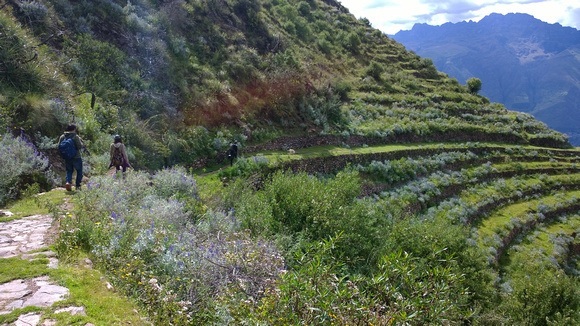 Huchuy Qosqo
Huchuy Qosqo is Quechua for "little Cusco", and is located directly east of the navel of the Inca empire (Coricancha) in Cusco. I write about it in more detail here. Even since last March, I could see that lots of restorative archaeological work has been done at the site. However when I looked at the surrounding area, I also saw that so much more lays just under the ground in terraces and structures that are built right up into the surrounding mountainside.
The main temple (at least the one that is currently most accessible), has massive erratic rocks in the centre, their purpose of which is still highly debated; but I felt a powerful energy, similar to what I felt at Machu Picchu. It's a magical place.
After spending the night in a Quechua home next to Huchuy Qosqo (the home of Mama Natividad, where I stayed last time), my friends and I hiked down to the town of Lamay in the Sacred Valley and caught a taxi for the relatively short distance back to Pisac.
If you go to Peru, bring your walking shoes, as many aspects of Peru are best discovered on foot – as I'm discovering myself, time and time again.

Other Peruvian Treks I've done:
Trekking the Andes (Part 1): Birthing Llamas, Abandoned Villages, and Rain
Trekking the Andes (Part 2): Huchuy Qosqo, and our Quechua Mama
Kinsa Cocha: Stunning Pictures of High Andean Lakes
Inca Ruins of Moray: Agricultural Lab or Landing Pad?
Maras Salt Mines: Unlike Any Other Mine You'll See