Our group panted and sighed as we finally reached the third lake at Kinsa Cocha; a series of high Andean lakes and lagoons at over 4,200 metres above sea level. Not everybody felt the effects of the high altitude, but we all felt the intense energy and beauty of the place.
Our fearless leader was Miguel of Allpamama Journeys, the same man who took me on a 5-day trek culminating at Machu Picchu. Kinsa Cocha is his favourite place, a home away from home that he visits at least once a week, and the Quechua families who live in the community there welcome him as his second family.
This post was originally published in 2014. It has since been updated for accuracy of links and content.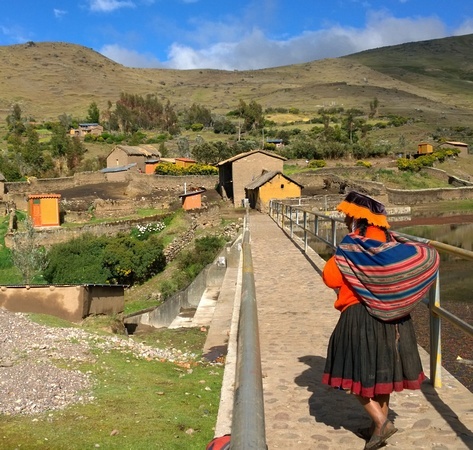 Hiking on from the first lake (which is a 40 minute drive from Pisac), we crossed a bridge at the base of the second lake. Most (if not all) of the water in Pisac ultimately originates from these three lakes.
This is where the hike became strenuous with a steady uphill ascent from the second lake over a pass at 4,500 metres. But at the pass our efforts were rewarded with stunning views of the Andes, and the second lake below us.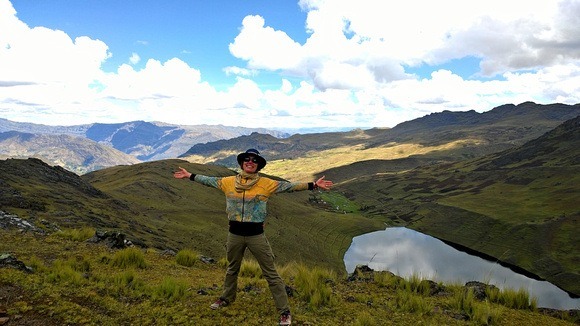 Little did we know what was coming. Just beyond the pass, the third lake came into view. High altitude or not – it literally took our breath away. We each found a spot to plop down by the side of the lake, where we remained for over an hour, simply staring out in stunned bliss. The water was clear, and the colours were stunning. Even the odd drop of rain and spot of hail and chilly high altitude temperatures couldn't dampen our spirits.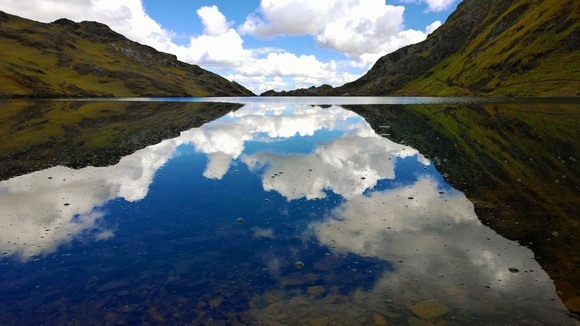 With the late afternoon encroaching, it was time to hike back down from the third lake and around the other side of the second lake, which took a couple of hours. As with so many places in Peru, evidence of Incan ruins and homes were scattered around with no fanfare, and only the mules, llamas, alpacas, and odd shepherd to appreciate them.
While the rest of the group went to a local home for soup and potatoes (Peruvians are very proud of their potatoes; in this area alone more than 400 varieties are grown), myself and two others decided to watch the sun set over the first lake, at our starting point of the day's adventure.
A Quechua woman with a child slung on her back hiked up to join us, unwrapping a large bag of hand-crafted weavings and accessories for us to admire. We shared some fruit and biscuits with her, and bought a few pieces of her gorgeous work, which was quite original and unlike many of the factory-produced (but still beautiful) works found in the markets.
Miguel hasn't disappointed with his beautiful secret spots to go hiking and discover the beauty of Peru. This won't be my last hike with him either; stay tuned!
Other Hikes I've Done in Peru:
Climbing Pachatusan and Taking Refuge in a Quechua Home