Had I known I'd be sleeping at icy campsites, and pushing my body's ability to cope with altitudes over 15,400 feet, I might have had second thoughts about the three-day trek from Urubamba (in the Sacred Valley of Peru) to Lares hot springs, 20km away on the other side of a mountain range that we had to climb over.
But I'm glad I didn't think about it too much beforehand, as not going would have been an even bigger mistake.
My fearless leader was Miguel, who had already introduced me to some magical spots in Peru, including Huchuy Cosqo, Machu Picchu, Kinsa Cocha, and more. The ultimate motivation for this chosen trek: to soak our sore muscles at the end of it all in Lares hot springs.
This post was originally published in 2014. It has since been updated for accuracy of links and content.
Day One – Following the River
Hiking up from Urubamba, we followed a river up, up, and up some more, threading a valley to the river's very source – a series of little lakes and lagoons way up in the Andes.

An Old Way of Life
Passing through the remote community of Badacancha, I was amazed at how many people in Peru live as they did hundreds – even thousands – of years ago. This small community has no road to it, and is a two hour walk to the nearest road. The 10 families who live here largely sustain themselves on the land, tending their gardens and animals and living in stone houses that look hundreds of years old.

The Donkey Trail
Although we were relatively alone on the trail, we did have company; we passed wranglers with their horses/donkeys/mules/llamas regularly (or rather, they passed us), carrying goods and tending to the needs of various groups camping and trekking back and forth along the trail. Despite occasionally passing these groups, we were quite isolated in our Andean paradise.

Camping and Chilling (Literally)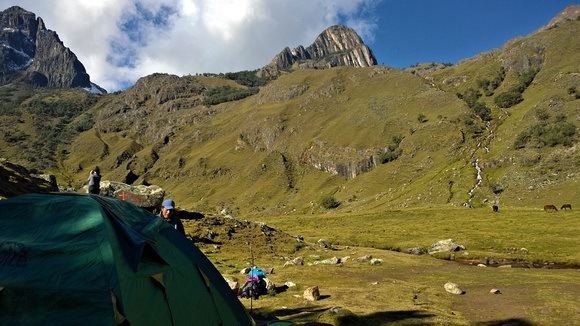 We camped at 4,300 metres (over 14,000 feet) and immediately felt the chill when the sun disappeared behind the mountains that surrounded us. The following morning the tents were covered in ice and I felt the effects of the thin cold air.

Day 2: Over the Pass, and Pushing Through
Stamping my feet to (unsuccessfully) ward off the cold, we began the next day's trek heading ever-higher towards the snowy Sillacasa pass at 4,700 metres (over 15,400 feet). Although I've never felt the effects of the Andes' high altitudes (even at Kinsa Cocha which was almost as high), my heart pounded with each step and frequent rests were required.
From this point onwards the tough work was done; it was just a knee-wrenching descent of 1,500 metres (5,000 feet) into the next valley and onwards to Lares, where the hot springs awaited.

Three Days….Into Two
"Okay, we have two choices," started Miguel after lunch. "We can camp tonight at a beautiful spot about an hour before Lares hot springs, or we can push through and camp at the hot springs tonight." The sparkle in his eye at the mention of "hot springs" and "tonight" in the same sentence revealed his preference, and to me it didn't make sense to camp only an hour away. I wanted to celebrate the hard work of this trek with a hot soak….as soon as possible.
And so we pushed through, totalling nine hours of walking for the second day, including a 400 metre ascent followed by a 1,500 metre descent.

Lares Hot Springs
The decision to push through and finish the trek in two days was a sound one, I thought that evening, while soaking in the hottest of the four naturally hot pools that range in temperature from warm to scalding. I barely remember passing out in my tent and I slept for an unbelievable 11 hours before waking up and heading right back to the hot springs for another soak.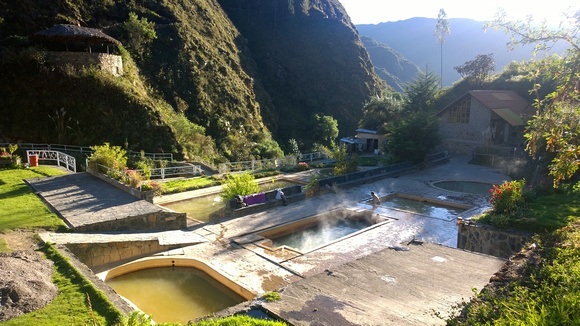 If the dirt colour of the water turns you off, join the club. But having been to natural hot springs in Panama and Sulphur Springs in Grenada, I wasn't surprised by the opaque brown water, and it smelled much less of sulphur than other hot springs I've visited in places like New Zealand and Canada.


Getting to Lares Hot Springs
You don't have to trek for 2-3 days to reach the isolated valley of Lares (although if you've got it in you, I'd recommend it); there are buses from the town of Calca, but I have been warned that it's a nauseating two-hour journey full of twists and turns. Indeed in returning from Lares hot springs after our trek, we took a car, and although the scenery was a stunning cross between Scottish Highlands and the set of Lord of the Rings, I can see how being in a cramped bus hurtling up and down the bumpy narrow dirt switchbacks might leave a little something to be desired.
Although it wasn't easy, I loved earning that long soak in Lares hot springs with a three day trek.
Below are a few different ways to experience a Lares Trek or day trip to Lares. I highly recommend hiking in with a guide, as it's an arduous journey that requires the assistance of porters with mules.
What's the most rewarding trek you've ever done?