When a friend in Peru said I must visit Maras salt mines, I cringed and inwardly vowed not to. The last mine I had visited – unintentionally at that – was one of the largest open-cut gold mines in the world, in Kalgoorlie Australia. Impressive as it was, mining is just not my thing.
But fate still guided me to the salt mines of Maras, and I'm very glad it did.
This post was originally published in 2014 . It has since been updated for accuracy of links and content.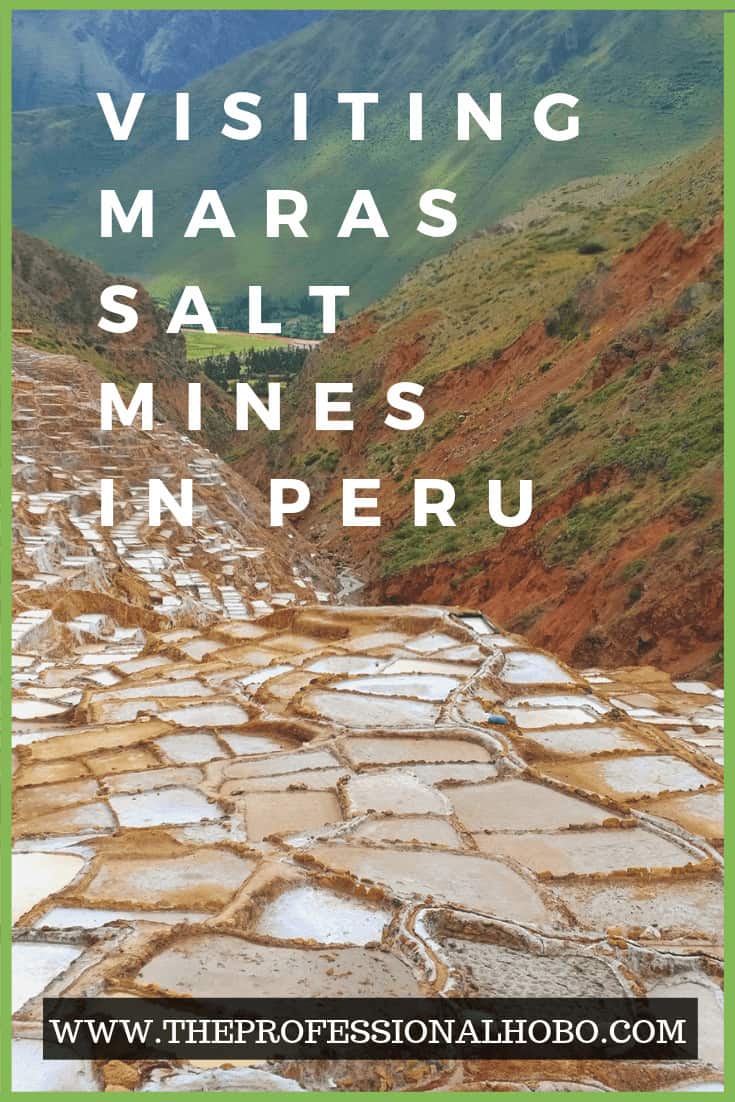 Maras Salt Mines Peru History
Known as Las Salineras de Maras in Spanish, these Peruvian salt mines have been operational since pre-Inca times. These Inca salt mines in Peru are better described as salt evaporation ponds, or salt pans, since "mining" conjures up inaccurate connotations for the process thereof.
It's a fascinating community initiative; each of the thousands of ponds are owned and farmed by members of the Maras Peru community, whose efforts are run as a cooperative. It seems to me that this economic model is pretty uncommon these days, and I can't help but think that this cooperative tradition of propagating these ancient salt mines is a continuation of ancient trends.
And while it's not the biggest salt mine in the world, it still falls within the top 10 largest salt mines in the world (often hovering around 8th place).
How the Peru Salt Mines Work
This salt mine in Peru is so simple, it's deceptive. And yet, the sophistication of the irrigation system boggles my mind.
The whole shebang is fed by a single hot salty subterranean spring, which is fed into an advanced system of tiny channels that feed over 6,000 ancient terraced shallow ponds. Each pond is about four square meters, and they go. on. for. ever.
Once a pond is full of this hot salty spring water, the water channel is blocked; over the next few days the sun evaporates the water, leaving crystals of pure salt that are scraped up. The water channel to the pond is reopened, and so the process continues.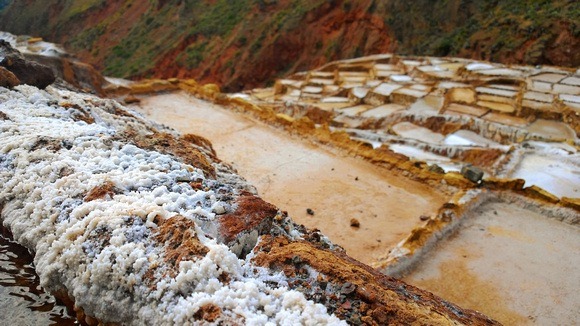 How to Get To Maras Salt Mines
There are a few ways to reach these salt mines of Peru. It's located about 4km from the town of Urubamba (located in the Sacred Valley), and a 45-60 minute drive from Cusco.
If you're starting in Cusco and want to take local transportation, then head to colectivo station in Cusco. Colectivos are shared mini-vans, and are the main way people get around. You board your "bus" and when it is full, it hurtles towards your destination (not for the faint of heart, especially when navigating curvy and precarious Andean roads). While the point of origin and destination are fixed, you can sometimes ask the driver to let you off in between.
Find the colectivo bound for Urubamba, and ask the driver to let you off at Maras. They will let you off in the centre of Maras town, where you can get a taxi to take you the rest of the way. The mines aren't as close as you might think given its namesake town; it will be about a 15-minute drive from Maras.
If you're starting in Urubamba, it is easiest to just take a taxi direct to Maras Peru salt mines.
There's another way to reach these Peruvian salt mines, and one I personally did a few times and found very enjoyable! It involves starting at the Inca ruins of Moray, which is an ancient agricultural centre (with an alien vibe!), that is a 15-minute drive above Maras. (Again, you can reach Moray by either taking a collectivo from Cusco and getting off early, or by taking a colectivo or taxi from Urubamba.)
From Moray, you can walk (downhill!) to Maras salt mines. It takes about 90 minutes, and the scenery is truly epic. This road is also popular with downhill mountain bikers (and donkeys, as seen below); you can get a bike tour to take you if that's your thing (you'll have to book in advance). The way from Moray isn't well-marked, so make sure you ask around and/or have a reliable map with you.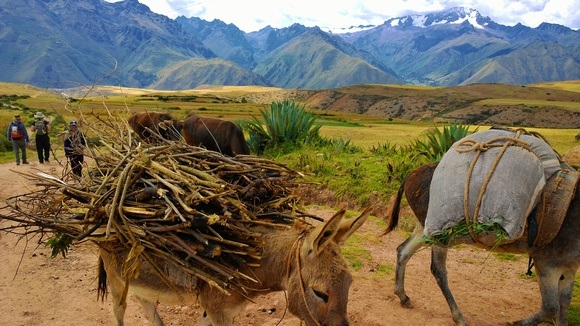 You might also want to consider hiring a guide for the day. They can take you to either or both Moray and Maras, they'll give you lots of insider information you wouldn't otherwise learn, and they'll take you to the best spots for capturing that perfect shot and making the most of the experience.
Buy Some of the Best Salt…and Stuff!
When you're visiting the salt mines, be sure to check out the souvenir shops.
Not only is Peru salt some of the best in the world, but you're supporting the local community and getting an awesome souvenir or gift for the foodies in your life by buying salt at these Peru salt mines. While I thought some of the salt-products were a bit gimmicky, the straight salt is divine, and some kinds of salt also come seasoned with local herbs – which are also delicious.
But there's also a lot more to the souvenir shops than salt. The first time I visited, I approached the extensive complex with great suspicion, expecting to see all the same mass-produced stuff that is sold in Cusco, Pisac, Ollantaytambo, and other stops. Not only that, but given the remote location, I expected it to cost a premium.
While there certainly is some duplication of products, I also consistently found items here that I couldn't find anywhere else – and at pretty competitive prices too! And don't forget that the proceeds from these shops support the Maras community and keep the salt ponds operational.
So if you see something you like, my advice is to just get it.
(See also: The Art of Negotiation, in Ubud Market)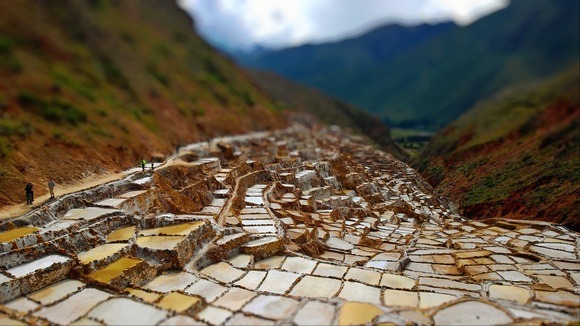 Entrance to the Salt Mines of Maras: Update
As of June 2019, entrance to the Maras salt mines Peru has been restricted. Given that these are still fully-operational salt ponds, the influx of tourists walking around and through the ponds has increased contaminates like hair, paper, plastic, and cigarette stubs.
You can still visit and view them from the top (as can be seen in the picture above), but you can't walk through them any more.
Similar to other ancient Inca ruins in Peru (like Machu Picchu, Huchuy Cusco, Moray, and others), there is an other-worldly feeling to Maras salt mines – such a feat of engineering and creativity must have been inspired by something bigger than we mere humans.