We awoke from our first night of trekking and camping in the Peruvian Andes cold and wet. The sign of a good guide, Miguel was unfazed by it, saying he slept well while he prepared our hot tea and breakfast. We shook it off; although the clouds still looked ominous, the rain had stopped and we had an exciting day in store. Today, we would meet our adopted Quechua mother.
This post was originally published in 2014. It has since been updated for accuracy of links and content.


The Ceremony
We began by hiking a little way up the Inca trail (away from our ultimate destination) to a sacred site where we performed a beautiful ceremony to connect us with nature, set our collective intentions for our journey together, and celebrate the powerful mountain energy which surrounded us. It was a Peruvian ceremony with fire, song, sacred rituals, and blessings. (See also: Blessed in a Peruvian Despacho Ceremony).
After spending the morning lying in the grass and relaxing while the sun periodically teased us with its appearance, we put out the fire and returned to our campsite where we picked up the rest of our belongings and continued down the Inca trail towards Huchuy Qosqo.

The Second Day's Hike
This hike was much shorter in length than yesterday, and much more varied in both micro-climate and scenery. After being on the mountainside high above the Sacred Valley, we dropped down into the humid forest and spent much of our time on the Inca trail going through a deep canyon with a flowing river and lush greenery on all sides.
Coming out the other side, the sun was now shining with us, showing us the beauty of all things Andean, while we trekked further along the mountainside towards Huchuy Qosqo.
Huchuy Qosqo
Huchuy Qosqo is Quechua for "Little Cusco". At 3,600 metres above sea level, it's inaccessible by road, so only the hearty and healthy can visit these archaeological Incan ruins. It's an impressive site that is still being excavated; like many of the Incan ruins and trails in Peru, there is still a substantial amount to be discovered, just underground or beneath the thick brush. Some of the Incan trails are almost impossible to access due to steep or dangerous terrain, highlighting the feats of engineering defying modern physics that the ancient Incas would have had to perform to build their roads.
Meeting Our Quechua Mama
"The Quechua woman who owns this home is called Dona Natividad, but everybody calls her Mama," said Miguel as we approached our warm abode for the night. Through this day, we had awoken cold, peeled off the layers during the day's trek, and as the evening was setting in so too was the deep chill again. We were incredibly hungry for a warm meal and eager for a good night of sleep.
Mama, a short rotund Quecha woman who smelled of the fire she cooked on, showed us the best hospitality any Mama would; with smiles and hugs, saying "ay Mama, ay Mama" to each of us, before showing us our rooms which looked out on the Huchuy Qosqo ruins and the Sacred Valley.
We were served a hearty meal of soup with local herbs and grains that tasted like nothing we'd had before (camping will do that to you), followed by rice and vegetables. Although there were plentiful cuy (guinea pigs – a Peruvian specialty) on the property, they were spared another day of the dinner plate since our group was largely vegetarian.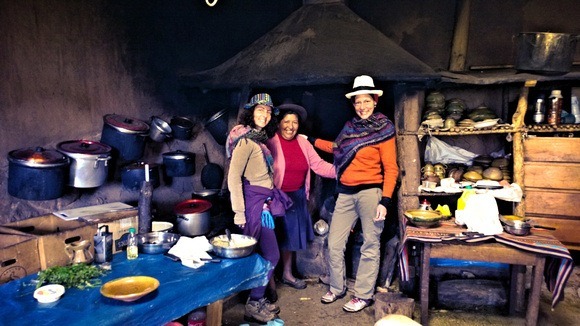 A Starry Sky, and Quechua Hospitality
Given a long day and the strong sunshine, we didn't last long after our early supper and everybody quickly settled into bed. But I was restless, feeling energized by the last two days and thrilled with my physical ability to withstand the rigours of trekking in the Andes despite my injuries.
Eventually I gave up staying awake by candlelight (since Mama's place was without electricity), and made my way to the bathroom (in another building) for a last pee before bed. On my way back from the bathroom I was rewarded for my efforts with the milky way, and a thick tapestry of bright stars blanketing the dark sky.
As I stood in awe looking at the stars, the horseman came out of Mama's kitchen (where the night's festivities were just beginning for the local crew).
"Quieres un poco mas comida?" he asked me (do you want some more food). With fond memories Mama's soup from a few hours ago, I couldn't say no. I was invited into the kitchen with Mama and her crew of boys and workers, and served a bowl of different – yet equally wondrous and hearty – soup. I listened to them chatting away in Quechua, and after refusing second helpings and excusing myself, I was taught a few Quechua phrases, which, in my haze and exhaustion from the last two days of Andean experiences, faded into my dreams as I fell into a deep sleep.
Next up, Part 3 of my Trek through the Andes; including the train to Machu Picchu Pueblo, the exhausting hike up to Machu Picchu – and beyond – and the impressive citadel in the sky.
And for many (MANY!) other Peruvian hikes and adventures, click here.