In staying at the beautiful Paz y Luz retreat centre, I'm getting a chance to link into some amazing and authentic Peruvian shamanistic ceremonies. My first – and most common in Peruvian culture, was that of the despacho.
This post was originally published in 2014, and has since been updated for accuracy of content and links.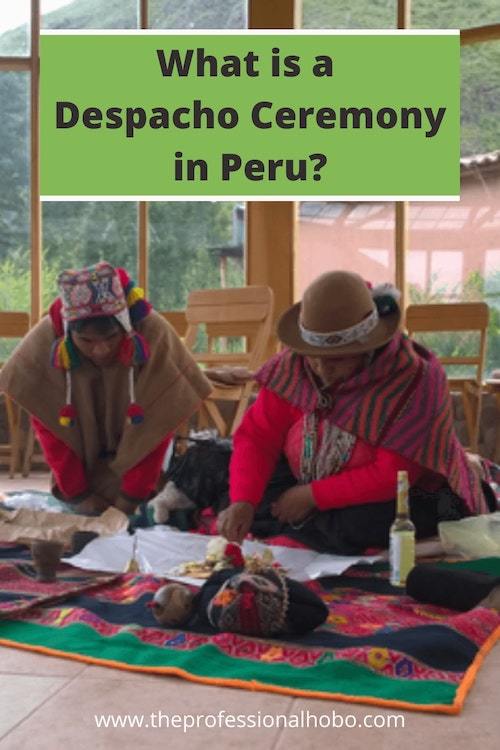 What is a Despacho?
A Peruvian tradition brought down from high in the Andean mountains, a despacho is a ceremonial offering of our intentions and prayers to Pachamama (Mother Earth), and the Apus (Mountain Spirits). In the spirit of Ayni (meaning reciprocity), it's about being in harmony with nature, and giving an offering in order to receive; a powerful and lovely way to "dispatch" our prayers to the powers that be.
Despacho ceremonies are done all the time in Peruvian culture; when there's a marriage, a birth, a death, or any event worth commemorating. In this case the reason for the despacho was to welcome the arrival of a new group of people to the retreat centre. As a long-term guest, I was able to attend as well.


The Despacho Process
Peruvian shaman Juanita and her son came down from the mountains to lead the despacho ceremony. Juanita speaks only Quechuan (the language of the high Andes people), but her son translated some of her prayers into Spanish, and Diane (the owner of Paz y Luz) translated into English.
First, we were each blessed; Juanita came to each of us chanting with bells and blowing blessings into our hands, while her son walked behind us wafting a combination of cleansing incenses over us.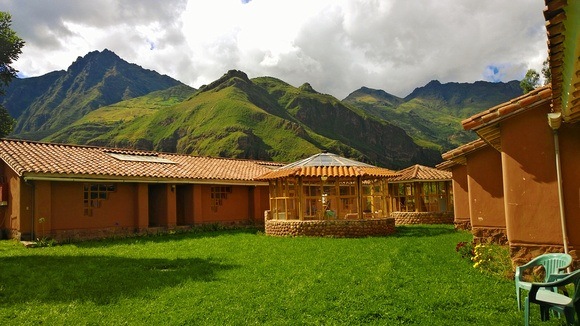 Next, we were each handed six perfect coca leaves (each bunch of three called a kintu). The sacred coca plant is regularly used in all kinds of ceremonies, as well as made into tea to help people acclimatize to Peru's high altitudes.
We put our intentions/prayers into the first three coca leaves, put them in our mouths, and chewed them until they released juices. We were instructed to keep the little ball of masticated coca leaves in our cheek for the duration of the ceremony.
We also put our intentions into the second bunch of coca leaves, blowing on them to transfer our intentions to the leaves. We held on to them while Juanita and her son started constructing the despacho.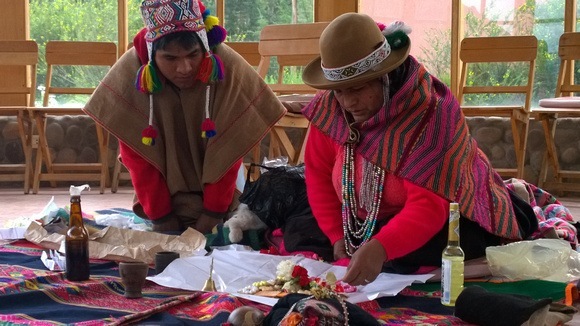 Juanita and her son took a good hour to build the despacho in the middle of a large sheet of white paper. She called in various spirits (of the mountains, the rivers, and the elements), and using symbolic offerings like wine, coca leaves, red and white flower petals, incense, ribbons, sugar, grains, shells, candies, and much more, she very carefully created a beautiful despacho resembling a mandala. Careful attention was paid to symmetry – balancing the various energies, female and male, yin and yang.
Then we were each given a chance to add our kintu (coca leaves) to the despacho. Once they were blessed and placed by Juanita with some flower petals, we sealed the deal by placing a dried corn kernel on top.
A few more items were added to the despacho until Juanita decided it was perfect.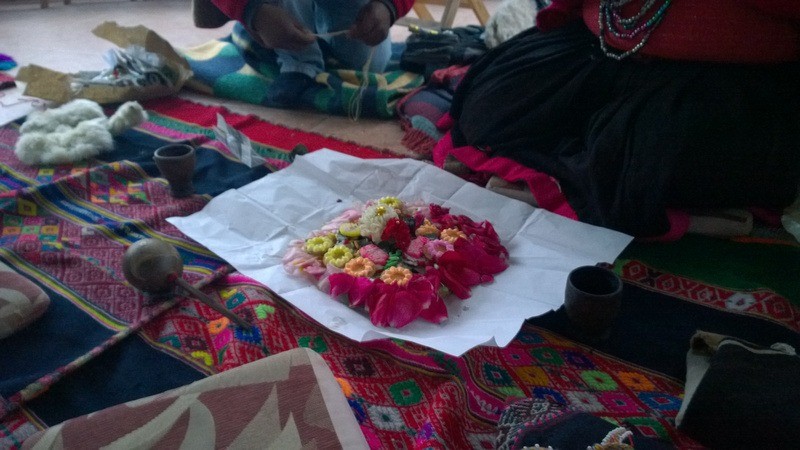 The white paper holding the completed despacho was folded up and tied, wrapped in a sacred Peruvian cloth, and blessed while Juanita sang and chanted.


Being Cleansed and Blessed
The process of constructing the despacho was meditative and special; but the next part was where we really felt the strength of this collective creation.
Juanita's son first blessed each of us with the despacho, running it over our bodies, cleansing our energies and blessing us, while chanting.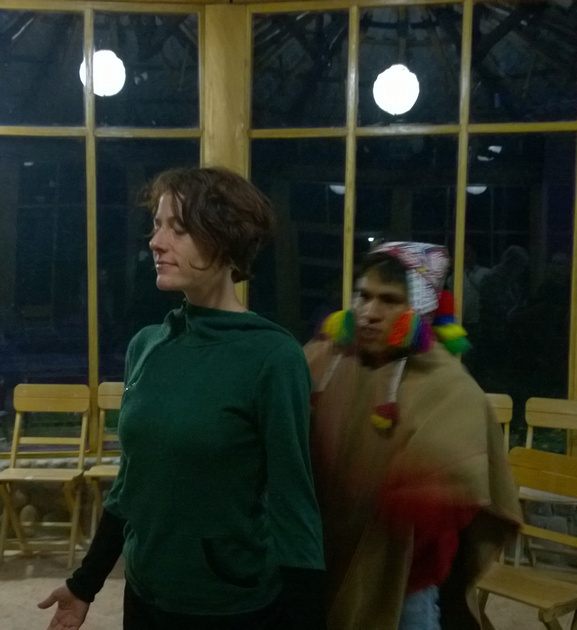 Then Juanita blessed and cleansed each of us with her mesa; a mesa being a colourful bundle of sacred and powerful items that are intrinsically hers (nobody can see the contents of somebody else's mesa) which she uses for healing.
Juanita chanted, knocked me on the head a few times with the mesa, and touched a few other parts of my body with it, such as my shoulders, heart, and stomach. She seemed to know that I was experiencing pain in a few specific parts of my body, because she spent extra time chanting and waving her mesa in those areas, clearing the heavy energy away.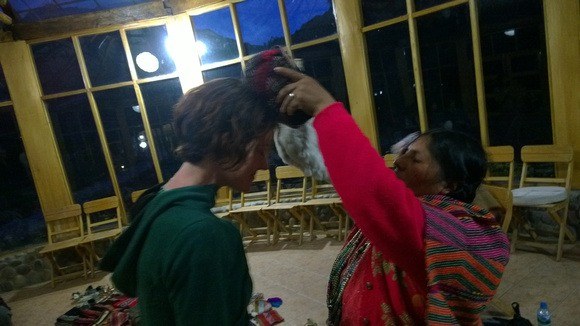 Burning the Despacho
Finally, once we were all cleansed and blessed, we went outside to ceremonially burn the despacho. We turned our backs as it burned; only shamans can watch the actual burning of a despacho as it is considered too powerful (and disrespectful) for the average person to witness, while the spirits accept the offering and the fire transforms the heavy energy collected during our cleansing into ash for Pachamama (Mother Earth) to use as fertilizer.
The ceremony ended with hugs and frivolity; each of us feeling notably lighter with a new pep to our step.
I've long been intrigued by Peru, and by Peruvian shamans and ceremonies, and participating in a despacho ceremony simply confirmed something I've intrinsically known for a very very long time: Peru is an incredibly special place.
2019 Update: Oh, the water under the bridge since this post was originally published in 2014! Among other things I ended up delving even deeper into the mysticism of Peru when I apprenticed with a shaman for two years, followed by working for a further year as a shaman's assistant in Ecuador. Read about it here: Learning to be an Ayahuasca and San Pedro Shaman