Chris is an American freelance media maker & researcher who has lived and worked in six different countries, across three continents, since 2003. Between projects, he travels as much as possible, looking for little slices of heaven in different corners of the globe where he can relax and get away from the daily grind. He's currently based in Rovaniemi, Finnish Lapland, where he's been sharing images, thoughts, and travel tips. Instead of writing about a straight week-in-the-life, Chris is profiling seven separate days throughout the year of life in Lapland.
This post was originally published in 2014. It has since been updated for accuracy of links and content.


Day 1: January – Cold and Dark
From November to February, its extremely dark in Lapland with some days only receiving a few hours of daylight. It's somewhat depressing yet makes you realize the true importance of sunshine to one's mental health and well-being.
Whenever you do see the sun though, luckily you're reminded that it's only temporary and spring is not too far off. I take a lot of photos of Lapland sunrises and this is one from a cold crisp (-22C outside) sunrise in January.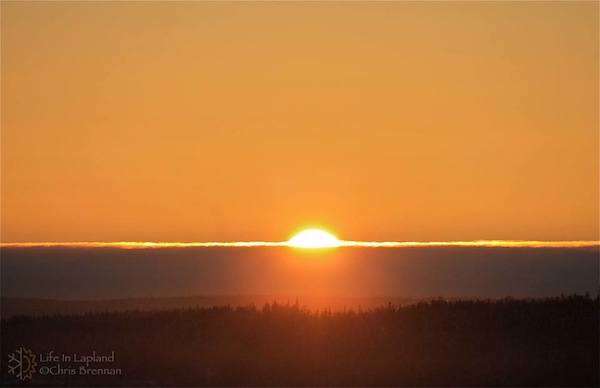 Day 2: March – Ice Swimming
There are crazy people who live in the Arctic and like to do crazy activities, which once living here for a while, you can become crazy and try as well. For example, ice swimming in the Kemijoki River on a sunny March afternoon. It will wake you up better than a cup of coffee, that's for sure.


Day 3: July – North Cape
The midnight sun is in full effect in July in Lapland, and although the summer solstice has passed in June, there are still nearly 24 hours of light outside to do anything or go anywhere at any time of day.
On one July day, I made a short notice trip to the top of Europe: North Cape. Leaving at around 10AM and driving non-stop with only a few short stops on a roughly 1400 km journey, I made it to the furthest point accessible by road at the top of Norway to witness a beautiful sunrise/sunset around 1AM.

Day 4: August – Hiking Saana Fell
There are endless hiking possibilities in Lapland as it's literally one big natural playground. One of the most prominent fells (mountains) in the region is Saana fell, reaching 1029 meters above sea level, standing next to the shores of Lake Kilpisjarvi in northwest Lapland.
On a 4-day trip from Rovaniemi to Lofoten, Norway and back, I first passed through Kilpsjarvi to hike Saana. The day was warm, bright and picturesque, making the popular hiking route 'almost' crowded. Making it to the top of the fell before noon, and taking dozens of photos along the way, I simply relaxed and enjoyed the amazing views.
I later returned to the car park, showered at the local campground, gobbled up some reindeer stew for lunch and then headed off across the border to explore the Lofoten archipelago.

Day 5: September – Northern Lights
While many think the northern lights can only be seen in winter, in fact the best time to view them is in the autumn (August-October) and during the spring equinox (February-April). At these moments, the magnetic field of the earth is most vulnerable, so even a slight increase in solar activity can cause a visible glow above the horizon. This picture is from one particular evening in September when I was able to get some shots of the painted night sky from the banks of the Ounasjoki River.

Day 6: October – Ruska
Autumn is a colorful time in Lapland, when all the leaves change to red and gold before falling to the ground as winter sets in. In Finland, this period is known as 'ruska'. While change starts in September, more intense displays of color can occur in October and it is always enjoyable to take an early afternoon bike ride to see nature change around town, like this Ruska 'bullseye' I caught one day on the eastern side of Rovaniemi.

Day 7: December – Letter from Santa
One of the most popular attractions for visitors to Lapland is the Santa Claus Village and the Arctic Circle (Napapiiri) located about 8km north of Rovaniemi. While somewhat of a tourist trap, I venture there at least once in December to send my family members a letter from Santa Claus marked with a special postmark noting it was sent from Santa's Post Office on the Arctic Circle.
Chris will be in Lapland through the end of the Summer 2014, after which he'll see where his next adventure or project takes him. But who knows, maybe he'll stay put and just keep exploring the far North. He's currently offering to send postcards from the Arctic Circle to anyone anywhere in the world to raise funds for a Kickstarter Campaign to build an independent travel website for Lapland. You can follow his adventures at Life in Lapland.