Miguel wandered into Paz y Luz and my life as magically as Peru did. Little did I know that less than a week later, we'd be on the journey of (my) lifetime, trekking in the Andes. Who knew it would start with an omen like birthing llamas.
This post was originally published in 2014. It has since been updated for accuracy of links and content.


Not knowing who Miguel was, I found myself sitting down with him along with another long-term guest at Paz y Luz. He started talking about two seemingly unrelated topics, intertwining them so they seemed like one; he spoke of spirituality, emotional growth, and the healing effects of nature, while describing some epic multi-day hikes through the Peruvian Andes including a variety of sacred sites and epic mountains.
My eyes grew wide and my heart pounded. I put my hand tenderly on my left knee and cradled my right foot on the chair.
A little over a year ago, I was in a head-on collision. While riding my scooter with my (former) partner, we were hit head-on by an SUV. Wearing no helmet, I was catapulted over 10 metres before landing ungracefully on my head, somersaulting, and sealing the deal with my knees and feet on the concrete.
The quality of care I received in the Grenadian hospital was thoroughly questionable; I was released that night with nobody to supervise my concussions, nor x-rays of what ended up being fractures and serious damage to my knees, shins, and feet.
I was unsure of whether I would ever walk properly again, and quite sure that my mountaineering days were well and truly done.
As I listened to Miguel speak, I took stock of my injuries.
"You can do this," my inner voice said.
"Is there an easier trek you can organize?" my outer voice asked Miguel.


The Trek
The trek we agreed on was a five day experience that involved no more than four hours of walking per day, on relatively easy terrain. Easy, that is, by mountaineering standards. But sure to be a challenge for me given my injuries. Injuries, that admittedly a year on, are substantially better, but which haven't been tested to the limits that this trek would.
But Miguel (of Allpamama Journeys) assured me I would be safe and wouldn't have to carry more than my day pack (we had horses for the camping equipment), while I assured him that my former mountaineering experience would somehow compensate for any physical incompetence I might display on the trail.
And with that, a week later, Miguel arrived at Paz y Luz to pick me and two other people up to drive us to our starting point an hour away; a small mountainside Quechua (native Peruvian) Andean village built with bricks of mud and hay, that is very removed from most modern societal influence.


Birthing Llamas – an Omen
While the horses were being saddled with sheepskins and bags of camping gear, a small boy wandered down the main street of town with his herd of sheep and llamas. But as they passed, I noticed something very unusual (for me); one of the llamas was giving birth.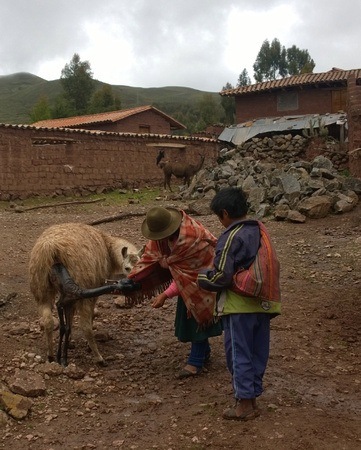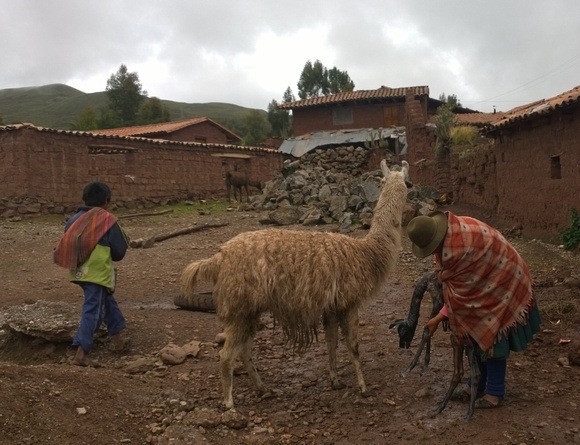 Considering the aura of re-birth that I was already feeling in testing out my battered legs on this trip, watching a live llama birth felt like a good omen, indeed.


The First Day's Hike
With the horses taking another route, we began the four hour hike to our first campsite. Although the terrain was relatively flat, I was simply thrilled to be back in nature, doing what I love to do. Even the rain – although light but constant and ultimately drenching – didn't dampen the mood.
Shortly before arriving at our campsite, we went over the highest pass we would make on this trek at 4,000 metres (despite eventually ending up at Machu Picchu, which is actually much lower in altitude). The air was thin and our hearts pounded from the exertion, but with coca leaves stuffed in our cheeks to counteract the altitude's effects and memories of our llama birthing omen hot on our minds, we were unconquerable.


The Campsite – On an Incan Ruin
I was gobsmacked when we eventually rounded the last corner and descended on our campsite; smack dab on Incan ruins.
Puca Marca is the name of the "town" built on these ruins, although the town (without road access or electricity) looked just as abandoned as the age-old ruins did. It is also on the Inca trail, which ultimately connects Cusco and Machu Picchu, as part of a long series of ancient stone paths that connect sacred sites throughout the Andes.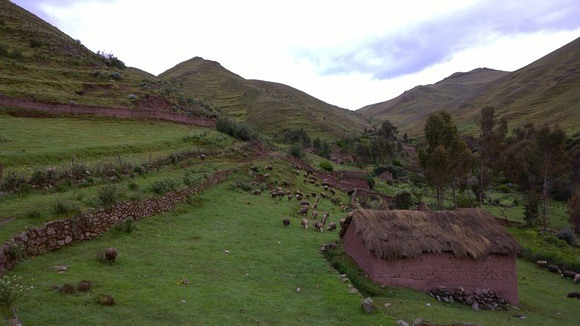 Although we were drenched from the ongoing rain (and eventually quite cold as darkness set in), our spirits remained high as we ate a warm camp meal of rice and veggies, drank lots of hot coca tea, and settled in for a damp night of sleep in the same spot where Incas did the same so many years ago.
Stay Tuned for Part 2 of this series trekking the Andes, where we perform a Peruvian Ceremony, visit the Huchuy Qosqo ruins, and meet our Quechua "Mama".