At this point in the Indian Pacific series, I'm four days into my epic 11,000 km journey across Australia (and back), and have spent the last two nights aboard the Indian Pacific, traveling from Sydney to Perth (and back). Today we're checking out Cook and Kalgoorlie.
Learn about my grand departure from Sydney and the people I met on Day One.
And then read about Day Two, which included a whistle stop in Broken Hill.
Today, we will visit the hustle and bustle of Cook and check out Kalgoorlie's interesting history.
This post was originally published in 2011. It has since been updated for accuracy of links and content.
I received a complimentary pass from Great Southern Rail for this journey.
Indian Pacific Train: DAY THREE
My early night to bed last night has paid off; I've made up for lost sleep with a blissful night of 10 hours slumber while we canter across the Australian outback.
I wake up with a start. I have so much to do today! I have so much writing, and reading, and chatting with travelers, and gazing out the window, and exploring to do! And tomorrow, I get off the train in Perth for a day – a day which marks the halfway point of my journey on the Indian Pacific.
And I'm not even close to being bored yet!
This mission to become bored is proving to be difficult.
After our departure from Adelaide, the scenery is now reduced to red earth, flat ground, and scrubby bushes. I think this is the famed Nullarbor desert, but I'm not sure, and I don't ask yet.
I become frustrated taking pictures. The glass is double-paned, which distorts the images. And although the outside and inside of the train is kept very clean, dirt can get between the glass, which further distorts pictures. Lastly, I'm stymied by my complete inability to get anything in focus, which drives me to chat with Mark, who I met on day one.
Mark is my target because he is carrying a good camera with a big lens, which leads me to believe he's a better photographer than I am. I'm not disappointed with this assumption; he immediately helps me start taking clearer shots by instructing me to set my camera to shutter speed priority (TV) and the speed to 1/500.
In further conversation, I learn that Mark has experience teaching English in Japan, and is eager to live abroad for a year in either India or the UK. He's hoping to leverage his IT degree abroad, but feels he needs to put in some work experience at home in the States first (since his degree is still new).
His trip to Australia is part of a three-week whirlwind that started in Sydney before this four day train ride, a wedding in Perth, a flight to Alice Springs with a trip to Uluru, a flight to Cairns to see the Great Barrier Reef, and then an exhausting flight home. The stingy vacation policy in the States is already getting to Mark, who craves some serious time on the road to experience all facets of life abroad. I wonder how long he'll stay in the traditional workforce before finding an alternative that works for him.
After lunch I meet Bob, an elderly gentleman who constantly refers to Betty (who is having a nap). He's evidently expecting her to wake up at any moment, as he watches the door for her to appear during most of our conversation. It's endearing.
Bill is a well-traveled Aussie, having been to all seven continents a few times over. His wife died four years ago in his arms, and there's a love that remains for her in his words and tone while he describes their life together. But his wife told him to move on after her, and that he eventually did.
Bill met Betty in South Africa, where he was traveling and she was living. She spends her time between South Africa and Canada (where she lives about half the year). Betty and Bill are an item but have allegiances to their respective home countries and families; so they meet up where they can in the world, and travel together as much as they can, making the very most out of each moment they share.
They quickly become the adored couple by all on the train ride from Sydney to Perth.


Whistle Stop: Cook
Although Cook holds some degree of interest to me, it is raining, and I decide to "discover Cook" (with its booming population of five) on the way back from Perth in a few days. Instead I'm engrossed in conversation with Mark while we stretch our legs and amble in the light rain.
Without realizing it, I'm settling into the relaxed pace of train travel quite nicely; maintaining a nice balance of impulsive chatting, musing, and working.


Back On Board
While gazing out the window (a common – and commonly accepted – pastime on the train), I hear an announcement that we are approaching the Western Australia border, and that we are 2,900kms from Sydney and 1,400kms from Perth.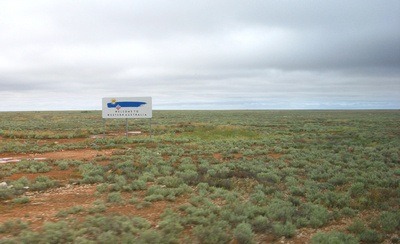 I look out the window. We are surrounded by flat desert. The border doesn't carry with it much fanfare. There also isn't much life out here; one of the few signs of human existence (besides the train) is a line of piled rocks that follows alongside the track for ages. It is what we can see of the buried telecommunications pipeline that connects Perth with the rest of Australia.
I consider how much work building this line would have been given the distance and a generally uninhabitable climate. This in turn helps me begin to really understand how isolated Perth (where I'll be tomorrow) really is.
Never mind how remote Perth is, I think. Look out the window! You know the ground is flat when, just below the horizon, it looks wet. I find myself mesmerized with the oasis-like blur of the reflecting ground in the distance as it melts into the sky.
The low scrub gets lower. Just when I think I'm seeing the great expanse of "nothing" that I've been promised of the Nullarbor desert, a few minutes later the landscape becomes even more barren. Now, I'm on the Nullarbor, no doubt about it. And I love it, because it's so far from "nothing", yet the sense of isolation weighs heavy.
I see heaps of wedge-tailed eagles at the side of the tracks. The wedge-tailed eagle is the symbol of the Indian Pacific train, and aptly so; I spend the next hour spotting and (unsuccessfully) taking pictures of them. Although most fly beside or away from the train, one remains seated on his rock only three metres away, his back to the train and wings slightly splayed to show off his might. It's magnificent.


Train Time
Having changed the time back half an hour the first night, then one hour back last night, we're not actually in a real time zone. Instead, we're on "train time", a time designed to follow us through the desert and into Western Australia, easing our transition to Perth time while maximizing daylight hours. I guess. All I really know is that it's leaving me feeling confused, wondering when we'll actually be stopping in Kalgoorlie, where we're due to arrive later today.
Then I wonder how much it really matters; we'll get there when we get there. Sometimes we're early, sometimes we're late. That's life on a train.


Congratulations
"Congratulations, you've just completed riding the longest stretch of straight track in the world at 477kms," comes the announcement over the speaker system. And shortly thereafter an announcement follows that we've reached the end of the Nullarbor plains. I am shocked; we're still 20 hours from Perth! I thought that the Nullarbor engulfed the general expanse between Perth and Adelaide; instead it is only a portion thereof. The mighty Nullarbor. What a massive land this is to dwarf such a renowned desert.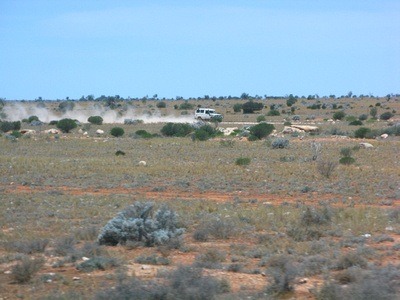 Almost immediately after the announcement, the vegetation gets taller and denser, and the landscape visibly adjusts.
I was told that my best chance of getting bored on the train would be on the Nullarbor. No boredom yet. We'll see if I can become bored on the way back. I've got a (sinking?) feeling that it won't work though.


Whistle Stop: Kalgoorlie
We arrive at Kalgoorlie at 7:30pm, or 8:30pm, or hell – I don't know what time it is as I'm still stuck in "train time" purgatory. But the train arrives at what feels like an awkward time and a bunch of us pile on to a tour bus to get the most of Kalgoorlie during our short evening stop.
Kalgoorlie was founded on gold in 1893, and it remains a town heavily involved in gold, as well as just about any other element they can get out of the ground (which around here is a lot). We visit the Superpit: the aptly named 3.5km by 1.5 km pit that is 400 metres deep. It's the largest open-cut gold mine in Australia, and soon to be the largest in the world at this pace of expansion.
But the tour isn't just about mining; it's also about prostitutes. No tour of Kalgoorlie is complete without a cruise by a few of the local brothels, where an in-depth discussion of the history and nature of prostitution in Kalgoorlie seems to follow naturally. I learn that prostitution is illegal but tolerated here, and once a week doctors come in to give "the girls" medicals, while once every two weeks the Sisters of Mercy come in to counsel the girls. Bless their hearts.
I'm particularly intrigued by the attempt at discretion on the part of the brothels, given that this is a relatively small town. Not only do they provide secluded parking around the back, but if you charge your "visit" to your credit card, it will come up on the statement as a hardware store charge. All I wonder is who would put a visit to a brothel on plastic? It's all about the frequent flyer miles, I guess.
Ahem.
I notice a huge concentration of pubs, which actually dwarfs the number of pubs that existed when Kalgoorlie was in its gold rush heyday. Some of these pubs feature "skimpies": scantily clad barmaids, who earn a cool $65/hour for their attire (or lack thereof).
The tour of Kalgoorlie is about more than mines and ladies of the night, but admittedly not much. Our bus driver is a lovely informative woman with a sing-song-y voice who used to drive trucks in the mines. She points out the Islamic influence in architecture as a tribute to the camel trains which were once the main mode of transportation, and she sings about the history of main street as we crawl down it, being passed by walkers most of the time. Maybe it's my lack of interest in (or support of) the mining industry that makes me lackadaisical about my Kalgoorlie experience.
But to its credit, Kalgoorlie has character, and tons of it. I can only imagine the characters I'd meet if I spent a week here. Given its roots in mining, Kalgoorlie still feels like a "wild west" border town, where life is lived on the edge. Truly.
I wander back to the train after quickly stretching my legs on the tour's conclusion, then head to sleep, ready for Perth tomorrow.


Read the rest of this Indian Pacific Adventure here:
Part Four
Part Five
Part Six