Accommodation and flights are the two most expensive costs of travel. But if you read my post on cheap/free accommodation hacks you can save thousands of dollars. And by using frequent flyer miles strategically and knowing how to travel hack (ie: reading this post!), you can save even more money and even fly for free… in business class.
Maybe you've already got a card that earns credit card points, but you are wondering if there's more you could do to hack your way to free flights.
Managing frequent flyer miles (a.k.a. airline miles) can feel overwhelming and complex; by knowing the basics and with a little help from the right resources, you'll be a travel hacking ninja in no time.
In this guide, I'm going to help you get started by going over the basics of frequent flyer miles, and then reviewing the tools available to help you level up your game.
This post was originally published in 2018 and has recently been overhauled.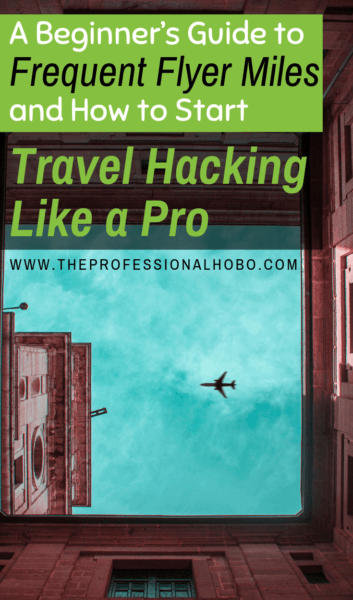 Table of Contents:
Frequent Flyer Miles for Beginners: An Overview
My (1st) Experience in Business Class Using Frequent Flyer Miles
How to Use Travel Hacking Subscriptions to Fly For Free
Earning Frequent Flyer Miles on Hotels
How to Use Frequent Flyer Mile Tracking Sites to Stay Organized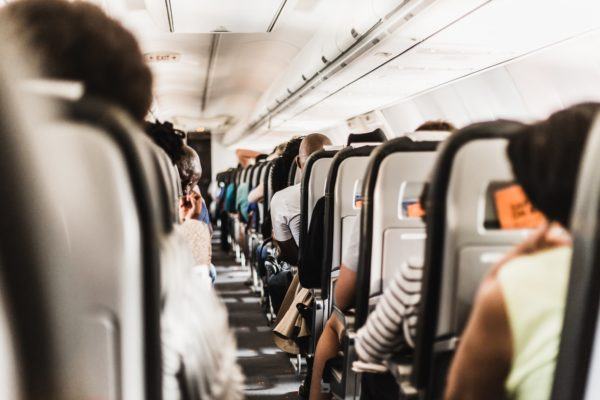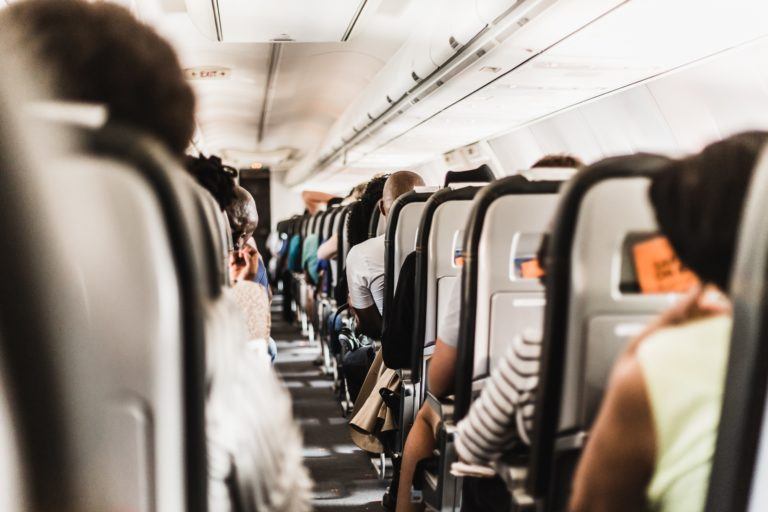 Frequent Flyer Miles for Beginners: An Overview
The deeper you delve into frequent flyer mile accumulation, management, and redemption strategies, the more confusing it can get. Transferring between accounts, valuating miles, managing multiple programs, and ultimately – strategizing for your next free flight – can be a lot of work.
But once you are familiar with the territory and have systems in place, it doesn't have to be difficult.
In this chapter, you'll get an overview of how the whole process works so you can start earning your own miles without getting lost and confused.


Getting Started with Frequent Flyer Miles
Before you start collecting frequent flyer miles randomly through the plethora of programs and offers available, you'll want to acquaint yourself with the major airline alliances, and which frequent flyer programs will serve your travel goals best.
Setting Travel Goals
Before getting into the nitty gritty of frequent flyer miles, it's important to decide what your end game is. Having a reason to earn miles and a particular goal in mind is much more effective than randomly collecting miles for the sake of collecting miles.
This goal-oriented approach will help you be more targeted and effective in your accumulation strategies. Which in turn, will help you choose the programs that can work best to make that goal a reality.
I started collecting frequent flyer miles long before I began traveling full-time; my goal was a return ticket from Canada to Hawaii, and my strategy was to passively earn miles for every dollar I spent using a frequent flyer miles credit card featuring a rewards program that had an especially attractive redemption rate for Hawaii in particular. I also maximized earning opportunities by shopping at retailers that awarded points to the same airline program (and I "double-dipped" by charging those expenses to my credit card that also earned me points.) When I eventually reached my goal and flew to Hawaii, it felt so good!
It's also worth noting that accumulating miles for a rainy day or for the sake of having them is dangerous. Airlines regularly devalue miles or change their redemption systems so that miles aren't as valuable or as easy to redeem. Miles are there to be used!
Understanding Airline Alliances
The first thing you need to learn about to conquer frequent flyer miles is airline alliances.
Most major airlines belong to an alliance, which is a group of different airlines that have agreed to allow the accumulation and redemption of each others' miles.
Basically, you can earn miles with Lufthansa and then redeem them with United Airlines. Or you can earn miles by flying American Airlines, and then use them on a British Airways ticket. Or you can fly with Delta, but earn KLM miles for that Delta flight.
There are three major alliances: Star Alliance, One World, and Sky Team.
Experts usually suggest choosing one airline from each alliance as your focus point for accumulation. That way you won't be scattering your efforts too much. Plus, if you fly a lot with one airline you increase your chances of reaching an elite status which gets you perks like free upgrades. And remember: you don't always have to fly with that one airline; you can fly with Airline A and attribute the miles to Airline B within the same alliance.
Collecting Universal Points
If you don't have any specific travel goals (and even if you do), it's beneficial to use a program with "universal" points, that allow you to convert to multiple programs at a 1:1 ratio.
There are a handful of these (examples include Marriott Bonvoy, American Express Rewards, and even Alaska Airlines), and they give you great flexibility to transfer your points across multiple alliances, which we'll discuss later.
Pretty amazing, right??


Accumulating Frequent Flyer Miles
Accumulation strategies abound, from little social media promotions, to frequent flyer mile credit cards, retail bonus deals, online shopping portals, and of course, flying.
Here are some general ways to earn miles. You can use one of these strategies, or better yet: combine them to get even more miles!
Get a Credit Card (or Two, or Three)
The right credit cards are excellent tools to accumulate miles on everything you buy.
When you sign up for a frequent flyer miles card, choose one that has a great sign-up bonus and a program that focuses on one of your chosen goals.
If you want to take the credit card game to another level, you can utilize an advanced strategy that involves signing up for credit cards solely for the plush sign-up bonuses, canceling them within a year, and then reapplying 6-12 months later so you can get the sign-up bonus again.
Be careful with this strategy, as it can get you into hot water in terms of credit, debt, and your credit score unless you're disciplined about spending and monitor your credit score and activity carefully. That said, it can also earn you a ton of miles when done successfully.
A note about nationalities: Americans have hands-down the largest selection of air miles credit cards to choose from (later on you'll read about Travel Freely – which is the best free tool to manage your frequent flyer mile credit card strategies and opportunities). Next up is Canada, with a decent handful of cards.


Go Shopping (With Your Miles Card)
Of course, I don't mean go on a crazy shopping spree, but if there's something you need, make sure you're earning for it.
This could be anything from a new mattress to the gas in your car. Some frequent flyer mile credit cards award extra points for regular/daily purchases like gas and groceries.
Pay attention to the earning rates for each miles credit card you have. Some may award double (or 3x or 5x) the miles for groceries, dining, travel, or transportation expenses. For each purchase, I always use the credit card that will earn me the most miles for that transaction.
Online Shopping Portals
If you like online shopping, some programs have online shopping portals, where you can earn extra points if you click through their portal to the site you were planning on buying from anyway.
When you sign up for the airline's online shopping portal, definitely agree to receive email promotions. I recently earned 6,000 extra Alaska Airlines miles (which I can use for flights on many different airlines) because I got an email notifying me of a special deal at Apple where I'd earn 8 miles for every dollar spent. I needed a new phone anyway, and had simply been awaiting a deal like this. Bingo!
I'm awaiting a similar 10x miles deal with the Aeroplan eStore so I can buy a new computer.
I keep a running list of things I need at certain stores in the online shopping portals, and I always wait for a great bonus deal to make my purchases.
Because I belong to a few frequent flyer mile programs, I like to use Cashback Monitor to see at a glance which airline program will offer me the most miles for my intended purchases.
Keep all this in mind and make sure you get a card that matches your lifestyle so you can get the most points possible.
Go Flying
Sometimes there's somewhere you have to fly and you just don't have the miles to do it. In other cases, the cost of the flight is cheap enough that it makes more sense to pay for it with cash and accumulate miles (instead of redeeming them).
In these cases, make sure you go with an airline that helps you earn miles towards your goals and the program you're most focused on.
Remember: sometimes it's worth it to pay a little more for the flight/airline in your program and accumulate points (and even elite status) than to get a slightly cheaper flight that doesn't earn you anything.
You can also look into taking a flight just because a particular route is offering a special mileage deal. These are sometimes called "mileage runs" and are a key part of many travel hacker strategies. To stay abreast advanced accumulation strategies like this, I recommend lurking the extensive forums at FlyerTalk.
Don't Forget Hotel Points
Did you know that some hotel loyalty points are transferable to airline miles?
Marriott Bonvoy is the darling of the frequent flyer mile world in this regard, offering points on hotel stays, branded credit cards for additional accumulation opportunities, the ability to buy the points you need at a good rate, and a vast array of airline programs you can transfer your points to at a 3:1 ratio (with a bonus for every 60,000 points transferred – resulting in 25,000 airline miles for 60,000 Marriott Bonvoy points).
And, let's not forget that hotel points can also be used for hotel stays, and to open up special hotel-related perks such as free WiFi and upgraded rooms. If you're going to stay at a hotel when you travel, it pays to choose a brand and remain loyal to it so you can accumulate points and enjoy loyalty perks.
Get a Travel Hacking Membership Subscription
You can try to keep all this in mind while living your day-to-day life, and spend time researching points programs, bonus opportunities, and deals, but I bet you have better things to do. (I know I do).
Thankfully, there are several different travel hacking membership/subscription programs available that you can join. These will regularly let you know of deals and opportunities as they come up, so that you don't have to go searching for them.
Many of these also teach you about frequent flyer miles in-depth to give you a knowledge base, including advanced strategies.
I've reviewed some of these in my time as a traveler, and offer my experiences and opinions in the below section.


Frequent Flyer Mile Management
Because you'll probably be overseeing points in multiple loyalty programs, and they will have varying rules and limitations among them, managing your frequent flyer miles can be an onerous task.
Although you can use a few different sites to track your miles (covered in a below section), you'll also need to manually monitor and track the attribution of miles to your accounts. Why? Because sometimes (more often than you'd like to think), the points don't end up in your account and you need to follow up.
It's a lot of work, but it definitely pays off in the end, especially when you're enjoying business class for a fraction of the price of economy on the same flight.
In this section, let's go over some key things to pay attention to as you manage your various sources of points.
Get Organized With a Spreadsheet
The very first thing you'll want to do to get your miles organized is make a spreadsheet, because once you really get rolling with different strategies, you'll have more on the go than you can track in your head.
For example, you'll want to track all the frequent flyer mile accounts and programs you belong to (along with the relevant account info like membership numbers and passwords). Why have so many accounts? While it's advisable to focus your main accumulation strategies on just a few programs, that doesn't mean you shouldn't sign up for that Jet Blue account if you're flying Jet Blue anyway (for example). Even if you have no intention of accumulating big points in that program, sometimes an opportunity will come up for you to transfer the miles to another program, or otherwise make use of the points. So don't be afraid to sign up for a bunch of miles programs.
You'll also want to note your accumulation activities (eg: taking a flight, getting a credit card sign-up bonus, or shopping at an online portal featuring a mileage bonus promo), so you can monitor when the related points land in your account. That way you can see at a glance which miles programs you're waiting for points to land in, and you can follow up if they don't arrive…..which happens, a lot.
This may already sound like a lot of work, and it can be (especially if you're doing all the research yourself). But it will be totally worth it if you stay organized, and the humble spreadsheet is a great way to do so.
Rewards Management Sites
These types of sites are handy ways to get an overview of your various programs, even though they can't fully substitute your overall spreadsheet. They can also help you find deals and transfer miles between programs.
I go more in depth on Mile Tracking Sites in the below section.
Beware of Losing Point Valuation With Transfers
While sites like Points.com make it easy to transfer miles between accounts, beware; the transfer ratios are rarely equitable and you could lose too much value per mile for the transfer to be worthwhile.
Keep an Eye on Expiration Dates
You also want to watch for expiration dates. Some programs will kill your miles if you leave your account alone for too long. It's easy to top these up with a simple $1 purchase online to earn miles on that program.
Other programs will impose a 90-day limit for depositing your miles to your account (after which you can't request missing miles). And it's easy to forget about in the meantime. If you monitor the miles due to you (hooray for the spreadsheet!), mistakes (which happen) can be easily fixed with a phone call.
Track Your Strategies
I've already mentioned this a few times, but it bears repeating. It's vital to double check that the miles you're owed are actually deposited into your account.
To ensure that the correct amount of miles are attributed, you may need to contact the rewards program. You can often do it painlessly online, and if you need to call in, they're usually pretty nice.
Mistakes happen. (Like, a lot; for me, about 30-40% of the time I have to chase down miles not attributed properly to my account). Don't assume that all transactions will process correctly. Keep an eye on them and be ready to reinforce your rights.


Frequent Flyer Mile Redemption
Now it's time to reap the hard work of accumulation and management. Frequent flyer mile redemption, however, isn't exactly a walk in the park either. Let's go over some basics to keep in mind.
What to Look For When Booking with Miles
I've been playing the travel miles game for quite a few years now, and I'm still occasionally astounded at what some of my travel hacking colleagues are able to do with their miles. Booking with miles is where the most finesse is involved.
You'll have to find the airline/alliance that offers the best deal/routing for your trip, then book with the frequent flyer mile program you've been accumulating with.
This isn't quite as easy as it sounds, especially if you're accumulating miles with multiple airlines in the same alliance. For example, you may get better value using your American Airlines points on flights with British Airways than you would using British Airways points on the same flight.
Getting available seats is the next trick, since flights offer limited rewards seats. You'll have the best luck by booking early – consider different routes if there's nothing available.
Although you can do a certain amount of research and booking online, don't be afraid to call customer service; sometimes the agents can search itineraries and routes you hadn't considered – as happened to me recently when I flew on points in business class from Melbourne to New York through Hong Kong with Cathay Pacific; which isn't a route that comes up when you search online.
Being flexible with both your dates and your itinerary will help you get the best rewards ticket available.
And remember – "free" flights aren't actually free. When you book a rewards ticket, you're still on the hook for airport taxes and airline fees – which can be hefty. Some airlines/airport fees and taxes are notoriously bad; you can lower your costs by looking at alternate airlines/routes/airports. For example, in Canada the most popular frequent flyer mile program is Aeroplan (which governs Air Canada flights). But when flying internationally, you can save many hundreds of dollars on taxes and fees by redeeming your Aeroplan points for just about any other airline than Air Canada.
Remember Hotels (again)
While you may think you should only use miles for flights, sometimes using them for accommodation can be lucrative.
It depends on where you're going and the underlying cost of accommodation; have a look at the cash price to stay in that hotel vs. the miles required so you can calculate the cost-per-mile to stay there.
Paying With Miles + Cash
Sometimes, you found the perfect flight, but you don't have enough miles to cover the whole cost. Some airlines (and hotels for that matter) will let you pay partly with miles and partly with cash.
Just keep an eye on the valuation per mile; in my experience miles + cash deals aren't the best value. Sometimes it might be better to pay all cash and earn more miles instead.
Buying Miles
An alternate strategy is to buy the remaining miles you need to pay for the whole transaction with miles.
This is usually a better deal than miles + cash, especially if there is a mileage discount promotion, which many big frequent flyer mile programs feature regularly.
Business Class vs. Economy / Long-Haul vs. Domestic: Valuating Miles
Evaluating your cost-per-mile is imperative when researching how to best use your miles. Generally speaking, flying in business class will get you better valuation per mile.
When I tried this for the first time, I was hooked (I'll tell you about my experience with business class in the next section).
The same valuation hack is true of long-haul vs. domestic flights. If you're flying halfway around the world, you'll get better bang for your miles than if you are only flying across the country – in which case it's often better to pay for the flight with cash and accumulate more miles.
There various are formulas for calculating your value per mile on redemptions (the formula differs depending on the redemption at hand), and the value can range from less than a cent to over 10 cents per mile. As a very broad average estimate, you want to get at least 1.2 cents per mile.
Don't get Sidetracked
Some rewards programs let you use your points for things other than travel, like goods, services, and gift cards.
Honestly? Save the miles for your trip.
The value per mile on these side deals is usually terrible, and you usually end up paying more for the goods than if you'd paid cash.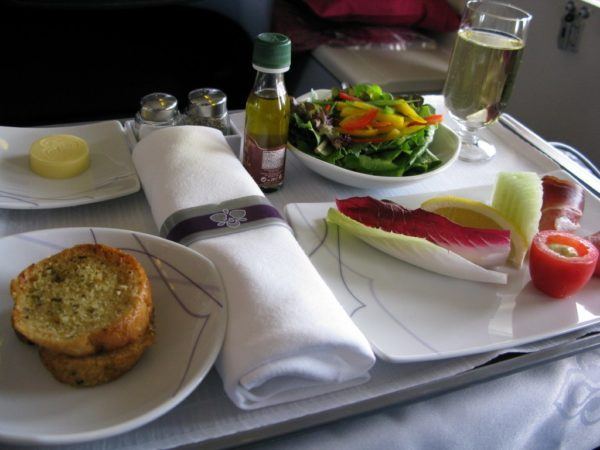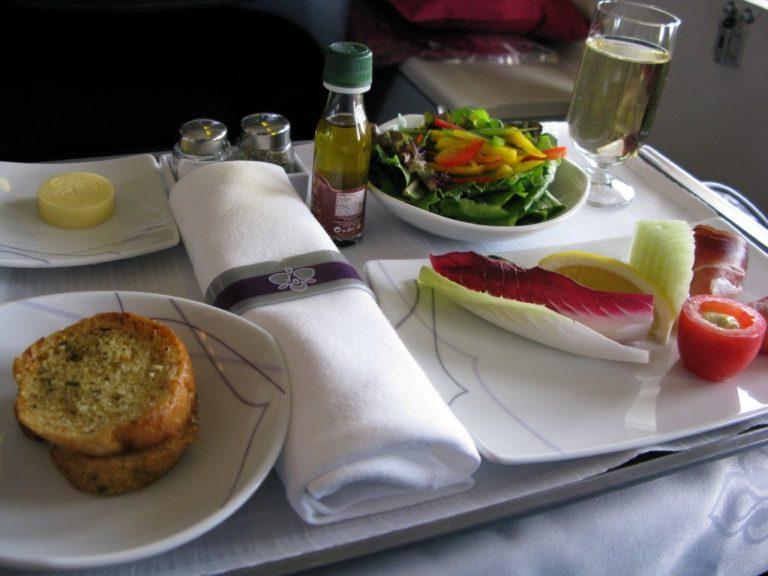 My (1st) Experience in Business Class Using Miles
As a full-time traveler, I take a lot of flights. And since my travels are financially sustainable between my writing income and creative attempts at accommodation, I won't pay the big bucks to fly business class.
In this section, I walk you through my first real attempt at advanced travel hacking (back in 2009), from earning the points to redeeming them, and the business class experience I got as a result. (Spoiler alert: it rocked.)
Earning the Miles
Thanks to one of my travel hacking subscriptions (read on for more info on the best programs currently available), I got wind of a US Airways promotion that promised big bonus miles, but also required a big spend of about $1,200. While most of the stuff I bought was useful, the premise of this promotion was that the value of the miles received alone could justify the expenditure.
As this was my first miles "sting", I was nervous that US Airways wouldn't credit the miles, or that I'd somehow screw up the purchases without recourse, or that the airline would devalue the miles.
But none of that happened!
A pretty sum of 150,000 miles posted themselves neatly to my account three months later, US Airways didn't devalue the miles, and I could use them for any Star Alliance airline flight.
Redeeming the Miles
One of the top tips on redeeming miles is that long-haul business class flights offer the most bang for your miles.
So when it came to plan out the next year of travel, my frequent flyer miles came in handy. My $1,200 purchase resulted in two long-haul business class flights (from New Zealand to Europe and back), as well as one return economy flight between New Zealand and Australia.
I had to pay booking fees and taxes on both sets of tickets, which amounted to a total of $300, increasing my total out-of-pocket expenditure to $1,500.
To have purchased the same four flights at full price would have cost over $5,800.
I'd say that was worth it.
The actual experience of 45 hours of business class definitely proved me right.
Let's go through it:
Business Class Before Boarding
The business class experience starts long before you get on the plane.
From surpassing the long check-in lineups with special business class ticket counters, to circumventing passport control and security lineups with dedicated lanes, to special airport lounges with free WiFi, all you can eat and drink, and sometimes showers and nap rooms, I was in airport bliss long before I set foot on the first of three flights.
The Air New Zealand lounge in Auckland was lovely, and set the stage beautifully for my business class travels. Although my flights were booked with Thai Airways (another Star Alliance carrier), I had use of the Air NZ lounge since there wasn't a Thai Airways lounge in Auckland.
Leg One: New Zealand to Bangkok in Thai Airways Business Class
My flight to Bangkok was on a 777, and the business class seats (and service) was about as luxurious as I had hoped. The massive pod-like seats reclined to an almost flat position, which made sleep quite easy. (Note: I've since traveled in business class with lie-flat seats, which are my preference when available).
Entertainment on demand was delivered through the large screens in front of each seat, and there was never any worry about the seat in front reclining into my lap, since the seat backs were fixed; instead each entire chair slid forward to recline.
The meals were spectacular. A menu revealed one 5-course meal and one 3-course meal, served on linen "tablecloths" with real cutlery and silver service. And of course, all the alcohol I could drink (which wasn't very much as I'm not a big drinker). The service was attentive and the attendants were spectacularly dressed in customary Thai silk garb.
Business Class Layover in the Thai Airways Royal Silk Lounge
I had a long and awkwardly timed layover in Bangkok, so I decided to stay in the airport. Good thing the Thai Airways Royal Silk Lounge was open! I spent a delightful six hours there, surfing WiFi, enjoying free Thai cuisine and beverages, and even receiving a complimentary Thai massage at the adjoining spa.
Heaven!
Leg Two: Bangkok to Frankfurt with Thai Airways
My second flight (also almost 12 hours) was on a 747, and for the first time, I got to see what happens on the second floor of a 747!
I was slightly disappointed to discover there was no dance party, spa, or swimming pool, but equally pleased to find a relatively intimate collection of business class seats.
Again the service was wonderful, the seats reclined, the entertainment selection was great, and the multi-course meals made me thankful for the long walks I took in the airport and enroute to the gate.
Business Class Shower in the Lufthansa Lounge
By the time I landed in Frankfurt, I had been flying (or laying over) for almost 40 hours.
Although I caught some sleep on each flight, I was starting to feel some deep fatigue, and the increase in temperature and daylight (not to mention the time changes) was disorienting.
I hurried to the Lufthansa Lounge, hoping to enjoy some of the relaxing space and quiet solitude I had found in my previous two lounge experiences.
Unfortunately though, this lounge was packed to the hilt, and (gasp) didn't even offer free WiFi.
I did, however, manage to sweet talk the shower attendant into squeezing me in front of the queue for a quick shower before my next flight, which made a world of difference.
Lesson Learned: Not all airline lounges are the same. Some are much nicer than others! Download an app like Lounge Buddy to learn about each lounge. (See also: Best Travel Apps)
Leg Three: Frankfurt to Madrid in Lufthansa Business Class
I had been looking forward to experiencing Lufthansa's business class services, but was mildly disappointed, compared to my experience on Thai Airways.
Thankfully I had some prior notice that business class short-haul flights aren't often worth the accompanying price tag, so I was even more thankful I hadn't actually paid the accompanying price.
So although the service was lovely (attentive in an almost over-compensating manner), the food appeared to be the same as that served to other passengers (except with real cutlery), the seats weren't any roomier (except the middle seat in every row of three was free), and the offer of free alcohol was lost on my tired body.
This was when I learned that domestic business class flights are almost never worth paying for with points, unless it's a really low miles requirement compared to the cash price.
What I Learned
After experiencing long-haul business class travel, I now do everything I can to avoid flying in economy (long-haul).
I learned that using miles to fly long-haul in business class is the best value – not only on a value-per-mile basis, but also in the value of arriving refreshed, well-rested, and well-fed. It truly transforms the experience of flying.
I also learned that if you're flying in economy, it's often worth it to buy a pass to the business class lounge, especially during a long layover. For about the same cost as a crappy meal at an airport restaurant, you can spend hours at a lounge that not only offers free food, but also comfortable seating, WiFi, and a variety of perks from showers and nap rooms to free spa services.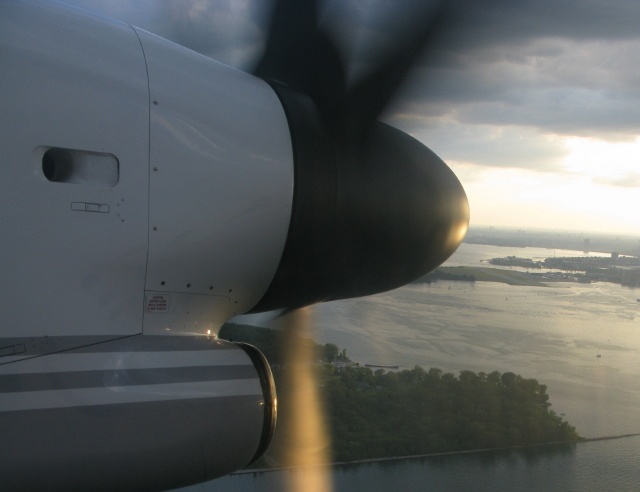 How to Use Travel Hacking Subscriptions to Fly For Free
In order to really become a travel hacker and strategically earn and redeem miles, you'll need to take advantage of the various special deals that hit the market – like the US Airways promotion I described in the previous chapter.
The trouble is, most of us don't have time to scour the internet looking for the best miles deals out there.
So what do we do?
Join a travel hacking membership.
As I mentioned in the overview section, these are services that alert you to the best deals available to earn points and miles or redeem them in spectacular ways. Many also include educational elements that teach you advanced strategies and techniques to really level up your travel hacking.
In this section, I review four of these subscriptions that I have personally test-driven (disclosure: I received free subscriptions for review purposes), and I give you my honest opinions.
In some cases below I have used affiliate links which earn me a commission if you purchase. It doesn't affect your cost to purchase, and it helps me keep The Professional Hobo going. Thank you in advance for your support!


Review of Travel Freely – Best Way to Earn Credit Card Sign-Up Bonuses

I've used and test-driven a lot of frequent flyer mile mastery programs and travel hacking schools (I've only chosen the best of them for this article). And while I haven't personally been able to use Travel Freely, I really, sorely, completely, and almost desperately, wish I could. It's that good….and it's free.
The reason I can't use Travel Freely is because I'm not a U.S. resident, and thus not eligible to apply for U.S. credit cards. It's no secret that Americans have the best opportunities to earn frequent flyer miles, especially when it comes to credit card strategies. Travel Freely is the perfect tool to learn what you need to know and maximize your opportunities.
Travel points and miles are convoluted at the best of times. So it stands to reason that you might get a bit of FOMO when you read about other people flying for free in business class while you're stuck paying retail prices for cattle class.
Or you might think you know what you need to know, but you're leaving money – or rather, points – on the table.
In both cases, Travel Freely can help. In fact, Travel Freely will get you $2,000+ in free travel every year. (And it's free).
When it comes to earning frequent flyer miles, the way to do it if you're really serious about flying for free (especially in business class) is with credit card sign up bonuses. But where to begin?
Which credit cards are best to apply for?
How many credit cards is too many?
What happens to my credit score?
What do I have to do to earn the sign-up bonus?
How long do I need to hold the card?
When do I cancel?
And if I want to reapply, how long do I have to wait to re-qualify for the sign-up bonus?
SO many questions. Travel Freely has answers.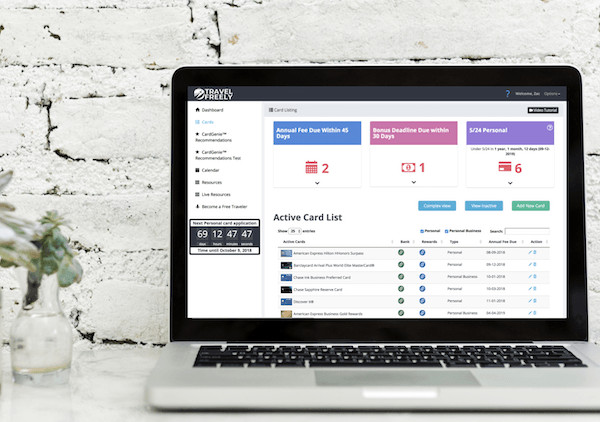 What is Travel Freely?
Travel Freely is a web app and mobile app (both work seamlessly together) with three components:
Beginner Quick Start – This program takes you from having no travel miles experience to being able to monitor and understand your credit score, organize rewards programs, and use best practices when applying for credit cards.
CardGenie Recommendations – This is where you'll receive personalized recommendations for the best credit cards to apply for to earn the best bonuses for you given your profile and unique situation. If you're worried about this advice being biased, don't. While the folks at Travel Freely may earn a commission on some credit card applications, they'll recommend the best card for you regardless of whether they earn a commission from it.
Dashboard and Auto-Pilot Key Milestones – Travel Freely makes credit card management a no-brainer by showing you everything in your dashboard and sending you email notifications with the following alerts:
When you're approaching a bonus deadline, so you can satisfy the spending requirement to earn the bonus points
When a credit card is coming up for renewal, so you can budget for the next annual fee or cancel the card before it comes due
When it's time to apply for a new card that will help you meet your travel goals
Here's what Travel Freely can do for you
Help you develop a system to go from being a total beginner to travel hacking genius
If you're already a casual rewards user, it will help you level up
Put your travel hacking game on "auto-pilot" to minimize the amount of time you spend accumulating/managing your travel points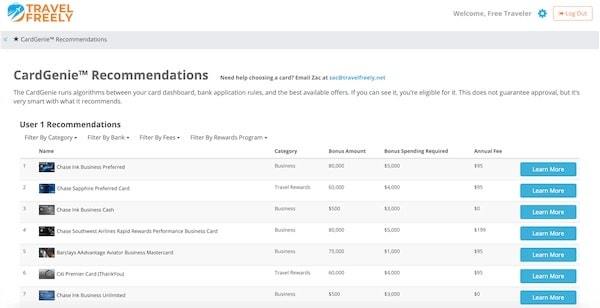 Maintaining Your Privacy
My first concern when browsing through the program was privacy. I don't want just anybody to have access to my credit card information!
Rest assured, Travel Freely doesn't ask for, use, or retain any personal information. There's no connection to your bank, credit card numbers, or financial particulars.
In order to create your profile, you only need to enter in the type of credit card you have and the date you signed up (so they can remind you of the annual renewal). That's all.
No Upsells
What blew my mind about Travel Freely is that this is not a tease for some elevated premium program. It's free, no strings attached.
They earn a commission if you apply for a credit card through their platform (though they're quick to say that if there's a better credit card for you that doesn't earn them a commission, they'll take the hit and recommend the the optimal card for you). You can also hire them as a personal consultant if you want some extra help.
But the platform itself is totally free, and doesn't even have any ads.
Sign up for Travel Freely here.


Review of Dollar Flight Club Premium Plus+ – Best Fare Alert Service for Cash Deals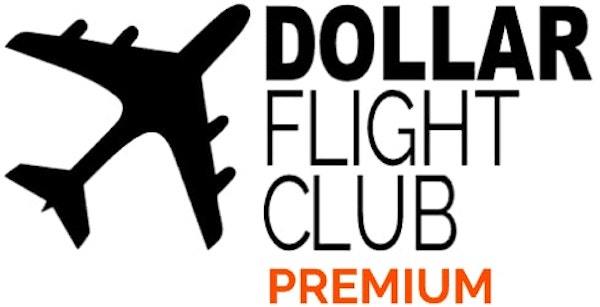 Here's the thing about frequent flyer miles. Sometimes, you don't have enough to get where you want to go.
Or sometimes, you have the miles but the airline doesn't have award seat availability.
And sometimes, a deal comes around that is so good, it actually makes more sense to pay in cash than use miles.
In all cases, Dollar Flight Club has you covered.
Dollar Flight Club is a fare alert service that notifies users of flight sales and mistake fares and helps people save up to 90% off the normal cost of a flight. As such it's far from the only of its kind, with a handful of other competitors that offer similar services. What differentiates Dollar Flight Club from the rest however, is its Premium Plus+ tier that additionally features business class flight deals that get you up to 60% off business class and first class flights.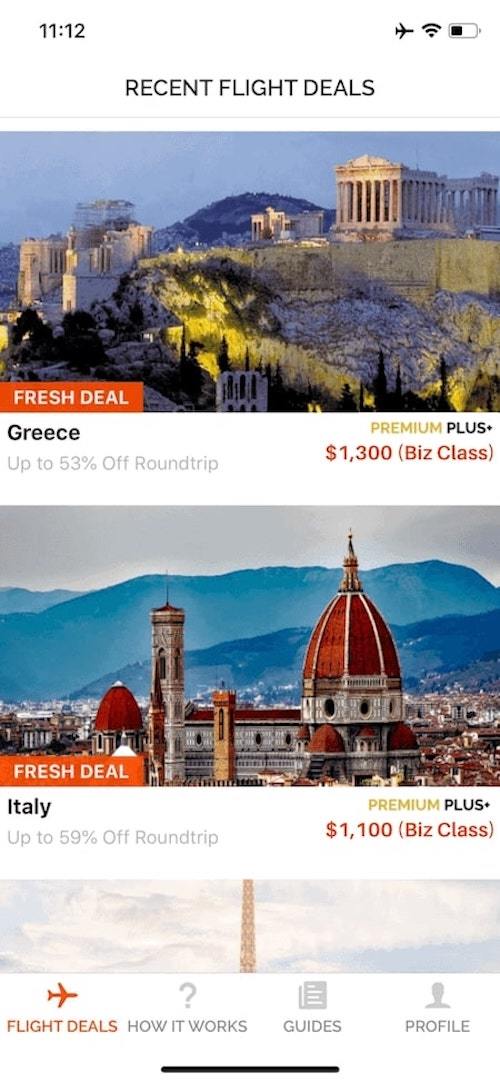 How Dollar Flight Club Works
Simply enter your email address and/or download the mobile app. Select your departure airport/region and membership level, and sit back to await your customized flight deals.
There are three levels of membership:
Free – The price is right, but you can't select your departure airport (you're limited to your departure region), and you receive about 25% of all the flight deals. You'll also contend with ads, and there are no app alerts (only email alerts).
Premium – For $69/year, you can select up to five preferred departure airports, and you'll receive all available notifications for each. You can also get mobile app alerts, the program is ad-free, and there are a few exclusive partner perks.
Premium Plus+ – For $99/year, you'll get everything offered in the Premium membership plus business class and first class deal alerts. The number of alerts vary based on the airport, but using New York City as an example, you'll get approximately 4-7 premium deal alerts per week. You'll also get an exclusive discount on the Mobile Passport Plus app, which makes clearing customs on entry to the United States a breeze.
I've used the free and premium versions of Dollar Flight Club on and off over the years, and the deals that come through are pretty great.
The deals don't often last (usually it's 24-48 hours), so it's important to be flexible and spontaneous enough to jump on the deals as they come.
Also, digital nomads need not apply, since most of the flight deals are return flights, and while you can change your preferred departure airport according to your location at the moment, it's a bit tedious.
For long-haul flights, I do my very best to ensure they're in business class, but it doesn't always work with miles. I like the idea of the Dollar Flight Club premium plus alerts that could help me fly in business class for a fraction of the cost.
But let's get it right; even 60% off a business class flight is more expensive than flying in economy. That said, $1,100 for business class flights to/from Italy sounds pretty delightful, especially if business class involves a newer plane with a lie-flat bed (since a proper rest on the plane can make or break the first few days of your vacation).
To find out what kind of plane you'd be on, you can cross-check the flights with Seat Guru to ensure the plane is worth the expense.
Click here to sign up with Dollar Flight Club.


First Class Flyer

First Class Flyer is a monthly newsletter (with regular e-mail updates) specifically geared towards deals and strategies that enable subscribers to find the best deals on first class (and business class) airline tickets.
In their words, First Class Flyer is aimed at two kinds of people:
Those who take a big trip once a year and want to do it in Business or First Class.
Those who fly Business and First Class already, but want to do it for a lot less money, and a lot less time.
Fare Alert Emails
These regular email updates summarize the latest deals revealed in the member-only online First Class Flyer Newsroom, detailing regular updates about reward seat availabilities and special fares that might be of interest.
It's all very timely information, and (similar to the beefy monthly newsletters), it's full of opportunities for committed first class flyers.
Monthly Newsletters
The monthly newsletters are jam-packed with sophisticated strategies, tips, and up-to-date airline info to help land you in the lap of airline luxury.
For example, in one issue alone, there was an article which dissected various ways to fly from New York City to London (as always, with an aim to be in first class). The same issue also explored strategies for transferring frequent flyer miles, upgrading tickets, and ticket timing.
I learned about concepts like "Super Currency", which are rewards programs that allow conversion of their points to multiple airline programs. Other tips include which frequent flyer programs/alliances are best to use for which types of flights.
With airlines often changing their mileage valuations, opportunities can arise; for example playing award chart discrepancies to your favour by capitalizing on the difference between programs that value trips by flight distance versus zones.
Just recently, thanks to First Class Flyer, I learned about (and capitalized on) an opportunity to transfer American Express Rewards points to British Airways at a 1:1 ratio plus a 30% bonus, and then to use those British Airways miles to book a flight (for two people) on American Airlines. I'd never have known about this roundabout/creative way to book flights, which ended up in my getting $1,500 in flights for an effective price of just over $100.
While in the above case the outline on First Class Flyer was all about doing the transaction in business class (which is admittedly an even better deal for the miles), I was able to apply the same strategy to economy and still get a screaming deal. So despite the name of the program, the information can be applied on a wider scale.
Although there's a goodly amount of attention paid to frequent flyer mile strategies, First Class Flyer is not exclusively a frequent flyer mile publication; it lives up to its name by focusing on any and all strategies that get you your own little piece of airline heaven.
I find the newsletters a bit overwhelming; I often end up making it about half-way through, after which I realize I'm only absent-mindedly scrolling through a lot of useful tips and tricks, unable to absorb the (sometimes complicated) schemes.
So if you're committed to the idea, it's best to digest these newsletters (especially in the beginning) slowly and in bite-sized pieces.
First Class Ain't Cheap
Budget travelers will waiver between moments of travel-hacking inspiration, and moments of frustration at reading how a certain first class flight is "only" $4,000 with the latest deal. Yes, the original ticket price might be $11,000, but both numbers are well out of most budget travelers' repertoires.
However, as I said (and did) earlier, you can apply some of the strategies to economy flights too. And lately, First Class Flyer has been providing some pretty slick reviews of and deals for Premium Economy flights.
And First Class Flyer has been around for over 20 years, and has garnered international recognition for being a reputable resource, so it certainly has an attentive audience.
Earning Frequent Flyer Miles on Hotels
Are you on a mission to accumulate frequent flyer miles, and don't want to get distracted by hotel rewards programs? Well then, you've Rocketmiles. It gives you an opportunity to earn thousands of airline frequent flyer miles with a variety of airlines for every hotel stay.
How It Works
First and foremost, Rocketmiles is a hotel booking site. The difference is, you will earn a minimum of 500 airline miles per night – up to 10,000 per night! – of your stay.
It can help you earn miles for a huge variety of frequent flyer mile programs, so you're sure to find one that you're targeting for accumulation.
Miles are attributed to your frequent flyer mile account after you check out, within two to six weeks.
Although some hotels will allow you to exercise your hotel reward program elite status for perks during your stay, generally speaking you can't earn hotel miles in addition to the Rocketmiles deal.
How to Use Frequent Flyer Mile Tracking Sites to Stay Organized
As I mentioned in the overview section, it's important to stay organized as you become a frequent flyer miles ninja.
What with all the different airline programs, hotel programs, miles credit cards, and others that you'll be signing up for and earning points towards, you'll need to know how many points are where, which programs they are transferable to, and more.
Enter frequent flyer mile tracking sites.
While not a complete solution (you should still keep a simple trusty spreadsheet), these will make certain aspects of staying organized much much easier.
Award Wallet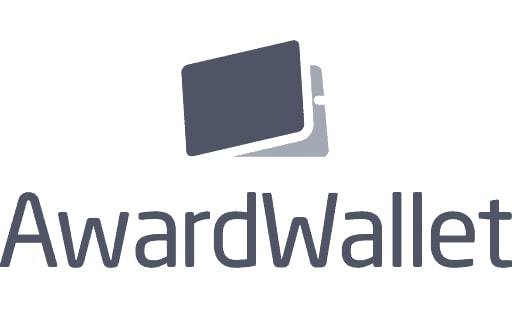 I've not used Award Wallet myself, but I have colleagues who love it. They feature a massive selection of mileage programs including air, hotel, car rental, credit cards, etc.
You can see all your balances at a glance, get notifications when balances change (which is handy when you're waiting for the miles to post from your last flight or mileage shopping promotion), and you'll get notice if points are due to expire.
Regardless of which program you choose, I believe it's good to manage your miles with one of these services, for a bird's eye view of what you have, since frequent flyer mile accumulation usually means membership to numerous programs. All are free to sign up.
Conclusion
So there you have it! Everything you need to get started travel hacking with frequent flyer miles.
Now I'd love to hear from you: What's your favourite miles hacking strategy? Is there something about frequent flyer miles you'd like to learn more about?
Let me know in the comments below!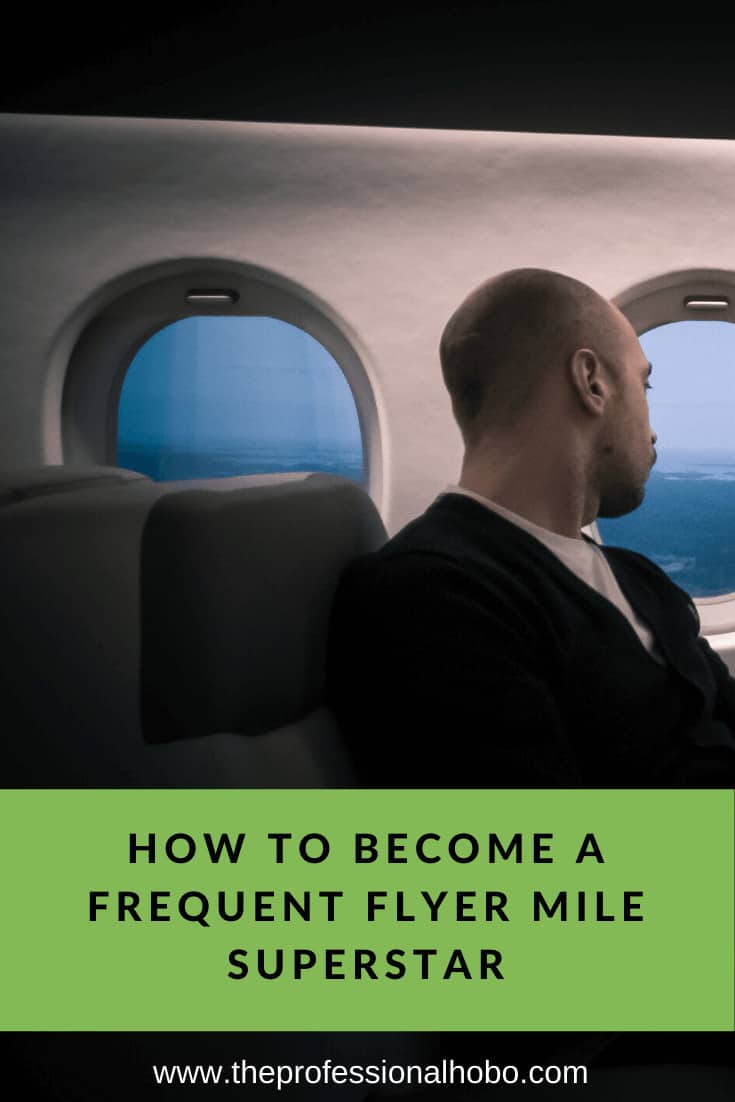 Hungry for some more air miles related musings?
How I Gave U.S. Airways $1,700 for Nothing – Not Even Flights – While this is largely a rant about a failed attempt to book a mileage reward to Australia, I also learned a lot and thus I provide a series of "Rules" and guidance for booking rewards tickets (ideally with more success than I).
How to Get 50% off Airfare With Travel Mystery Shopping – Learn how to get discounted/free flights, bus rides, train journeys, and more.