Dalene and Pete Heck have been nomadic since 2009, but got serious about generating income on the road in 2011. They blog about their adventures on Hecktic Travels and also are media marketers in their media marketing company called Hecktic Media Inc. (HMI) . They have put their complementary talents to use in a variety of ways to support their travels, and in 2014 they were named National Geographic "Travelers of the Year"!
This power couple traveled nomadically until late 2016 when Dalene was diagnosed with acute promyelocytic leukemia and returned to Canada for treatment. They settled in Lethbridge, Alberta, while Dalene recovers (prognosis is excellent), but are eying their next move! Their blog (HeckticTravels.com) is still regularly updated with travel stories, and their media marketing company (HMI) is going stronger than ever. Given their focused time in Alberta now, they've also launched a niche site called RoadTripAlberta.

This Financial Case Study was originally published in 2015 (before Dalene's diagnosis and their lifestyle change). So much has changed for them that I asked them to provide an update here! You'll see their additions throughout this post. Enjoy!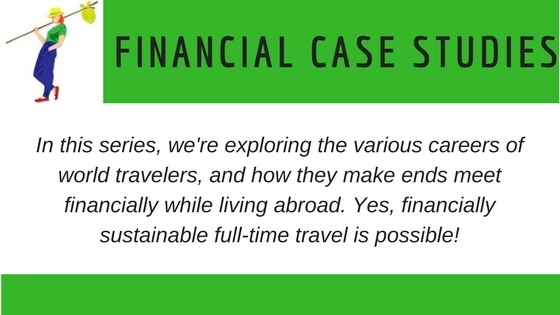 Where have you lived and traveled to?
2015: We have been to over 50 countries, never staying longer for six months in one place. We've been all over South America, Central America, Europe, and have only scraped the surface of Africa, SE Asia and the Middle East. We recently finished a two month house-sitting assignment in New Zealand.
2019: We almost clocked a full eight years of nomadic travel and work when the diagnosis changed everything. It knocked us off the road and landed Dalene into a hospital bed off-and-on for five months. Once out of the hospital, treatment still extended for over another year, and she only really returned to work fully towards the end of 2018.
But as soon as she was able, we started traveling again. We haven't been able to travel as far or as fast as we had in the past – but we've hit up a few new countries and returned to a few favourites. We just returned from 10 days in Nova Scotia and in 10 more days we're off to Vietnam. Things are sort of back to normal, except that now we have a home base to return to.


Please describe what you do for income.
2015: Many, many different things! If limiting to just the past year, we have done freelance writing, freelance video and photography, sold our popular house-sitting e-book, consulted on new media marketing campaigns for numerous destinations and big travel brands, and speaking engagements.
2019: Our income has shifted substantially to coming predominantly from HMI, where our primary streams there are from social media management and influencer marketing campaigns, and almost exclusively in the tourism niche. Besides that, we still also sell some photos, do speaking engagements, and take on the odd influencer marketing campaign for Hecktic Travels. Our house-sitting ebook is still available, but now all proceeds go to the largest cat rescue in southern Alberta as they desperately need the help.


How many hours per week do you work on average?
2015: It varies widely from only several to 50 hours each. While our income continues to increase, we have since hired two assistants and scaled back our own time working so that we can get back to enjoying travel again! But there are still some very long work days and weeks in there.
2019: Wow, I can't believe we only used to work "several" hours a week sometimes – ha! That certainly isn't the case now. I mean, we can take the odd day or weekend off but our minimum is now closer to 50 hours a week, and usually more. Such is the glamorous entrepreneur life!
(See also: How to Go Location Independent – The Ultimate Beginner's Guide)


How much money do you make?
2015: Last year we cleared $50K in income, and this year we are set to be well over $100K. While the bulk of it is coming from the big contracts we have with Hecktic Media, we have also been steadily increasing our e-book sales, landing some choice freelance writing opportunities (I really hate freelance writing so will only do it on special occasions), as well as new opportunities like select paid marketing campaigns on our own blog and the odd speaking engagement.
2019: Altogether, we're likely hitting a half a million in revenue this year. Because of our very positive profitability for the past couple of years, we've recently invested a lot in marketing and new ventures, and it already looks like that will pay off substantially in income for 2020.
Do you make enough money to support your lifestyle?
2015: Finally, after the first couple years of trial and error, we are making more than enough to support our lifestyle!
Because we only reached this point in the last couple of years, we haven't yet made any decisions as to what to do with the excess income. We are set for our retirement savings (from our corporate days), so we really have lots of options. Too many maybe? We have debated investing in property, hiring more people and expanding, and more. Our goal is to make some firm decisions by the end of this year.
(See also: Financial Planning for Travelers and Location Independent Entrepreneurs)
2019: Our more "settled" lifestyle is certainly costing us much more than our nomadic one, but yes! We are making enough to support our mortgage, car, and needy cat, while still taking off as often as we can.
(Nora's Note: I can relate. In my 12 years of full-time travel, I spent less (usually a lot less!) than I ever did to live in one place. Now that I have a home base, my own expenses have gone up too).


What is your vision for the future of your lifestyle on the road?
2015: Our lifestyle will continue indefinitely – we see no reason to change it now as we are ultimately happiest when we are on the road and our business allows us to travel freely!
2019: Damn, the first answer we gave to that question is a bit painful to read now. How we wish we were still going indefinitely instead of facing the challenges we did! But, c'est la vie, life is a twisty motherfucker.
From here, I think our lifestyle will shift, at least slightly. I don't expect that fully nomadic travel is in the cards for us again, but we would like to settle elsewhere in the next couple of years. We're eyeing Europe, or at least eastern Canada so that we can be closer to Europe. But, we shall see!


Any advice for the aspiring traveler about living and working on the road and managing finances?
2019: Marry an accountant for ease of managing finances (Pete is a former CMA) – ha!
But overall, take travels slow so that work is given some priority and a destination can still be enjoyed. In the latter years of our nomadic travel, we typically stayed in one place for no shorter than a month – it would take us that long to probably experience what a normal tourist did in five days. But, we could work during the day and enjoy dinner by the Seine in Paris at night (for example), and we had no reason to complain about that!