Somewhat embarrassingly, Latvia wasn't on my radar as a place I really wanted to visit. Instead, the impetus was born with an invitation to speak at the Women in Travel Summit, which was being held in Riga Latvia (Riga being the Latvian capital).
Who knew that after a week I'd love the place so much; even – and especially – in the inclement month of November. Here are nine reasons why I want to return to Latvia again, for a longer visit. While this article isn't an exhaustive list of things to do in Latvia, nor a cultural summation, it is a teaser; just enough of both to entice you to learn more about this Baltic country – because in a sense a teaser is all I got as well.
Most of my time in Latvia was self-directed and on my own dime, save for a two day itinerary constructed for myself and some other conference attendees, courtesy of the Latvia Tourism Department (visit www.latvia.travel).
If you click through some of the links and widgets on this post and make a booking, I will receive a small commission. Thanks for your support!


Latvia Travel is Affordable
I tend to dismiss most countries employing the Euro as being expensive (especially when I've got a fistful of Canadian dollars, which don't quite measure up), so I was pleasantly surprised to discover that Latvia travel is really affordable.
Statistically speaking, the cost of living in Latvia is 33% lower than the United States, with accommodation in particular being 70% lower. This also translates (though not quite as dramatically) to the cost of hotel accommodation; an average hotel room costs 50 Euros a night, but as you'll see below, you can find all kinds of places to stay in Latvia for way less.
And accommodation is the most expensive part of traveling in Latvia (it's the most expensive part of travel in general; this is why I like getting free accommodation when I can). Everything else in Latvia is extremely reasonable, from transportation to food to activities. Heck – a ride on an Olympic bobsled track is a steal at 10 Euros (read on for more about that).
If I wasn't convinced of Latvia's value, the sticker shock I got on arrival to Helsinki the following week sealed the deal.


Affordable Things to Do in Riga, Latvia
Have a browse here for some fun and cheap things to do in Riga, Latvia. While the capital of Latvia is a great place to have a base, I encourage you to get out of the city and explore some of the nearby towns and castles. It's easy to do in a day trip.
Riga City is Beautiful – Both Riga Old Town and New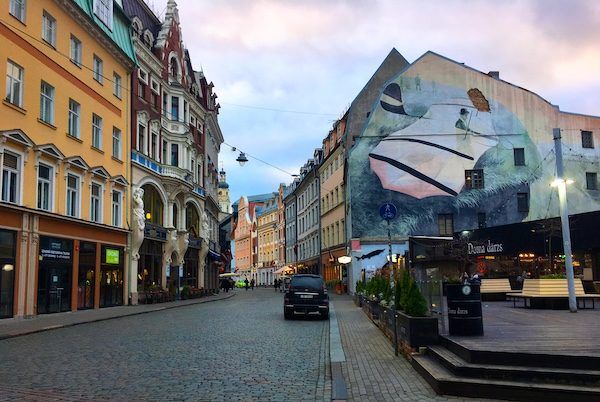 In Riga city you can enjoy 800 years of architecture with buildings that range from impressively old to brand new. Thus, Riga is a sight to behold.
While frankly I found everything east of the river (old and new) to be delightful, the heavy duty charm-factor happens in Riga Old Town. The narrow cobbled streets, colourful buildings, and plazas are buzzing in the summer with beer gardens and street cafes. And in winter, old town Riga looks like a Christmas card, which given the fact that it's where the very first Christmas tree was erected, stands to reason.
I was there in between these two ideal seasons, under grey skies, with cold temperatures, short days, and constant drizzle. Even so (even so! As a SAD syndrome-affected person who detests cold dark weather and hasn't seen winter in 13 years), despite having experienced some of the worst of Latvian weather, I saw so much beauty in Riga and potential for it to be utterly stunning in other seasons…even winter.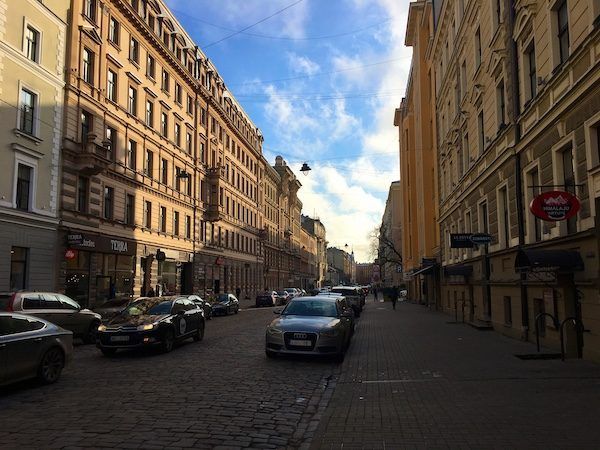 Things to do in Latvia: Get Out Into Nature!
The shame of the matter is that most people who visit Latvia only see the Latvian capital city of Riga. Lucky for me, I spent a few days exploring other areas, and I'm so glad for it.
More than 50% of Latvia is forest. There are four national parks and 42 nature parks. Latvia is neither big nor small at 64,000 square kilometers; but with a population of just 1.9 million people (a third of whom live in Riga), there's plenty of nature to go around.
While most of my explorations were in the Cesis and Sigulda areas, Kuldiga Latvia has Europe's widest waterfall, at 249 meters. While this might inspire visions of grandeur, it's more scenic than majestic; the waterfall is just two meters high. What this does mean, however, is that it's a summer playground for all kinds of nature enthusiasts.
Beautiful Latvia Beaches (Including Jurmala and Liepaja)
November wasn't exactly beach weather, so my adventures in Latvia didn't involve coastal explorations. But everybody I spoke to bestowed the virtues of Latvia beaches. With 500 kilometers of coastline, you can easily get away from it all and enjoy pristine secluded white sand, or you can see and be seen on the busier beaches like Jurmala beach (only 20 kms from Riga) or Liepaja beach.
Gauja National Park – Get Out Hiking in Latvia
Gauja National Park (pronounced gow-ya) is so large it encompasses three cities. There are trails everywhere, and despite the massive popularity of hiking in Latvia, it's not difficult to find yourself alone in the woods if that's what you wish.
As I stood in Sigulda (more on this adventure-loving place shortly) looking across a valley at the bottom of which the Gauja river flows, I imagined how utterly spectacular the autumn colours would be. In fact, Sigulda in particular is a popular destination for autumn leaves. The Sigulda castle even pokes out of all the foliage. It's fairy tale stuff.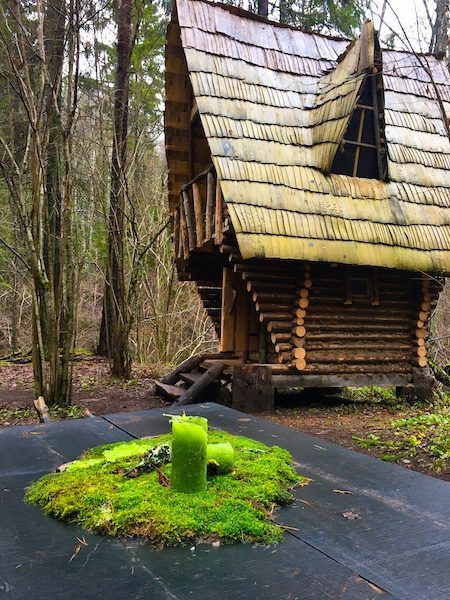 Cecili Nature Trail
One of the hikes I did in Gauja National Park was Cecili Nature Trail, which is actually on private land. But there aren't any No Trespassing signs around here; in fact, the owners of the land lovingly created and maintain a series of trails, structures, campsites, and even art installations on their land for all to enjoy on a donation basis. I was gobsmacked at the care put into these trails, and I merely skimmed the surface.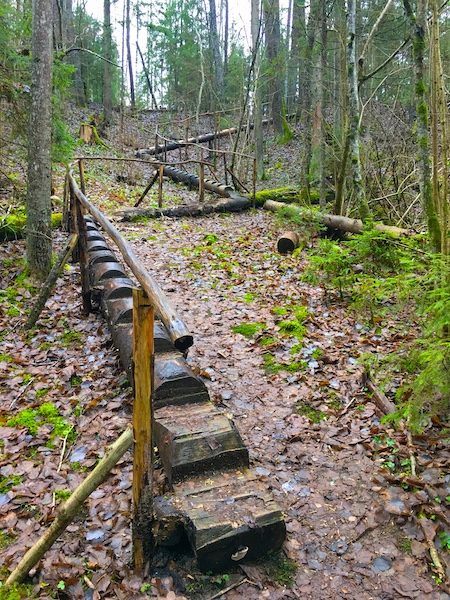 Amata Hiking Trail, Next to the Gauja River
Amata Hiking Trail, which follows along the Gauja river, is relatively popular. But being rainy and cold (close to freezing), we were the only people there. That said, I couldn't believe my eyes when a rubber raft cruised by on the rapids with three Latvians who I could only assume were magically immune to the freezing temperatures. This was the start of a burgeoning realization that many Latvians are generally a hearty – and adrenaline loving – bunch.


Get Your Adrenaline Fix – Sigulda Adventures
Those who have followed me for a while know that if it involves some sort of death-defying element, I'm likely to have done it, or want to do it. (I have almost 300 skydives under my belt, I've bungee jumped around the world including the world's highest – twice, I used to informally race motorcycles, I have mountaineering and caving experience…you get the idea).
So for people like me, Sigulda is the Latvian promised land.
Sigulda Adventures offers a cable car ride across the valley over the Gauja river…..that you can bungee jump out of. Alternately, you can zipline across the same river. Perhaps you'd like to try your hand simulating free fall at the Aerodium wind tunnel. If these activities are a bit super-charged for your taste, then you can rent e-bikes, go stand up paddle boarding, or try rock climbing.
Check out everything Sigulda Adventures offers here.
Bobsledding in Sigulda Latvia
If you want to kick your adrenaline repertoire up a notch, then bobsledding is for you. That's right – bobsledding, on a real bobsled/luge/skeleton track that Olympic teams from around the world train on.
But don't worry if you're not training for the next Olympics, you'll get your chance to go bobsledding on this track in a giant non-aerodynamic padded you-can't-possibly-mess-this-up sleigh for just 10 Euros. Even so, you'll hurtle down at 80 km/hour, and my heart raced as we careened through every corner, banking high up the sides.
Riding the adrenaline high for the next few hours afterwards, I entertained the idea of taking this up as a new sport, before remembering that I have an immense dislike for winter. Sill, I considered it.
Note: The ice track at Bobtrase operates from November to March and is open for visitors to give it a whirl on weekends. During the summer (from May to September), you can ride on sleighs with wheels (again, for just 10 Euros, and on weekends only).


The Latvian Sauna Experience
You'll get an entirely different kind of adrenaline pumping with a Latvian country sauna, which involves sweating profusely, being rubbed raw with salt, beaten with branches, and dunked in a near-freezing pond. Repeatedly.
This is what my research beforehand told me I'd be in for, so you might imagine I was a bit nervous for the experience. And yet, it ended up being a real highlight of my entire time in Latvia. Truly. I would do it all again in a heartbeat.
The Latvian Sauna is an event unto itself, and one that Latvians take very seriously. No description can do it justice; it must simply be experienced. It is a ceremonial ritual, a social event, and a holistic health protocol.
While Latvians generally do the sauna themselves (given that it's a family activity that children are initiated into at a very young age), those who aren't in the know are best in the hands of a "sauna master", who guides the process, and works hard – inside the sauna no less – to provide the ultimate healing experience. The sauna master customizes it for each person with different mixes of herbs in the exfoliation (I had rose petals in mine), and a special selection of branches and leaves for the "beating" – which isn't anywhere near as sadistic as it sounds – the leaves are soaked in water and are soft and delightfully aromatic.
Also, the cold water. I was probably most nervous about the ominous pond I had to dunk myself into. And yes, it was difficult to get into it. But it wasn't impossible, and in fact it was refreshing. You won't believe me until you do it yourself, so I'll refrain from further accolades of the frigid water.
Speaking with the sauna masters throughout the process, I realized that for them, this is a way of helping their "patients" connect with the spirits of the plants and land, but not in as woo-woo a way as that sounds. I saw parallels between this process and the ceremony of plant medicine I was trained in when I lived in Peru and Ecuador. And it's worth noting that after the three rounds of heat/cold, while laying on a special pillow outside, cocooned in blankets and listening to a nearby river flow, "trippy" is a very appropriate term for how it felt.
It's also a bonding experience. At the beginning of the three hour ritual, myself and the other three girls on my tour were colleagues who I'd only just met. But after hanging around together naked (you don't have to go naked, but really – it's best done so) and experiencing the whole sauna process together, we came out of the sauna fast friends.
Latvians aren't the only Europeans with a fierce love of saunas; the people of Finland have a nationalistic pride in saunas, and it is even said that the majority of business deals in Finland are conducted in the sauna. Now, I get it.
I had my Latvian country sauna experience while staying at the Spa Hotel Ezeri, and I highly recommend it. The sauna lodge is private, the pond is secluded, and the ability to experience it all in the gentle cradle of nature made it very special. The hotel also has a full range of spa-related facilities, and is a fantastic holiday destination unto itself.


Latvian Food
After eating at Malpils Manor just outside of Riga, Latvia, Jamie Oliver proclaimed Latvia to be Europe's hidden culinary gem. And given that Latvia is generally quite affordable, this gem won't break the bank either.
Latvian cuisine is a combination of foods and dishes from its various neighbours. You'll find Russian-inspired dumplings, nordic smoked fish, dark rye breads, beetroot soup, pork done every way, potato pancakes (in fact, potato done every way), cottage cheese, sauerkraut, pickles, and dill. Lots and lots of dill (which made me very happy).
I didn't try the bread soup or savoury bread pudding, both made from heavy rye bread, but both are considered Latvian favourites and home-cooked classics. I also didn't get a chance to try Latvia's national dish, which is "grey peas", made from dried peas similar to chickpeas, often stewed with caramelized onions and pork.
Latvia is a country of foragers, which stands to reason with 50% of Latvia being forest. So you'll find lots of dishes with mushrooms, berries, and herbs. I visited the award-winning Cremon winery (next to Krimulda Manor, an hour from Riga, Latvia), which offers about a dozen different wines, all made from locally foraged berries and flowers.
If you want a cheap way to sample lots of Latvian cuisine, check out Lido, which is a Latvian chain that serves cafeteria-style food. It's inexpensive, it's where the locals eat, and the food is good.
And if Latvian food doesn't float your boat, Riga has a number of contemporary and international restaurants to round out your culinary selection.


Get Some Amber in Riga, Latvia
This article is about reasons I want to return to Latvia, and one of the things I'd do on my return would be to buy some Amber jewelry. While walking through some artisan stalls in Riga old town, I saw a lot of what looked like different types of amber, but it was so cheap I thought it couldn't possibly be.
It was, and I later discovered that Latvia is known for it.


Fast Internet (Digital Nomads, Rejoice)
Latvia has the world's fourth fastest internet connection. This, I certainly did not expect.
Towns like Cesis and Sigulda are introducing co-working spaces that are attracting digital nomads to spend time enjoying these small towns with artistic and hipster cafes and vibes. Cesis has a medieval feel, replete with a castle surrounded by a park that hosts musical and artistic events. And with so many things to do in Riga, just an hour away, it's the best of both worlds.
The
Rose of Turaida (Turaida Castle)
What struck me most about Latvia was that it had an enchanting fairy tale vibe. While visiting Gutman's Cave (with multiple folkloric tales of origin) and later the Turaida Museum Reserve and Castle, our guide stopped us beside an ancient tree and told us a tale that had all the ingredients befitting of a Shakespeare tragedy, except that apparently, this tale was true.
It was the tale of the Rose of Turaida, which I'll summarize here.
Following a battle near the Turaida Castle in 1601, the castle clerk found a baby in the arms of her dead mother. He took her in and raised her as his own, naming her Maija Roze (May Rose). Partly due to her name, her location, and the breathtaking beauty she grew into, she became known as the Rose of Turaida.
Maija's suitor was Viktor, who was the gardener at the Castle of Sigulda across the Gauja river (that you can now zip line across or bungee jump over. Just saying). They became engaged in 1620.
Enter our villain, named Jakubowski; a Polish nobleman/soldier with a torrid past who also fancied Maija but whose affections weren't reciprocated.
Shortly before the wedding, Maija received a letter from Viktor, asking her to meet him at their normal meeting spot – Gutman's Cave – a bit earlier than usual. Alas, the letter was not actually from Viktor, but from Jakubowski, who was awaiting her there and planned to make her his bride whether or not she wanted it. Realizing she had walked into a trap, Maija showed Jakubowski her scarf and told him it was magic. She claimed it could make the wearer immune to injury, and that if he let her go she would give it to him. To demonstrate its magic, she donned the scarf and instructed him to strike her with his sword. He did so, and killed her in so doing, which was her plan so as to save her own honour.
Horrified at what he'd done, Jakubowski went off into the forest and hanged himself.
Shortly later, Viktor arrived to Gutman's cave at their usual meeting time and came upon his dead fiancée. Covered in her blood after taking her in his arms and having dropped his own axe at the scene of the crime, he became the prime suspect in her murder. Luckily he was acquitted, but it was little consolation for losing his true love and he left the country forever. Before doing so, he buried his betrothed near the Turaida castle and planted a linden tree on her grave – the same linden tree we were standing next to while we were told this story.
As we stood there, the rain masking a tear or two at this tragic love story, a couple came up to the modest grave of the Rose of Turaida and put some flowers at the base of the linden tree. Our guide said this is customary for couples and newlyweds to do, as a symbolic gesture and prayer that their own eternal love and devotion could be as strong.
Not surprisingly, the Rose of Turaida is now an opera, as I later discovered while walking through Riga and passing the opera house. I didn't have the time – nor enough tissue – to see it at the time, but I've added it to my list of things to do in Riga, someday.