I "met" Deborah Benbrook online in 2013 after she and her husband had been on the road for a couple of years. I was so inspired by her lifestyle that I featured them on my site for their skills in getting a variety of jobs along the way as they traveled. Then, in 2015, it seemed they'd turned a new corner in their lives and were living in Thailand rehoming street dogs with a local charity. So, in 2015 I published a Financial Case Study – this one!
Well, since then their lives have twisted and turned quite a bit, and they returned to the UK five years to the day after they had left to travel full-time. But that doesn't mean their lives are all settled and predictable; so I've asked Deborah to give us a full update. Read on to discover how their travel careers and wanderlust have followed them home in a sense, including some challenges they've faced along the way.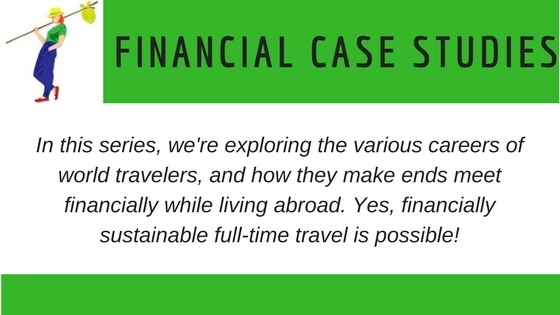 Where have you lived and traveled to?
2015: Travelled around North America, landed a job in Chile, then travelled around South America before getting another job. Travelled to NZ and worked there, now in Thailand and on second job in 2.5 years.
See also: How to Make Money While Traveling
2020: It was an amazingly rewarding role, re-homing dogs all over the world – some of which we still receive updates about. Sadly the charity where we 'worked' was not quite what it seemed and after 18 months we left. We were pretty much broke, had huge debts and a cat called Buff who lived nearby and had adopted us. He was unable to leave Thailand until all his paperwork and vaccinations had been sorted.
With no income and costly rent for a house and a car, we headed back to New Zealand while a friend looked after Buff. We couldn't bear to head home in the winter and had previously missed the NZ summer.
We were shocked to find that the visa we'd had in NZ previously allowing us to work, was no longer in existence – I guess we should have checked before we arrived! Again we were lucky to secure some cash work via friends and stayed there for three months, but we knew we couldn't stay in NZ for long.
We scoured job sites for a role back in the UK that included accommodation and secured a job helping to run a campsite whilst living on site.
It took us about 40 hours to return to the UK from NZ and we arrived to snow! We rented a house for a week through AirBnB and bought a car within 24 hours. We'd been paying for a storage unit for five years – three of which we had secured at a great price, the last two years the costs went through the roof, so we needed to empty it ASAP. Thankfully my mother-in-law had space for some of it and we sold some of it too.
We arrived to our new job at the campsite to find the caravan we were living in was very small, rather dirty, cold without a heater on 24/7 and despite having a loo, there was no running water. We were being paid less than minimum wage as we had free accommodation!!! We just kept telling ourselves that it was only for eight months, we could do this!
(Nora's Note: Oh my, I've been there! Not all free accommodation gigs are as great as they may seem at the outset. Check this article out for everything you need to know about getting free accommodation).
After six weeks, we both felt that it wasn't really working out, we were working less hours than had been promised and it just didn't feel right. But this was our home as well, so we felt trapped. Then we received an email from someone who we'd known in Thailand who was now in the UK. They had a huge house, a holiday cottage (aka another large house) and 250 acres of grounds – could we come and help them run the place for the summer? We'll pay you double and we'll pay the rent on a flat for you too. Erm…let's think about this for about a second…..OK, we'll start next week!
So we did this job for six months, cleaning the family home, holiday cottage, cutting the 250 acres of grass on a ride-on mower and loads of other random jobs. It wasn't all plain sailing, but we earned good money.
We knew the jobs were only temporary so we both started to apply for jobs. At the time we weren't sure where we wanted to live – we were 300 miles south of Leeds where we are both originally from, but there was something about Somerset that was a slower pace. Maybe we are getting older???


Please describe what you do for income.
2015: I rehome street dogs in Phuket to all over the world for Soi Dog Foundation.
2020: Darren secured a job as a trainee telecoms engineer, but I was finding it harder to find a role utilizing my skills. However, even though he secured the role in October (2016), he didn't actually start until June the following year! This left us in a pretty scary position, in fact we started 2017 being unemployed and filling in online forms to claim benefits on NYE.
It took me two years doing temp jobs such as stacking shelves at a supermarket, and payroll for the local police force (never done payroll before EVER).
I now work for ActionAid; a charity that works with women and girls around the world through child sponsorship. It's an amazing charity, I love my job, I get to write about the life changing work they do. I'm working on an innovation project so we can share even more of these fab stories.
Darren also loves his job as a telecoms engineer, increasing his skill set every year.


How many hours per week do you work on average?
2015: 40
2020: We both work 35-40 hours a week.


How much money do you make?
2015: £12000 a year with Soi Dog Foundation. I also sell my photography via stock libraries and this provides an income of around $500 a year.
2020: I still sell my photography through stock libraries, but it is getting harder and harder to make any money from it. I have about 5,000 images from my travels that I need to start to edit.
I have recently rented a space in a local artisan outlet – The Emporium Somerset – to sell my images, but it's early days so we'll see how that goes.
We both now earn a reasonable salary.
We moved our credit card debts to interest fee cards and are slowly making inroads into the debt. We are also saving to buy a house too.
(See also: Managing Your Money – A Guide to Financial Planning for Travelers)


Do you make enough money to support your lifestyle?
2015: Yes, just to stay where we are in Thailand.
2020: Looking back, we did not earn enough money to live in Thailand. The rent for our home was paid for by the charity, but our car that we rented was more than the house. You can only buy a car in Thailand if you have a Thai partner. If you were happy to eat out at the local restaurants every day, it was cheap, but anything else was quite expensive. Western sized clothes were also very expensive.
We had to do many trips to countries outside Thailand to secure our student visa (which was illegal to work on, but we did). Whilst the costs of the flight and visa were covered by the charity, we had to pay for everything ourselves first and claim it back. It all went on credit cards and then we got cash back.
We had set off with brand new passports, but all the stamps from the visa runs filled our passports up very quickly. It cost us over £500 to obtain new passports while in Thailand – again these costs went on credit cards.
We had travel insurance through World Nomads – they were the only company to provide us with cover as we didn't have a return flight home – this cost us £1000 a year – another cost added to the credit card. (See also: The Complete Guide to Travel Insurance)
All these factors added up to £12,000 worth of debt!


What is your vision for the future of your lifestyle on the road?
2015: My vision is to keep finding other work in other countries…if I don't stay where I am!
2020: Buff joined us in the UK in June of 2016. He was a little shell-shocked after his long journey from Thailand, but he's now very settled. He still loves the warmth of the sun and will join me sunbathing at any opportunity. He now has his own Facebook and Instagram (@buffthestcat) pages. I would love to write a book about his adventures – we thought of the idea before the book The Street Cat called Bob.
As we are busy saving to buy a home instead of renting and we have Buff, we've not strayed too far – it's been lovely to go on holiday, rather than travel. We do still use our rucksacks though! We also love exploring what is on our doorstep too. We've developed a passion for wine tasting and there are a few vineyards in the South West of England.
We have had an amazing five years, we have lots of memories and stories to tell. Best of all we have Buff. We are enjoying no longer living out of a bag or worrying about working illegally and love the stability of permanent jobs with paid annual leave, sick pay and pensions!
I was 40 the year we set off, spending my actual birthday at Machu Picchu, I've just turned 48 recently. We are happy to have good careers and secure futures.
Would I do it all again – without a doubt! Don't think about it too much, life is too short.