This year's holiday gift guide with best gifts for travel lovers is a comprehensive collection of stylish performance clothing (for men – for once! I used a fella to test drive some duds), multi-functional backpacks, health and sleep enhancers, custom travel insoles, airplane gadgets, internet hotspots, destination activities, and more.
And who says you need to buy holiday gifts for other people? If you're a travel lover yourself, you might have a hard time going through this gift list not getting yourself a holiday present too. 'Tis the season, I say.
Note: I received most of the items in this post for free in exchange for doing a review. I am 100% honest about my experiences, and as you'll read in some cases, I'm not afraid to say if something isn't a great piece of travel gear for one reason or another. If you make your purchase using some of the links in this post, I will receive a (deplorable, but still noteworthy) commission that will provide my holiday supper. For that, I thank you in advance.


Travel Clothing
Over the years I've featured mostly women's travel clothing or unisex travel clothing on my site (for obvious reasons). Well, huzzah. Today, it's about fellas. Enjoy!
Western Rise Strong Core Merino Tee –
Best Men's Clothing for Travel, Outdoors, and Office
Western Rise is a men's outdoor/travel clothing company – with a stylish edge that can seamlessly take fellas from the office to the mountains, and returning to their roots served them well in the last year. They've focused on and expanded their men's lineup and achieved some accolades in so doing, like Best Travel Clothing in Carryology's 2019 Carry Awards (this award was specifically given to their men's Evolution Pant).
Now, I'm not a fella. But I know one or two. So I asked one to test out their best selling tee: the StrongCore Merino Wool Tee.
If you're not already a stark raving fan of merino wool as awesome travel clothing, let me enlighten you. Here's why merino wool ROCKS:
When cotton gets wet (from sweat or rain or whatever), it can't keep you warm – in fact, it lowers your core temperature. Merino wool still keeps you warm, even when wet.

Merino wool is odor-resistant. It's like magic. You can wear your merino tee for an entire week (or longer) without smelling. My fella tested this theory – he wore it for a week straight and it passed my deep-inhalation-of-the-armpit test.

It's soft and delightful to the touch.

It's moisture-wicking and breathable.

It regulates your body temperature. A relatively light weight merino wool can still keep you warm, and also cool. (Magic).

It's easy to take care of. Machine wash on cold, hang to dry overnight. Done.

It lasts forever.

It's better for the environment. Some synthetic materials that have similar warmth and moisture-wicking properties also contribute to

micro-plastic pollution

.
Now that I've created a case for merino wool, let's look at how the Western Rise StrongCore Merino Tee fared.
My fella was initially impressed with the shirt's light weight and soft feel. He wore it on an especially hot summer day and went from outside-swelter to inside-over-air-conditioned-chill and was comfortable in both environments. He was also impressed with how quickly it air-dried after washing.
Style-wise, my fella is a little persnickety, and is accustomed to cotton t-shirts. The StrongCore Merino fit him a bit differently; it was longer than he's used to, and also a bit looser (while still being the correct size for him). He was also perplexed by how the wool got a bit fuzzy after a few washes. He thought it was lint! It's not. It's just the material; merino wool gets that way – unlike cotton.
On the whole, my fella adores this shirt, and it is always in his luggage, regardless of season or activity. He's not accustomed to spending $96 on a tee-shirt, but he also understands the value, and the fact that this shirt will likely last him a lifetime.
A few more reasons to shop with Western Rise: they practice sustainable manufacturing, and donate 1% of their profits to grassroots environmental non-profits. (Here's why/how I'm into all this environmental stuff).
Shop for Western Rise Men's Clothing Here. 
See also: Merino Wool Clothing for Travel: A Guide to Choosing the Best Brands


Performance Enhancers
I wasn't sure what to label the next three items in this holiday gift guide, but "performance enhancers" is an apt enough description. The truth is, if you're not on your game, your travel experience won't be as good. (Trust me). Stay ship shape with these:

FitMyFoot Custom Insoles
(formerly Wiivv) – Best Affordable Way to End Foot Pain and Foot Fatigue While Traveling
If you've read my post about travel sandals, you'll already know I'm a big fan of Wiivv's custom travel sandals for ending my foot pain, foot fatigue, plantar fasciitis, fallen arches, and more. Well, sometimes it ain't sandal weather, which is where FitMyFoot (formerly Wiivv) custom insoles come in.
I've been road-testing their original insoles for over a year now (and they're still going strong), and I was even a beta-tester for their newly redesigned insoles. I've used them in running shoes, walking shoes, flats, boots, and even heels.
Because let's face it: sometimes the shoes we want to wear when we travel don't offer the kind of support that travel demands. FitMyFoot's custom insoles are like orthotics, but for a fraction of the price and they interchangeably fit into almost any shoe.
You can order the 3/4 insoles (which are great if you sometimes wear shoes with pointy toes), or full sized insoles. I have the 3/4 size, and while I originally worried that I would feel the front edge of the insole, I was surprised that 99% of the time I don't feel a thing. Occasionally, depending on the shoe I've got them in (or the socks I'm wearing), I can feel it a bit. So I would say unless you wear shoes with a narrow toe box, then just order the full sized insole. But….don't let this stop you from ordering a 3/4 insole, especially if you do wear pointy shoes. I truly adore the versatility that my 3/4 custom travel insoles offer.
Here are some of the features of both sizes:
Shock-absorbing heel cushion to

reduce foot fatigue

Dynamic custom arch support to

distribute pressure and loading across the entire foot, reduce ankle rotation, and keep your whole body aligned

Multi-zone

cushioning

Deep contoured heel cup

Breathable fabric

Personalized design and colours (with your name on the bottom for a nice touch)
Ordering and creating your FitMyFoots are as simple as downloading their award-winning app and taking some photos which then digitally map over 200 points on your feet so FitMyFoot can 3D print your unique customized insoles. They ship within two weeks, and they have a 30-day satisfaction guarantee so if you're not pleased, you can simply return them for a full refund.
Shopping for a last minute gift for the traveler in your life? FitMyFoot also offers digital gift cards.
Want to learn more and see just how excited I am about FitMyFoot? Check out this video:
Order your FitMyFoot insoles (as well as custom travel sandals and gift certificates) here.


SleepPhones
– Best Bluetooth Headphones for Sleeping and Exercising
If you like to enhance your sleep with ambient music or binaural beats, then this baby is for you. Additionally, if you like to block out ambient noise that can disrupt your sleep while traveling, read on. If you like to run, or do yoga, also….this is for you.
SleepPhones are a unique headband-style of earphones that are perfect for sleeping! They connect to your device of choice using bluetooth so there aren't any cords to worry about, and the fleece (or lighter moisture-wicking material) headbands are super comfy.
I don't usually listen to music when I sleep, but I tried my SleepPhones out in two sleepy scenarios:
While visiting a place with a lot of ambient noise (that I normally would have used earplugs to block out).

During a period when I wasn't sleeping well so I could try out binaural beats in the hopes that they would help.
In both cases, the act of sleeping with the SleepPhones was divine. They were perfectly comfortable and didn't interfere with my sleep (and I sleep on my back, sides, and tummy so anything goes).
They didn't do much for blocking out ambient noise, however; in addition to my beats, I could still hear outside noises, just less. But that could have more to do with the placement of the little speakers within the headband; you have to fiddle with them a wee bit to get the positioning just right for your ears – the silver lining to this being that they can be a perfect fit for any size and configuration of head/ears. I will say that with the beats in the foreground, outside noises were of minimal disturbance.
Personally, where I think these headphones shine is their versatility between sleep and exercise. They're perfect for running, walking, yoga, dancing, and any situation where you want to listen to music on the move without disturbing anybody!
I like to do guided yoga sessions and exercise programs through apps on my phone, and earbud-style headphones simply don't stay in my ears when I'm bouncing around or doing downward dog. And sometimes (like when I'm staying with other people), it's not appropriate to blast music or yoga instructions through my phone's speakers. Enter: SleepPhones (also branded on their site as RunPhones).
Wondering what the difference is between the SleepPhones and the RunPhones? The internal components are exactly the same. The SleepPhones were originally designed with a comfy fleece headband, and the RunPhones use a moisture-wicking lighter fabric. But then they started offering moisture-wicking fabric for the SleepPhones as well to cater to "hot sleepers".
So….while the site is a bit confusing, rest assured, they're exactly the same. You simply choose the fabric for your SleepPhones and you're off to the races.
Learn more about SleepPhones here.


While Flying
Hurtling towards your destination in a cylindrical tube is efficient, but not particularly comfortable. Make your journey a bit easier with these travel tools!

The Airhook
– Best Tool For Tablets and Drinks While Maximizing Airline Seat Space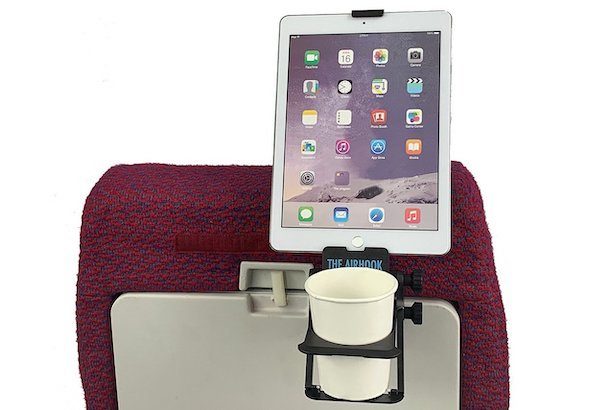 The Airhook has been around for a while. They even recently redesigned it, earning all kinds of accolades, including the 2019 Innovation Award For Best New Design For A Travel Accessory.
The idea is, instead of lowering your airplane tray table to hold your drink and your tablet/phone (thus compromising your seat space, and being a pain when you get up to go to the bathroom), The Airhook "hooks" over the top of your tray table in its closed position, and then holds your tablet and/or drink.
It's fully adjustable, holds a variety of devices from phones to tablets, and you can even use it on a flat surface (like a kitchen countertop) to hold your device up. And if you're not using an electronic device, The Airhook can hold your drink securely without having to lower your tray table.
There's even a vehicle support adaptor (additional accessory, sold separately) that's a spring-loaded crossbar allowing you to anchor The Airhook within the crossbars of a vehicle headrest (hello: mommies with kids in the back seat!) – or even your luggage handlebars (hello: long layovers!).
I think it's an absolutely awesome piece of travel gear, but it's also not for me. Why? Because I don't have a tablet, and I don't watch shows on my phone when flying (or ever). The cup holder is designed to hold cans or plastic drink cups, neither of which I use on flights because I don't do single-use waste. And while it's light and collapses to take up relatively little space, it's not entirely practical for ultralight or carry-on travelers. Lastly, I don't have a car, so there's no applicable uses there.
However, I'd say my biggest obstacle is the lack of tablet. If I had one, I'd likely be a whole lot more optimistic about The Airhook. There's a reason everybody else loves it; it's a pretty cool piece of travel gear. I gave mine to a friend who flies a lot for business (and he's also a bit rounder such that tray tables aren't always practical) – and he adores it.
Eustachi –
Best Tool for Unclogging Ears Naturally
You know that plugged-up feeling you get in your ears when you're descending in an airplane? You normally try swallowing, yawning, pinching your nose and blowing, or chewing gum to try and clear it – but that doesn't always work. Some people suffering from allergies, sinus problems or a cold might have this same feeling whenever cold and allergy season kicks in.
This is where the Eustachi (pronounced You-Stah-Shee) comes in. Eustachi is 100% natural and can be used anywhere, anytime. It works by simply blowing a little air up your nostril while you (plug the other nostril and) swallow, which exercises your eustachian tubes and clears clogged ears. Eustachi is the first of its kind, and is specifically marketed as a eustachian tube exerciser.
I met one of the founders of Eutstachi at a travel conference, and described how many flights are uncomfortable to downright painful for me, due to difficulties I have in clearing my ears on descent. I often look around in wonder that other people aren't suffering like I am. I also gave up scuba diving because of my immense difficulties in equalizing underwater – something which requires the same technique used to clear ears in the air: plugging your nose and blowing. More often than not, doing so plugs my ears up even more.
He gently pressed a Eustachi into my hand an assured me that my troubles were over.
I'd love to say it solved my problems…but it didn't. Just like the equalization exercise, the Eustachi plugged up my ears even more and I had to go back to yawning maniacally for 20 minutes to clear them.
But…..perhaps there's something to the whole technique of "exercising" of the eustachian tubes. Because while using the Eustachi didn't work on that first flight of the day, I noticed that on the second flight, I didn't have any trouble with my ears on descent. Coincidence? I don't know.
Dear Eustachi: It's not you, it's me. I think it's a delightfully gentle and natural way to clear your ears, and it can be great for children who might not be able to clear their own ears when they're plugged. However I'd say that if you can't clear your ears by plugging your nose and blowing (and I can't), then Eustachi won't be any more effective. It's also not great for ultralight travelers, and it requires AA batteries, which either means using disposable batteries (bad), or carrying around a battery charger (added space/weight).
Locate a store that sells Eustachi here.


At Your Destination
Okay. You packed your merino wool and supplements. You survived your flight with the help of The Airhook and Eustachi, and caught a few more z's with your SleepPhones. Now it's time to make the most of your destination.
A mobile WiFi hotspot (also called MiFi) is a portable device that fits in your pocket and harnesses global cellular data to give all your devices (cell phones, tablets, laptops – up to 16 devices at once!) a WiFi internet connection, regardless of where in the world you are.
With KeepGo, you buy your mobile hotspot ($99) and then buy data on a pay-as-you-go basis. While the data may not seem cheap at first blush, they recently reduced their rates, and the more data you buy with KeepGo, the better the deal (eg: 1GB is $26, and 5GB is $88). The data you buy never expires, so if you have data remaining from one trip, you can use it on your next trip; you do need to top up your data at least once per year however to keep your account in good standing.
It's also exponentially more secure than using a hotel/cafe/public WiFi connection; even if public WiFi is password-protected, your data is vulnerable to anybody else who is – or ever has been – on that connection. With KeepGo's mobile WiFi hotspot, you are your own private connection with your own password that nobody knows. Thus, it's not necessary to use your VPN with KeepGo. (Though a VPN in general is an absolute must; here's why).
The KeepGo mobile WiFi hotspot is best for people traveling with partners and/or friends, since one hotspot works simultaneously with multiple devices, and then the expense of the hotspot and data can be shared. That way, it's often cheaper than each person having their own data SIM card or other form of local cellular data. (If you're curious about your options, here are all the different ways you can use your cell phone while you travel).
KeepGo is even more effective in areas where the local WiFi is dodgy (as has been the case for me in parts of Central and South America, Southeast Asia, India, and Indonesia).
Here are just a few of the unexpected uses I found for my KeepGo WiFi hotspot over the course of this year:
When I checked into a fancy hotel that charged $16 USD per day for internet, I said "no thanks!" and used my hotspot.

When I visited a friend's cottage and we both used the hotspot to get some work done.

When I took an expedition cruise around Newfoundland and didn't want to pay for the expensive on-board internet.
My biggest complaints about KeepGo are the cost of data (there are cheaper – though perhaps less convenient – ways to connect while abroad, especially if you're traveling solo), and your IP address with the hotspot might mess with email logins and such (which could be flagged as suspicious logins and shut down until you verify that it was you).
But for a convenient and reliable way to connect up to 16 devices to the internet while traveling, KeepGo has earned a place in my luggage. They also offer international data SIM cards and smartwatch SIM cards.
Shop for KeepGo Hotspots here.


Let's Roam
– Best App for Self-Guided City Scavenger Hunt Tours
"Explore any of our 300+ cities on a two-hour scavenger hunt adventure! Walk to all the best landmarks and hidden gems, answering trivia questions and solving challenges through an interactive app," says the Let's Roam website.
Let's Roam is an app that is not only a way to discover a new city when you travel, but even more so, it's a fun way to discover your own city with their themed hunts for Bachelorette Parties, Ghost Tours, Birthday Parties, Team Building, Date Night, and more.
Personally I'm a big fan of walking tours in cities as a way to get a feel for a place; Let's Roam is a different take on the walking tour concept. However, that's also where the similarities end, for better and worse.
I tested out Let's Roam in my home town (Toronto) along with my boyfriend, who was new to the city. We both learned a few new things in our interactive afternoon of tramping around downtown Toronto.
The process is simple. You download the app, find a hunt you want to do, buy tickets (one for each person participating), and go – whenever you want.
Each person chooses a "role" that dictates the kind of challenges they'll get – like Brainiac (who answers trivia questions), Photographer (tasked with an evolving list of things to find and photograph), Explorer, and more. Regardless of the roles you choose, the whole team will have Location Challenges (eg: find this random plaque to answer the question/task), Photo Challenges (eg: pretend to be a guard on the steps of the courthouse and take a picture), and Trivia Challenges (self-explanatory).
Once at your starting point, you'll receive clues guiding you to the next destination in the hunt. There's a map with a circle covering a fairly large area (three or four city blocks, squared) so you don't stray too far in the wrong direction. Once you reach the site you'll get some challenges, learn some cool facts, and receive clues for your next site.
Each hunt has an estimated amount of time that it will take (usually in the 2-3 hour range), but the pace is ultimately up to you. If you're super-competitive, you'll want to hustle so you can get the best score of everybody on Let's Roam who has ever done that hunt.
I do have a few bones to pick with the app, from a traveler's perspective.
The writers of the app (understandably) have not visited all the cities. One of the locations we were to find included the "Toronto Domino" centre, complete with cutesy references to dominos. It's not the Toronto Domino centre, and the place has nothing to do with dominos. In real life, it's called the Toronto-Dominion Centre, and it's the headquarters for a bank. This unfortunately made me question the validity of anything I "learned" for the rest of the hunt.
Let's Roam is also a data-pig; you must have a data connection to use the app, which if you're traveling in a foreign city/country might be a limited resource. We each used about 500mb of data during the hunt, which is quite a lot if you're buying data by the gigabyte. (The KeepGo WiFi hotspot could be an option for the whole team to share a connection). Click here to see all your options for getting data with your cell phone when you travel – regardless of whether your phone is locked or unlocked).
Some of the challenges were also a bit silly; my boyfriend chose the Photographer personality, and was tasked with taking some pretty silly photos and videos (which was likely responsible for a good chunk of the data consumption). I don't mind being silly, but after a while we were over it. That said, I could see a family with children loving it.
I'm not sure how this would go in a foreign city. Knowing Toronto like the back of my hand, we still struggled to locate a few of the sites, nor was the list of sites anywhere near a comprehensive collection. Had we both been tourists, I think the hunt would have taken a lot longer than the predicted two hours.
Lastly in terms of my criticisms of Let's Roam, I don't think it's for solo travelers. This is a team activity. You'd learn a few things while wandering aimlessly, but my advice if you're going solo is to find a guided walking tour and acquaint yourself with your destination that way.
All that said, I think Let's Roam is a fun afternoon activity for a small group of people. It's great to do in your home town not only to learn a few new things, but also to see your proverbial backyard with fresh new eyes and wonder; which creates a deeper appreciation for everything.
See Where Let's Roam Roams Here.


Still looking for Travel Gift Ideas?
Check out my Travel Gear Archives for plenty more inspiration.
Also, you can't miss my Ultimate Packing List for Full-Time Travel, which includes everything I take on a long-term trip.