This is the last installment of my mammoth series about the Indian Pacific train, which is part of an 11,000km train journey I took across Australia – and back again. My mission: to see if spending eight days on a train could inspire boredom. So far, no luck. Let's see what the last two days holds…
This post was originally published in 2011. It has since been updated for accuracy of links and content.
I received a complimentary pass from Great Southern Rail for this journey.

Just Landed Here? Check out the previous instalments to this EPIC series about the Indian Pacific Train:
Part One
Part Two
Part Three
Part Four
Part Five


DAY SEVEN
A breakfast of baked goods is delivered to my cabin at 6:10am, since there isn't enough time before our arrival in Adelaide for a full breakfast to be served. Quite frankly at 6:10am, even the baked goods in front of me aren't doing much for my non-existent appetite.


Whistle Stop: Adelaide
Having already been to Adelaide a few times before, and seeing the early hour of our stop, I take advantage of the time I have off the train to walk into town for exercise, and camp out at a McDonalds for free WiFi.


Back On Board
Once again, the crew changes over, since all of Great Southern Rail's train crews are based in Adelaide. I've shared the last five days with this crew, so it feels odd to be saying goodbye to them. But because I've been on as many Aussie trains as I have, I recognize the hospitality manager from my journey on The Overland the month prior.
There are also quite a few extra cars added to the train in Adelaide. This is in preparation for the annual Indian Pacific Outback Christmas journey, which begins in Sydney and will carry famous Australian musicians and entertainers across the country. In the spirit of Christmas, these performers give free concerts to remote communities located along the rail line between Sydney and Perth, and this is the 10th year for the tradition.
This year the Indian Pacific Outback Christmas trip is even more special, as the Indian Pacific Train is celebrating its 40th anniversary. In fact, the train is now so long in preparation for the onslaught of passengers boarding in Sydney, that it's too long for some station platforms, and subsequent whistle stops are done in stages.
"Mind if I join you for lunch?" I ask a table of three. With tables seating four on the train (and rarely a party of four traveling), passengers are expected to mingle for meals. It's one of the highlights of traveling in Gold class for me, since it's a chance to converse with so many diverse people over a nice meal.
"No," comes the surly response of the elderly lady at my elbow. Although she could mean "No, I don't mind", I'm distinctly left with the impression that I'm not welcome at the table.
Shot down, I move to another table, but it turns out I can't sit there either since their empty seat is waiting on somebody. With all the eyes of the small dining car on me as I try to find a table that I'm welcome to join, I'm feeling a little ostracized and isolated. But as this is an isolated dining car incident, I try not to pay it much heed.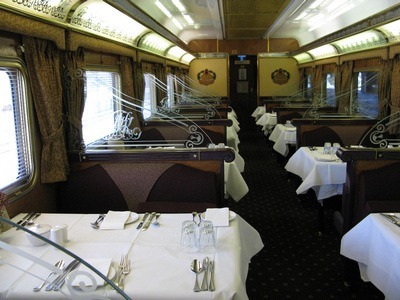 I end up eating a lackluster lunch with a retired couple with whom I can't seem to find any common ground. The train was very bumpy last night, and with our early arrival in Adelaide this morning, I think everybody is under-slept and a little out of sorts.
Throughout this trip, I've been quite industrious in getting lots of writing accomplished. But today, I feel brain-dead, and instead I pass the afternoon listening to music and staring out the window. It's bliss.


Whistle Stop: Broken Hill
For the first time in my experience with Great Southern Rail's long-distance trips, we are late arriving into Broken Hill. Being late isn't actually as surprising as how often we've been on time. I've come to expect delays with long-distance trains (at least in North America, where train travel isn't down to a fine art as it is in Europe). So for this to be the first delay – and at that only by an hour – is actually quite impressive.
Given my brain-dead state, our abbreviated stopping time, and my having visited Broken Hill a few times already, I do nothing more with this whistle stop than go for a brisk sunset walk.


Back On Board
I don't know if it's the fatigue from a shoddy night's sleep, or if I've spent too much time on trains, but my mood is swinging. My lunch experience put me off being social, so I hide out in my cabin, reading and snoozing until dinner.
When I arrive at the dining car for my last dinner on the Indian Pacific, I've already singled out my dinner companions; a very young pair of guys who appear to be brothers. I've seen them on the train since Perth, but we've not had a chance to chat, and I'm curious what their story is.
I learn that they are indeed brothers, one of whom just graduated high school (the other of whom is 24 years old). They've both saved up their money for this trip which is a graduation celebration. I'm impressed that they've managed to save up the money for a trip like this, in Gold class no less. They're already talking about their next trip together – which will be on The Ghan. Despite their awkward shyness, I'm glad I get a chance to eat with them.


DAY EIGHT
As much as I enjoy sleeping on trains, I must admit when I awake that I'm really looking forward to sleeping in a bed that's not in motion.
Initially, sleeping on trains (in beds) was exciting and different, and indicative of a big trip (which implies big adventure in my books). My first taste of getting horizontal on a train was when I traveled from Toronto west across Canada in 2007. The canter of the train and perpetual motion was like a lullaby, and as far as I'm concerned there's (still) nothing like waking up in the morning and simply lying in bed watching the world roll by outside the window while consciousness slowly sets in.
But now, after a solid week on trains (with a one night respite in Perth), I'm coming to understand the conversations I've had with train employees who speak of needing a full day of sleep to recover from many trips. It has much less to do with their working hours (my initial hypothesis), and much more to do with simply not sleeping well on trains. For a few days, it's barely noticeable. As a lifestyle though, I would struggle.
I eat breakfast with Richard and Jack again; they're looking a little worse-for-wear as well. We discuss the layout of various cabins, and where (and how) the employees sleep.
"How do you sleep?" Richard asks the woman serving us breakfast. He is actually referring to the orientation of the beds in the employee quarters, but his question is understandably mis-interpreted.
"Honey," she begins, "If you don't sleep, we don't sleep either," she says with all the fatigue of somebody who hasn't slept. Her answer also comes quickly (and wearily) enough that it's apparent she gets asked this all the time. "A lot of it has to do with the tracks. If it's a bumpy ride, nobody sleeps well. Stuff vibrates in the cabins, and we all have bits on us that wobble. Each of us has our tricks, but there's no one solution. I like to sleep on my tummy."
This is our last meal on the train, and we are chugging through the Blue Mountains outside of Sydney. I am particularly excited for this morning, as I was told on The Ghan by an employee that one of his favourite routes is the Perth-Sydney route, because waking up to the sun coming up over the Blue Mountains is magic.
Unfortunately, it's raining! However between raindrops, we admire the layers of fog playing in the hills overlooking the small mountain towns.
The rain is somewhat indicative of our collective mood at the breakfast table too. As much as we are enjoying (and have enjoyed) each other's company over the last few days, the end is in sight, and it's the end of a long journey for everybody. We talk about where we're all going next, we take some pictures, and exchange contact information.


Coming to an End
I'm feeling especially melancholy, since this is the end of not only a journey that is twice the length of what most "normal" people do (since I retraced my steps from Perth back to Sydney), but it's also my last train journey in Australia. In just over a month, I've ridden almost 16,000kms of rail in Australia, including The Ghan (Darwin-Adelaide), The Overland (Adelaide-Melbourne), The Indian Pacific (Sydney-Perth-Sydney), The XPT (Melbourne-Sydney-Melbourne), and various Country Link journeys to and through small towns including Seymour, Canberra, and Aubury.
And I haven't even come close to seeing it all. There are train journeys up to North Queensland from Sydney, across to various outback towns from the east coast, and Great Southern Rail also runs the Southern Spirit: an exclusive all-inclusive 6 day/5 night trip from Adelaide to Brisbane (through Melbourne).
As I step on to the platform at Central Station in Sydney, I wonder what will be next, and when I'll again find myself on a train journey of such grandeur. Will it be the Blue Train in South Africa? Or the Trans-Siberian in Russia? The Toy Train to Darjeeling? Or the Via One across Canada (this time east from Toronto)?
I'm not sure which train trip will be my next, but I do know that despite my fatigue, and despite spending eight days solid on a train, I didn't experience even one fleeting moment of boredom.
So in a way, my mission as set out in the beginning of this series has failed. I've tested myself, my endurance, and my patience for long-distance train travel, and I've surprised myself in not reaching my wit's end sooner. Instead, I emerge from the experience with a new handful of friends and contacts, a bevy of stories and anecdotes, dozens (nay, hundreds) of pictures, and a lifetime of memories.
Aah – I love train travel.