I had but a mere 24 hours (26 to be exact) to enjoy Perth, between getting off the Indian Pacific train from Sydney, and getting right back on it the following day to return to my point of origin.
"Why aren't you staying in Perth for longer?" was a question I often fielded in describing this epic eight-day train journey during which Perth was but a brief intermission.
"How long should I stay in Perth?" I'd reply.
"Well, I don't know, but longer than 24 hours," would be the (completely fair) response.
Granted, yes. 24 hours isn't long enough to get a true sense of a place, especially for a slow traveler like me. But had I planned on spending a week in Perth, people still wouldn't have been satiated; instead I'd have been asked why I didn't go down to Margaret River as well.
And if I'd planned on two weeks in WA visiting Perth and Margaret River, I'd be asked why I didn't also take a trip up the rugged coast to experience a slice of the expansive Western Australian outback.
So my response to all this was simply that I don't have time to see everything and do everything (at least this time around). I have to pick my battles, and this particular trip to Australia was about riding the rails. So that's what I did – and did quite well, I might add – with The Ghan, The Indian Pacific, The Overland, and numerous CountryLink routes under my belt, totalling over 16,000kms.
My battle having been chosen, I had to accept that my time in Perth would be brief, and that ultimately I'll just have to return to Western Australia another time to more comprehensively visit the area.
Luckily, a fellow travel writer (Amanda) who I've known online for years lives in Perth, and invited me to spend my day in Perth under her wise guidance and generosity. Once again, I revelled in how amazing it was to turn an online friendship into a tangible one; such a fulfilling experience.
This article was originally published in 2011, and has since been updated for accuracy of links and formatting.


Perth in 24 Hours
My train arrived in Perth on a Saturday morning, and after a flurry of text messages describing what we were each wearing(!), Amanda and I spotted each other on the platform and gave each other a big hug.
"Right. So what do you want to see while you're here?" Amanda started as we climbed into her car.
"I would be delighted if you showed me your Perth," was my response. I love playing tour guide to people as it allows me to see a place with fresh eyes, which can be an uplifting experience. I hoped that today would do the same for Amanda.


Kings Park
Our first stop was to take a stroll through and have lunch at Kings Park, which overlooks Perth and is the largest inner city park in the world. ("Large" being a theme we would revisit later in the day. Aussies – especially those in Western Australia – don't do things in small measures).
Full of various memorials and with tracks through well-landscaped native bush, Kings Park is certainly a jewel for Perth's crown.


Suburbs, and The River
For part of the afternoon, Amanda took me back to her home in the suburbs where I met her husband and spent some time playing with their beautiful baby boy. At one point in our drive through the city, we took a wrong turn (which I'll take credit for as I was distracting Amanda with irrefutably riveting conversation, I'm sure).
All of a sudden, we were on a large bridge that goes over Swan River (a wide river that was full of various boats and an evidently loved resource for outdoor enthusiasts).
"Whoops," said Amanda. "We're headed South of the River. I'll have to turn around."
"What's south of the river?" I asked.
This was more of a loaded question than I had anticipated. Apparently the river which runs through Perth is a line of demarcation between North of the River (also referred to as NOR), and South of the River (SOR). And interestingly, people from each side tend not to mix. Neither side of the river is necessarily better or safer; it's simply the "other side", to which you just don't go.
"I dated a guy from SOR once, but of course it didn't work out," Amanda said matter-of-factly in regards to the reality of fraternizing with Perthites from the other side.


Leederville
Next up, we hopped on the train to Leederville, where we checked out the Oxford Street Market (on every Saturday from 9am-4pm), and soaked in the café culture of Oxford Street with an iced mocha.

The Beach
My only request for the day was to dip my toes in the Indian Ocean. And Perth is a very long narrow city (over 100kms long) due to a universal desire among residents to be close to the ocean, so this was not a difficult request to fulfill. We enjoyed a beautiful sunset stroll along a local stretch of beach that had no more than a dozen other people.

Hillary's Boat Harbour
We decided to have dinner at Hillary's Boat Harbour, formerly not much of a draw-card but now a popular spot for both locals and tourists, with scores of eclectic shops, restaurants, and even a small amusement park to keep the kids entertained.
We had expected the place to be busy (especially it being Saturday night), but the crowds here were way thicker than either Amanda or I had anticipated.
We soon realized we were blessed this night. We got some Japanese takeaway and sat down on one of the few available sections of bench overlooking the wharf. And no sooner than we dug into our noodles, did the reason for the thick crowds become apparent: we were in for the largest fireworks display in Western Australia, and we coincidentally had the best seats in the house!
As much as Amanda tried to convince me that she had personally arranged the fireworks to celebrate my arrival in Perth, I had a sneaking suspicion there was more to it. And indeed there was: as the closest Saturday to December 1st, tonight was a celebration of the "Launch of Summer".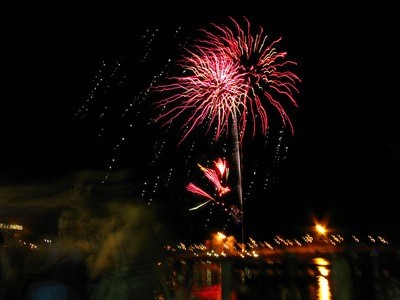 Amanda and I both felt pretty good about our day in Perth. We enjoyed lots of time gabbing while wandering around and lunching at Kings Park, we put our finger on the pulse of Leederville's hip café scene, enjoyed a classic Western Australian sunset on the beach, and took in the largest fireworks display in WA while people-watching at the boat harbour.
All in all, a pretty good 24 hours in Perth, if you ask me.
Things to Do in Perth
Check out my Travel Lifestyle Guides for more ways to earn money remotely, spend it wisely, and balance the two so you can travel as long as you wish, in a financially sustainable way.