I fell in love with Peru long before I visited; and my love of the place only continued to deepen while I spent three months living in the Sacred Valley, near Pisac. So I'm going back for more….to set up shop and live there for a while.
This post was originally published in 2014. It has since been updated for accuracy of links and content.


I Knew it Before I Knew it
Shortly after arriving in Peru, I was walking with a friend, and saw a property that called to me. There were two houses on the property; one larger house that I was told was occupied by the owner (who was out of town at the time), and a smaller house nearby. I was inexplicably mesmerized. I asked my friend how much the owner charges to rent out the smaller house.
"He doesn't rent that house out," was the reply, so I put it out of my mind.
A few weeks later, the property owner returned, and we met a few times, eventually becoming friends.
One night, I awoke mid-sleep, and sat bolt upright in bed. It was as if my friend (the property owner) had called my name. I was sure he had a message for me; sure enough to go out on a limb and ask. So the next day I wandered over to his place.
"Do you have a message for me?" was my opening line, without explanation as to why I was asking such a random question.
"Um…eat more greens?" he replied.
This wasn't exactly the message I expected. I chucked my dream up to 'one of those things' that we can't explain, and forgot about it.
But as serendipity would have it (quite similar to the serendipity that brought me to Peru in the first place), over the ensuing months I developed a deeper friendship with the property owner, and, despite the fact that he doesn't rent out the house that caught my eye and imagination, he offered to rent it out to me.
With a dose of hindsight, I can't help but think that this odd sequence of events was part of a greater scheme that played out. This sort of magic isn't uncommon in the Sacred Valley of Peru, and is part of the sense of mystery that has enticed me to return.


How long Will I Stay?
When I tell people I'm going to live in Peru for a while, the first question they ask is how long I'll stay. My answer: I don't know.
After traveling full-time for eight years, I've had a chance to set up shop in a few places; I lived in Australia on and off for 18 months, New Zealand (on and off) for nine months, and Grenada (again, on and off) for two years.
In all three cases I used these places as a base for other travels – something that, regardless of how much I ever "settle down" (oh gosh I dislike that term), I can't see myself hanging up my traveling shoes completely.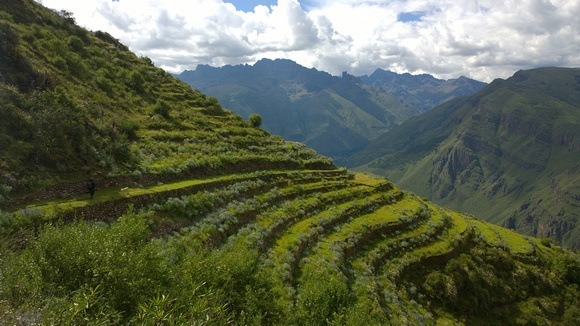 Benefits of Cultural Immersion
I love living around the world (rather than merely passing through it); as much as that place may provide the sense of "home" that I crave in the moment, it also feels like a new world of discovery every time I step outside my front door. It's the perfect balance for chronic wanderlust.
So for now, my next home base is going to be Peru.


For Now?
Yes, for now. I don't know how long Peru will feel like home, or when the next amazing place I want to live in will cross my radar.
I could stay in Peru for years. Or…it might just be months.


Home is a Moving Target
"Home" doesn't need to be a giant proclamation of permanence; for me, it's simply a place that feels good enough to call home for as long as it feels good, it's safe and secure, and there's something to be gained from being there.
What will I gain from my time in Peru?
Only time will tell. Stick around, kiddo.


Update 2017…Spoiler Alert: It Was Great While it Lasted
This homeowner from whom I rented this house was also a shaman who ended up becoming my teacher with whom I apprenticed for almost two years. Sadly though, it didn't last, and I closed the door to my beautiful Sacred Valley home mid 2016. Here's more on my adventures in shamanism, which took me beyond Peru and into Ecuador: Learning to Be an Ayahuasca and San Pedro Shaman