There is no doubt that the world is changing in the wake of the pandemic. Many countries are seeing a growing trend toward remote work and nomadic living. Because there are so many newcomers to the nomadic community, now is the perfect time to highlight some of the many coliving and coworking options out there. This article will introduce you to the programs available and help you find the best coliving coworking programs for remote workers and digital nomads to travel, live, and work together.
See also: The Ultimate Packing List for Full-Time Travel
Need a Remote Job or Online Career? Click here.

Want to attend a Digital Nomad Conference and level up your lifestyle and career? Click here.

Booking Accommodation? Here are 17 Alternatives to AirBnB for Digital Nomads

Just looking for a coliving space? Check out these locally-managed coliving spaces around the world.
Some of the programs in this article also offer retreats for digital nomads – which are more structured events to help you with a combination of networking, mastermind, unplugging, surfing, and more.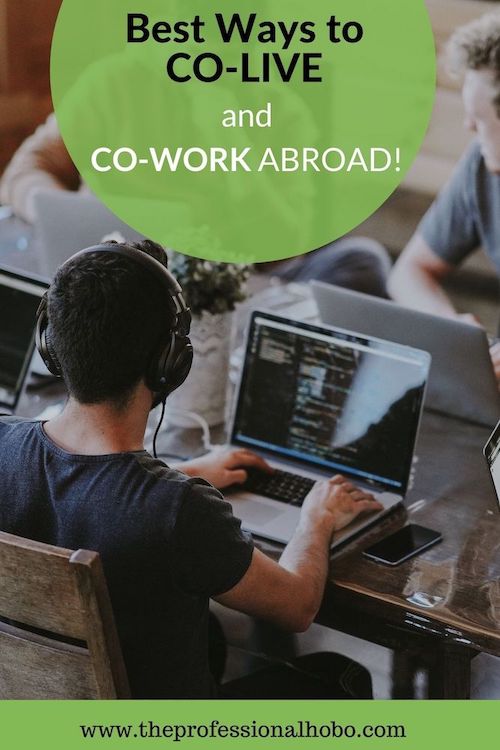 If you click on the links to some of the programs below, I may earn a commission if you end up signing up and using their services.
Since you probably won't be ready to sign up right away, please bookmark this article as a resource to come back to, so it's here when you're ready to roll! Your support in doing this helps me greatly in keeping this website going and generating useful content for you.
In some cases I have negotiated special discounts for you as well. Enjoy!


WANT TO CUT TO THE CHASE? Click on any of the names below to skip to it:
Remote Year

Hacker Paradise

WiFi Artists

WiFi Tribe

Selina

Outsite
Remote Work can be Lonely, Especially When You Travel
As we move away from the standard brick-and-mortar workplace, several problems arise. Consistency in connectivity is a major limiting factor. What about the value of "water cooler talk," both from a social and professional perspective? Ideas are stove-piped, productivity is stymied, and solo travel can get expensive. We need collaboration. We need cooperation. Most of all, we need a support network of like-minded people.
Note: Chris Dyer pleads an excellent case for how remote companies can have an even better and more productive company culture than brick-and-mortar companies (learn more about that here). But there's no substitute for good old fashioned in-person communication when it comes to satisfying our basic human social needs.
This is something I learned the hard way. I traveled the world full-time for 12 years (I've been a digital nomad for 16 years to date, but the last four years I have had a home base). Because I started in 2007, when remote work wasn't commonplace and terms like "digital nomad" had yet to be coined, I lived locally around the world, house-sitting, volunteering, and renting places of my own.
This was fantastic from a cultural perspective, but a constant battle in being surrounded by people who didn't understand my lifestyle, remote career, or motivations for travel. Trying to explain that I am not on vacation and that I am in fact balancing work with travel as a way of life was an uphill battle, and after over a decade of being an anomaly that nobody understood, I lost all sense of belonging and grounding.
This is why the programs outlined in this article exist. Can you travel the world and find your own places to stay for less money? Absolutely. But remember: you are paying for community as much as you are paying for a place to stay and work.


Coliving and Coworking
The innovative concepts of coliving and coworking have emerged to fill these gaps.
Coliving generally entails having your own room and bathroom, with common area spaces being shared with other digital nomads. The shared accommodations of coliving spaces provide countless benefits, ranging from cheaper rates on often luxury accommodations, to bringing strangers together to share experiences and ideas.
Coworking spaces are all about productivity. They provide the internet connection, professional equipment, and dedicated workspace for remote workers to use at their leisure.
Coliving and coworking facilities are vital to the growing nomadic movement! So, let's learn about some great options.


"Done For You" Coliving and Coworking Trips
If you work remotely, want a community of like-minded people to live/work/travel with, and you don't want the hassle of researching and booking accommodation, flights, coworking spaces, and more – then these programs are for you.
If you're price conscious and wondering why you would do one of these programs when you could book your own flights and find your own accommodation and coworking spaces for less money, remember: there is huge value in having this work done for you, and even more so in the community aspect. After living, traveling, and working together with your co-participants, you'll have a close-knit group of lifelong friends – and future travel companions.
To be honest, after all those years of full-time travel where I did everything myself, I burned out of the lifestyle, in large part because I had no sense of community. I often wonder how differently things might have turned out if I'd shelled out for one of these programs.


Remote Year
Remote Year is considered the OG coliving coworking program. It's a turn-key platform that provides everything you need for remote work and travel. Each tier has multiple departure options, so you can pick the best time of year to go for you. They have a separate "retreat" program that is fairly new; what they're most known for are their trips and year-long journeys.
I have spoken to multiple Remote Year alumni, and they all cite their Remote Year experience as being life-changing. The Remote Year "Journey" programs are all-inclusive (save for meals and excursions).
Choose between four regions—North & South America, Europe & Middle East, Africa, or Asia Pacific. If you participate in the full 12-month program, you will cover all these regions.
Here's how Remote Year works:
Pick your preferred package
Go through an interview process to ensure you are a good fit
Travel the world with new friends
Join the Remote Year Alumni community on Slack and connect with other participants and programs
Each trip is different, but you will get the same dedication and support wherever you go.
What's included with Remote Year
Remote Year
1-month programs
4 & 12-Month
Curated Journeys
Reliable Workspaces
✔️
✔️
Community Experiences
✔️
✔️
RY Hub Program Group
✔️
Accommodation
optional
✔️
Leader & Local Team
✔️
✔️
Supportive Community
✔️
✔️
Flights & Transfers
✔️
Remote Year coworking spaces
Remote Year workspaces come complete with high-speed WiFi, dedicated areas with desks, bookable meeting rooms, and phone booths. You will find a mix of local residents, entrepreneurs, and foreigners busy at work. These workspaces are conveniently located within walking distance of your accommodations, cafes, restaurants, bars, and points of interest.
How much does Remote Year cost?
Remote Year programs vary in cost depending on the length of your program. Each destination is priced (and charged) at a per-month rate and requires a down payment at the time of booking.
Trips (1 month, 1 country): From $549 (not including accommodation)
Journeys (4 months, 4 countries): $12,000
Journey (1 year, 12 countries): $32,000
Coliving and traveling with the same crew
Something that sets Remote Year apart is the group aspect. You will be spending the duration of your trip with the same people, which is fantastic for those looking for a tight-knit community. Also, with Remote Year, your monthly rent includes your room and board, workspace access, and immersive global experiences.
It's all done for you, which allows you to focus your time and energy on getting work done, and experiencing your destination at hand.
Transforming remote workers into thriving digital nomads, WiFi Artists offers a distinct approach to remote work and travel. Their thoughtfully chosen accommodations are located near prime local attractions, providing an enriched cultural immersion. The program includes optional excursions and activities, enabling participants to amplify their nomadic experience. Each destination presents its own unique cultural experiences, diversifying the way you perceive work and life.
Click here to learn more about and sign up for Remote Year.


Coliving Programs With Changing Locations and Specific Dates
This section is for coliving and coworking programs that have a variety of different locations to choose from throughout the year. For example, they might be in X destination for a couple of months, and you have three arrival dates and lengths of stay to choose from.
Although you can piece together multiple month-long programs in various destinations, your transportation between locations won't be included.

Hacker Paradise
Hacker Paradise offers "community-based travel for remote workers with an adventurous spirit." At any given time, Hacker Paradise has locations in one to three different destinations around the world for you to choose from.
How Hacker Paradise works:
Submit An Application & schedule a time to chat with the team.
Pick Your Paradise. Decide which destination you'd like to join in and when.
Confirm Your Spot. Pay for your first month to secure your reservation.
Join the Community! Pack your bags and meet your new friends!
What's included in Hacker Paradise
| | | |
| --- | --- | --- |
| Hacker Paradise | 2 wk | 1 mo |
| 1-2 Kickass Community Facilitators | ✔️ | ✔️ |
| Packed Program | ✔️ | ✔️ |
| Private room w/ Cleaning | ✔️ | ✔️ |
| Coworking Space | ✔️ | ✔️ |
| Skill Shares & Reciprocity Rings | ✔️ | ✔️ |
| Worldwide Network of 1,000+ Members | ✔️ | ✔️ |
| Monday Lunch | ✔️ | ✔️ |
| Local Sim with Data | ✔️ | ✔️ |
How much does Hacker Paradise cost?
The price for a Hacker Paradise trip depends on the location.
2 weeks: $1,690-$2,990
1 month (4 weeks): $2,190-$3,590
Pro Tip: You can save by sharing a room with a friend or significant other!
Coworking, coliving, and local community activities
Each trip intentionally connects you to the local community through specially curated experiences. Your accommodations are always within 15-20 minutes' walking distance of your coworking facility.
In August/Sept 2023, I joined Hacker Paradise for a month in Estonia! I'll be producing some content on this in the coming months; stay tuned!
Learn more about Hacker Paradise here, and use promo code PROHOBO100 for $100 off your first Hacker Paradise experience!


WiFi Artists
How WiFi Artists works:
Apply to the group
Choose your start date, countries, and duration of program (deposit required)
Participate in a virtual meeting with the group. The Channel/Group chats are created at least 2 weeks prior to the program start date.
Arrive in host country and meet your program leader
Work, live, and travel alongside 15 to 30 people
Stay connected in a private platform for participants
What's included in WiFi Artists trips
| | |
| --- | --- |
| WiFi Artists | 1-mo Program |
| Work-Friendly Accommodations | ✔️ |
| Co-Working Pass | ✔️ |
| Professional Development | ✔️ |
| Dedicated Team Lead | ✔️ |
| Airport Arrival Transfer | ✔️ |
| Welcome Essentials | ✔️ |
| City Guide | ✔️ |
| Local SIM Card | ✔️ |
| High-Speed Internet in the Room and Common Areas | ✔️ |
| Cleaning Services | ✔️ |
| Backup Technology (Laptop, Charger, Batteries) | ✔️ |
How much does WiFi Artists cost?
Your program costs will vary depending on length of stay and chosen destination. Because it's a pretty new program, they are offering very attractive introductory rates. Here's what to expect:
1-Month Program (Without Accommodation): $800-$920/month | (Private Bedroom): $1770-$2300/month
WiFi Artists program flexibility
This turn-key option is perfect for anyone who wants ease of travel and work without the hassle of organizing everything yourself. Another pro is that you are not required to stay with WiFi Artists throughout the entire duration of your trip. You can skip activities, take a wellbeing week and watch Netflix, or take a side trip. If you need to leave the program early, you are free to do so, and their travel consultant will be there to help you.
SPECIAL DEAL: Use code WiFi1510 when you apply for a program with WiFi Artists, and you'll get a $75 discount!
WiFi Tribe
WiFi Tribe offers 4-, 6-, or 8-week trips called Chapters. The Chapters have fixed destinations and dates, so you will need to plan around them. Beyond that, there are no set itineraries, and it is up to the group (12-25 people) to determine what your experience looks like.
To participate in a Chapter, you must be accepted through an application process and become an active member by paying the $500 annual membership fee.
How does WiFi Tribe work?
Submit an application
30-40 minute video interview call
Personality Test
Pay the Membership Fee
Pick a Chapter that works for you
Pack, Pay, & Travel
What's Included with WiFi Tribe
| | | | |
| --- | --- | --- | --- |
| WiFi Tribe | 4-week | 6-week | 8-week |
| Accommodation | ✔️ | ✔️ | ✔️ |
| Water, electric, and any other bills | ✔️ | ✔️ | ✔️ |
| Basic cleaning | ✔️ | ✔️ | ✔️ |
| WiFi | ✔️ | ✔️ | ✔️ |
| Internet backups | ✔️ | ✔️ | ✔️ |
| Space to work within your accommodation | ✔️ | ✔️ | ✔️ |
| Tribe of like-minded people | ✔️ | ✔️ | ✔️ |
| Access to Slack Community | ✔️ | ✔️ | ✔️ |
Important Note: Members are responsible for their own flights, food, and any activities while on Chapter.
How much does WiFi Tribe cost?
The annual membership fee is $500. This commitment to remain an active part of the community is required to participate in a Chapter.
Chapter costs: $1,200-$2,800
60% of the Chapters have a starting price at or below $1,400 for a shared room and $2,300 for a private room. The more chapters you participate in over time, the cheaper your costs are.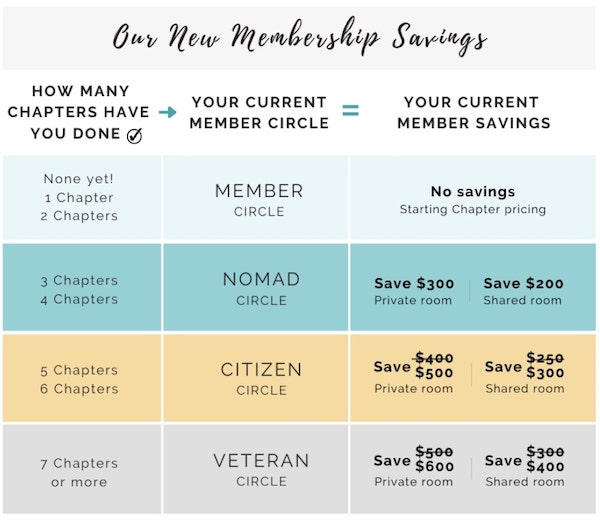 So many destinations to choose from
On any given month, you have multiple chapters to choose from, located around the world. The number of options available with WiFi Tribe is hard to beat. You have the flexibility to choose your length of stay, quality of accommodation, and how you spend your time on a Chapter.
If you click through and enter in your information (even if you're not ready to commit – which of course you won't likely be right away), I will get a referral credit should you decide to do a WiFi Tribe trip at some point later on. I appreciate this support if you are interested in learning more about them!


Coliving and Coworking with Fixed Locations You Can Visit Any Time
This is not an exhaustive list! There are a lot of boutique coliving and coworking initiatives around the world; location-based companies focused on creating an experience in one place. These kinds of places will be the topic of another article.
What you'll find below are organizations that have a menu places to live and work around the world (rather than just one place in one location).


Selina
Selina is formerly a chain of hostels that recently rebranded to attract remote workers and digital nomads. They have a huge selection of locations around the world, and while you can book a Selina hostel for a few days as you would any hostel or hotel, the real value is in their CoLive and CoLive Flex programs, which give you discounted long stays, and even the ability to pay a flat rate and hop between Selina locations.
How Selina works:
Choose the region that you want to explore (eg: United States, Latin America, Europe)
Select the room type that works for you (shared, private, etc.)
Register online and purchase
Accommodation options range from community rooms (dorms) to private suites.
With CoLive, you can stay up to 30 consecutive nights and switch destinations up to three times per month.
CoLive Flex gives you more leeway. You can stay 30 nights in up to 10 different destinations, and your stay can be continuous or broken up; you have up to six months to use your 30 nights.
What's included with Selina CoLive and CoLive Flex
Selina has lots of different locations with established facilities, accommodations, and benefits.
| | | |
| --- | --- | --- |
| Selina | CoLive | CoLive Flex |
| Continuous Accommodations | ✔️ | |
| Flexible Accommodations | | ✔️ |
| Wellness Classes | ✔️ | ✔️ |
| Coworking Space | ✔️ | ✔️ |
| Online Community | ✔️ | ✔️ |
| On-site Facilities | ✔️ | ✔️ |
| Exclusive On-site Rates | ✔️ | ✔️ |
How much does Selina cost?
Prices start at as low as $360/month (low season) and $505/month (high season) for the CoLive program. CoLive Flex starts at $435/month (low season) and $610/month (high season). This is for shared rooms; private accommodation (obviously) costs more.
Large Dorm: CoLive – $360/month CoLive Flex – $435/month (low season) | CoLive – $505/month CoLive Flex – $610/month (high season)
Small Dorm: CoLive – $435/month CoLive Flex – $505/month (low season) | CoLive – $610/month CoLive Flex – $685/month (high season)
Micro Room: CoLive – $1,045/month CoLive Flex – $1,225/month (low season) | CoLive – $1,510/month CoLive Flex – $1,730/month (high season)
Standard Room: CoLive – $1,510/month CoLive Flex – $1,730/month (low season) | CoLive – $2,160/month CoLive Flex – $2,485/month (high season)
Each stay requires a $100 deposit. An additional guest can be added to the private rooms for 25% of standard cost.
Selina CoLive Flex offers optimal coliving flexibility
The CoLive Flex option is valuable to any traveler who needs more flexibility or wants to travel more often. This option gives you up to six months after your first booking date to redeem your nights. Important Note: Coworking spaces are not open 24-hours.
Check out the massive selection of Selina locations and programs here!


Outsite
Think of Outsite like an a la carte menu to whet your nomadic appetite. While there are a couple of static Retreat offerings, Outsite gives you the ability to pick and choose what you need, whether it is accommodations, a day or week pass at a Coworking Café, or both.
For the purposes of this article, we will focus on their coliving options. (We'll look at their retreats in another article).
How does Outsite work?
The first thing to note is that you must sign up for a membership to book one of the many great coliving options in Outsite's inventory. Annual and lifetime options are available, and you receive several benefits from membership including access to Member-Only Outsite Spaces, monthly deals, rewards, and more. (Keep reading for a $50 discount on your membership.)
Depending on where you go in the world, your Outsite coliving space will vary in terms of accommodation type, WiFi speed, and price. In most cases, you can choose from studios, private rooms, or apartments.
Apartments – Private living quarters with a private bedroom, bathroom, lounge, kitchen, and workspace.
Studios – Private rooms with en suites, kitchenettes, and access to common areas in shared houses.
Private Rooms – Private room with shared lounge, workspace, and kitchens. Private bathrooms available only in select spaces.
Outsite has an internal booking tool that is simple to use to check availability and reserve your coliving stay.
What's included with Outsite
All Outsite spaces come fully furnished with work amenities, community managers, and reliable WiFi (typically, ~100 MBPS). Check out the table below to see what's included.
Outsite Coliving Spaces
Work Space + Supplies
Cozy Bedrooms
Solid, Reliable Wifi
Fully Furnished
Well-equipped Kitchens
Fresh Towels + Linens
Professionally Cleaned
Safe and Secure
Local Community Manager
24/7 Support
Coffee + Tea
Contactless Check-in
Where are Outsite coliving spaces?
Outsite has 47 different locations spread across four continents. Check their website to see their latest collection of properties.
How much does Outsite cost?
Prices vary widely between locations. Straight accommodation bookings typically range between $900 and $3,600 per month. Some of the more luxurious destinations are priced per night in the $340 range.
Membership: $399 (lifetime); $149 (annual)
Side Note: Coworking spaces or private workspaces are available in all Outsite coliving accommodation options. At certain locations, you can access an Outsite Coworking Café with a daily, weekly, or monthly pass. Prices range between $20-$172 in Lisbon and $9-$117 in Puerto Vallarta depending on the pass.
Making a difference
Outsite is dedicated to responsible travel, supporting local initiatives and sustainability. With each booking, a tree is planted through One Tree Planted. The locations are well-established and support long-term and slow travel.
Check out what Outsite has on offer, and get a $50 discount with this link!