With remote work booming, the digital nomad lifestyle is taking off. But as I learned the hard way, while this footloose and fancy-free life is in many ways living the dream, there are challenges – namely challenges of finding community and making connections. The digital nomad conferences in this article address these challenges.
When I started my digital nomad life in 2006, I felt like I was the only person in the world to do such a thing (which wasn't quite true, but compared to 2022, it wasn't far off). So I learned everything the hard way. This is no longer required, and these events and gatherings are testament to it.
Conferences exist so people of the same trade, occupation, or interest can gather to share information and inspire one another. The events for digital nomads listed below bring people together from around the world to share trade secrets and find innovative solutions to improve our shared digital workspace and lifestyles.
And the friendships formed with other digital nomads at events like these are invaluable; with a worldwide network of digital nomad connections, you'll have people to lean on, work alongside, and travel with. You needn't feel lonely ever again. If you want to step up your digital nomad lifestyle and business, keep reading.
See Also:
Best Co-Living and Co-Working Programs for Remote Workers and Digital Nomads
Locally-Managed Coliving Spots on (Almost) Every Continent
How to Book Monthly Accommodation for Digital Nomads (Alternatives to AirBnB)
3 Ways Aspiring Digital Nomads and Earn Money and Save Tax
Best Travel/Medical Insurance for Digital Nomads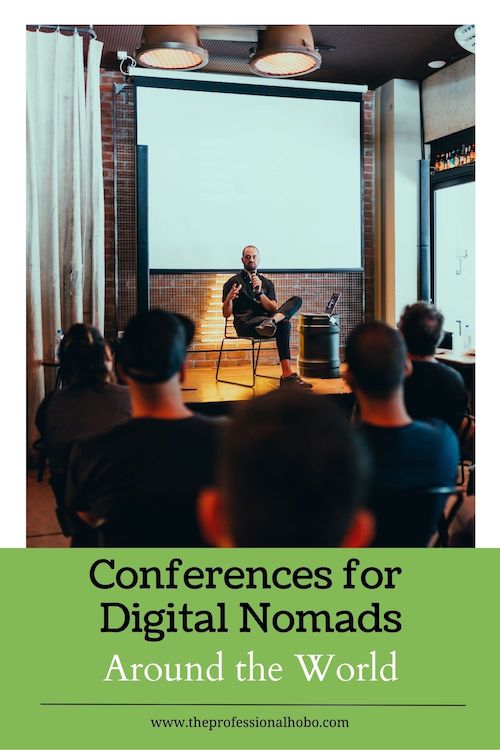 Digital Nomad Conferences vs. Digital Nomad Retreats
There is a fine line (at times an indiscernible one) between a conference and a retreat. In researching for this article, I found so many different gatherings for digital nomads and remote workers, that I decided to split them into different articles as best I could.
This article focuses on conferences; events that are more trade-focused, with a schedule of events that centre around keynote speakers and workshops. These generally last a few days in length and attract large numbers of attendees.
So, I also rounded up the best digital nomad retreats, which are similar but may perhaps be a more all-inclusive experience (accommodation, meals, etc), and/or with smaller numbers or specific event themes.


Bansko Nomad Fest
Bansko, Bulgaria has grown into a major nomad hub in Europe, touting a premier co-working community for global entrepreneurs at Coworking Bansko. The Bansko Nomad Fest brings all the magic of this community together into a week-long experience full of networking, learning, and socializing. Going so far as to call itself an "un-conference", Nomad Fest gives you the opportunity to make friends while taking in the amazing culture and natural wonders surrounding the mountain town of Bansko.
I attended and gave a keynote at the 2022 Nomad Fest, which we playfully called "spring break for nomads"! With 550 people including 80 speakers, it was a fantastic and very full-on experience.

What do you get?
Bansko Nomad Fest is optimized for engagement, making it accessible to nomads of all experience levels.
Conference talks
Workshops
Presentations
Speed networking
Un-conference sessions/meetups
Optional premium activities and excursions
Special offers for co-working and community membership
Lots of social time and events, and opportunities to play together

How to attend
The Bansko Nomad Fest is typically held the end of June into the first week of July, and is a combination of work and play.
Conference Tickets: €210 – €239
Accommodation Guesthouse/Hotel: from €149/week
Accommodation Apartments: from €150/month (that's right: a month of accommodation in an apartment for what you'd pay for a week-long hotel stay)
Sofia Airport Transfer (One Way): from €24
Group Meals: Breakfast €3.50, Lunch €6, Dinner €16
See what else Bansko Nomad Fest has to offer here.
7in7
7in7 is a digital nomad conference series for experienced nomads. It is hosted on seven continents over the course of seven years; each event is jam-packed with a whole week of activities.
With capped attendance and a structure that encourages small-group engagement, 7in7 is specifically curated to provide an optimal experience for those who have been nomadic for over a year. Another thing that makes 7in7 standout is their desire to amplify underrepresented voices, creating a safe space for the LGBTQ+ community and boasting an attendance of 75% women.

What do you get?
Community-building is at the heart of the 7in7 series. Each event is capped at 100 nomads to give attendees an intimate space to interact and engage.
Specially curated content for 3-, 7-, and 15+ year nomads
Expert panel and speakers
Small-scale breakout sessions
Intensive workshops
Small group meetups
Social gatherings
Volunteer opportunity

How to attend
7in7 will be heading to Montreal on September 7-13 for Year Five. Africa and Antarctica fill out the series for the remaining two years. Conference tickets are currently available at Early Bird rate for $549 or four monthly instalments of $139.
Build your network at the next 7in7 event by clicking here.


Nomadness Fest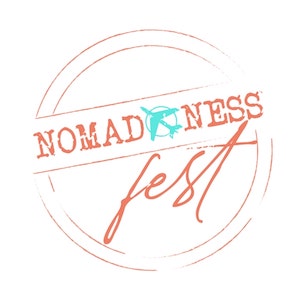 Nomadness Fest is a unique weekend event designed for travelers of color and their allies, organized by the BIPOC (Black, Indigenous, People of Color) extension of the 32,000+ member Nomadness Travel Tribe community. The festival aims to bring together the stories, leaders, and resources of the travel community in one place.
This year's theme: Cultural + Conscious Travel
What do you get?
Weekend activities include:
Multiple speaking sessions aligned with the 2023 tracks: Leisure Travel, The Business of Travel, and Conscious Travel
Hands-on activations from sponsors and partners
Free swag
VIP Lounge access for applicable ticket holders
VIP Welcome Mixer along with other top-notch networking opportunities
Invite Only opportunities (Thursday, Sept 28th) that include networking with brands, fellow travel influencers, and destination reps for a select group of attendees
Tours around Louisville
Travel Business Pitch Competition finals + grant winner announced
Annual Tribe BBQ (Sunday, Oct. 1st)
Local vendors + food trucks
How to attend
Nomadness Fest 2023 will take place in Louisville from September 28th to October 1st.
Ticket options include:
VIP Festival Weekend: $250.00
Festival Day ONLY: VIP Ticket: $100.00
General Weekend Tickets: $100.00
Festival Day ONLY: General Admission: $60.00
BBQ ONLY Ticket: $50.00
Discover a culturally rich and conscious travel experience with Nomadness Fest.


Future of Work

Future of Work (FOW) is a conference that seeks to define where we are going as digital entrepreneurs and how the workspace is evolving into a hybrid environment. The conference itself is conducted in a hybrid fashion with both live and streaming options. With a B2B focus, FOW is a place to network with other organizations while analyzing technological trends as they pertain to the remote lifestyle.

What do you get?
Keynote speakers
Panels
Networking
Company booths

How to attend
FOW events have been held in South America, Europe, and Africa. Plan to head to one of these locations for the next FOW event.
Reserve your spot at the next FOW event here.


Digital Nomad Festival
This event is held in partnership with the Turkish government to spur cooperation among global citizens. More than a conference, the Digital Nomad Festival is a celebration of music, art, and culture for nomads, solo travelers, families, and entrepreneurs. There is also a pitch contest giving start-ups the opportunity to shine in front of potential investors.
Digital Nomad Festival is co-founded by none other than Olumide Gbenro, who I interviewed and featured here.

What do you get?
The eclectic experience includes everything from a networking hub to a family-friendly Coachella.
Networking hub
Local excursions to festival grounds
Pitch competition
Family-friendly activities and games
Global cuisine
Cultural and music performances

How to attend
The Digital Nomad Festival is held in Edremit, Turkey. The 2022 event was postponed until 2023 due to COVID-19. Sign up for their email list to be apprised of future dates and ticket prices.
Learn more about Digital Nomad Festival here.


Repeople Conference (Nomad City)
From Portugal to Croatia, many European countries are embracing and inviting digital nomads into the fold. The Repeople Conference provides a place for nomads to collaborate face-to-face. Tackling topics such as remote work, innovation, culture, tourism, and leadership, this event includes additional activities to enhance your networking opportunities, such as walks and surfing.

What do you get?
This hybrid event leverages multiple methods of delivery to provide relevant information on teleworking and distributed organizations in Europe.
Expert panels
Keynote speeches
Networking activities
Workshops

How to attend
Typically held in November, repeople Conference continues to be hosted in three locations—Tenerife, Gran Canaria, and Parador Nacional La Palma.
Learn more about Repeople Conference here.


Running Remote

Running Remote is one of the world's largest digital nomad conferences. It is specifically structured for business owners and upper-level management who employ remote teams. During the conference, you will be surrounded by founders and executives of industry-leading businesses like Zoom and Upwork.

What do you get?
While the schedule and speakers may change a bit each year, the main themes remain the same. Participants will listen in to keynotes and panels of industry leaders over the two-day event.
Recruitment and HR practices
Company culture
Communication strategies
Leading a remote team
Surviving hyper-growth
Two-days of networking

How to attend
Past events have occurred in May. As of 2022, Running Remote added a virtual attendance option.
Standard Pass: $799
Premium Pass: $899
Virtual Premium: $69
Virtual Pass: Free
Kickstart your nomad career with Running Remote.


Thriving Nomads
Are you interested in building your business and making a positive impact while you do it? Thriving Nomads combines all the benefits of your typical conference with a focus on upping your social impact through panel discussions, targeted case studies, and instruction from leading experts. This event stands apart from the rest with more personal sessions (workshops and masterminds) that give participants the chance to get their hands dirty.
Thriving Nomads is founded by J & Sara, who you may remember from my feature interview here.

What do you get?
Keynote speeches
Expert panels
Targeted case studies
Workshops
Group discussions
Mastermind hot seats
Informative and educational sessions
Post-event networking

How to attend
This event is typically held in May in Talleres Palermo, Las Palmas de Gran Canaria, Spain.
Virtual: Free
In-person: €125
Conference + Workation: €480
Are you ready to be a Thriving Nomad?


Virtual Working Summit
Unlike other conferences on this list, the Virtual Working Summit doesn't have a live in-person component. As its name suggests, the Virtual Working Summit is held online, so you can attend the live sessions from home in your PJs. This event is perfect for anyone working remotely or in a hybrid fashion.

What do you get?
Each day consists of an expert interview with questions from the attendees. Online discussions via a chat room gives everyone the opportunity to share ideas and network.
Expert panel
Daily interviews
Online chat room
Free access on interview day
Upgrade opportunity for lifetime access to recordings

How to attend
Attendance is simple and free. The Virtual Working Summit has been held in July in the past. Don't forget to add your question for the speaker.
Sign up for the next Virtual Working Summit for free.


Take your next step with a digital nomad conference
Whether you're an experienced digital nomad or new to the game, a conference is the perfect place to kickstart your career, gain the latest and greatest techniques from the industry's finest, and meet other like-minded people.
Beyond professional development, many digital nomad conferences are also fantastic travel opportunities. From the barren plains of Antarctica to beaches off the coast of Africa, each event offers a valuable opportunity to network with other nomads and find a new community.