Are you a digital nomad? Or a remote worker planning a long term trip? Perhaps you've got your eye on a one-year remote work visa. Thing is, you need travel medical insurance; not only is it a good idea – it's downright necessary in order to qualify for certain visas and enter certain countries. The entire travel insurance industry has been shaken up by the pandemic, and finding the best travel insurance in 2021 for a long term trip is no longer as clear cut as it once was. You require flexibility, affordability, and very importantly, travel insurance that covers covid and other pandemics. This article will show you the kind of insurance that will help you get all that, and more.
Links in this post are affiliate links, which means I will receive a commission if you click through and end up making a purchase. However I'm not trying to peddle snake oil here. As a financial expert and long term traveler who is well familiar with the challenges of getting the best international travel insurance, I am writing this article with the intention of helping readers find the best solutions and navigate the murky waters of nomads insurance.
Remote Work is Changing How We Travel
Remote work is here to stay. And with the ability to work remotely comes the ability to take that work to other locations in the world. The advent of dozens of countries offering special "remote work visas" is testament to this trend taking shape.
Surveys indicate that 42% of the U.S. workforce is currently working remotely. Desperate times call for desperate measures, you might say; this won't last. Oh, but it will. After the pandemic, 80% of employers plan to allow their employees to continue to work from home at least part-time. Longer-term, it is estimated that 22% of the American workforce will be working remotely by the year 2025. This represents an 87% increase over the number of remote workers pre-pandemic. (Here's where I got all these fancy numbers).


What Long-Term Travelers Need in an International Travel Insurance Plan
Long-time digital nomads are well familiar with the unfortunate limitations of the international travel insurance industry due to their unique requirements. Here are a few criteria:

Ability to Apply / Renew From Anywhere
Most travel insurance companies will only allow you to apply for a policy whilst in your home country. This is completely impractical for a digital nomad or remote worker traveling long term.

Long Term Policies
Most travel insurance policies expire after a certain period (somewhere between six months and one year) after which you can't extend or renew.

Home Country Coverage for Visits Home
Going home for a visit? With most policies, you won't have any coverage if something happens while you're there. And if you're a long-term traveler, your provincial/national medical coverage may also have expired. (Canadians are familiar with this; once you are absent from your province for a certain amount of time – usually around six months – you have no medical coverage).

Travel Insurance Coronavirus Coverage
Does travel insurance cover coronavirus? In most cases, no. Of the very few insurance companies left out there that satisfy the criteria above, most don't cover claims related to COVID – or if they do, their fine print is so ambiguous it gives them enough leeway to deny claims as they see fit. And even if they cover a medical claim on contraction of COVID or any other pandemic illness, they may not cover a mandated quarantine and related expenses.


SafetyWing: The Best Travel Insurance in 2021 and Remote Travel Health Insurance Plans for Long-Term Travelers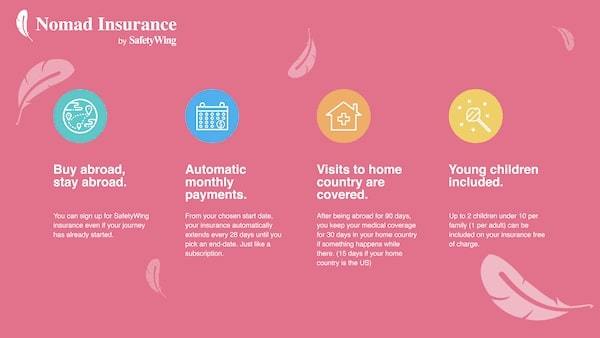 This leads me to Safety Wing: an insurance company developed by nomads, for nomads. This doesn't mean it's a fly-by-night operation; far from it. Their policies are underwritten by Tokyo Marine HCC, financially rated as an A++ company (which means they have the financial stability and cash reserves to pay out on claims).
And SafetyWing offers three insurance products specially designed for remote workers and remote companies.
Here are a few features offered within the full suite of SafetyWing products:
Visits home are covered. You'll have coverage for visits to your home country of up to 30 days for every three months (for U.S. citizens it's 15 days).
You can purchase and renew from abroad.
They will cover claims related to COVID-19; it works the same as for any other illness.


SafetyWing Nomad Insurance: Best International Travel Medical Insurance for Remote Workers
SafetyWing Nomad Insurance is an international travel medical insurance policy. This means it is intended to help you pay for unexpected medical problems and accidents while abroad. You may want to reference this article on what travel insurance is, which includes a glossary of insurance terms.
Nomad Travel Insurance policies include coverage for:
Doctors (specific visits, not routine checkups)
Hospitals and ambulances
Emergency medical evacuation
Emergency dental
Physical therapy and chiropractic (as prescribed by a physician)
Trip interruption
Travel delay
Lost checked luggage
Emergency response and natural disasters
Personal liability
AD&D (Accidental Death & Dismemberment)
Click here to get your instant quote for Nomad Insurance!


Nomad Travel Insurance: PROS
Prices are super-competitive, starting at $40/four weeks for people aged 18-39…as long as you select coverage that excludes the United States (including the United States almost doubles the price).
For trips of unknown or long-term duration, you pay monthly and the insurance automatically renews each month until you cancel. So if you're trying out long-term travel but don't know how long you'll be gone for, this is perfect! If you already know your travel dates, you can enter them in and pay for the entire policy up front.
Once your policy hits one year, you can apply again for a new policy, and there's no limit to the number of times you re-apply (up to the age of 69).
It's a nice low deductible at $250.
You can apply for and renew the policy from anywhere in the world.
While the policy has a "pre-existing clause" (which excludes coverage for any condition which existed in the two years prior to applying), they DO have an "acute onset" clause that covers pre-existing conditions that unexpectedly flare up without warning, are of short duration, and require urgent care within 24 hours.
Children 10 years and younger are included at no extra cost (1 child per adult, 2 per family).
In addition to COVID medical coverage, Nomad Insurance covers quarantine expenses of $50/day for up to 10 days (provided you've had coverage for a minimum of 28 days, you're outside of your home country, and the quarantine has been mandated by a physician or governmental authority because you tested positive for COVID-19 or had symptoms and are awaiting test results).


Nomad Medical Travel Insurance: CONS
While a $250,000 maximum coverage limit is reasonable in most countries, it won't go as far in the U.S.. And paying double the premiums for this low maximum bites. Thus I would only likely get a Nomad Insurance plan that excludes U.S. coverage. Great news: If you are a U.S. citizen and get a policy that excludes U.S. coverage, you still qualify for coverage on visits home! (15 days every three months).
Because you need to reapply for a new policy every 365 days, that means the pre-existing clause resets every year (meaning you will not have coverage for any pre-existing conditions that predate the new policy by two years). With most long-term nomads travel insurance policies, you only need to endure this clause once. While I've listed this as a "con", it's a double-edged sword; many long-term medical travel insurance policies require you to undergo a medical questionnaire, which requires you to disclose all medical conditions you've suffered at any time in your life. Quite often this will result in a blanket exclusion of that condition, even if it was many years ago. Nomad Insurance requires no medical questionnaire; so with a pre-existing clause that resets every year, once you are two years past any condition, they will cover it again.
There is no coverage for people above the age of 69, and the coverage limit for people aged 65-69 is reduced to $100,000.
Check out the widget below to see how much your SafetyWing Nomad Insurance will be!

Final Note: As a Canadian who traveled full-time for 12 years, I was unable to qualify for standard travel insurance after my first year abroad (because I'd lost my provincial coverage, which travel insurance companies rely on). Thus, I was forced to get more expensive health insurance for expatriates, which frankly, wasn't an ideal product for what I wanted – I simply wanted coverage for medical emergencies. I structured the policy to have an incredibly high deductible of $2,500 (to reduce my monthly premiums), such that it would only be useful in the event of an expensive medical emergency. If/when I hit the road long-term or full-time again, I will get SafetyWing Nomad Insurance.


SafetyWing Remote Health Insurance: Global Health Care for Remote Workers
Remember my article about expat insurance? This is SafetyWing's answer to the call, providing remote workers with a fully comprehensive global health care plan, no matter where in the world they live, travel, or move to.
Remote Health goes (way) above and beyond travel medical insurance, which is only intended to cover unexpected medical emergencies and trip-related expenses gone awry. Instead, Remote Health is a full travel health insurance policy that covers both routine medical expenses as well as emergencies.
It's an annual policy (as opposed to a monthly subscription), and renews each year without having to reapply.
It's worth noting that Safety Wing is known for their Remote Health for Companies (which you'll learn more about below); Remote Health for individuals is a courtesy extension of their popular group product. If you are a remote employee and your employer doesn't yet offer international health insurance, you may want to let them know about Remote Health Company plans.
Here's what your Remote Health Insurance policy covers:
Hospital charges, medical practitioner and specialists fees
Cancer treatment
Day-patient and out-patient surgery
Drugs and dressings
In-patient emergency dental treatment
Diagnostic procedures
Rehabilitation
Emergency ambulances
Evacuation and repatriation
Newborn coverage
Add-ons available for out-patient & prescriptions, dental, reducing the deductible to $0, and coverage in U.S./Hong Kong/Singapore
Get your instant quote for Remote Health here!
Remote Health (Digital Nomad Health Insurance): PROS
There are no exclusions for pandemics!
Remote Health plans qualify as proof of health insurance for visa applications.
Coverage is provided in 175+ countries.
It's perfect health insurance for expats and remote workers who want a full health plan outside of their home country.
At $1 million, the coverage limits are much higher than Nomad Insurance.


Remote Health: CONS
Americans and Canadians: This is not a substitute for a health plan in your country; it's meant to be used abroad. Thus, Americans living in the United States and Canadians living in Canada will not receive coverage. You're still covered abroad, and you'll need to be outside your country to apply. However, they are working on changing this, and you are still covered for medical emergencies during visits to your home country of up to 30 days.
While the product literature says pre-existing conditions are covered, on closer examination that's not entirely true. During your application you will undergo a medical questionnaire which will take a look at your medical history. If you have had a significant medical condition, the underwriters will then decide to a) cover you anyway, b) cover the condition at a higher price or exclude it (your choice), or c) deny coverage. Frankly, this is in keeping with the industry standard for global health insurance expat policies. (For group plans of 10+ members, medical history is disregarded).
There's no option to have a higher deductible, which would reduce your monthly/annual premiums. (Check out my article on expat health insurance policies for some tricks to keeping your premiums low). That said, if what you want is a health care plan that covers routine medical expenses, a high deductible defeats that purpose. (I structured my policy with a high deductible solely for medical emergencies and paid for routine medical expenses with cash. If I were to hit the road full-time again, I would likely just get the SafetyWing Nomad Insurance to cover medical emergencies).
Their coverage including the U.S. (as well as Singapore and Hong Kong) is expensive. I paid 40% less for my IMG Global Medical Insurance policy, which included coverage in every country including the United States. That said, I haven't compared all the coverage limits in detail; although IMG Global Medical policies typically offer the best industry-wide rates for worldwide coverage. (What I don't know is whether IMG does travel insurance to cover pandemics).
Despite these cons, here's the deal – and this sets SafetyWing apart in a major way: SafetyWing is travel insurance that covers covid and pandemic-related claims. Most other insurance companies have conditions or ambiguities in their terms that mean you could end up with a boatload of expenses they won't cover at the end of the day. With SafetyWing, that won't happen.
Click here to see if Remote Health for Nomads is for you.


SafetyWing Remote Health for Companies: Global Health Insurance Plans for Remote Companies
Here's another way SafetyWing shines: with their global health insurance plans for remote companies. It provides the exact same coverage as the individual Remote Health plans, but at significantly lower rates! In fact, the more people there are in your remote company, the lower the premiums become for each member.
This coverage is ideal for remote teams and remote startups, as long as you have at least three people on your team. It covers both employees and contractors – so you needn't have formal employee agreements in place to take advantage of these great rates.
In addition to all the benefits of the Remote Health plans for individuals, Remote Health for Companies also includes add-ons for screenings and vaccines, as well as maternity care!
Click here to see if SafetyWing's Remote Health Plans for Companies is for you.
Here's the Web Story for this article!