In 2016, Becky van Dijk packed in her 10-year career in finance to create her own travel business and lifestyle. She co-founded We Are Travel Girls; a community created to inspire, connect, educate and empower female travelers. We Are Travel Girls hosts casual meetups and educational events around the world for female travelers, they curate bespoke affordable luxury women's group trips, provide a platform for women to share their own travel advice on the website, and above all they bring women together around the world through their love of travel.
Becky also runs her own educational blog at BeckyvanDijk.com which shares tips and advice on entrepreneurship, blogging, business and social media marketing. She also mentors other women and offers an online Blogging Course for new bloggers.
This Financial Case Study is a gold mine of information and advice for people who are developing location independent careers and businesses. She cuts through the sensationalistic crap and doles out some great real-world advice. Check it out!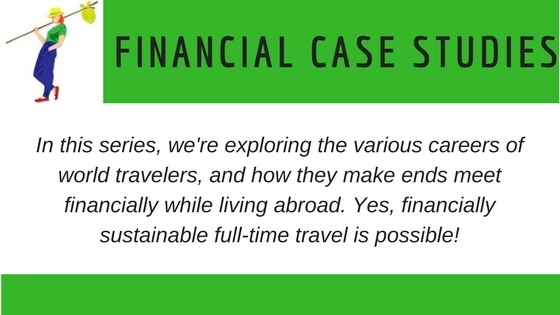 This post was originally published in 2019. It has since been updated for accuracy of links and content.


How long have you been living/working on the road, and where have you traveled to?
I quit my job in banking in London in mid-2016 to move to Bali with my now husband. He is from California and I am British so after four years of long distance we decided to move overseas so we could live in the same place. We based ourselves in Bali for two years, with time spent travelling in Asia and visits back to the US. At the end of 2018 we moved back to the U.K. for a little while and we are now back on the road travelling through the Balkans!
I have travelled fairly extensively, visiting around 65 countries. I have done several long-term travel trips. The first was backpacking through Europe at 18yrs old, then South East Asia, Australia and New Zealand for six months after university, followed by a six-month stint through South America and a month in Central America when I quit my job in banking.


Please describe what you do for income.
I have a few sources of income.
My husband and I both work on the road and support one another's businesses. He is a web developer so earns an income from building websites, SEO and site maintenance clients, and copywriting / digital marketing projects.
I have my company We Are Travel Girls Ltd. which I founded together with Vanessa Rivers. The company generates revenue from our women's group trips, Travel Girls Getaways, online advertising, affiliates, and brand partnerships.
In addition to We Are Travel Girls, I have my own online education and mentorship business. Having worked for 10 years in a corporate environment, managing private client assets, I have a wealth of knowledge about client acquisition and retention, marketing, advising, meeting sales targets, and managing teams. Together with this I have entrepreneurial experience of starting a successful and profitable blog and launching bespoke curated women's group getaways.
I have combined all this knowledge to write about blogging and business on my site, to offer bespoke mentorship to women and to offer my online course, The Blogger Course. The course teaches everything you need to know to launch and run a profitable blog, plus why your business needs a blog!


How many hours per week do you work on average?
My average work week is around 50 – 70 hours if you look over an annual period.
I always work seven days a week and sometimes this is much more if I am hosting our trips which usually mean I must get up around 6am, finish hosting at midnight and then still have to do all my other work for a few hours after that!
For aspiring entrepreneurs or bloggers, I think its important to understand the hours required to be successful in this business. At the beginning, the hours-to-income ratio will certainly be out of whack, but you need to stay committed putting in the time to build your blog and then the income will follow!
(See also: How to Start a Travel Blog)


How much money do you make?
From We Are Travel Girls, we make $3,000 from online advertising in a typical month and $1,000+ from affiliates per month which makes up our passive income. Then active income comes from our Travel Girls Getaways; depending on how many trips we run and which location they are in, we can earn between $20,000 – $70,000 per year (after expenses) from these.
I like to think about brand partnerships as the bonus. If you want to work in this industry my advice is that your goal should be to make as much income from your passive sources as possible and then have some active income you can plan for and then have your bonus income from brand partnerships.
We can make anywhere from 0 to $20,000 in a month from brand partnerships and that's why I like to think of them as a bonus! You can have a great month and win some excellent clients, but then the next month nothing comes in. I certainly don't believe these partnerships are the key to a long-term sustainable business (unless you can build a long-term partnership with a specific brand) but they are a valuable source of income, especially at the beginning when perhaps you don't have enough web traffic to monetize your website.
In addition to We Are Travel Girls detailed above, I earn income from personal brand partnerships, 1:1 mentorship and consulting, and now my online courses. My online course is quite new so I can't yet give you a figure for monthly earnings from this, but we are targeting to earn around US $5,000 from sales per month which we think is a realistic lower target and hope to make more!
One point I would note is that whilst our revenue generated is now trending upwards, we do have a lot of costs. As traffic to your website increases so do your expenses so this is something to factor in! It's important to look at your net income after expenses and plan for that when you are budgeting.
(See also: How to Create a Budget for Long-Term Travel – and the REAL meaning of Financially Sustainable Travel)


Do you make enough money to support your lifestyle?
My husband and I both had savings when we quit our jobs. He had been a lawyer and I was a banker, so we had been fortunate to earn decent income and invest this money. Unfortunately, I started banking around the market crash so no million-dollar bonuses I can assure you! But we did start with a comfortable amount in the bank we can always fall back on.
The money we earn from We Are Travel Girls is not currently enough to fund our lifestyle simply due to the fact we are a Limited Company and we do not withdraw all our net earnings, instead keeping this accumulating for future reinvestment in the business. So, at present we rely on our savings, personal brand campaigns and freelance web design work for personal spending, rent etc.
The revenue trajectory for WATG is steadily increasing and as such what we withdraw in salary and dividends is going up each year. We are working on increasing web traffic further to increase the passive income, as well as increasing the number of trips we run and adding paid events so that we can start hiring employees and paying ourselves a larger salary!


What do you like most about your career and lifestyle?
I love hosting our trips and seeing the lasting connections and friendships made between the women who join us. There is nothing quite like the feeling when women tear up saying goodbye to one another after week and then you see them meeting up around the world after our trips. I am so proud of that part of the business.
I also love teaching and mentoring. I really enjoy sharing my knowledge and helping others, this was something I did at the bank when I managed a team and had junior advisors to train and mentor. I find this really rewarding, especially when I see these women taking my advice and then working hard to implement it to create their own business.


What are some of the challenges you have with this career and lifestyle?
There are a lot of challenges with this lifestyle and career. It looks idyllic, but the reality is even if we are in another country, we are still working – the perception people have of that is hard as they think we are just on vacation all the time!
For me, the other problem with having your own business is that you never switch off and you don't have the weekend or close your computer at the end of the day and head home. Essentially every day is a workday and you never truly take a break. I am a self-confessed workaholic and get anxious when I am not working so I can't really relax even if I am taking a "day off"!
This is something I am working on trying to get better at and when we are based in one location I will try to implement more structured work hours / days by having an office away from my home!


What is your vision for the future of your lifestyle on the road?
I love what I do and want to take We Are Travel Girls to the next level. Myself, Vanessa (and my husband!) have worked so hard the last three years to get this company to where it is today, and we are now at the point that we can begin hiring people to help us elevate the business.
In terms of the location independence, that has a time limit. Part of the reason we live on the road and don't have a home base is because we are currently waiting for my U.S. visa to be approved and once we have that we will hop on a plane to LA and start apartment hunting! Living and working on the road is possible, it's a great way of living for a period and I feel fortunate to have been able to do it – but I am definitely ready to settle in one place!
(See also: How to go Location Independent – including lifestyle pitfalls to avoid!)


Any advice for the aspiring traveler about living and working on the road and managing finances?
I have so much advice on this topic, but I will include just a couple of points here!
First, be realistic with yourself about your work style. Working for yourself and becoming an entrepreneur is not for everyone. I know most people don't say that, and there are lots of headlines about people making six figures from the road, but the truth is it takes a lot of hard work to reach that point and you do have to have the work ethic to be able to self-motivate and push yourself everyday even when you are not earning anything. If you struggle with self-motivation make sure you create a business you love; it's much easier to motivate yourself if you love what you do!!
Next, I suggest evaluating your expenses and creating a budget for your travels. You must have a clear balance sheet of all the costs of running your blog and business and how much you need to earn to cover these and how much you need to earn to cover your living expenses. If the amount you estimate you will earn is less than the costs, then make sure to have some savings in the bank to cover the difference.
I always advise people to stay in their day job until they have a comfortable savings cushion to sustain them should they need it when they do take the leap to live and work on the road.
Working in a corporate job with a steady income has a lot of merit, even if you have to stay in the job a little longer than you want to get to a target savings level look for positives in this – the business connections you are making, the skills you are acquiring and the ability to have a great reference for your CV should you ever want to go back. Don't rush to quit before you are ready and have a good nest egg in place, you can absolutely work on your side hustle at the same as working your corporate job and this will also position you to be earning an income from your blog before you quit! (Nora's Note: Amen! I agree. Here's what I advise before you quit your day job).


Is there anything else you'd like to add?
I think that in a world where everyone wants to become an influencer or a blogger or create their own business, it is important that we are all open and honest about this lifestyle and career. I also think it is important that people understand the work commitment involved and the reality of what you can earn and from what sources.
I truly believe that you should look to create your own products, whether these are digital or physical products that you have more control over sales and marketing of than simply relying on promoting other people's products. And that you should look to build your own blog following, web traffic and work on getting email subscribers rather than Instagram followers if you would like to build a long term sustainable business model!
And finally, whatever you decide to do in your business always stay true to your values and what you believe in. This is what will connect you with your audience and turn followers into subscribers, and eventually customers!