When I travel, I'm perpetually afraid that I'm getting ripped off and slammed with hidden fees – by airlines, by taxi drivers, by hotels – you name it. If I have to pay for it, I figure there's a good chance I'm paying too much.
While I might be a touch paranoid, my fears aren't entirely unrealistic. Unwitting travelers constantly overpay for all kinds of things, often in the form of pesky little fees – usually hidden from our awareness, sneakily snuck in to part us with a wee bit more money than we actually needed (or wanted) to pay.
So to help you avoid overpaying for things on your travels, here's a list of hidden fees and costs to watch out for while traveling.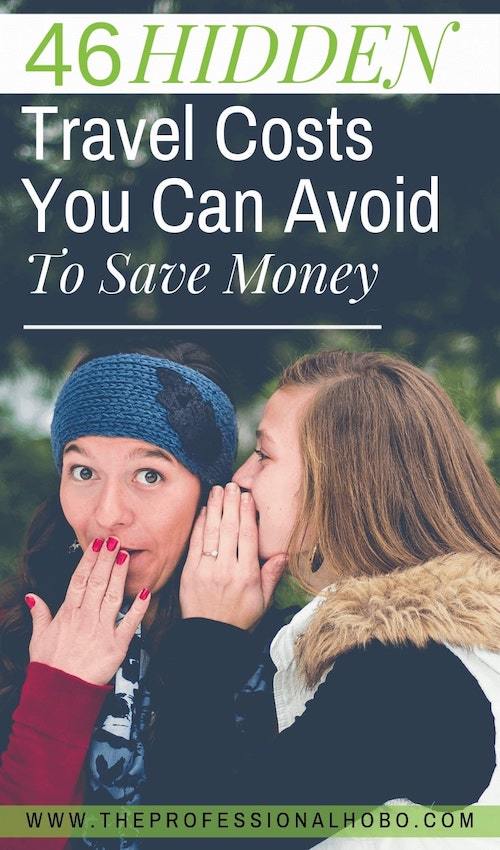 Table of Contents
Hidden Costs & Airline Fees When Flying
Avoid Overpaying for Accommodation
Accessing & Converting Money and the Fees Involved
Often Forgotten Travel Prep Costs
Costs of Touring, Eating, & Getting Around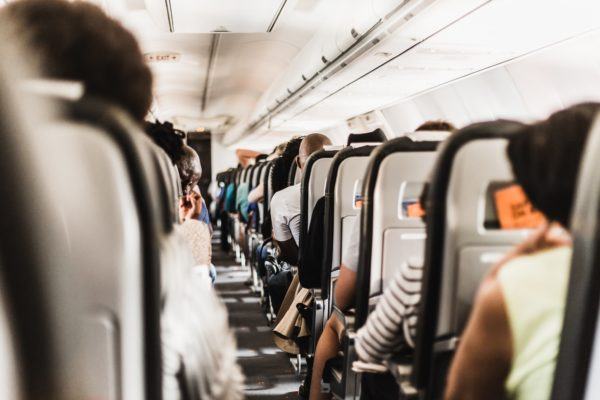 Hidden Costs & Airline Fees When Flying
Flying is usually one of the most expensive aspects of travel. If that isn't bad enough, there are lots of different ways that those expenses can unnecessarily inflate (aside from the actual ticket cost) like airline fees, expensive airport stuff, and more. Here are some fees and costs to be aware of when flying.


The Actual Ticket
Airfares are a moving target, with fares constantly changing. And while there are many theories about how and when to get the best airfare prices, it's hard to know if you're actually getting a good deal. I like to use airfare-alert tools to understand price trends and make sure I got the best price (even after I've already paid for it!).
And if you want to save even more money, you can buy your ticket using frequent flyer miles.


Taxes and Surcharges
After going through the process of making sure you're getting the best deal on your flight and staying within your budget, you get the the final payment page…and suddenly taxes and surcharges have been tacked on.
Some airlines include taxes and surcharges in their initial quote, while others don't. It's infuriating.
If you're booking with frequent flyer miles, it's important to remember these too, because your flight isn't entirely free; you're still on the hook for taxes.


Frequent Flyer Mile Cancellation Fee
One time, I booked a flight with miles and then had to cancel. When I called in to cancel, I was told there was a $150 fee just to re-deposit the miles to my account.
Sometimes this can be avoided just by canceling the reservation and leaving the miles in limbo, and then calling in on the same reservation code to use the same miles for different travel. Basically, instead of canceling the flight and re-depositing the miles, you're changing the flight (which still entails a fee – just a lower one).


Reservation Changes and Cancellation Fees
While this isn't a hidden airline fee, it's important to remember that when you change a flight reservation, you have to pay a fee, usually somewhere between $30 and $200.
If you have reason to believe you may need to change or cancel your flight, and it's a route that tends to fill up (ie: you can't wait until the last minute to buy a cheap non-refundable fare), consider a more flexible "tier" of airfare that allows changes.


Booking Over the Phone
If you prefer to book your flights over the phone, or if you're using a miles strategy that requires you to speak to a person, you may be charged an extra fee for this (as opposed to doing it online).
If online booking isn't your thing and you want a good price for airfare, consider using a travel agent. They'll do the heavy lifting for you, and you can work with them over the phone and/or in person.


Travel Insurance
Some airlines sneak travel insurance into the cost of the flight, and you must go back to a screen to specifically DE-select the insurance. I once found it was so masked in fine print it took me half an hour to locate where to deselect it.
Here are some alternatives to getting insurance through your airline.


Airport Parking
Sometimes parking at the airport and leaving it there is the most affordable option. But pay attention to your dates and read the fine print. I once used long-term airport parking thinking I was paying a per-day rate; I was charged for a whole extra week because my car stayed one day of that week.


Airport Junk
Once you clear security, the airport basically has you hostage while you wait for your flight. So of course everything is overpriced.
Avoid buying food by eating before you go to the airport and/or packing sealed (non-liquid-y) snacks in your carry-on.
Bring an empty water bottle to fill at a water fountain once you pass security. You can even ask the flight attendant to refill it for you once you're in the air – which saves wasting those tiny plastic disposable cups they hand out and can't reuse.
Need to kill time? The shops are for browsing only, unless you want to pay a premium.


Checked Baggage Fees
The fact that checked bags cost extra with many airlines may be common knowledge, but sometimes there are ways around it.
Some loyalty and miles programs give you a free checked bag when you book through them. Read the fine print, and advocate for your rights! I booked one such flight with an airline-branded credit card that allowed me a free checked bag and lounge access; they still tried to charge me for the bag at check-in, and when I insisted it was covered they had to ask a supervisor. (I eventually got it).
And of course you could always try traveling with only a carry-on. Not sure? Then check out this post about Checked vs. Carry-On Luggage to weigh your options.


Oversized and Overweight Baggage
If you are checking a bag, make sure it's within the size and weight restrictions. You don't want to pay a penalty fee just because your bag is a few pounds too heavy.
Sometimes all you need is a bit more wiggle room. In that case, I like to use a fanny-pack.


Airline Meals and Drinks
Gone are the days when you could safely assume drinks and meals were complimentary. More and more airlines, especially the plethora of budget airlines now available, are charging for meals, snacks, and drinks (even non-alcoholic drinks sometimes). Even long flights charge for meals, depending on the airline.
I once got on a long-haul flight that claimed to offer meal service on the ticket, only to discover it was meal service – for a fee. At 36,000 feet and with a grumbling stomach I didn't have much choice but to overpay for a crappy airline meal.
Bring your own water bottle and snacks to avoid these charges. Or, if you have no other option or are on a long-layover, buy a to-go meal in the airport. It's still overpriced, but it will likely be better quality than what you'll get on the plane.


Pets
If you simply can't leave Fido at home, it's important to call the airline directly to make sure there's a spot for him, since only a certain number of pets are allowed on flights.
Unfortunately, this also means that in addition to Fido's ticket, you'll likely need to pay a charge for booking over the phone.


In-Flight Movie/Entertainment Devices
It varies by airline, but some of them charge for entertainment devices or headsets to watch movies in the air.


Pillows and Blankets
Bring a warm layer to wear on the plane or use as a makeshift pillow. Some airlines actually charge for this, and frankly, paying to rent an airline pillow or blanket is a low-blow.


Payphones
While payphones are mostly a thing of the the past, they do still exist, in airports and terminals. But who has coins to insert?
Beware of using your credit card to make calls! It may seem super convenient, but it comes with a price. I did it once and it was a $150 mistake for a 10-minute call.


Departure Tax
Some countries charge a departure tax whenever someone leaves the country. Some only charge this when you leave by air.
Sometimes it's included in the airline ticket, sometimes not. Don't get caught off-guard at the last second! Some countries only accept cash in the local currency.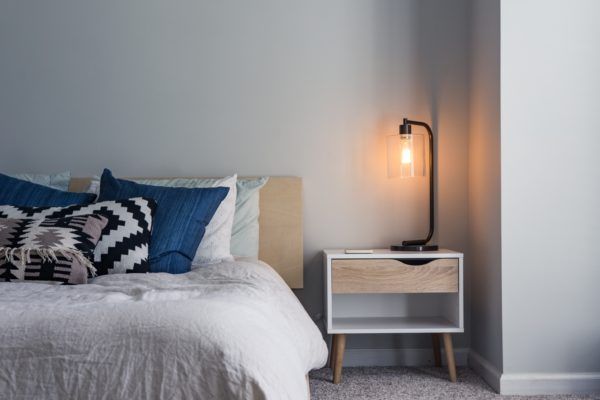 Hidden Costs of Accommodation to Avoid
Accommodation is the other most expensive part of your travels, but there are ways to cut costs. Hotels are pricey and can sneak extra fees in, and you might not know until you're checking out and it's too late. Here are some things to watch out for (in and out of hotels) to keep those fees to a minimum.


Avoid Hotels
Everyone loves a good hotel, but there are lots of affordable alternatives, and I don't just mean AirBnBs.
Hostels, for example, often have comfortable options and offer private rooms.
And if you're staying for a while, you might consider doing some research when you arrive and renting an apartment. (Here's how I did exactly that in Chiang Mai Thailand and enjoyed a fully kitted-out condo for $250/month).
And if you really want a local experience, while also saving major bucks, try free accommodation with something like a hospitality exchange, house-sitting, or volunteering in exchange for accommodation.
See also: How to book monthly accommodation for digital nomads (alternatives to AirBnB)


Minibar
If you do decide to stay at a hotel, just point blank avoid the minibar in your room. They are overpriced without exception, especially since you can generally walk down the street and buy what you need locally.


Goodies Outside the Minibar
Sometimes hotels leave a water bottle and some kind of snack on your bedside table. These aren't in the minibar, so you think to yourself: "how nice of them to leave these out for me!". Beware though, these are not always complementary, and you'll be charged for them.


Parking
Hotel parking, while convenient, is super pricey. If you've got a car, make sure you check the rates before you book. (And check Google Maps to see if there's a public lot nearby that you can use instead). One time I got hit with a $30 parking fee for one night. Oof!


WiFi
This varies by hotel (and airports, too). WiFi isn't always free. Many hotels have free WiFi in the lobby and common areas, but might charge for it in your room.
Good news: if you're a member of their hotel loyalty program, free premium WiFi is often included.


Towels
In hotels, you usually get free bath towels but they might charge for pool, gym, or beach towels. If you're staying in a hostel (or super budget hotel), you may even have to pay for a bath towel and soap.
To counteract this, I always have a compact travel towel with me. It has worked wonders in a huge variety of situations.


Currency Exchange
Hotels consistently overcharge for currency exchange services. I was given this tip by a hotel concierge, who said I should never use a hotel desk to exchange money. (Don't worry, I've got more tips below to do this without breaking the bank).


Phone Calls from Your Room
Generally speaking, calling an outside line from your hotel room phone will always cost an arm and a leg. Just don't do it.
Check out my tip about local SIM cards below, and you won't need to use your hotel phone.


Hotel Laundry
Getting laundry done at a hotel will definitely be overpriced. Go ahead and use shampoo in the bathroom sink and hand wash it!
Local coin-operated laundry machines (also sometimes in hostels) are definitely cheaper than hotel laundry, but they're still an extra cost. Don't forget the cost of those single-use detergent packs! They're overpriced and irksome for one load of laundry. Depending on how long you're there, or if there are other guests you could split costs with, a small pack of detergent from the local grocery store will cost way less.
Or just bring a little baggie of (powdered) detergent from home to get you through your trip, and pack sensibly to minimize washing. This travel capsule wardrobe I put together for women makes this definitely possible. (Here are the ingredients for a men's travel capsule wardrobe.)


Room Service
Hotel room service always feels luxurious. Unfortunately, it's always overpriced and often mediocre.
Trekking down to the hotel restaurant will get you better food for better prices, and of course you can find even better-priced (and possibly more authentic) food out-and-about. (For a food experience about as authentic as you can get, try eating a home-cooked meal with a local.)

Hidden Fees in Car Rentals
Renting a car can be a great way to get out and tour the local countryside. But it definitely comes with its own financial pitfalls. Keep an eye out for these hidden fees so you can save some money.


Renting A Car At All
Depending on your needs, there may be a more affordable alternative to renting a car. Use a car-sharing service if you just need to get around town. If you're traveling from destination A to destination B, look into ride-sharing. It's good for the environment as well as your budget.
And if you are planning a road-trip, look into campervan and car relocations to see if there's an opportunity that fits your itinerary.


Insurance
Car rental insurance will quickly blow up your rental rate. It's a good idea to be insured, but before you accept their crazy rate as the "responsible thing", check your own insurance and credit cards. You may have car rental insurance automatically through those.


Key Replacement
I have a friend who accidentally went swimming with the rental car key fob in his shorts. You'd better believe he won't make that mistake again!


Fuel
If the rental company magnanimously offers to refill the tank at a pre-determined rate, know that the rate isn't so magnanimous. With a little research you can find a gas station near to your drop-off point that will almost always be cheaper to refill the tank.


Extra Drivers
If you're renting a car, remember that adding additional drivers to the rental agreement sometimes means extra fees. This is never worked into the quote, and can be a nasty surprise when you arrive to pick up the car.


Driver's Age
Depending on the country, you'll likely pay a surcharge if you're younger than 25.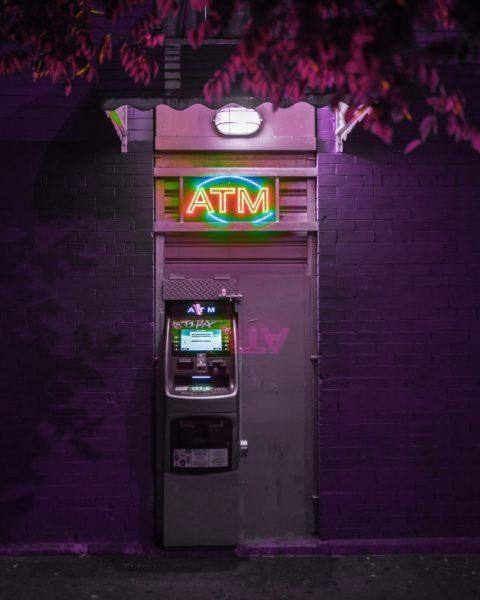 Accessing & Converting Money and the Fees Involved
No matter what, converting and accessing money abroad will always cost you. But certain ways of doing so cost more than others. Here's a list of the various ways to get at your money, and tips on how to avoid them and save.
(Click here for an in-depth look at the best ways to access and use money while traveling: The Ultimate Guide to Traveling With Money)
Note: If you are getting paid online, or need to transfer large amounts between bank accounts in different countries, Wise is the solution. I use it for all my cross-border payments, and it costs a fraction of what anybody else charges, and their fees are totally transparent.
Seriously. Wise was revolutionary for me, and saves me many hundreds of dollars each year in PayPal fees and hidden currency conversion charges.
Click here to get started with Wise (I will get a small referral fee when you complete your first transfer. Trust me – you won't be disappointed. Learn more about how I save over $2k/year using it here).


Currency Conversion
Some of the worst hidden travel fees come with currency conversion. No matter what you do and how you pay, you're forking out hidden travel fees to convert your money, and more often than not they're completely invisible to you. Here are the various ways you'll pay and the hidden fees entailed:

Converting Cash
If you're walking into a country with the wrong currency in your wallet, you may need to change it. But beware: airport currency exchange counters are (while convenient) exorbitantly overpriced and rife with hidden commissions. Try a local bank branch or a currency exchange counter in town instead.
Also make sure you're aware of the local scams. I fell for them all (in rapid succession) in Bali, in an almost comical episode.

Credit Card Conversion
Depending on the card you use, most credit cards will add on about 2.5% as an automatic currency conversion fee, also known as a foreign exchange fee.
When you're already abroad with your card, and you're trying to save on the conversion fee with your credit card company, you may be tempted by some vendors' offers to charge your purchase in your home currency. Just say no! These "opportunities" usually entail even bigger (and more invisible) charges.
The best way to reduce credit card foreign currency conversion fees is to sign up for a travel credit card with free foreign exchange. These types of cards often come with other travel-related perks, but also usually come with an annual fee.
Do your research to choose the best one for you, and make sure you apply before you actually hit the road. If you do what I did and quit your job to travel, your sudden drop in annual income might prevent you from getting approved.


Debit and ATM Conversion
It's not just the credit card companies getting their cut of the pie. Banks are in on it too. There are hidden currency conversion fees on ATM withdrawals and debit card charges, taken off the top of your transaction as a percentage.
While this is a hidden fee, it's often the lowest conversion rate you'll find (except the special exchange-free credit cards I mentioned above).
When using foreign ATMs, make sure they're bank-affiliated. Private ATMs usually add an extra extra hidden fee on top of the currency conversion fee.


Credit Card Advance Fees and Interest
A few times, I've visited places where my debit card wouldn't work in the ATM machines, and cash was the only option for purchases. So I was forced to make an ATM withdrawal using my credit card.
Regardless of whether you're abroad or at home, this is pricey. You're charged a credit card advance fee (usually about $5), but that's the least of it. You're also charged compounding interest, from the day you make the withdrawal, on your entire credit card balance.
If there's no other option but to make an ATM withdrawal using your credit card, make sure you go online immediately (preferably beforehand) and pay off your card in full plus the withdrawal amount to avoid (or minimize) interest.


Traveler's Cheque Commissions
While traveler's cheques may at one time have been one of the cheapest ways to access your money abroad, fewer and fewer places accept them and they're harder and harder to cash.
They're also not free of fees. These are usually commissions, and of course, they're usually hidden.
Also, some vendors will charge you extra to pay with a traveler's cheque, to cover the hassle of cashing them.

Oft-Forgotten Travel Prep Costs
You can plan your trip to the last penny, but don't forget the costs you might still have at home. And of course there's always a few extra expenses before you even leave. Here are a few things to remember to include in your budget.


Travel Visas
Depending on where you're going (and where you're from), you may have to apply for a visa to enter a country. This might not technically be a hidden fee, but some ways to get your travel visa are more affordable than others.
For example, if you use a travel visa service, it will be more expensive (though more convenient and less frustrating). Also, some countries allow you to get your visa on arrival, but it may be more affordable to get it ahead of time.
(See also: Things To Do Before Traveling Abroad: A Simple Guide to Visas, Documents, and Other Important Things)


Pet Care
If you decide to leave Fido and Fluffy at home, you may need to pay someone to care for them.
Kennels can be pricey, and you might not want to or be able to burden family or friends with their care.
Alternatively, house-sitting is good for free pet care at home as well as free accommodation abroad! Put Fido and Fluffy in the care of a loving house-sitter for the length of your trip, and don't spend a dime.


Cell Phone Roaming
I'm still flabbergasted by people who take their cell phones abroad with their home plans, and are surprised when they receive a bill for hundreds (sometimes thousands) of dollars on their return. One little phone call, or just a wee bit of data usage, can mean dramatically overpaying for cellular services abroad.
Click here to learn all the ways to connect abroad with your cell phone WITHOUT paying roaming charges. Options for both locked and unlocked phones.
Instead, ensure your phone is unlocked (or get an unlocked phone just for travel) and insert a local SIM card – which you can usually buy at the airport on arrival. Using this technique I spend $10-20/month on all my cell phone expenses, data included. This average cost takes into account time spent in both inexpensive and pricey countries.
As an alternative to buying a local SIM card abroad, you can consider an International SIM card, but look closely at all the fees, because not all International SIM cards are created to be equal, nor cost-effective.
Me? When I'm not using a local SIM card, I have a Global Data Plan with Flexiroam. Flexiroam specializes in buy-as-you-go global data plans managed through eSIMs and the Flexiroam App. (They also have physical SIM cards they can mail to you when you sign up through the app.) NOTE: If you click on the link above and get sticker shock at the prices of data, know that they almost always have a sale going on, and I wait for 70% or 80% discounts to load up on data. On average, I pay $5/gig of global data.
(If you make a purchase at Flexiroam through the link here, I will earn a small commission at no extra charge to you. I have been a paying customer of Flexiroam since 2017 so I stand by what I recommend. Thank you for your support!)

Costs of Touring, Eating, & Getting Around
No matter how stringent your budget is, you're still on a travel adventure, so make sure you have fun! Not all travel experiences cost money, but some do, and some are more overpriced than others. Here's a few things to watch out for as you're enjoying your destination so you don't overspend unnecessarily.


Guided Tours
Some guided tours are more expensive than others, and more so than necessary. Research your options and the cost of the average tour in the area before you book anything. In many countries, you can find cheaper tour options on arrival, rather than booking online in advance.
You could also do a tour through something like WithLocals, to get a local authentic scoop on your destination.
Also, consider a free walking tour! It's not entirely free, as the guides are donating their time for tips, so be generous if the tour is informative and/or enjoyable. The good news is because they are working for tips, they'll do their best to make sure you have a good time. Guruwalk is a great worldwide resource for free walking tours.


Restaurant Meals (Location and Timing)
It's always nice to eat in a restaurant, but in general it's best to avoid restaurants in tourist districts. Those are almost always overpriced.
If you need (or want) to eat in that area regardless, lunch is often cheaper than dinner, with a similar menu available.


Food at Concession Stands
Concession stands in tourist areas and parks are overpriced, hands down. Ever had a hot dog in Central Park? Avoid overpaying by bring your own food or buying food at a local shop down the street instead.


Water
At only a couple of bucks a pop it might seem innocuous, but buying water while you're out and about takes a hit on both your pocketbook – and the environment. Bottled water is a pet peeve of mine, and I refuse to buy it. Instead, I carry a reusable bottle and fill it up wherever I can. If I'm in a country without potable water, I have a SteriPEN handy.
(See also: Dealing With Parasites – A Guide to Clean Water Around the World)


Tipping
Did you research the tipping practices in your destination country before opening your wallet (and generous heart)? Did you know that in some cultures tipping is actually offensive? In other cultures it's appreciated, but not expected to the level that many North Americans might be used to doling out.
For example, most restaurant servers outside of North America are paid proper wages, and tips are considered a nice bonus as opposed to a necessity. The obligatory 15-20% tip on meals in North America is uncommon elsewhere in the world.


Double-Tipping
Oh yes, and while you're deciding how much to tip your server, check to see if gratuity has already been added to your bill (as is common in tourist areas or with large groups).
More than a few people (myself included) have double-tipped their servers while traveling and wondered why the servers were so very nice to them on their way out the door.


Taxis
I have a thing about taking taxis in foreign countries; they're not always safe, and if you're in a dodgy taxi, you might be taken the long way around so they can overcharge you. It happens all too easily if you aren't familiar with your destination.
How to avoid overpaying for taxis? Ask a local or the staff at your hotel how much a taxi should cost to your destination before you go. Confirm the rate with the taxi driver before you get in.
And of course, the best way to avoid overpaying taxi drivers is to take public transportation, or use a service like Uber.


Souvenirs
Souvenirs can be a great way to remember your trip or share the adventure with someone back home.
But beware when buying those "local" trinkets. Often, they're mass produced elsewhere for next to nothing and then are sold for "locally handmade" prices to gullible tourists.
Check out several shops before you buy anything. If you see identical things in more than one store, it's probably not so "local".
And don't forget: you can always try to haggle the price down. This is especially true in street markets. Make sure to learn a few phrases in the local language if you're in a foreign country. It's polite, and you'll endear yourself to the vendor much more.
Lastly, consider getting less expensive, more creative, and likely more appreciated souvenirs by doing my favourite thing to do abroad to save money and explore local culture.
Conclusion
So there you have it! A whopping 46 Hidden Travel Costs (and how to avoid them).
Some of these hidden costs are small but they add up! Keeping an eye on them can save you heaps.
Have you been hit by any of these hidden fees – or any others? Do you have clever tips to avoid them?
Let me know in the comments below!
SEE ALSO: How to Save Money to Travel by Reducing Your Fixed Expenses in Creative Ways