Nina Ragusa is a pro adventurer and traveler who has been abroad since 2011. While she saved some big money working a few jobs with a working holiday visa in Australia, she is now a full-time travel blogger at Where in the World is Nina and has a life mission of traveling, living and working on all continents. Her sassy yet informative writing gives the low-down on how to work abroad and travel like a badass.
I find this case study especially inspirational, because less than two years ago Nina's travel blog earned nothing, and now she makes a living that financially sustains her full-time travel lifestyle. She's walking the talk! Learn how here.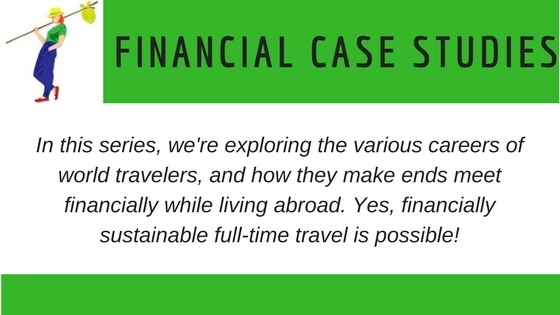 This post was originally published in 2018. It has since been updated for accuracy of links and content.


How long have you been living/working on the road, and where have you traveled to?
I've been working and living abroad for over seven years now. I've traveled mostly around Europe, Southeast Asia, and some of Australia and Africa.


Please describe what you do for income.
I'm a travel blogger and sometimes, freelancer.
(Nora's Note: Curious what travel blogging truly entails? Check out How to Start a Travel Blog: An Epic In-Depth Guide).


How many hours per week do you work on average?
Uh, a scary amount. Haha. But it's because I love what I do! I could work less but I'm excited to work every day and I want to reach more goals quicker. So I work. A lot.
Maybe 70+ hours a week?
However, I'm a traveler and my own boss, so when it's time to travel or if I need to be offline, I can be. I recently took off two weeks to road trip Morocco, and after that another 10 days to traipse around Italy and sail around Greece.
I work more when I can so I can "afford" the time off whenever I please.


How much money do you make?
I make upwards of $5,000/month. It varies but usually increases each month.
It's not much but I'm happy and working on making more. I COULD accept more sponsored posts, more brand deals with off-topic items (want me to advertise for Campbell's Soup? I could have, but nah…)
I'm choosy about who I work with and I only partner when I feel it's a match. With that said, I usually like to pay for everything myself anyway! I get to do what I want when I want, so I have been keeping collaborations to a minimum lately. This could change but I did a lot of collaborations last year and it was a bit much for me.
Instead I'm working on upping my affiliate links right now which is also why there's such a big variation in my income. Affiliate income isn't guaranteed and can come and go.
I make a large chunk on ads, which is great, because I don't have to lift a finger to make that money. It goes up every month but it's around $1,000 now.
It was only about a year or two ago that my blog made ZERO dollars. So I'm happy with the income I've made in a relatively short time (because it ain't easy!).
As mentioned, I also freelance. Sometimes I make money by writing for other publications (although finding a decent paying one isn't the easiest.)
I also help manage another bloggers' websites for extra play money and because I actually like doing that kind of stuff (weird, I know)! This can earn me anywhere from a few hundred a month to $800+ depending on how many hours I work.


Do you make enough money to support your lifestyle?
Yes. I've been a remote worker since 2012. I did do a working holiday visa in Australia in 2016 and saved up A LOT ($17k +). However I did it simply to save some of the cash and upgrade my equipment. I still haven't spent about half of it.
Also, it's a myth that traveling is expensive. I live a very simple life. I think people think traveling is expensive because they are thinking of vacations, which is something totally different. I don't vacation, I travel, and I also travel slowly at that! Which is also saving me money.
Even on my smallish income AND while traveling the world, I can save money each month.
(Nora's Note: I agree, on all accounts! My full-time travel years consistently cost LESS than living in one place. Things like Free/Cheap Accommodation help even more…I saved over $100k this way).


What do you like most about your career and lifestyle?
That I get to work on something I love everyday and see the world. As cheesy as it sounds, it's a childhood dream of mine. So I'm happy! Since I'm the boss, I also get to take off whenever, wake up whenever, and do whatever… It's nice!


What are some of the challenges you have with this career and lifestyle?
People don't take us seriously. Mostly because there are SO many "travel bloggers" that started yesterday and expect the money to roll in and to "travel for free." Which is, of course, something that doesn't exist. So having to stick my head out above those who are ruining it for the rest of us is pretty crappy, but I deal!


What is your vision for the future of your lifestyle on the road?
I hope to get better and better at what I do, of course, but this is something I hope to do for the foreseeable future, absolutely. I love what I do!


Any advice for the aspiring traveler about living and working on the road and managing finances?
It's easier than you think! Not being a travel blogger that is, but living and working abroad. There are SO many jobs available (seriously, don't choose travel blogging). If you have a "lucky" passport, native English tongue, and maybe even Bachelors degree, you're holding the golden ticket.
Even if you don't have any of those things, you can still do it. It's just easier for those that do!
The point? Just take the leap. I saved, bought my plane ticket, and never looked back. It's a scary first step but if you don't take it, you'll be stuck forever until you do. You're the only one holding yourself back.