A reader recently opened up an interesting vein of conversation around the topic of poverty, and how we as travelers deal with it on the road:
"I will confess that I have mixed feelings about your blog.

On one hand, it looks like a lot of fun and adventure to do what you are doing and I would be lying if I didn't want to do it for myself.

However, I am not seeing much about the locals and their needs. Isn't there a lot of poverty in the places you are visiting?

I went to Jamaica a few years ago, and after seeing how the masses there lived, how many people were being exploited, and the sadness of so many, my heart was truly changed. I wanted to help them.

Maybe you are missing an awesome opportunity around you."
This sparked conversations with various people – both online and offline – about what poverty is, and how we as "outsiders" visiting impoverished communities deal with it.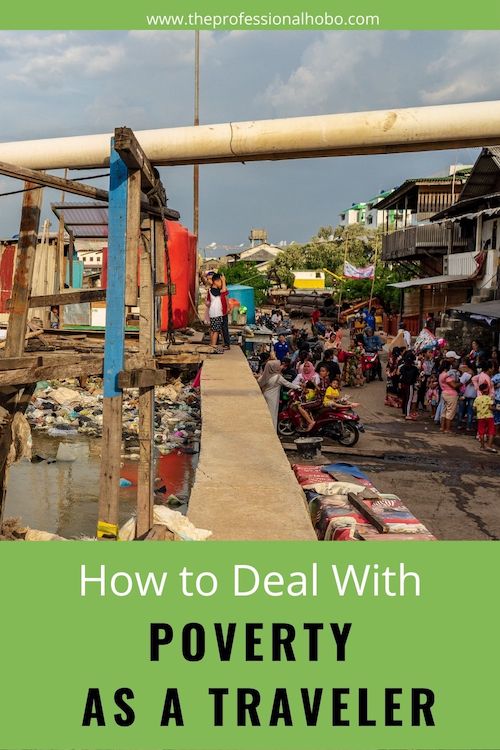 This article was originally published in 2012. It has since been updated for accuracy of links.


What is Poverty?
Here in Grenada there are plenty of people who live incredibly simply. Incredibly. So simply that somebody transplanted from a well-to-do western background might struggle to cope with daily life.
Some would say these people are impoverished.
But they all have roofs over their heads, and they don't starve (fruit literally rains down from the trees faster than people can pick it, the sea is bountifully full of fish, and many people have goats for meat).
Many don't have jobs (there is currently a very high unemployment rate in Grenada), but they're not hungry, and daily life is not a survival exercise. In fact, I'm told that more people own their little plots in Grenada than not. Their house itself may be a glorified shack, but they're still homeowners.
But to an outsider, this "poverty" in Grenada might be affronting. (It depends on how far "off the beaten track" you get as to how much "poverty" you see).


Who Exactly is Impoverished?
Does anybody who lives in poverty around the world actually brand themselves as impoverished? Do they even know what poverty is, and how their lives are lived in relation to the poverty line?
Or is "poverty" a term coined by Westerners?
I had a conversation with a very "earthy" and spiritual older man (who has lived in both developed and developing nations) who surmised that people who we usually cite as living in poverty tend to live much closer to the land, and have a valuable (invaluable, perhaps) connection to the earth.
By contrast, he surmised that people who truly are impoverished are those who live in the Western world, struggle to survive from pay to pay while being trapped in a life of consumerism, and who would be completely incapable of surviving off the earth (and off the grid) if they had to.
Although I found this man's view to be extreme, I also think he had a point.
See also: Lifestyle Inflation, and How Earning More Money Sucks (The Life Outta You)


Does Poverty = Sadness?
The reader quoted above mentioned the sadness of so many she saw while in Jamaica. I wonder what made her believe these people are sad. I'm sure she wasn't imagining things, but I wonder if she also projected her own ideas that people who don't have the accoutrements of life we're used to are thus sad.
I've seen more miserable, over-medicated, over-worked, suicidal, alcoholic and drug-addicted people in developed countries than I've seen on the back roads of Grenada, or any of the other developing nations I've visited.
I've watched kids in Africa play with a wheelbarrow for hours on end. Their imaginations turned the simple wheelbarrow into a number of games, shelters, and tools.
And I've watched kids in developed countries play with all the latest expensive gadgets and toys, get bored after five minutes, and throw temper tantrums because there's nothing to do.
I don't believe that poverty and sadness are synonymous. Living in poverty isn't an instant ticket to misery.


Poverty Exists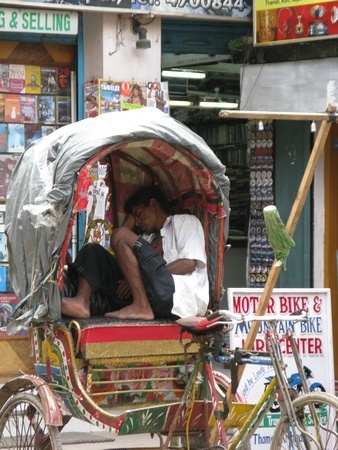 I'm not ignoring the fact that there is a large contingent of people who are truly and unfairly impoverished, struggling to survive, and constantly being beaten down when they try to rise above their circumstances.
This exists. And it's not fair. And to an extent, poverty is a function of exploitation by the "haves" of the world. Or at least, the continuance of poverty is a function of such exploitation. I believe we as humanity can truly eradicate poverty, but it will take a massive shift of consciousness and circumstance to set that ball properly in motion.
I also think that some people are a little too quick to brand people as living in "poverty" and to surmise that their help is needed.
Enter from stage left: volunteer vacations.


Superman Complex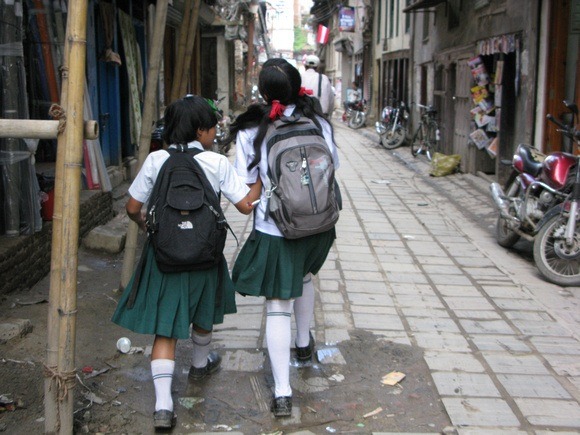 So we westerners who feel guilty for having a life of privilege try to assuage our guilt by doing something about it. We pay exorbitant amounts of money to go on a volunteer vacation. We swoop in (like Superman) to save the day. We roll up our sleeves and "do something good" for the people of the world. Then we swoop back out, feeling good about ourselves for a job well done.
We did our bit.
But did we? Are volunteer vacations the answer?
How would you feel if you lived in an "impoverished" community where foreigners were flown in weekly, they looked at you with pity, then put their elbow grease into a project you may – or may not – have any vested interest in or will derive any benefit from?
Here's a link to an article I wrote about voluntourism, as it was really becoming popular. I think it still has some merit:
How Can Travelers Help Poverty?
Despite my ambivalence about volunteer vacations, and my feeling that "poverty" is something of a western invention, I don't believe we should ignore the needs of others. And there are a lot of people in need.
If volunteer vacations aren't the answer (and far be it for me to blatantly claim that volunteer vacations are bad – they aren't, but not all of them are helpful either), then how can we travelers who feel affected by poverty on the road lend a helping hand without crippling, insulting, or alienating the people we're trying to help?
What exactly are the "awesome opportunities" (as suggested by the reader) around me that may help poverty?
I don't know the "right" answer to this question.
Some of the poorest people I've known have also been the proudest and most generous. They don't easily accept hand-outs, as it challenges their ability to "save face" – a stature of cultural importance in many countries. It's not an excuse to not do anything, but it's a reason to be very careful about how to do it.
Whenever I've had a chance to develop a relationship of sorts with somebody in need, I've personally helped them (logistically, financially, or otherwise) – as a friend more than as a traveler trying specifically to do a good deed. I see these experiences as some of my "awesome opportunities" to do something good.
I've also risen to the call more than once and turned my life upside down to provide invaluable disaster relief on the spot (at times organizing top-level aid where aid organizations failed) – once in Thailand, and once in Australia.
And I've been a member of Rotary since I was 25; my home club alone raises $100,000/year for various community and global initiatives, which include the impending eradication of polio around the world.
So personally, I sleep okay at night. I haven't saved the world, and I haven't single-handedly eradicated poverty, but I've come to know people who technically live in poverty, to learn from them, to help them as best I can, and most importantly – to respect them.
How do you deal with poverty on the road?