"I see this being a hit tv show: Becoming a Shaman," wrote a friend of mine who works in the television business.
Although I doubt it will ever become a tv show, it is what I'm doing. (Sort of).
This post was originally published in 2015. It has since been updated for accuracy of links and content.


Since publishing my musings on san pedro and ayahuasca after two months of working with these plant medicines last year, so much has happened. Firstly, I decided to establish a home base in Peru; a lovely place to live peacefully and explore to my heart's content.
When I returned to Peru and to my new home base last September after a few months of travel, I continued to work with these plant medicines. If the list of accomplishments I outlined in my first post seemed like 10 years of psychotherapy, the next two months held another 50 years of psychotherapy.
I also started assisting my teacher with ceremonies. This happened serendipitously; after my very first ceremony with san pedro six months prior, I had a strong night of dreams about a number of things that came true. The only thing that hadn't come true from those dreams was that I would be assisting in ceremonies; and there I was, six months later, assisting.


Time for a Change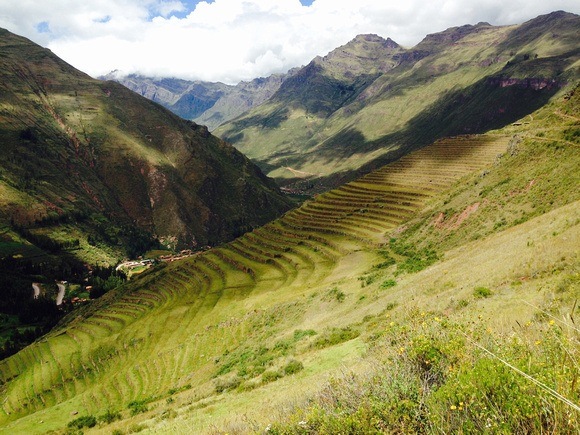 I'd known for at least a year that my life was (is) ready for another transition. After over eight years of wandering the world, I started to regard world maps with a degree of apathy, responding to the imploring gaze of the map's as-yet undiscovered gems with "Meh. Sure, there are lots of places I haven't seen. But they're all kind of the same anyway."
Now of course that isn't true, but it was reflective of my decreased desire to "conquer the world" by seeing and doing everything. I don't compare my country-count with others, nor am I interested in racing from one destination to another. I've long been a proponent of slow travel, and now it seems it's getting even slower. (It's not stopping, mind you; I traveled for two months to three countries just earlier this year, and I'm about to hit the jungles of Peru for a month, followed by a few weeks in the U.S.).
But I had no idea what I was transitioning to. I knew I liked Peru, and I knew it was time to slow down, but that was all.
And so I toiled. Amidst the beauty and serenity of Peru's Andes, I wrought my stomach in knots. "I'm doing what people dream of! Traveling the world full-time and making a living with an internet connection. How can I be tired of it?" I said to myself. It seemed almost disrespectful to no longer appreciate this dream lifestyle.
But I was tired of it. I needed a new form of stimulation, and to engage the world in a different way.


Assisting a Shaman
Even after I started assisting my friend and teacher with his ceremonies, I couldn't envision becoming a shaman. "It's not like I'll ever be leading ceremonies myself," I said to friends, who looked quizzically at me when I told them I was assisting.
"Why not?" was their honest reply, to which I never really had an answer.
A few months of assisting later, the feeling of something new coming into my life was irrefutable. And something about this unknown transition felt even scarier than it was to sell everything I owned to travel, so many years ago.
Flashback to 2006: In the throes of a bit of a breakdown in my "former life", while I cried, a friend held my hand and said "what do you want to do?" (Find out what I said – and did – here).
December 2014: Once again, I was crying, unable to stand this whirling pit in my stomach that was urging me towards….something. A friend took my hand in his and said "what do you want to do?"
Tears were streaming down my face, which was pale with fear and disbelief at my own response: "I want to be an apprentice and work for san pedro and ayahuasca".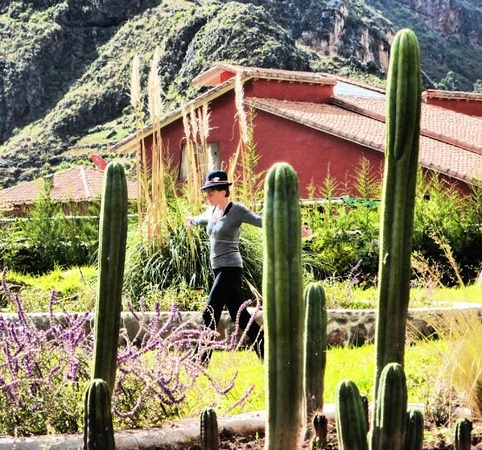 Apprenticing With a Shaman
As ludicrous as it seemed when I said it, something was released inside me with this admission.
I called my Mum for a gut check: "Mum, you know I'm living in Peru now, next door to this shaman guy who works with san pedro and ayahuasca, right? Well, what would you say if I said I want to become a shaman and do the same thing?"
Her response to this seemingly left-field question? "I'm not surprised, honey. I think you've been working towards this for quite some time with what you've done in your life so far".
Well. If Mum said I could do it, then there was no stopping me.
I marched up to my teacher and said "I want to be your apprentice". He registered only a modicum of surprise before saying "Okay."
And that was that.
I haven't as yet received the handbook on apprenticing with a shaman (I'll bet money there isn't one). I don't know what this apprenticeship will look like, nor how long it will take. My teacher and I are simply taking things slowly and naturally, as I continue to work with the plant medicine myself, assist ceremonies, and gather experience and knowledge about these ancient and sacred practices.


Becoming a Shaman
So you would think that this apprenticeship would be the precursor to my becoming a shaman in earnest and leading ceremonies myself. And this could well be.
But I'm also not committed to any particular outcome with my apprenticeship. It's something I simply know I must do in and of itself, and I'm confident that it will lead me to my next step in life…whatever that is.
In the meantime, my apprenticeship allows me to engage people (heart, body, and soul) in a new way, keeping my mind open and ready for whatever the future may bring.

What is a Shaman?
It bears mentioning that my teacher dislikes the term "shaman" and doesn't call himself that (he refers to himself – or rather, his career – as an ayahuasquero). "Shamanism" has become something of a cliché; an empty word that encompasses a variety of indigenous healing modalities, but that also can result in a sense of egotism on the part of the "shaman" in their own perceived ability to heal others, rather than using tools (such as plant medicines) to help people heal themselves. There is a lot to the art of working with plant medicine, and in order to learn what there is to be taught, humility is required.
But in a general sense, what I am learning to do, is to administer plant medicine (san pedro and ayahuasca) in a ceremonial setting, and to guide people through their own processes of opening their hearts, healing old wounds, expanding their horizons, and integrating the lessons they learn into their daily lives.


What About The Professional Hobo?
I'm still here, and I'm still traveling the world, and always a traveler at heart. So The Professional Hobo isn't going anywhere, and you'll continue to read about travel experiences and how to travel full-time in a financially sustainable way.
I am, however, getting offline more. I've stopped most of my freelance writing gigs, and I've scaled down the number of weekly posts on this site. Over the years I've developed various forms of passive income (not the least of which are from my books), and given the low cost of living in Peru, the truth is I just don't need to work that hard to pay the bills.
I'm using my newfound free time to pursue my next big step in life (wherever it may lead): becoming a shaman – or rather, ayahuasquero/medicine woman/insert-your-own-term-here.
Your guess is as good as mine as to what will happen next in this crazy plot. Stick around, and we can all find out together.
(If you want more information on plant medicine, check out my older post about San Pedro, Ayahuasca, and Plant Medicines in Peru).
Note as of June 2016: after 2.5 years of studying, living, and working with Javier, assisting him with all his ceremonies, and apprenticing under him, he pulled the plug on everything. Every coin has two sides. Here's what happened.
Note as of June 2017: I later went on to Ecuador to live at a retreat centre and assist the shamans there with ceremonies. Here's an overview of my full experience of learning to be a shaman.