In the Sacred Valley of Peru, the worst of the rainy season (which is also summer in the southern hemisphere) is in January and February. Having heard tales of being socked in with rain and dealing with epic amounts of mud, I figured it would be a good time to travel from Peru for a few months.
And so, I'm currently in the throes of what I've dubbed The "C" Trip.
Granted, I didn't leave until towards the end of January, and although this year the rains are reputed to have come late, they were far from intolerable before I left. The heaviest rains generally fall at night, and even the daytime rain is periodic, and the thunderstorms are dramatically entertaining.
But after five months in Peru my visa was almost up, and the traveler in me was happy to make an excursion of it.
Introducing: The "C" Trip:
This post was originally published in 2015. It has since been updated for accuracy of links and content. 


Colombia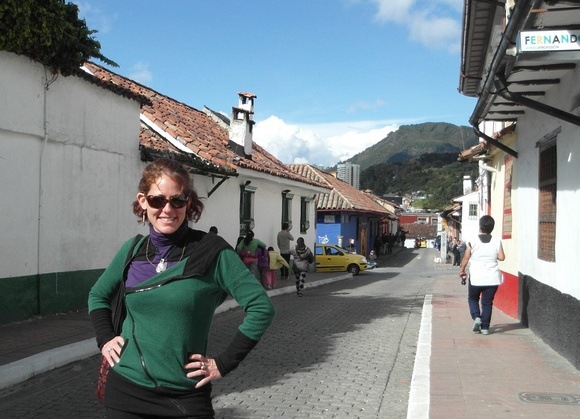 Colombia has long been on my list of places to visit, with a family friend who spends half the year in and around Bogota having issued a standing invitation for years now. I'm currently wrapping up my two-week stint in Colombia (spent in and around Bogota), and will post news of my related adventures and discoveries shortly. It has been a very insightful couple of weeks.
See also: Letters From Colombia: The Safety, The Food, The Life


Colorado
From Colombia, I'm headed to Colorado for a few weeks, via a few days in Florida. Florida seems to be one of the most consistent places I've visited in the last few years, due in large part to my having friends in various parts of the state, and also because it is a bit of an airline hub, with cheap flights to Florida easily getting me to/from Canada, the Caribbean, and Central/South America.
My choice of Colorado is a bit odd for me, given that I've been on a permanent mission to avoid winter for the last eight years – and a largely successful one at that. So why would I throw myself into the depths of winter in Colorado with such a track record, you ask?
Two reasons.
First of all, there's a boy involved, and a very special one at that, who I met while he was visiting Peru and have been quietly involved with for a few months now. I'm not going to say any more on that topic as it's still new, and my track record in the romance department hasn't been stellar (with a few breakups in my repertoire). So I'm until I have something noteworthy to say, I'm keeping this relationship to myself. (Aside from just having spilled the beans, which you can now forget about).
Secondly, although I know I'm horribly underprepared for the cold, I'm actually keen to play in some snowy mountains. When I lived in Canada, I used to say "snow is great…until you have to go somewhere and run errands in it. Then it sucks." Well, I don't have any errands to run or an office to commute to, so I'm going to see if I can muster up some pure childlike enjoyment of the snow.
That, and the boy I'm staying with has a hot tub, so if the cold is unbearable, I'll just spend three weeks in the hot tub. Totally manageable.
See also: A Curious Bubble in Boulder, Colorado


Costa Rica
Costa Rica is the third "C" place I'm visiting in this two-month excursion, and is not only a great place to defrost after Colorado, but I also figured it was about time; when I started traveling full-time eight years ago, Costa Rica was the first place I was going to visit before I got distracted with other destinations and opportunities.
(The boy and) I have friends who live on the Osa peninsula, so we'll be staying with them for about three weeks, and enjoying the sunshine, beaches, creatures and critters, flora and fauna, and more.
See also: Why I Have Nothing to Write About Costa Rica


Packing for Three Seasons
I've stood proud for the last few years that everything I own fits into a carry-on bag. But since Peru's high-altitude climate is a bit chillier than the tropical climates I've generally traveled and lived in, and since it's now a place I'm calling home, I've gone and done this whole "nesting" thing and accumulated more stuff. As much as this stuff is largely practical, it has also meant that a carry-on bag can no longer handle everything I own.
Thus, packing for a two-month trip taking me through three distinct climates (high altitude Colombia, winter in Colorado, and tropical Costa Rica) was not the easiest task. I still managed to fit everything I needed into my carry-on bag, but let's just say it was a tight fit.
(I brought a scaled-down version of my former full-time packing list which could handle most seasons and scenarios, but required a checked bag).


Changing the Way I Travel: Same Same But Different
I'm changing the way I travel; something I've alluded to in the last few months, and something that won't surprise long-time readers of this site, who will have sensed that I've tired of living completely nomadically after so many years.
But the biggest thing that has changed is simply that I have a place to return to in Peru; my motivations for travel remain the same; I let my destinations choose me based on opportunities (like having a place to stay or a house-sitting/volunteer gig to enjoy), I prefer local experiences, and I like to travel slowly.
Also, I like trips with themes. For example, here are a few themes I've explored in the past:
I rode 11,000kms of trains in Australia in 11 days straight (as part of a longer 16,000km journey), all to see if it was possible to become bored on a train
The following year, I did the Ultimate Train Challenge, traveling 25,000kms from Lisbon to Saigon in 30 days, all by train (both of these experiences were fodder for my book Tales of Trains: Where the Journey is the Destination)
I attempted to conquer my fear of the ocean by spending three months living on boats (not a night on land), spanning five boats and three countries
I visited eight countries in three weeks, in an effort to "embrace my inner tourist"
…and now, I'm on "The C Trip". This theme is less premeditated and more coincidental in nature than some of my previous themes, but it strikes me as a fun coincidence that every place I'm visiting starts with a "C". Who knows…maybe I'll carry on with the trend through the year. Where to next, I wonder? Calcutta? Corsica? Croatia? Let's see what further destinations choose me in the months to come.